Japan
Yahoo! Travel Offers Up to 10% Off Domestic Accommodation Bookings Paying With Online Cards Until August 25th, "Anyone Can Book Accommodations Anytime Up to 10% Off" | Japan's Largest Hotel and Ryokan Information Site HOTELIER | Hotel service/product comparison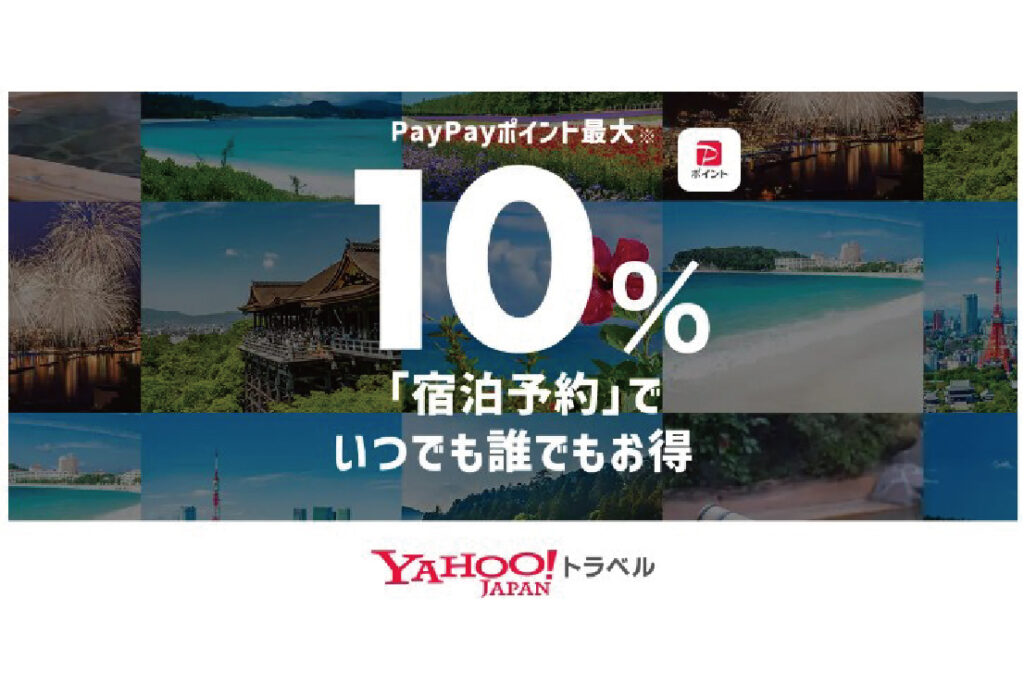 ~ In order to cope with the shortage of available rooms due to the rapid recovery of tourism demand, we will book summer accommodation in advance~
Special site "Anyone can save up to 10% anytime with accommodation bookings"
https://travel.yahoo.co.jp/feature/campaign_pointup/
Yahoo! Travel, an Internet travel reservation service operated by Yahoo! We will launch "Anyone who books a stay can enjoy up to 10% discount at any time" (hereinafter referred to as this campaign), saving up to 10%.
According to the Japan National Tourism Organization, as of April this year, the number of foreign tourists visiting Japan was about 1.95 million, about 14 times that of the same month last year, and an increase of 66.6% compared to the same month before the COVID-19 crisis (2019) (*2). ). With the relaxation of border measures on April 29 and the transition to the new type 5 coronavirus on May 8, the number of foreign tourists to Japan will further increase in the future, and domestic tourism demand in Japan is showing signs of rapid recovery. .
On the other hand, due to the rapid recovery of tourism demand, there is a shortage of available rooms in accommodation facilities, and there are growing concerns about rising prices. To this end, "Yahoo Travel" launched this activity, allowing you to book summer accommodation as soon as possible.
This promotion is applicable to all facilities and accommodation plans posted on Yahoo! Travel, including popular facilities and hotel chains (online card payment only). Users can choose between "use immediately" and "save as is", which allows them to discount the points they earn from the price of the trip on the spot, which allows them to save without using them.
Yahoo! JAPAN's mission is "Using the power of information technology to make Japan more convenient," and we will provide satisfactory services through Yahoo!.
*1 Includes the case of paying all or part of the accommodation fee with the PayPay balance after using "online card payment".
*2 Japan National Tourism Organization: Number of Foreign Tourists Visiting Japan (Estimated April 2023)
https://www.jnto.go.jp/news/press/20230517_monthly.html
<住宿預訂任何人隨時可享受最高10%折扣的摘要>
・Special site: https://travel.yahoo.co.jp/feature/campaign_pointup/
・Eligible plans: Plans posted on "Yahoo! Travel" accommodation reservations
・ Target payment method: online card payment
・Target reservation period: May 22, 2023 (Monday) 12:00 to August 25, 2023 (Friday) 12:00
<注意事項>
*In the case of "Guest Reservation", you do not need to log in with Yahoo! to make a reservation.
*PayPay Points cannot be withdrawn or transferred. Also available at PayPay official store. You can check the details of PayPay points here (external site: https://yahoo.jp/wSDQ5n).
*If you choose "Use Now", you will not receive PayPay credits.
(Source) https://prtimes.jp/main/html/rd/p/000000257.000098822.html
(Hotel Editorial Department)