Vietnam
Vietnam's first "GASHAPON BANDAI Official Store" opens | GO GO ENTERTAINMENT CO., LTD. Press Release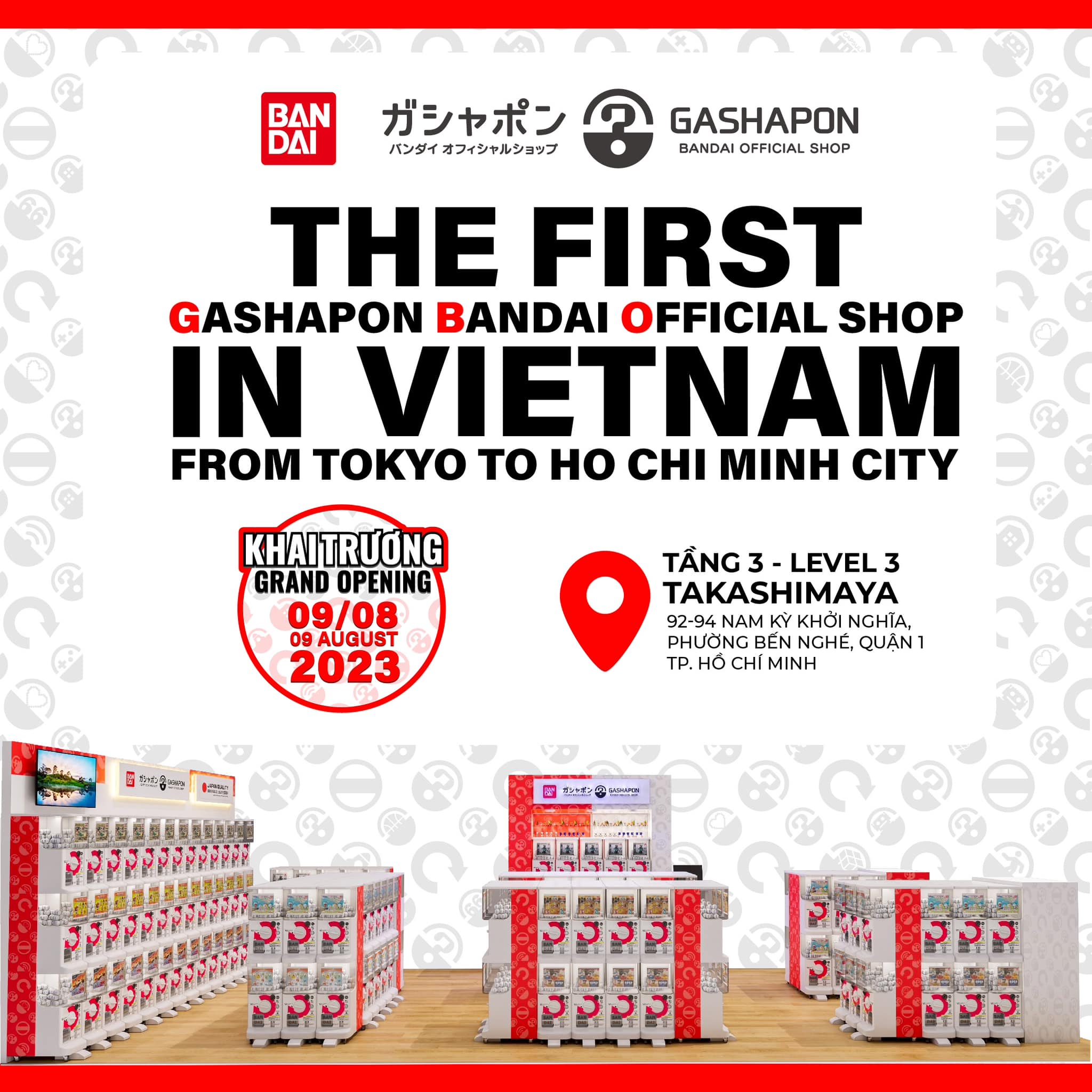 GBO is a gashapon toy specialty store that enriches Bandai's official "GASHAPON®" campaign. The first GBO in Vietnam will follow the GBO concept currently developed mainly in Japan, and will be the only place where all new GASHAPON® products available in Vietnam can be purchased.
As a pioneer in the Japanese animation and character industry, we provide Vietnamese children and young adults with various "funny moments" originating in Japan. In recent years, through the dissemination of network information and videos, the popularity of Japanese animation and cute things has increased rapidly, and even our sales alone, the related product market has been growing at double digits every year. In this context, our company, Bandai and Takashimaya Vietnam agreed that we want Vietnamese people to enjoy GASHAPON®, which is becoming more and more popular around the world, and this idea has been realized. We plan to open new GBO stores mainly in Ho Chi Minh City, and we want to introduce the "GASHAPON®" culture that originated in Japan to many people in Vietnam.
Takashimaya Ho Chi Minh City, which is about to open this time, is located in the center of Ho Chi Minh City, and as the first department store in Vietnam, it is mainly supported by local people as a one-stop shop for valuable products. GASHAPON® and GBO are the most suitable places to spread new culture in Vietnam. The opening will be on August 9 (Wednesday). We have invited many well-known Internet celebrities and are planning the opening ceremony.
<關於GO GO ENTERTAINMENT CO., LTD.>
Produced by: GO GO ENTERTAINMENT CO., LTD. (Contty TNHH Giai Tri GO GO)

Representative: Representative Director Umezawa Tai

Location: 03 Hoa Mai St., Ward 2, Phu Nhuan District, Ho Chi Minh City

URL: gohoobby.vn/

Facebook: www.facebook.com/GashaponBandaiOfficialVietnam

Business Overview: Established in 2007. As the first Japanese character commercial company in Vietnam, we are the official importer and distributor of Bandai and other character products. The sales share of hobby products is top-notch in Vietnam, and our strengths are mainly Japanese animation products such as Gunpla, Banpresto and candy toys. In August 2022, we will open a directly-managed store "GO HOBBY" in Takashimaya, Ho Chi Minh City, and with this GBO, we will have four directly-managed stores.
<關於扭蛋 BANDAI 官方商店>
Store Name: GASHAPON BANDAI Official Store Vietnam Takashimaya

Address: 3rd Floor, Takashima House, No. 92-94, Ben Nghe Ward Nam Ky Khoi Nghia Street, District 1, Ho Chi Minh City, Vietnam

Permanent area: about 33.1 square meters

Number of installations: about 250 (including permanent installations and limited-time installations)

Product price: Priced at 60,000 VND to 30,000 VND

Store opening date: August 9, 2023 (Water)
* "GASHAPON®" is a registered trademark of Bandai Co., Ltd. *Pictures are images*All prices include tax. *While stocks last.