Vietnam
Vietnam targets high-end Cambodian tourists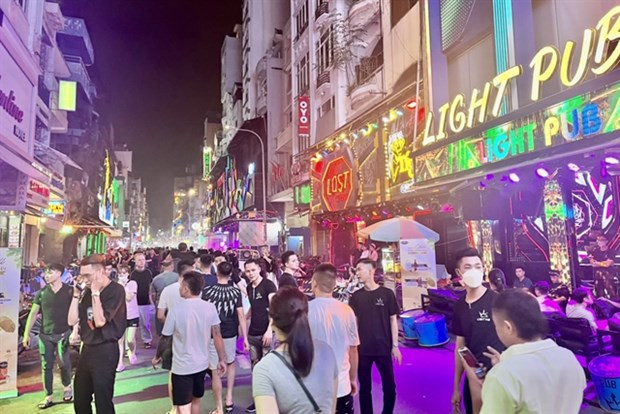 Bi Van Street, Ho Chi Minh City (Source: VNA)
Tourism insiders say Cambodia has become an important market for Vietnam due to its geographical proximity. It was one of the top 10 markets in the first half of the year, with arrivals soaring 338% over the same period in 2019 before the COVID-19 pandemic hit.
In the past, most Cambodian tourists traveled to Vietnam for medical treatment, but COVID-19 has upended travel trends. But there is now an uptick in weekenders, leisure travelers and those looking for longer-term experiences heading to the border region.
Their strong purchasing power is one of the key factors of their interest in Vietnam.
Vietnam's convenient geographical location, beautiful coastline and tempting food are among the factors that attract Cambodian tourists.
Improved transport networks, including direct flights and well-connected roads, make traveling from Cambodia to Vietnam easier than ever.
Travel company Vietravel saw a 10% increase in the number of package tourists from Cambodia in the first five months compared to the same period in 2019.
To fully utilize the potential of Cambodian tourists, the company plans to develop combined tours in Tay Ninh province, which is close to the border. These tours will include holiday tourism, medical tourism and religious tourism.
It is also exploring the possibility of launching flights between major cities in Cambodia and major tourist destinations in Vietnam.
Chen Guosheng, director of the Tay Ninh Provincial Tourism Promotion Center, said that Cambodian tourists mainly enter through border crossings because of the low cost of travel and convenient bus services.
Experts say that while there are opportunities to attract more tourists to Cambodia, there are challenges that need to be addressed.
Currently, flights between Cambodia and Vietnamese tourist destinations are limited and not fully utilized by many airlines. Tourism products for Cambodian tourists need to be further diversified. In addition, promotion and marketing efforts for the Cambodian market remain limited.
To meet these challenges and attract more Cambodian tourists, Tay Ninh Province has organized an outreach program, Thinh said.vagus nerve stimulation