Sri Lanka
UK issues travel warning to Brits after Sri Lanka bombing UK News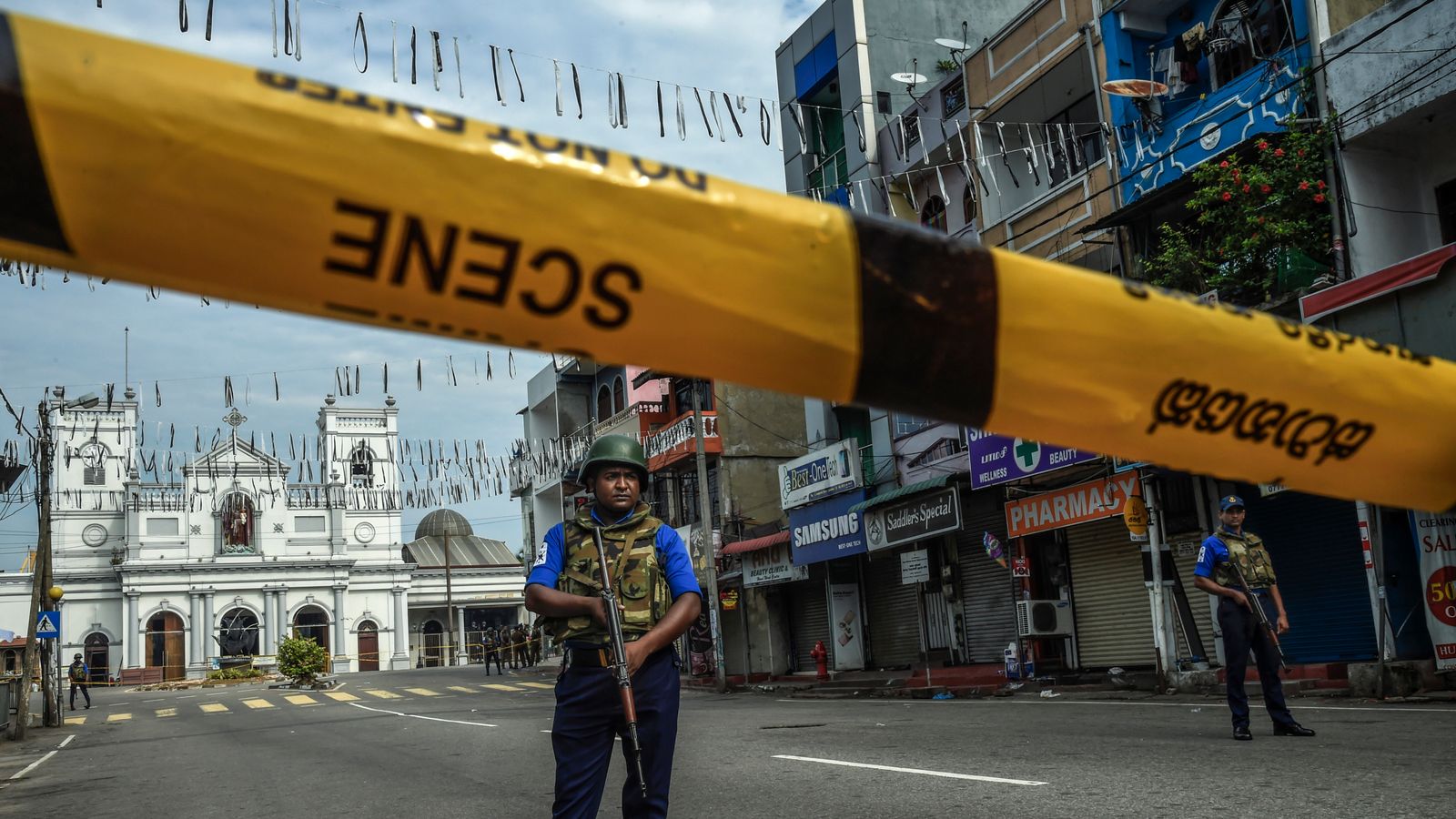 The British Foreign Office warned the 10,000 British residents living in Sri Lanka and another 8,000 tourists from the UK to be vigilant.
Thursday 25 April 2019 at 22:51, UK

The Foreign Office has warned Britons not to travel to Sri Lanka unless necessary following the Easter Sunday terror attacks and what it called the "current changing security situation".
nine bombers On 21 April, a series of bombings targeting churches and hotels across the country killed around 250 people, including eight Britons, and injured more than 500.
The death toll was recently revised to more than 100, according to officials.
The Foreign and Commonwealth Office (FCO) said it issues such travel warnings for terrorist situations when there is an extreme and imminent danger and the threat is sufficiently specific, large-scale or widespread to seriously affect British nationals.
The warning means Britons may not be covered under their policies if they travel to Sri Lanka in the foreseeable future in line with the updated travel advice.
Travel trade group Abta said customers traveling to the island "soon" would be offered deferrals, full refunds or holidays to other destinations.
But anyone booking flights and accommodation separately will need to discuss their options with the various companies.
Vacationers with travel insurance may be able to file a claim for damages under the terms of the policy.
Since the end of a civil war between the Sri Lankan government and Tamil Tiger rebels in 2009, international tourist arrivals have ballooned from less than 500,000 in the same year to more than 2 million in 2017, official figures show.
:: 'It didn't feel right': Honeymooners cancel stay at hotel in suicide attack
CCTV shows Sri Lankan attacker outside hotel

There are currently about 10,000 British residents living in Sri Lanka, as well as 8,000 British tourists.
The Foreign Office has warned them to remain vigilant, keep a low profile and avoid crowded public places, large gatherings (including religious gatherings and places of worship) and any demonstrations.
Additionally, Brits in Sri Lanka should "avoid travel during the nighttime curfew, except to and from the airport, and keep in touch with family and friends".
The Foreign Office said Britons in the country who are about to leave or now want to leave should keep in touch with airlines, travel agents and travel insurers in case any new arrangements are made for their clients.
It added that any Brits traveling independently should make their own arrangements to depart by commercial means, in consultation with their travel insurance company.
UK relatives remember loved ones

If they choose to stay in Sri Lanka, then they should check that their insurance policy provides adequate coverage.
The Foreign Office said its updated travel advice was a "difficult decision based on the best circumstances", insisting that "safety and security are the number one priority".
It warned on its website that terrorists were likely to attempt attacks in Sri Lanka. Attacks can be indiscriminate, including in places visited by foreigners.
While dozens of people have been arrested in the country over the Easter Sunday atrocity, "the extent of the ongoing threat following the April 21 attack remains unclear," the report said.
Following the trail of the Sri Lankan suicide bomber's brother

The FCO added: "Some travel insurance policies may allow you to make a claim if you cancel your trip because our travel advice has changed."
British Foreign Secretary Jeremy Hunt said: "Following the horrific attacks on Easter Sunday and the ongoing security operation in Sri Lanka, I have received the latest advice from the Foreign Office and have decided to update the travel advice for British nationals to Sri Lanka. , to advise except for essential travel.
"We hope this will change when the current security operation ends. My priority will always be the safety of British citizens living and traveling abroad.
"We all hope that the situation can return to normal soon and that the Sri Lankan tourism industry can get back on its feet after the terrorist attack.
"In the meantime, we will do everything we can to help the Sri Lankan authorities."
:: If your Sri Lanka travel plans are affected by the Foreign Office's decision, please contact Sky News via WhatsApp on 07583 000853 – or email news@skynews.com