Japan
Travel searches to Japan surge due to easing of border measures Navitime Japan announces | Visit Japan Lab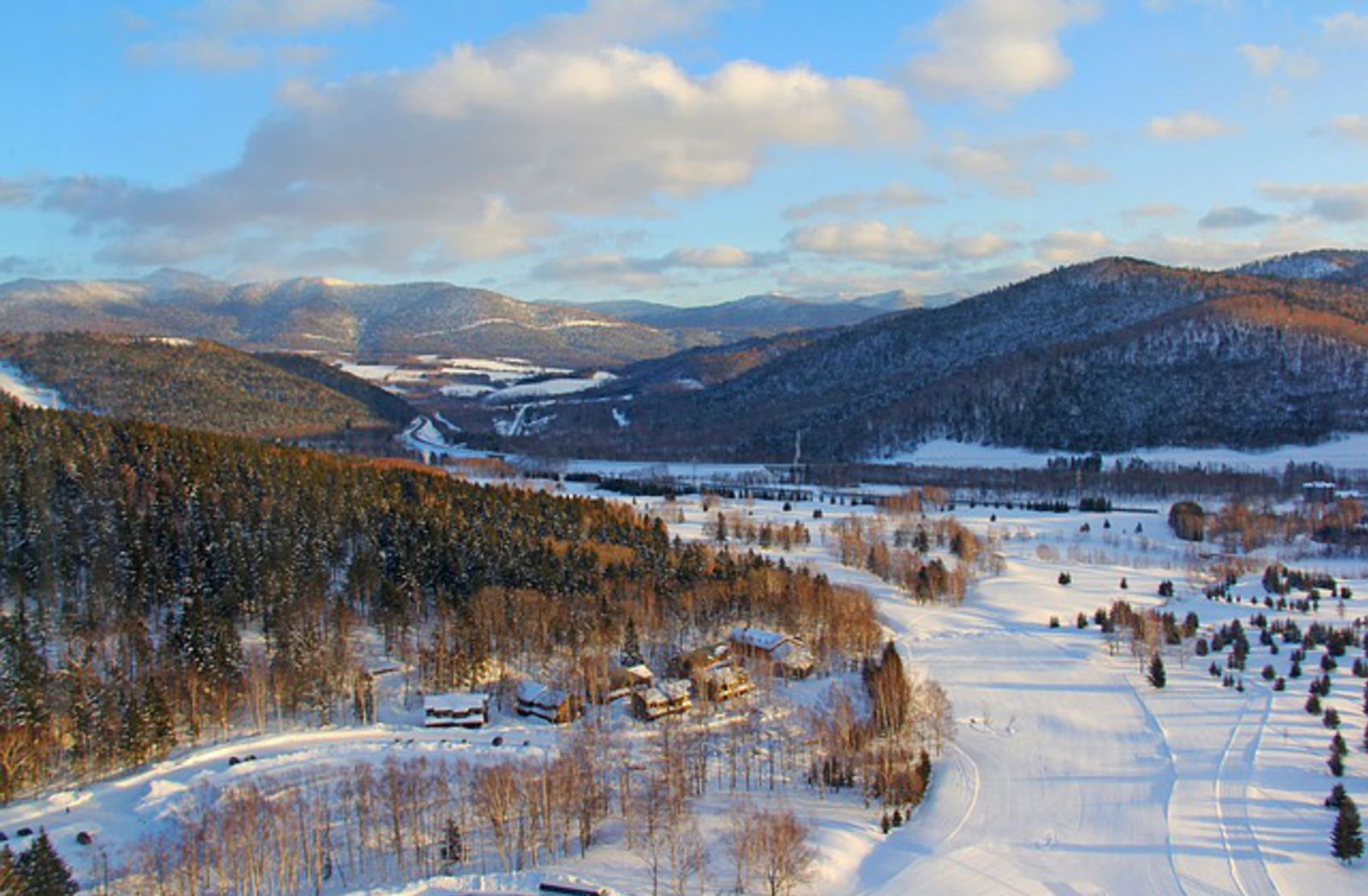 Navitime Japan Co., Ltd. announced the analysis results of popular sightseeing spots for foreign tourists visiting Japan based on the use of the navigation application "Japan Travel by NAVITIME" by foreign tourists visiting Japan.
The results of the analysis shed light on the latest trends in tourist destinations, following the massive easing of border measures on Oct. 11 and rising expectations of a recovery in tourist arrivals to Japan.
19,000 people have signed up!Sign up for the email magazine to learn more about inbound
Navitime Japan Announces Search Trends for Tourist Attractions by Tourists Visiting Japan
Japan will implement a substantial relaxation of border measures on October 11, 2022, canceling the limit on the number of people entering the country, and also canceling the ban on receiving individual tourists.
With the number of tourists visiting Japan expected to rebound, Navitime Japan analyzed the latest trends in tourist destinations based on the use of navigation apps by foreigners visiting Japan.
The survey was conducted from September 1 to October 30 among users of the "Japan Travel by NAVITIME" app.
The app is free to download and provides functions such as door-to-door route search, walking navigation, car navigation, scenic spot search (free Wi-Fi, luggage storage, etc.).
Taiwan, Hong Kong focus rises as searches surge as border easing announced
Since the policy of easing border measures was announced on September 22, the number of app users from outside Japan has increased rapidly.
From the perspective of application language settings, "Chinese (traditional)" has the highest growth rate based on September 1. As of October 30, the number of users has increased by 22.9 times.
The number of users of Korean and Thai also increased significantly, increasing by 7.8 times and 5.9 times respectively, indicating increasing interest in Taiwan, Hong Kong, South Korea and Thailand.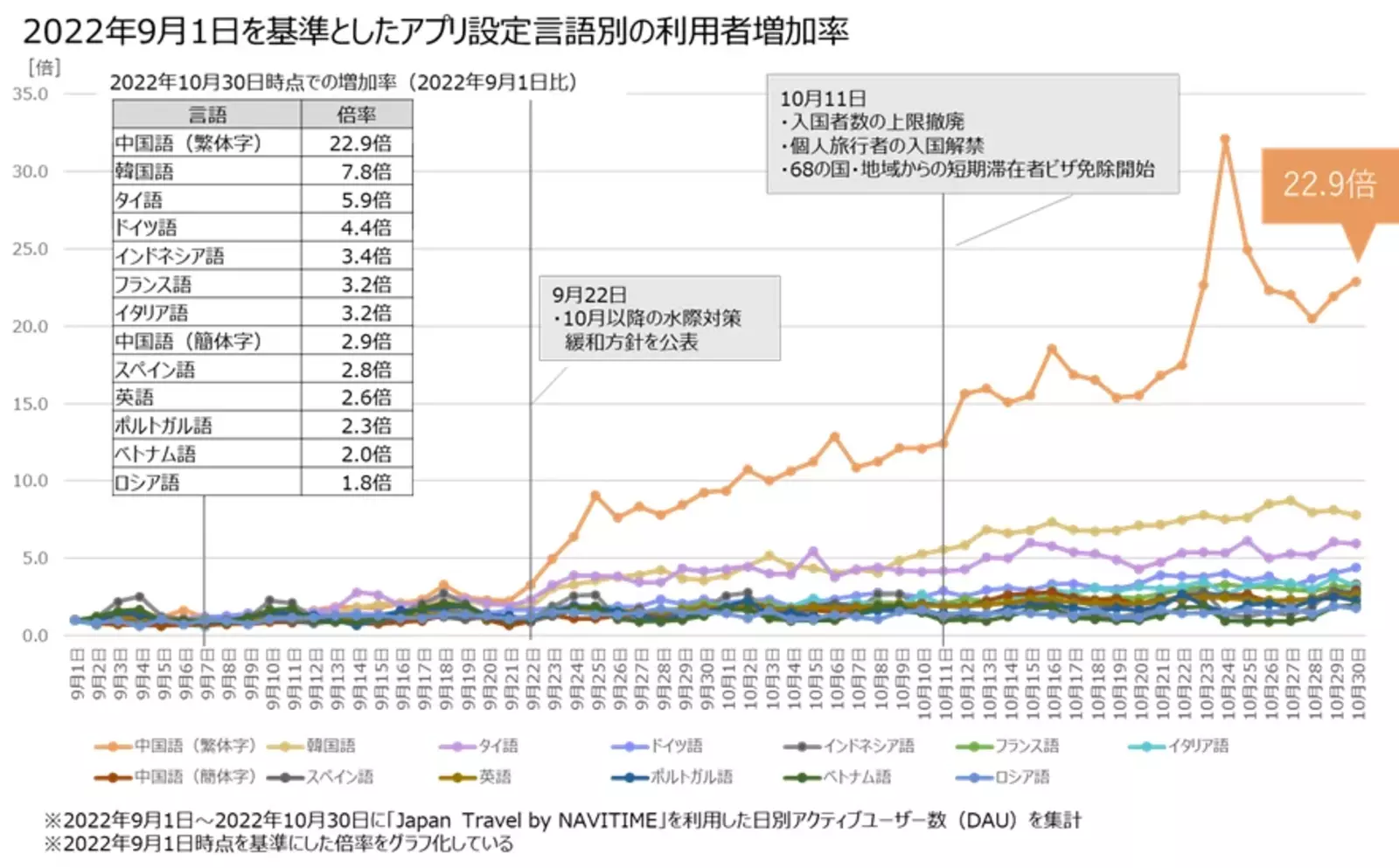 Hokkaido, Yamanashi, and Oita are popular, and theme parks are also attracting attention
In the search rankings of each prefecture, the rankings of Kyoto, Yamanashi, Gifu, and Okayama are higher than those of Japan, which shows that tourists visiting Japan pay more attention.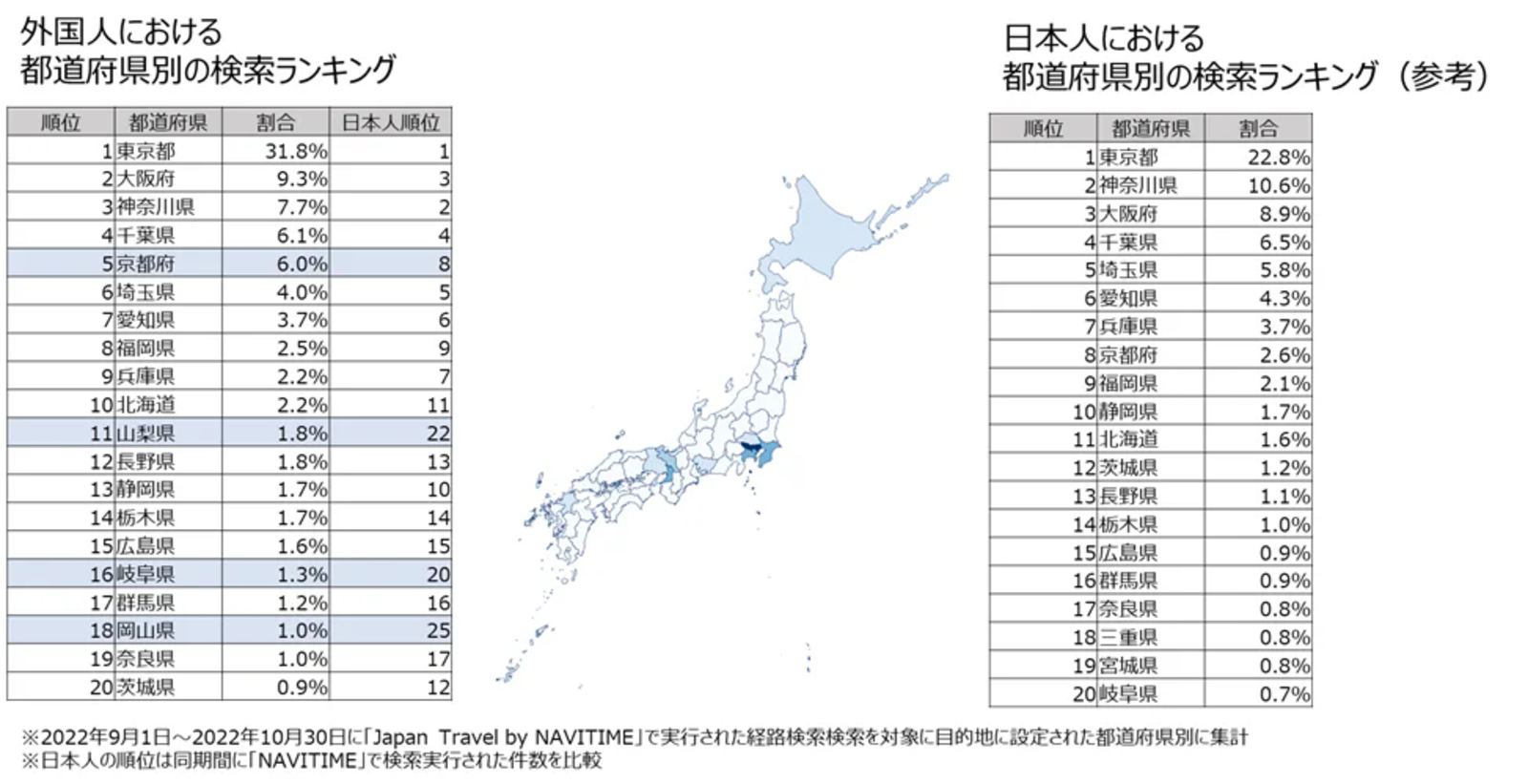 Focusing on the three languages ​​with particularly high growth rates, Chinese (traditional) users will enjoy skiing in the snowy areas of Hokkaido, Nagano, and Aomori in the coming winter, as well as Oita and Oita Kyushu areas that are popular as hot springs, Kumamoto, etc. Top trending.
As for the specific destinations, in addition to Lake Kawaguchi and Karuizawa, Universal Studios, Hakodate, Ginza and Sapporo, the stations closest to Universal Studios Japan, rank high.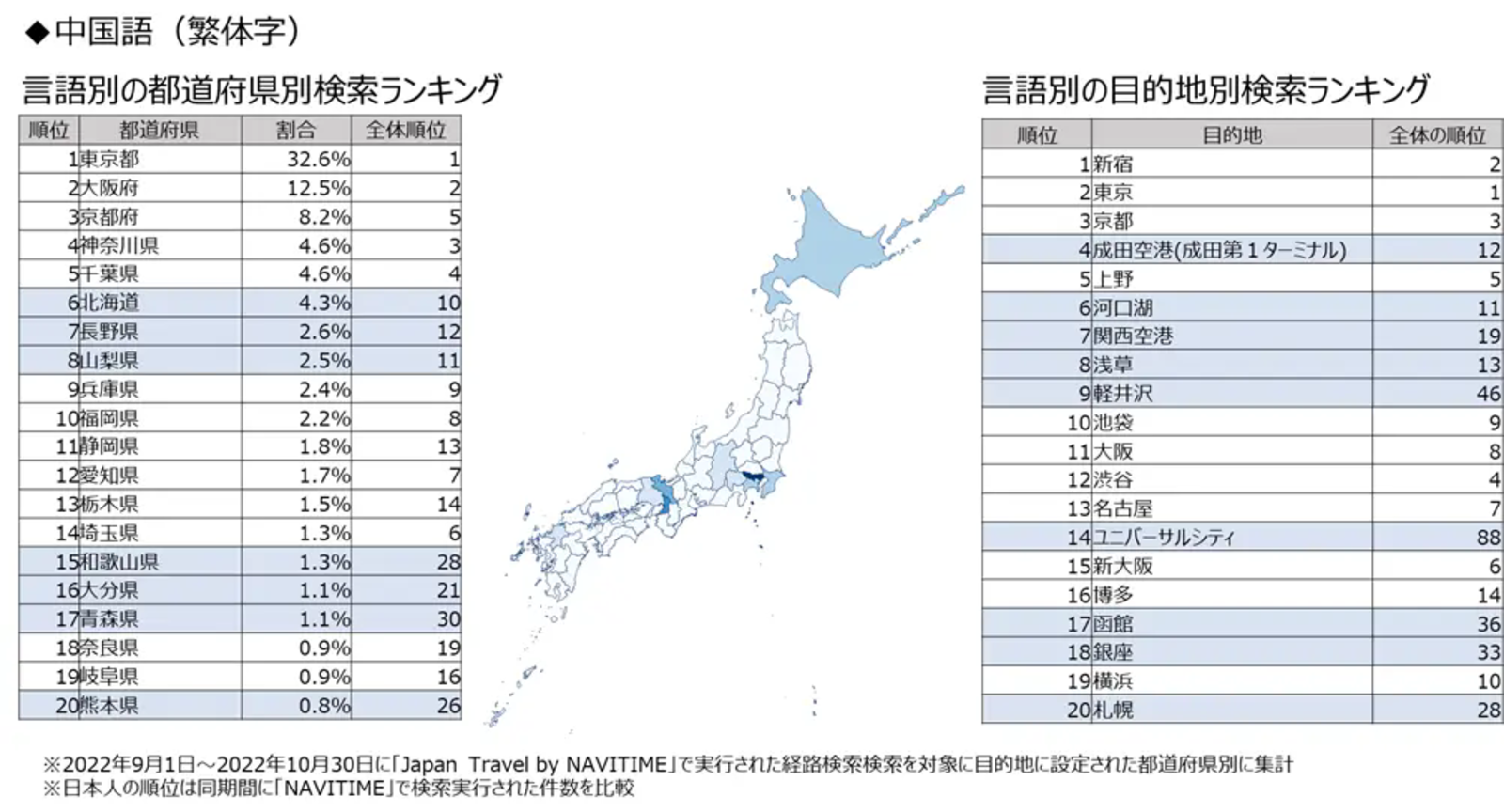 On the other hand, among Thai-speaking users, Fukuoka, Hokkaido, Oita, and Yamagata are ranked higher, and the search range is wide, mainly concentrated in the Kanto, Chubu, and Kansai regions.
Judging from the rankings, Yufuin and Kumamoto rank high.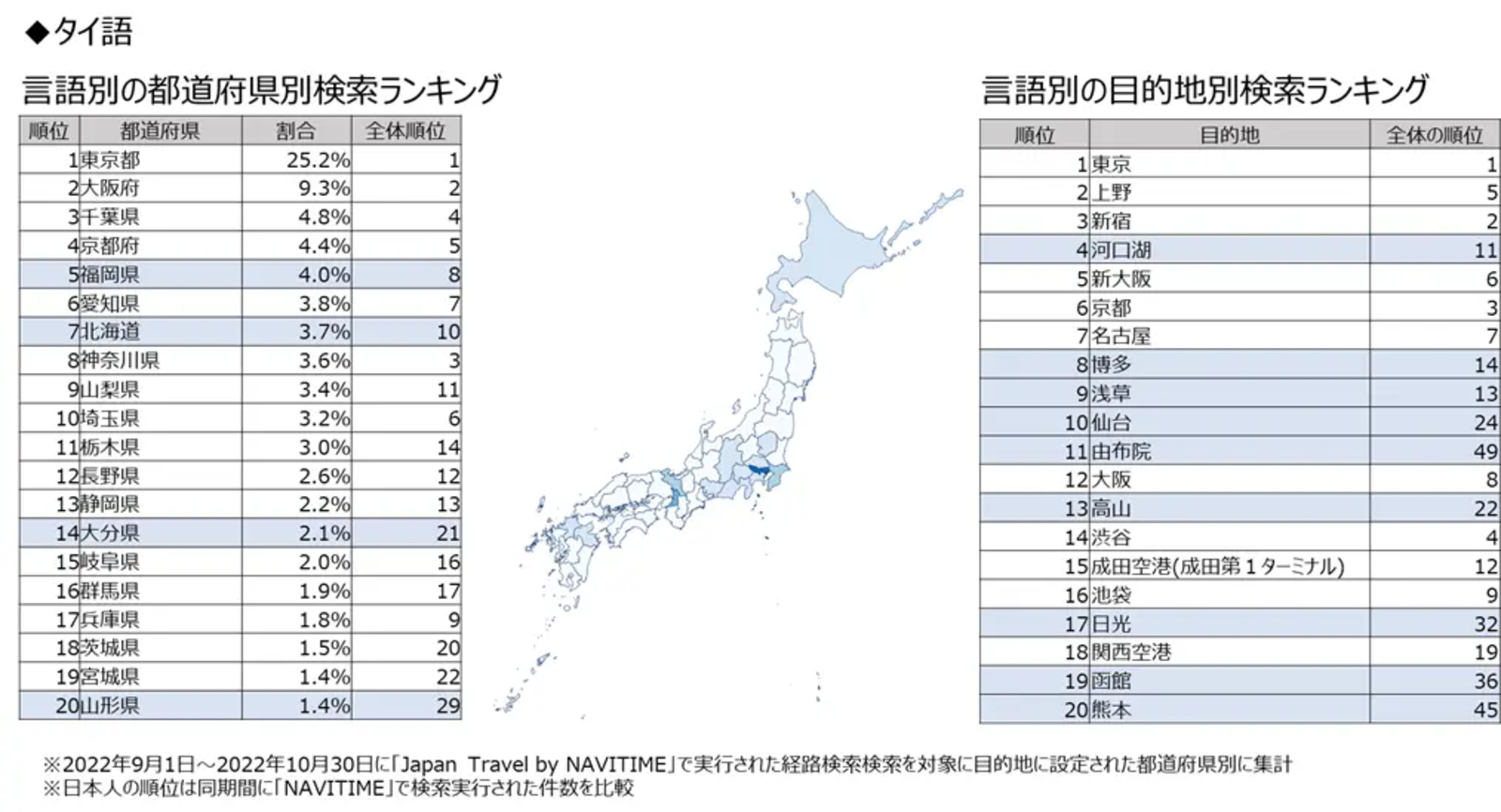 Among South Korean users, the top two Tokyo and Osaka together accounted for about 60% of the total, indicating that searches are more inclined to Tokyo and Osaka.
Hokkaido and Oita also ranked above the overall trend, as did theme parks such as Universal Studios Japan and Tokyo Disneyland as specific destinations.
In addition to Ginza, Akihabara, Harajuku, and Shin-Okubo, there are also many searches for popular attractions such as Tokyo, Osaka, Namba, and Dotonbori.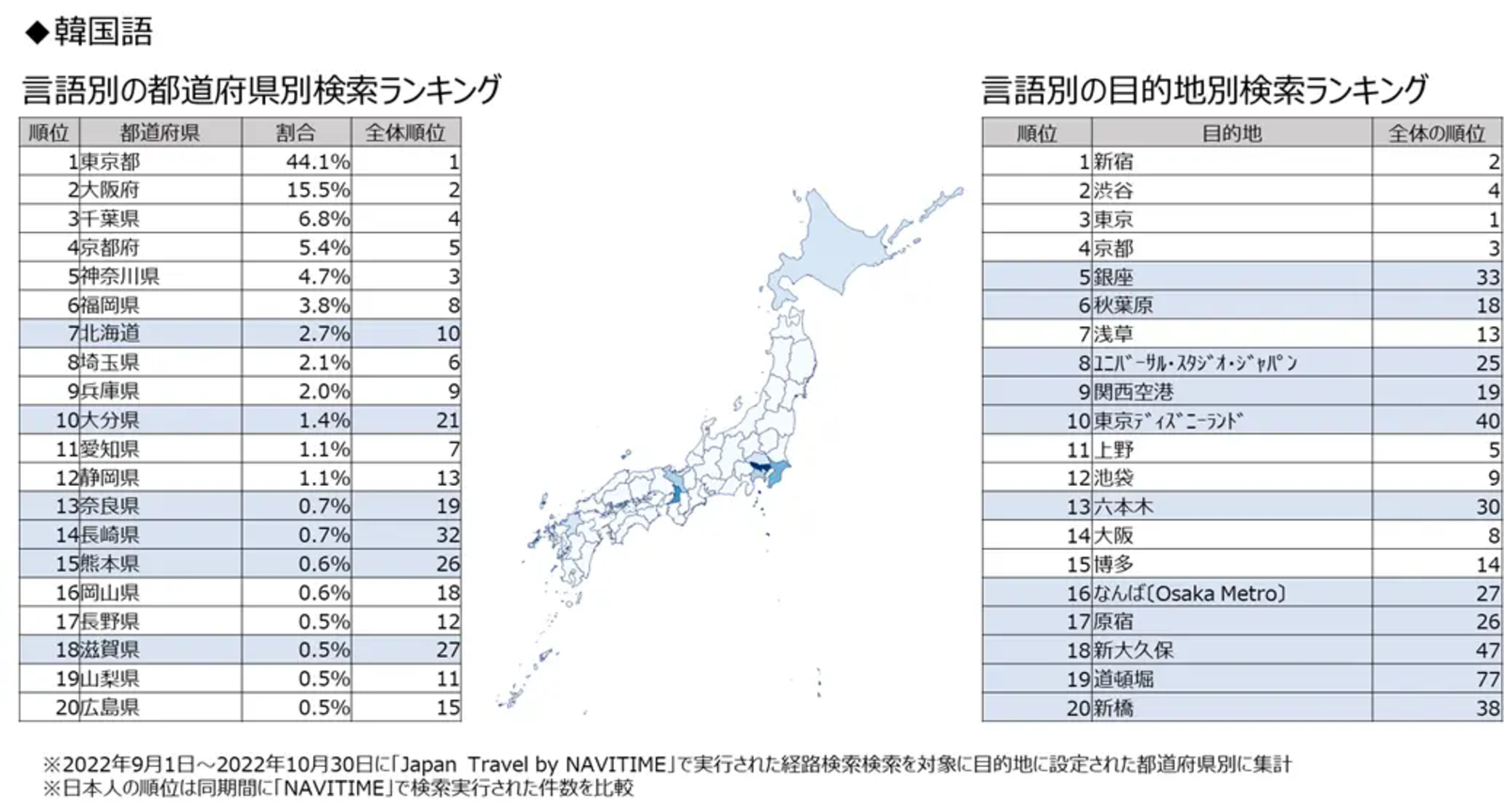 Are you having difficulties with entry measures?
At "Visit Japan Lab", consultants familiar with immigration affairs will answer inquiries about attracting inbound customers and reception facilities!
Consulting visit to the laboratory
<參考>
PR TIMES: Navitime Japan analyzes sightseeing spots searched by foreign tourists visiting Japan