Singapore
Times Square Attractions Travel Guide New York Broadway Shopping Fun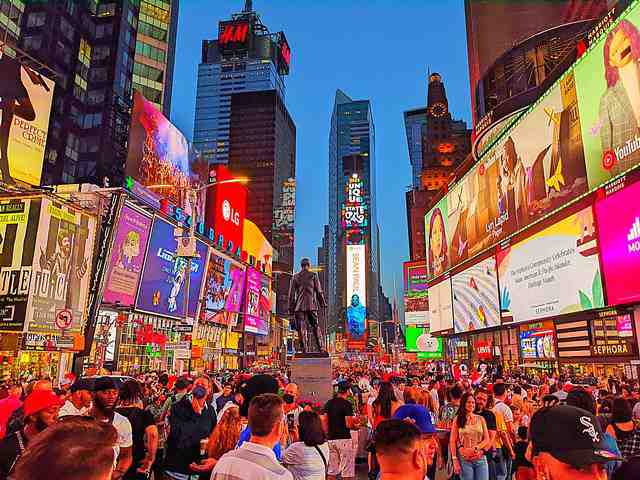 Times Square is the busiest, liveliest and most scenic place in New York City. It is famous the world over as the site of America's famous New Year's Eve countdown event held every New Year's Eve. Times Square is a representative place of New York, and many tourists come to visit it every day. Times Square is the entertainment center of New York City and home to the Broadway Musical Theater District. We will introduce the highlights of Times Square and how to enjoy Times Square.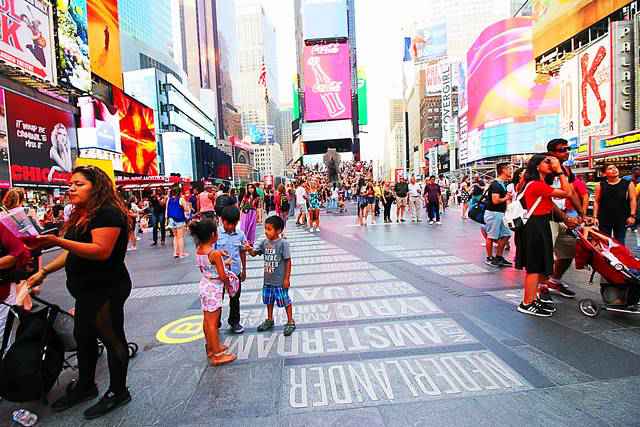 Times Square, known as the crossroads of the world, is the busiest square in New York City, located between 42nd and 47th Streets at the intersection of Broadway and Seventh Avenue in midtown Manhattan. Times Square is located in the heart of Manhattan, conveniently located near several subway lines. Times Square is surrounded by many hotels and restaurants, making it a particularly popular area for tourists. When you travel to New York, you don't just stop in Times Square, you stop at Times Square, you take pictures, you see musicals, you see attractions, I think it's a place you'll come to at least once.
The closest subway station to New York City (MTA) is Times Square 42nd Street Station. There are Red Lines 1, 2, and 3, Yellow Lines N, Q, R, and W, Purple Line 7, and the S Line connecting to the Central Station. You can also go one block west on 42nd Street to 8th Avenue, where you'll find the blue A, C, and E subway lines and the Port Authority Bus Terminal. One block east of Sixth Avenue, the orange B, D, F, M lines stop.
As a result, there are many subway stations around Times Square, and the location is very convenient.
→ How to use New York subway OMNY and Metrocard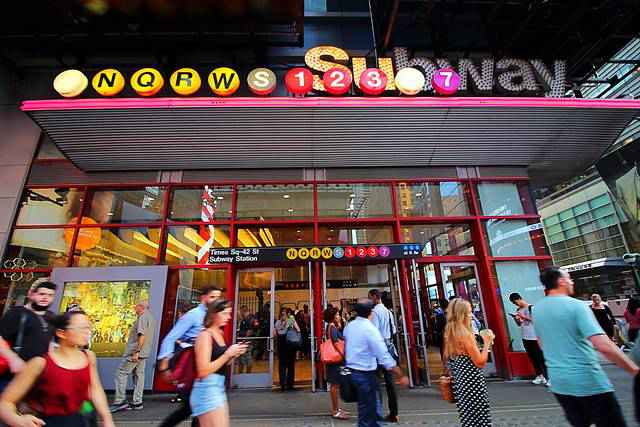 Times Square is divided into two squares, North and South. On the north side is Duffy Square, where the statue of Father Duffy, who was active in World War I, stands symbolically; on the south side is Times Square, where the countdown to the end of each year is held. You can take pictures like Times Square anywhere, but behind the Duffy statue in Duffy Square, there's a big staircase.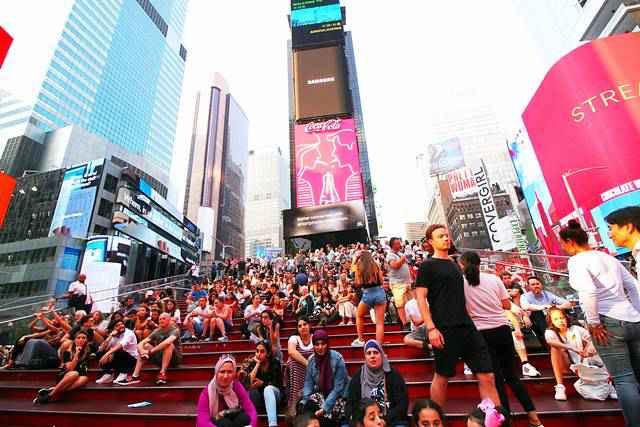 Times Square used to attract tourists and entertainers with its tip business image, but more recently Times Square has been decorated with public art, tables and chairs for relaxing and light meals for sale. Photo taking with public art is also recommended.
It's better than the crowded places in Tokyo, but it's a place where a lot of people gather, so if you don't like crowds, it's best to head to your next destination as soon as you finish your photo shoot.
In Times Square, there are many tip businessmen asking you to take photos with the Statue of Liberty, costumed characters and so on. Aggressive touting has been practiced throughout Times Square in the past, but now it is only allowed within an area surrounded by specific lines called the activity zone and visitors are protected from soliciting. If you want them to take a photo with you, be aware that the tip can be quite high and you might be surprised.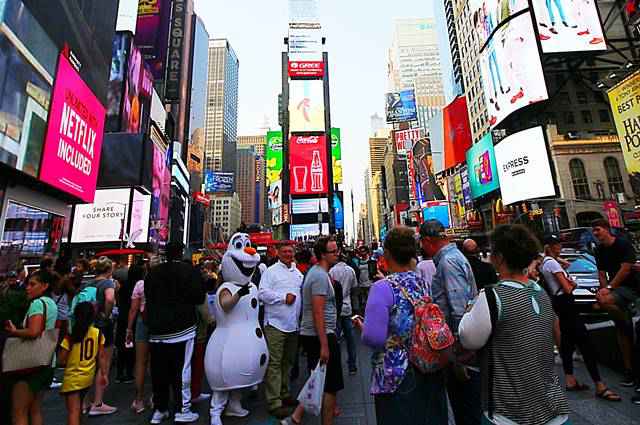 Times Square is a gathering place for tourists, so it is also the starting point for sightseeing buses.
If you have the chance, we recommend taking the double-decker bus. The view from the top is the best.
The hop-on hop-off bus is a bus for visiting sightseeing spots that you can get on and off freely, so it can be used not only as a sightseeing bus for enjoying the scenery, but also as a means of transportation.
A thorough introduction to the Big Bus New York Sightseeing Bus Tour! Free Hop On Hop On Hop On Hop On Hop Off Bus Attractions For Sightseeing In New York Enjoy amazing views from the second floor of the hop-on hop-off bus!
If you want to enjoy the night view of New York, there is also a night sightseeing bus. Unlike daytime buses, nighttime sightseeing buses do not make stops. If you want to see the night view of New York but are concerned about safety, we recommend taking a sightseeing bus and enjoying the view from the top of the bus. I literally rode it all over Night City in NYC. Check out this article and video.
NYC Sightseeing Tour Double Decker Buses Are Now Cheap! TopView Night Bus Tour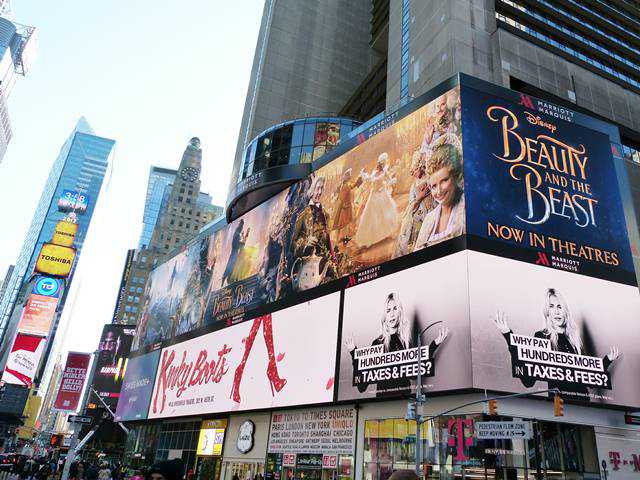 As the center of Broadway musicals in New York, Times Square is dotted with many historic theaters.
Today, Broadway musicals can be seen in cities around the world, but Broadway New York remains home. Music fans from all over the world come here to see New York musicals that are powerful and special.
There are many people who come to New York and want to see a musical at least once, but there are also many people who love Broadway musicals and go to the theater almost every day because Broadway musicals are the main purpose of their visit. If you're an expert, you've probably seen it, but here are some of the most popular and recommended Broadway musicals in New York.
Refer to it if you're wondering which of the many shows to watch.
This is an introductory article about musical theater, based on the experience of watching musical theater.
✨The lion king
🌈 Aladdin
🇨🇳 CHICAGO
♥ harry potter
♥ hamilton
The famous New York Broadway musicals "Phantom of the Opera" and "Frozen" ended sadly.
Broadway musicals are in English, but I don't know if that's possible. . . Some people worry about this, but it's surprisingly not a problem. Musicals are mainly composed of singing, music, costumes and stage performances, allowing you to experience the gorgeous Broadway atmosphere.
For those interested in the world of Broadway, there are also tours that tour Broadway theaters and introduce Broadway, led by Broadway actors. You won't be able to enter the theater, but you'll be able to hear behind-the-scenes stories that only Broadway cast members know.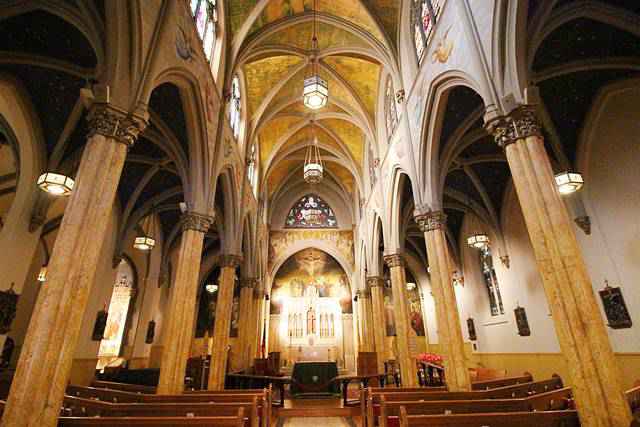 Times Square, home to many Broadway musical theaters, is home to a rare quiet church.
The Chapel of Actors is also known as the Chapel of Actors.
The official name of the Broadway Actors' Chapel is St. Malachy's Chapel. Roman Catholic Church that has existed since 1902.
In the corner of the theater district, there is also a church called the Actors' Chapel, where Broadway actors attend, so if you are a Broadway fan, it might be a good idea to visit.
St. Malachy's Church – Actors' Chapel
Times Square has a famous place called Tickets (tkts) where you can buy cheap tickets for shows of the day. There is always a long queue for Times Square tickets (tkts).
If you have time and don't have anything in particular to see, it's best to look for discounted tickets on electronic bulletin boards.
TKTS Tickets How to Buy Same-Day Discount Broadway Tickets in Times Square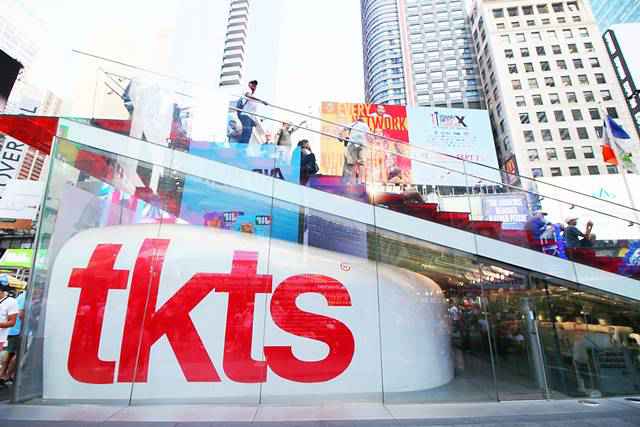 Times Square is also often adorned with gigantic works of art.
As the seasons change, various things change, so please look forward to what kind of art you can come across.
Shipwreck in Times Square, New York! ? Fun public art!
Madame Tussauds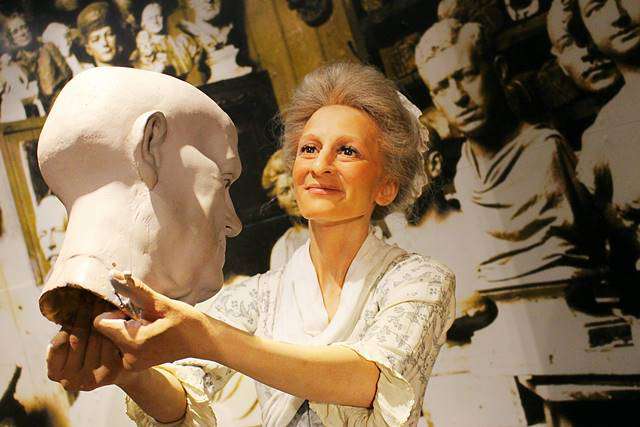 The entertainment district in Times Square is home to Madame Tussauds, an interesting wax museum. Some of you may have heard of Madame Tussauds, which can be found in famous cities all over the world, including in Japan. The amazing thing about Madame Tussauds, though, is that every city in the world, and every Madame Tussauds exhibit is tailored to that region, so it's completely different. There are life-size wax figures of celebrities that everyone has seen, such as famous actors, singers, and US presidents who appeared in movies.
You can enjoy taking pictures and playing with the lifelike celebrity dolls.
▶️Madame Tussauds in Times Square, where you can meet world celebrities
broadway museum
Times Square is the mecca of Broadway musicals and home to the Broadway Museum of the Broadway Musical Theater. Since it's a new museum in New York that just finished in 2022, I went right away.
New York's Broadway Museum of Music opens!Historic masterpieces, costumes, behind-the-scenes footage and more
spyscape
A popular attraction in Times Square is SPYSCAPE, the espionage-themed spy museum. This is a museum with the theme of espionage in digital modern society such as encryption, hacking, surveillance, and cyber warfare that are often heard in TV dramas and movies. It displays real espionage cases and various activities that adults and children can enjoy. Save money with the New York Sightseeing Pass.
Click here for information on how to get to Spyscape, New York's Spy Museum and what to see.
Spyscape Spyscape Experience espionage at the New York Spy Museum!
You can appreciate this at the Spy Museum.
rise new york
Rise New York, a New York theme attraction museum specially designed for New York lovers, also opened in Times Square, New York.
RiseNY Rise New York's newest attraction in Times Square Enjoy a scenic tour of New York that will make you feel like you're flying
Rise New York is just that.
bryant park
New Yorkers' favorite park, Bryant Park, is just steps away from Times Square. This Bryant Park is a place recommended for tourists as it often hosts interesting events. For example, New York-style events such as the Bryant Park Free Outdoor Film Festival in summer, yoga in Bryant Park, and the Bryant Park Christmas Market in winter can all be easily experienced here.
Bryant Park Attractions How to Enjoy a Relaxing Park in the Heart of NYC
Whole Foods in front of Bryant Park is a recommended takeout and shopping location.
new york library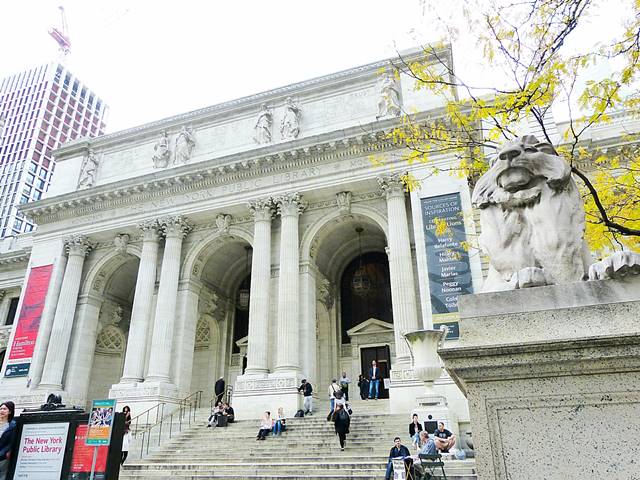 The New York Library, a historic library in a beautiful chalk building in New York, is a popular destination for tourists. A beautiful library featured in the SATC TV series, which can also be used as a wedding venue, is worth a visit.
▶️The charm of the New York Library The beautiful New York Public Library, a wedding must also be mentioned
top of the rock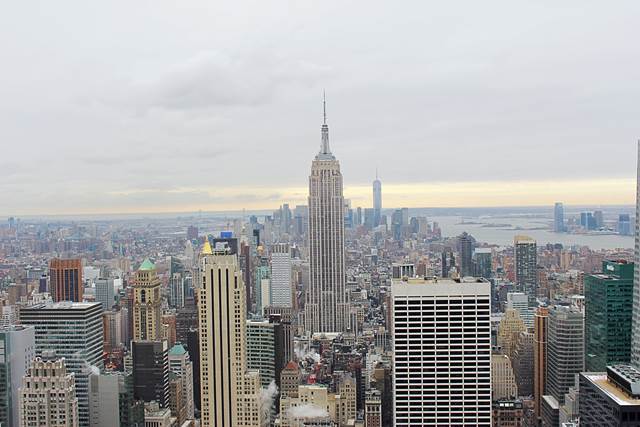 Rockefeller Center is a tall building rising along Fifth Street in New York. As an observation deck, you can enjoy the beautiful scenery and is a very popular attraction for tourists.
The observation deck is located on the 68th, 69th, and 70th floors, and you can see Central Park and the Empire State Building right in front of you.
In particular, the 70th floor is an open viewing floor without glass, so you can see the best scenery.
▶️Top of the Rock Let's go to the observation deck at Rockefeller Center!
empire state building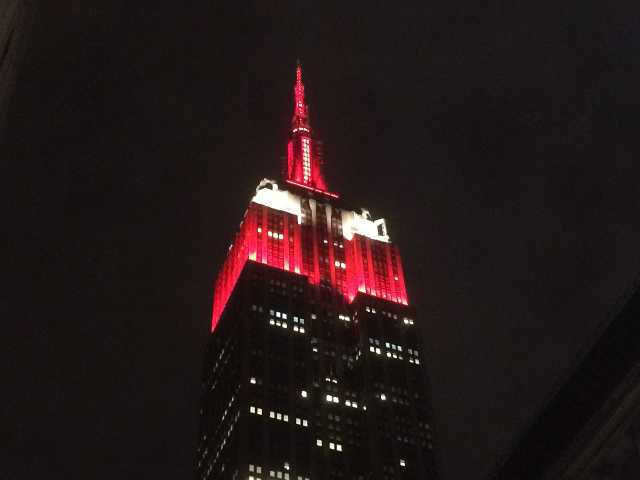 You can even climb up to the observation deck of the beautiful Empire State Building, which has long been the setting for New York movies. It's just a few minutes walk from Times Square and is one of New York's most popular tourist attractions.
▶️Let's go up to the Empire State Building Observatory!New York's stunning night views and daily light shows
Museum of Modern Art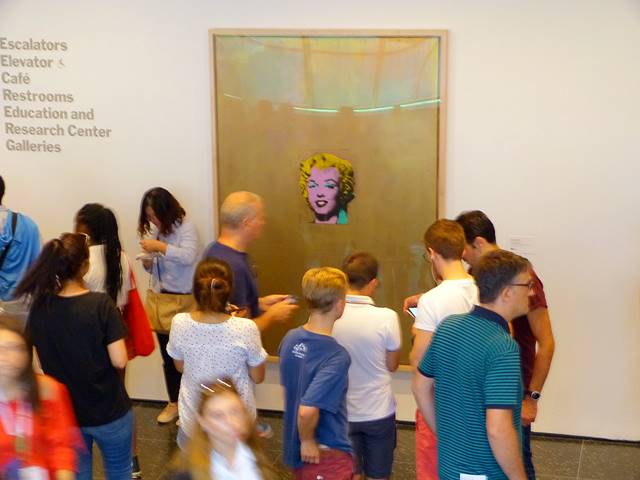 New York City's Museum of Modern Art (MoMA) is a popular museum about a 15-minute walk from Times Square. The Museum of Modern Art (MoMA) also has a beautiful restaurant, The Modern, adjacent to the gardens. This is a museum with a rich collection that art lovers should not miss.
▶️Detailed introduction of MOMA's latest highlights and masterpieces
Circle Line Cruises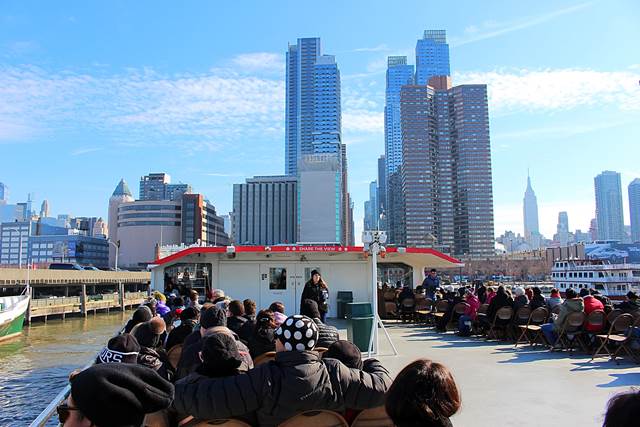 A popular sightseeing cruise, the Circle Line, departs from Pier 83 along the Hudson River, about a 12-minute bus ride from Times Square. This is a fun and scenic cruise with beautiful views of New York skyscrapers such as the Empire State Building, One World Trade Center, Brooklyn Bridge, and the Statue of Liberty.
▶️Circle Line Cruises thoroughly introduces New York's popular cruise ship scenic spots!
Intrepid Sea, Air and Space Museum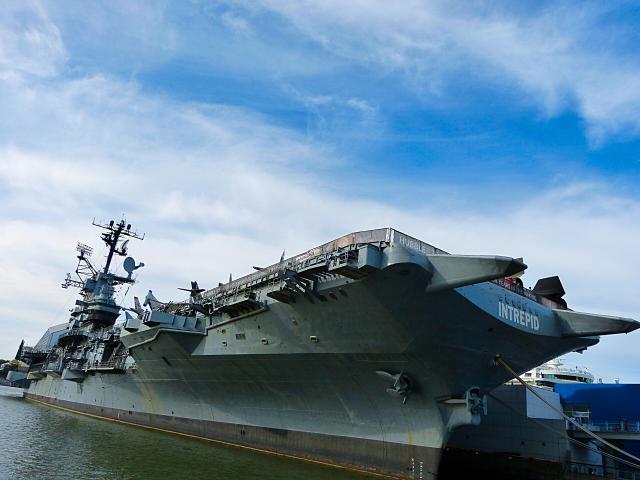 The Intrepid Sea, Air, and Space Museum is located next to the port where the Circle Line is located. Various aircraft and space shuttles can also be seen on board.
▶️What to see at the Intrepid Sea, Air, and Space Museum New York's famous aircraft carrier museum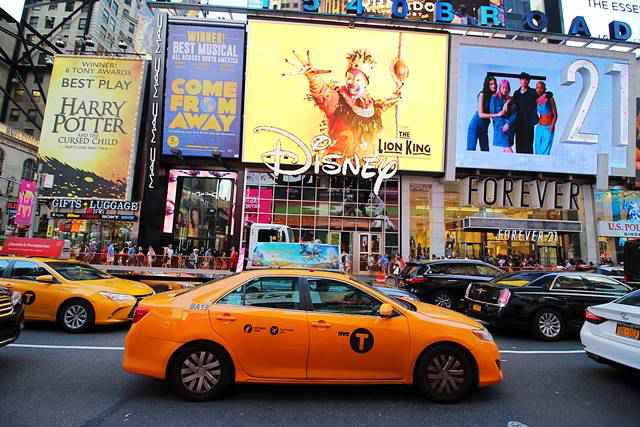 Times Square gathers many tourists, and there are also shops where you can buy American-style and New York-style souvenirs.
The New York Disney Store is located in the middle of Times Square. The theater for Disney's The Lion King musical is just a stone's throw away. Try looking for Disney merchandise that's only sold in New York.
▶️New York Disney Store Exclusive!Find Cute Souvenirs in Times Square
M&M's is one of Times Square's classic stores.
A colorful and fun store selling an assortment of adorable M&M's character merchandise.
▶️Head to M&M's in New York's Times Square to find cute American souvenirs!
There is also a popular American chocolate, Hershey's, so try climbing the ladder. When you walk into the store, you can taste Hershey's popular chocolate, kiss chocolate.
▶️Pick up American chocolate souvenirs at Hershey's Times Square New York
Times Square is also home to the flagship store of the famous donut shop Krispy Kreme.
▶️Krispy Kreme Flagship Store
There is a unique bookstore in Times Square, where Broadway musicals gather in New York. This drama bookstore is recommended for drama lovers.
▶️A must-visit bookstore for musical and theater lovers in Times Square, New York!drama bookstore
Two blocks east of Times Square is the famous Fifth Avenue. There are trendy boutiques, luxury department stores, and the popular Tiffany's Café.
▶️Recommended shopping on Fifth Avenue New York Luxury department stores and highlights on Fifth Avenue
New York's year-end event, the Countdown to Times Square, is New York's big event on New Year's Eve, and even outside the United States, you may have seen it on TV.
Anyone can attend the Countdown in Times Square, but the long wait times for the countdown can be difficult for attendees waiting in the cold winter weather. Still, people from all over the world come year after year for the lively countdown to Times Square.
New York Countdown to New Year's Eve 2023 Features
Located at the intersection of Broadway and Seventh Avenue, Times Square was first called Times Square in 1904. Located in the center of New York at the time, quite far from Madison Square Park, it was originally named Longacre Square, but was renamed Times Square following the relocation of The New York Times. Then, by the 1920s, most of the theaters were relocated to Times Square, further developing it into New York's entertainment center. Since then, it has had its ups and downs with the times, but now it's the place that represents family-friendly New York. You can learn more about it in this article and the video below.
New York has a variety of discounts that allow you to enjoy your trip to New York at great prices.
New York sightseeing and gourmet recommendations 33 popular attractions A thorough introduction to the latest highlights of 2023 NY!