Vietnam
[The St. Regis Osaka]St. Regis Hotels & Resorts Asia Pacific's new promotion "House of Celebration" celebrates the arrival of summer, "Summer"
Japan Marriott Hotel
[The St. Regis Osaka]St. Regis Hotels & Resorts Asia Pacific's new promotion "House of Celebration" celebrates the arrival of summer, "Summer – Celebration of Place"
July 18, 2023 (fire)

(Japan Marriott International Hotel)

Japan Marriott Hotel
Journey through food and tradition, and enjoy the flavors of summer, such as the chef's special package collaboration with Termon, the champagne brand creating a sustainable future of luxury, and limited-time cocktails.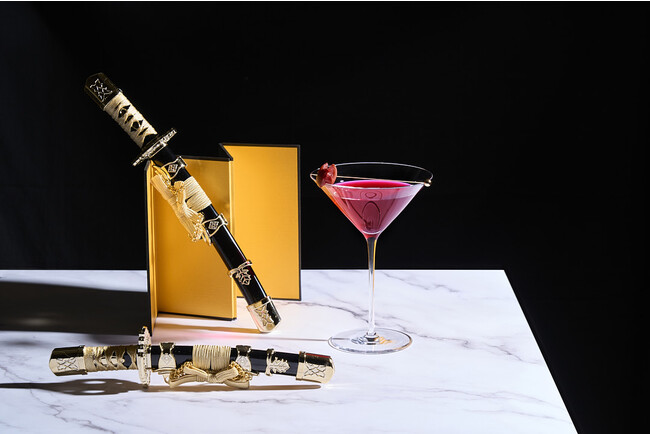 The St. Regis Osaka (located at 3-6-12 Honmachi, Chuo-ku, Osaka) welcomes the arrival of summer with the new seasonal promotion "House of Celebration" launched by St. Regis Hotels & Resorts Asia Pacific. It will be held from August 5th (Wednesday) to August 31st (Thursday).
"House of Celebrations" will set unique seasonal themes and highlight the "rituals" inherited by San Hotel, a promotion that offers cultural, fashion and dining experiences that create new traditions. "Summer – A Celebration of Place" will feature an "Exquisite Journey Menu" featuring collaborations with St. Regis chefs from around the world, as well as carefully selected local ingredients and traditional menus rooted in various cultures, as well as special dishes. Locally inspired cocktails, such as St. Regis' signature Bloody Mary and New York-inspired cocktails, will take you to St. Regis destinations around the world.
At the St. Regis Osaka, you can enjoy the special course "Chef's Table with Termon" which is a collaboration between the champagne brand Termon and the chef, and the special dish "Studione" which the chef personally selects from the Italian cuisine "La Veduta" which carefully uses local seasonal ingredients , "New York Inspired Cocktail", inspired by New York tradition and local culture, created by the St. Astor family, the founding family. In addition, the oriental afternoon buffet held at the French restaurant "Le Dole" on the first floor since May offers a series of specialties and popular desserts from Japan and other Asian countries.
"Chef's Table with Termon" is a dinner limited to the first day of every month, where you can enjoy the pairing of champagne "Termon" embodying the sustainable development commitment and the chef's specialties.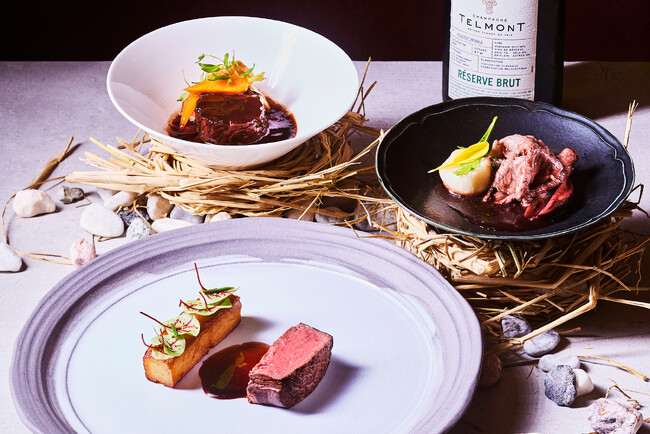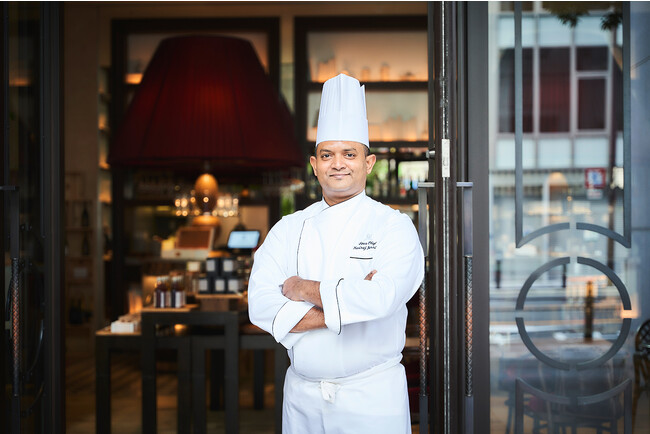 To coincide with World Sustainability Day on the last Wednesday of October every year, the St. Regis Osaka will hold a "Chef's Table with Termon" event on the last Wednesday of each month starting in August. Chefs at the St. Regis Osaka's restaurants collaborate with local producers on a monthly basis to prepare special one-day dinners using carefully selected ingredients. You can enjoy champagne from the champagne brand "Telmon", with "In the name of nature" as an indicator for all activities, to accompany each course. For the first event in August, Chef Jania Kabilaji of the French restaurant "Le d'Or" on the first floor will create delicious dishes using ingredients such as vegetables and fish harvested in the Kansai suburbs, as well as herbs procured from local farmers. A "sustainable" restaurant. With the theme of "nature", we offer menus designed with seasonal flavors and images of summer.
In addition, the bar "La Cave" on the 2nd floor of the French restaurant "Le d'or" will serve Terumon-style champagne "Reserve Brut" and "Reserve Rosé" for a limited time from July, so you can enjoy it by the glass. Pair it with a variety of cheeses for a relaxing aperitif.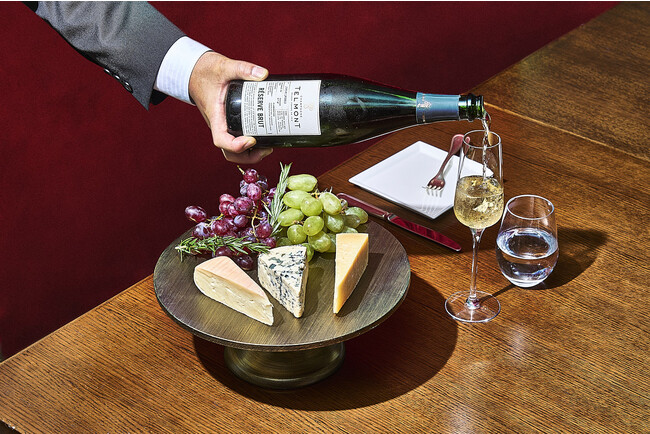 The St. Regis Osaka and Termon shared their thoughts on a luxurious and sustainable future, and will continue to provide opportunities for delicious experiences to be sustainable.
Chef's Table with Telmon
Date and time Last Wednesday of each month<第一次> Wednesday, August 30, 2023 18:00-21:00 (reception time 17:30)
■ Venue Imperial Board Meeting Room on the 11th floor
■Price 28,000 yen per person
■Content
≪Cooking≫
appetizer
phyllo tart edamame mint gel
Cod Brand Thyme Lavoche
Crispy Spinach Fritters
dinner menu
Amelia Tomato and Summer Squash Amazake Biscotti
Danbo Ballotine Domestic Gold Rush Corn Fresh Truffles
Pipa Masu Green Bean Hot Pot St. Regis Green
Tamunda Fresh Herb Sauce
Lemon Granita and Sake
4 types of Wagyu (Sukiyaki, Beef Burgundy, Sliced ​​Wagyu, Soup)
Nellie Melba Flight to Japan (Peach Vanilla Matcha Crumble)
Seaweed Brioche
Summer citrus oil and salt flower
≪Drink for two≫
Reserve Brut Champagne, Reserve Rosé, Noir Blanc, St. Souffle, Blanc Blanc, Noir Blanc (optional)
Telmon Visor Glasses
■Period Saturday, July 1, 2023 – Thursday, December 21, 2023
■Dinner time 18:00-22:00 (LO 21:00)
■Price Drinks 3,300 yen~ / Food 800 yen~
■Venue French restaurant "Le Dole" 2nd floor bar "La Cave"
STAGIONE is a specialty restaurant where you can enjoy regional cuisine from all over Italy prepared with seasonal ingredients.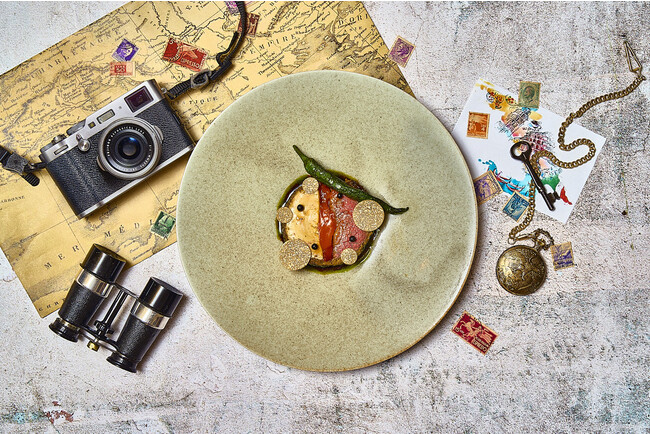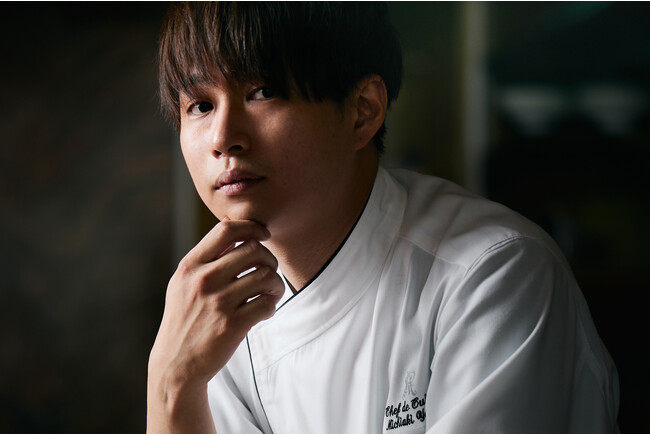 The chef's special "Studione" is prepared monthly in the main dining room of the Italian restaurant La Veduta located on the 12th floor of the hotel. The commonality between Italian cuisine and Japanese cuisine is the use of fresh ingredients and the characteristics of cherishing the natural flavor of ingredients. Chef Doaki Yoshida carefully selects seasonal ingredients in Kansai, and brings out the rich flavors of various Italian regions as the seasons change. deliver.
Sicily and Sardinia are the subjects of July and August, which is at the height of summer. We take you on a culinary journey through the Mediterranean islands, enjoying traditional local dishes prepared with seasonal ingredients, basking in the azure waters and bright sunshine.
STGIONE ~Chef's Specialty Dishes~ 
■Dinner time 17:30-22:00 (LO 21:00)
■Location Italian restaurant "La Veduta" on the 12th floor
■Price 27,500 yen per person
■Content
≪July Menu≫
Appetizer Sea Urchin and Caponata
Tuna tartare with caviar finocchio horseradish
Seafood Couscous Zuppa Zafferano with Lemon Olive Oil
Norma-Style Bucatini Eggplant Tomato Tomato Sauce
Moray Beccafico Squid Ink Vermouth Genoa
Falsmagle Ham Summer Truffle Golden Kite Eggs
Sicilian Cassata Blood Orange Ricotta Dried Fruit
refreshments
≪August Menu≫
Appetizer Pane Karasau
Sea Bass Burrida Caviar Italian Parsley Walnuts
Lamb Polpettine Crullgiones Parmigiano Pomodoro
spaghetti alla bottarga anchovies peperoncino spinach
shellfish fregola, sun-dried tomato, salmon roe, lemongrass
al forno suckling pig madras with perilla and pine nuts
Seadas Pecorino Yuge Bokujo
refreshments
Inspired by the local culture of New York's vibrant five boroughs, the "New York Inspired Cocktail" with a special Japanese twist is launched for a limited time.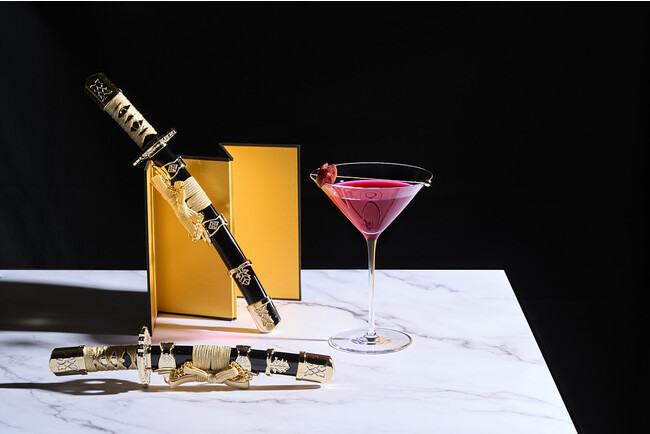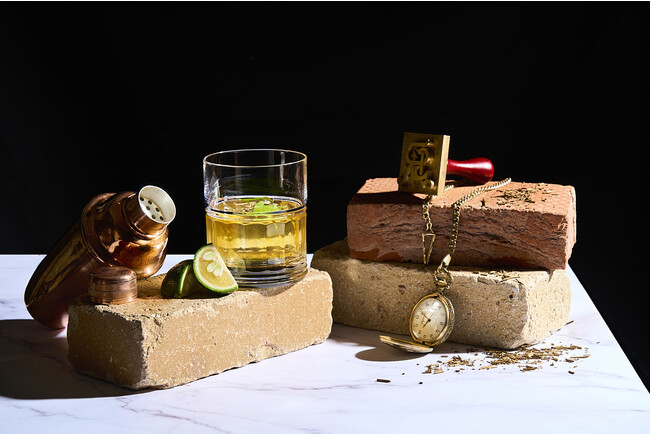 Among the New York-inspired cocktails that blend the culture of New York, the birthplace of the St. Regis Hotel, with the heritage of the founding family, the Astor family, are two summer-only cocktails. Using Japanese vodka, Japanese absinthe, shiso and plum, etc., "Samurai Cure" was born to heal the fatigue of modern people who are busy every day. Inspired by Kitahama, Osaka, the Japanese whiskey "Kitahama Club" infused with spices and herbs is blended with "Manhattan", known as the queen of cocktails, and has a rich taste. A moment to contemplate the stories behind the cocktails and the tastes unique to Japan. Enjoy a fascinating cocktail tour that will make you feel as if you are traveling between New York and Osaka.
New York Inspired Cocktails
■Period August 21, 2023 (Monday) – November 30, 2023 (Thursday)
■ Business hours Monday to Thursday/Sunday/holidays 17:30-23:00 (LO 22:30)
17:30 ~ 24:00 (L.O. 23:30)
■ Location St. Regis Bar, 12th Floor
■Price 2,900 yen~
◇Website: https://www.stregisbar.stregisosaka.com/social-events
"Oriental Afternoon Buffet" invites you to embark on a fascinating journey of mysterious and beautiful Asian countries.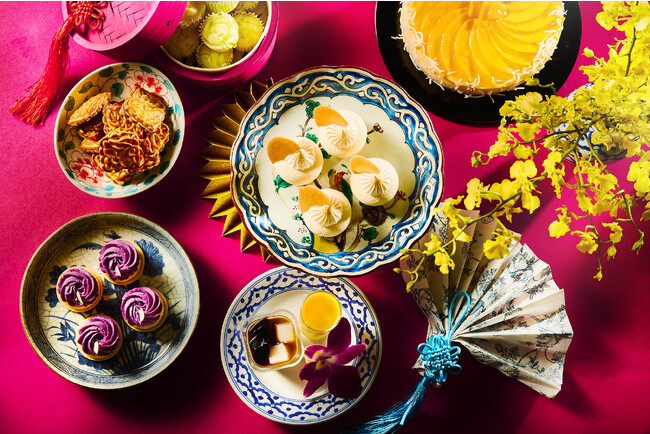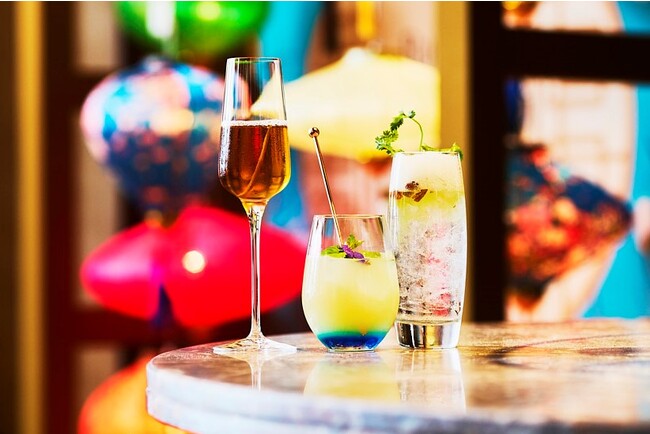 The "Orientalist afternoon buffet" currently being held at the French restaurant "Le Dole" on the first floor is a modern curiosity that adds French elements to the taste and inspiration of oriental countries such as Japan, Korea, China, Thailand, and Vietnam. We offer 23 sweet and 9 savory items to keep you tempted. Mysterious and attractive Asian desserts, combined with the French flavor of local Asian desserts, such as Chinese "moon cake", Thai pancake "Khanom Buan", "Vietnamese pudding", Japanese "Mitarai Mochi Millefeuille" and so on. You can enjoy gourmet experience like traveling around Japan.
Orientalism Afternoon Buffet
■Period from Saturday, May 13, 2023 to Sunday, September 10, 2023
■Time 15:00~17:00
■Price Adults / 5,700 yen Children (4 to 12 years old) / 2,850 yen
■Location French restaurant "Le Dole" on the 1st floor
■Content
≪Cooking≫
Ordinary dim sum (17 types)
Theme desserts (6 types)
Salty (9 types)
■ Website https://www.ruedor.stregisosaka.com/
(Reservation/Inquiry)
Regis Osaka restaurant reservation 06-6105-5659 (10:00-19:00)
*Prices shown include taxes and service charges.
Official website: www.stregisosaka.co.jp
Instagram: Instagram.com/stregisosaka
Facebook: facebook.com/stregisosaka
###
About
Founded in 1912 in Damry, near Epernay in the Champagne region, by vineyard and wine producer Henri L'Hopital, Maison Termont is a craft passed down from generation to generation for more than a century, a " unique" brand. True to this motto, we continue to produce champagne without compromise. With the awareness of "in the name of nature" as the guideline for all activities, Terumon aims to "respect and love nature (terroir)." We are firmly committed to protecting the environment for the next generation while valuing it. With its strong vision and sustainable approach to excellence in quality while minimizing its impact on the natural environment, the brand is ushering in a new era of Champagne.
■Company website: https://jp.chhampagne-telmont.com/
■Instagram: https://www.instagram.com/champagnetelmont_japan/
■ Official image: https://x.gd/woSCt
About St. Regis Hotels and Resorts
Combining timeless sophistication with contemporary style, St. Regis Hotels & Resorts promises exceptional experiences at more than 50 luxury hotels and resorts in some of the world's finest locations. Since John Jacob Astor IV opened the first St. Regis in New York City more than a century ago, through the signature St. Regis butler service, each guest has been provided with uncompromising custom service and beyond. expected service. For more information and new job openings, visit stregis.com or follow us on Twitter, Instagram and Facebook. Regis participates in Marriott Bonvoy(R), a global travel program offered by Marriott International. The program offers members an incredible portfolio of global brands, exclusive Marriott Bonvoy moments, and unrivaled benefits such as free nights and elite status recognition. For free membership registration and program details, visit marriottbonvoy.com.
About Marriott International
Headquartered in Bethesda, Maryland, USA, Marriott International (NASDAQ: MAR) has more than 8,500 hotels under 31 leading brands in 138 countries and territories. Marriott also operates and franchises hotels and licenses resorts around the world. The company offers the critically acclaimed travel program Marriott Bonvoy(R). For more information, please visit our website: www.marriott.com. For the latest news, visit www.marriottnewscenter.com. Also, connect with us @MarriottIntl ​​on Facebook, Twitter and Instagram.
Company Press Release Details
GO TO PR TIMES TOP
*This information is a press release issued by PR TIMES Co., Ltd., and the responsibility for publishing this information belongs to the issuing company.