South Korea
The Spirits Drink of 2021 Will Be the Makkorli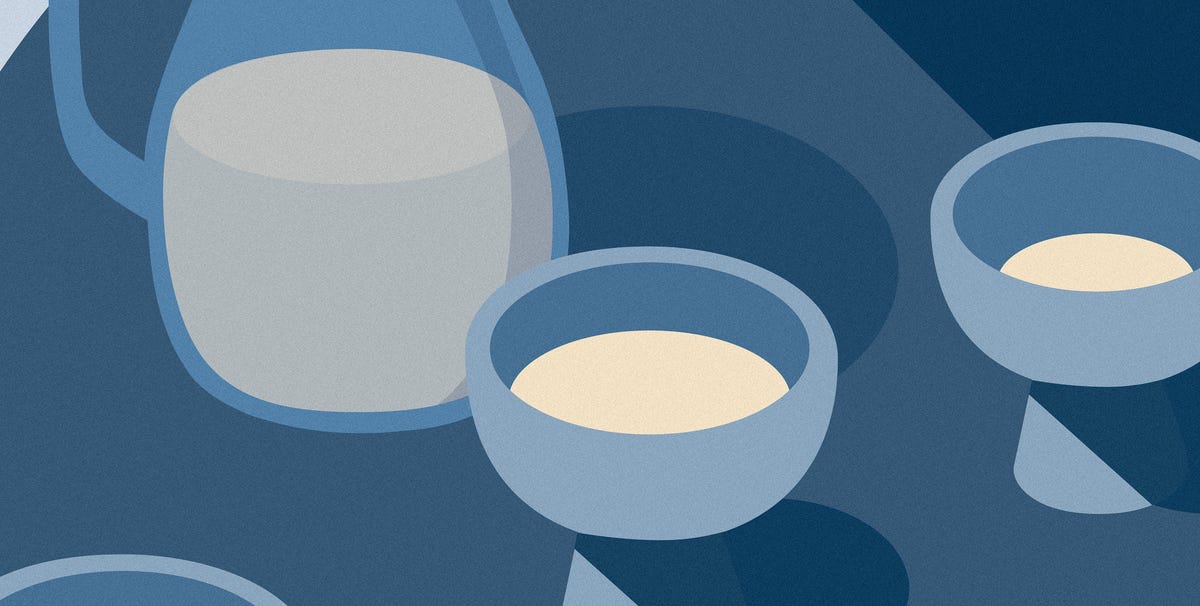 Tired of cloudy IPAs and cloudy natural wines? The answer: makgeolli, a 2,000-year-old knuckle drink from South Korea.
"Makgeolli is an alternative to craft beer, natural wine and sake," says Alice Jun, co-founder of craft makgeolli brewery Hana Makgeolli. "It's actually at the intersection of those three categories."
Makkolli, pronounced "Marco Lee"," is a lightly filtered rice drink with an alcohol content between 5% and 8%. The rice drink, which typically sells for less than $10, is characterized by its milky, full-bodied, slightly fizzy taste , sweet and tangy. In terms of price, ubiquity, and ability to get you drunk, it's Korea's Colt 45.
As Jun explained, making makkolli is very simple.mix water, rice and I show you, a cake-like Korean starter made from yeast, grains, and microorganisms, and there you are. Traditionally, the drink is taken from the jug and poured into a round shallow bowl to prevent the rice from separating.
Makgeolli has been the drink of choice for farmers for centuries. It's easy to make, filling, and somewhat healthy, or as healthy as an alcoholic beverage. Since makgeolli is largely unfiltered, the drink retains high levels of lactic acid and lactic acid bacteria (like the bacteria in yogurt) as well as a decent amount of dietary fiber. Today's mass-produced drink, however, is loaded with sugar and artificial preservatives, so drinking it is more like drinking a bottle of Gatorade.
Rice wine quickly fell out of favor in the 1980s as Korean drinkers began consuming imported alcoholic beverages. Makgeolli's reputation as a low-class drink discouraged drinkers, and rice rationing due to food shortages didn't help, so makgeolli was brewed with wheat or barley instead. These days, makgeolli is sort of like smirnoff, a sweet and cheap way to get drunk quickly. But thanks to independent producers, makgeolli is gaining ground again — and is making its way to the US.
Makgeolli has been around in the US for a while, and is usually only sold in Asian supermarkets or Korean restaurants. But just like in South Korea, people are looking for better and better drinks, even in the liquor section.
"When I was in Korea, I noticed that makkuli was creating a renaissance going back to its roots," says Carol Pak, founder of craft makkuli brand Makku. "(Younger generations) are launching new brands and There is a greater focus on producing a higher quality product. I have noticed that many of the basic characteristics of the drink are very similar to what is trending in the US."
Since its launch in 2019, Makku has revolutionized the way people familiar with Makkuli think about rice wine. Gone are the wine-sized plastic bottles, replaced by 12-ounce cans. As Park mentioned, the larger bottles suit the Korean drinking culture, where people drink in groups. Parker, on the other hand, found that cans were more appealing to American and Asian American audiences.
Pak knew when she launched Makku that she didn't want to make drinks just for people who knew Makku. Because makgeolli is made from rice, people think it's like sake, Parker said. If someone doesn't like sake, they immediately discount the makgeolli, she said. Fortunately, the haze is hot right now. New England style IPA is currently the mainstream style in beer. Natural wine standardization found sediment at the bottom of the glass; non-chill filtered whiskey clouded the brown world. Consumer tastes are expanding, and makgeolli requires a change of pace. The drink's rise also coincided with the pervasive presence of Korean culture in American everyday life.
K-pop groups like BTS and Blackpink dominate the Billboard charts, while movies like "Parasite" and "Minari" have either won or been nominated for Academy Awards. Also, there is no denying the surge in Korean restaurant openings across the country.
"I think it would make sense to introduce Korean alcohol to coincide with the rise of Korean cuisine, because sake was really popular in the U.S. when Japanese cuisine was on the rise," Parker said.
Sake, however, doesn't have to face an epidemic. As Hana Makgeolli's Jun explains, the pandemic has made it harder to help people learn more about the Korean beverage. Jun and her business partner John Limb launched Hana in November 2020 in Greenpoint, Brooklyn, as part brewery and bar. However, the bar wasn't being used as the duo had hoped.
"This is the biggest challenge of the coronavirus. What we're seeing is that although a lot of people are coming to the brewery, we don't have the time and the luxury to talk to them the way we want," Jun said. "The bar is really there for the community, to bring people together and teach them about this wonderful beverage category."
Joon and Park didn't want the pandemic to affect their parade. Parker said it was pointless to wonder what would happen. Instead, the pair are just glad people are welcoming makkolli into their drinking lineup. So much so, Jun is readying Hana for more launches in 2021. She said she hopes Hana will expand its distribution so that handmade makgeolli will soon be your future.