Vietnam
The first shopping mall "SORA Gardens SC" in Binh Duong New Town, Vietnam will open in late July! | Tokyu Press Release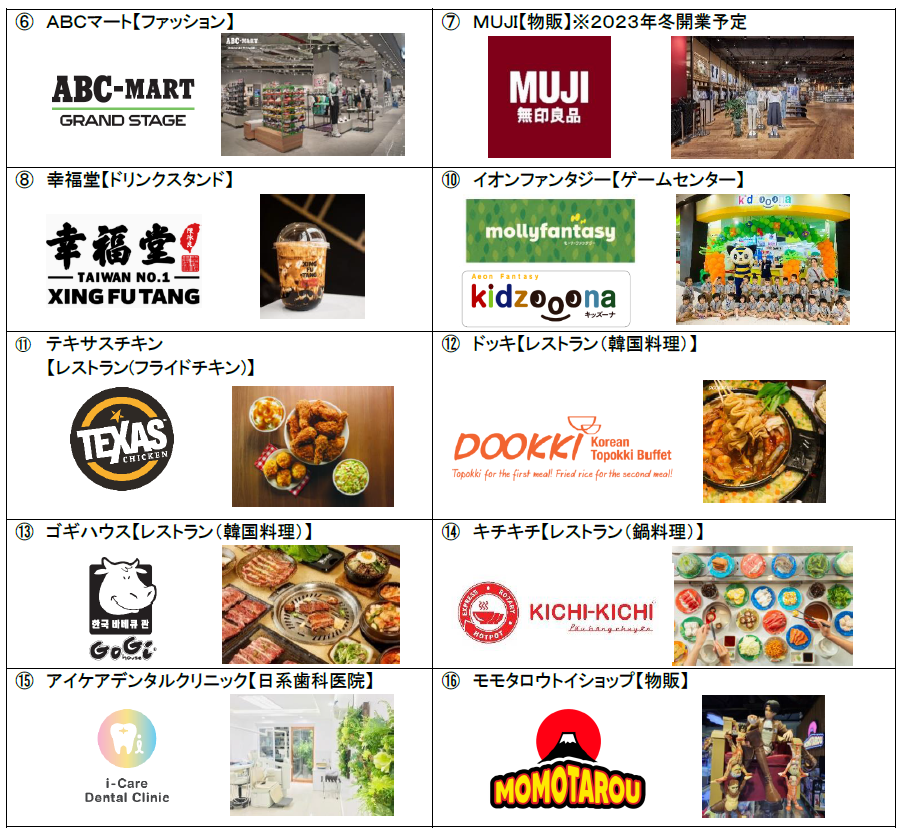 BECAMEX TOKYO CO., LTD. is a subsidiary of Tokyu Corporation. , Ltd. Becamex Tokyu (hereinafter referred to as Becamex Tokyu) will open its first shopping mall "SORA Gardens SC" (hereinafter referred to as the facility) in Binh Duong New Town, the capital of Binh Duong Province, the Socialist Republic of Vietnam, in late July. In the future, we plan to gradually expand with the development of the city.
Located in the "SORA Garden" area at the gateway of Binh Duong New Town, with the concept of "adding more colors to your life", you can enjoy product sales, food and entertainment. The facility is aimed at people who live, work and visit around Binh Duong New Town, and will be occupied by Japanese tenants such as Aeon, Kidzooona, Molly Fantasy, Kohnan Japan, ABC Mart and MUJI.
The design of the facility incorporates the indirect light design of traditional Japanese kumiko and shoji screens, and an outdoor terrace and wide lighting windows are installed so that the interior can comfortably feel the sunlight and breeze from the outside. established. In addition, we have installed nursing rooms, children's restrooms, etc., using our experience in managing commercial facilities accumulated in Japan, so that customers with children can use them comfortably.
In addition, various events will be hosted in collaboration with the community and tenants in the outdoor event space equipped with large screens, as well as a covered soccer field, skate park, community garden, outdoor restaurant and more. SORA Gardens Links" (opening June 2023), we aim to be a new community base.
In addition, as an environmental protection measure, the factory also introduced "high-efficiency water-cooled screw chiller" and "dimmable high-efficiency LED lighting", which is expected to reduce carbon dioxide emissions by about 700 tons per year. The initiative has been recognized as an excellent use of decarbonisation technology and has been selected for the Ministry of Environment's 2021 Joint Credit Mechanism (JCM) Equipment Assistance Financial Support Project*.
Becamex Tokyu plans to complete the condominium "MIDORI PARK The GLORY" in 2024, and its group company Becamex Tokyu Bus will open two new bus routes connecting surrounding areas and Pingyang New Town in March 2023. We plan to open a new line We will continue to contribute to the development of Binh Duong New Town and promote the urban development of Binh Duong New Town by utilizing the experience accumulated in the development of "Tokyu Tama Garden City".
See attached table for details.
*Joint Credit Mechanism (JCM) is a measurement, reporting, and verification (MRV) project that uses advanced decarbonization technologies to reduce greenhouse gas emissions in developing countries. Its purpose is to contribute to the achievement of GHG emission reduction targets of Japan and partner countries as well as the reduction of GHG emissions in developing countries through JCM. For advanced decarbonization technologies, up to 1/2 of the initial investment cost will be subsidized. The project is being implemented with the cooperation of the Governments of Vietnam and Japan.
▲ Facility appearance ▲ LED display extending from the 1st floor to the ceiling of the 2nd floor
above
【another paper】
1. Facility overview
2. Location map
▲The location map of Binh Duong New Town ▲The area map of "SORA Garden"
3. Facility image
▲The large roof at the main entrance▲The characteristic large daylighting window
▲ Outdoor activity space ▲ Toilet space for children's convenience
4. Floor Composition / Tenant List
(1st floor) (2nd floor)
*⑤: Pop-up store (regular change of tenants)
*⑨: Fashion (scheduled to open in autumn 2023)
*⑰: Event venue
【refer to】
■ Hold a tree planting ceremony
Before the opening, on Friday, July 7, 2023, AEON Vietnam held a "tree planting ceremony"* with each tenant as part of our environmental protection and social contribution activities in cooperation with local customers.
More than 300 people, including local residents, participated in the tree planting ceremony, and about 1,340 trees were planted in the facility with the aim of creating a beautiful and livable city. By planting trees, it was an opportunity to raise environmental awareness and feel an attachment to this facility. In the future, we will carefully cultivate it and make it a leisure place for the local community.
* AEON aims to embody AEON's basic principles by planting trees with local customers and deepening the connection between people while understanding the importance of nature and sharing the joy of peace. It has been promoted since 1991.
■ Major achievements of Binh Duong New Town
Since 2012, Becamex Tokyu has been developing low-rise and high-rise residential and commercial facilities in Binh Duong New City, Binh Duong Province. Since 2014, it has been operating bus business as a public transportation system in Binh Duong New City.
▲ Apartment "SORA Gardens I" ▲ Commercial facility "Hikari"
"Sola Garden II"
■Summary of "SORA gardens Links"
▲Soccer field with roof ▲Skateboard park
above