Indonesia
The farewell party of An Puxian's special visit to Japan "An Pu Xian's premium event in Japan ~Travel to Bali with you~" will be held soon!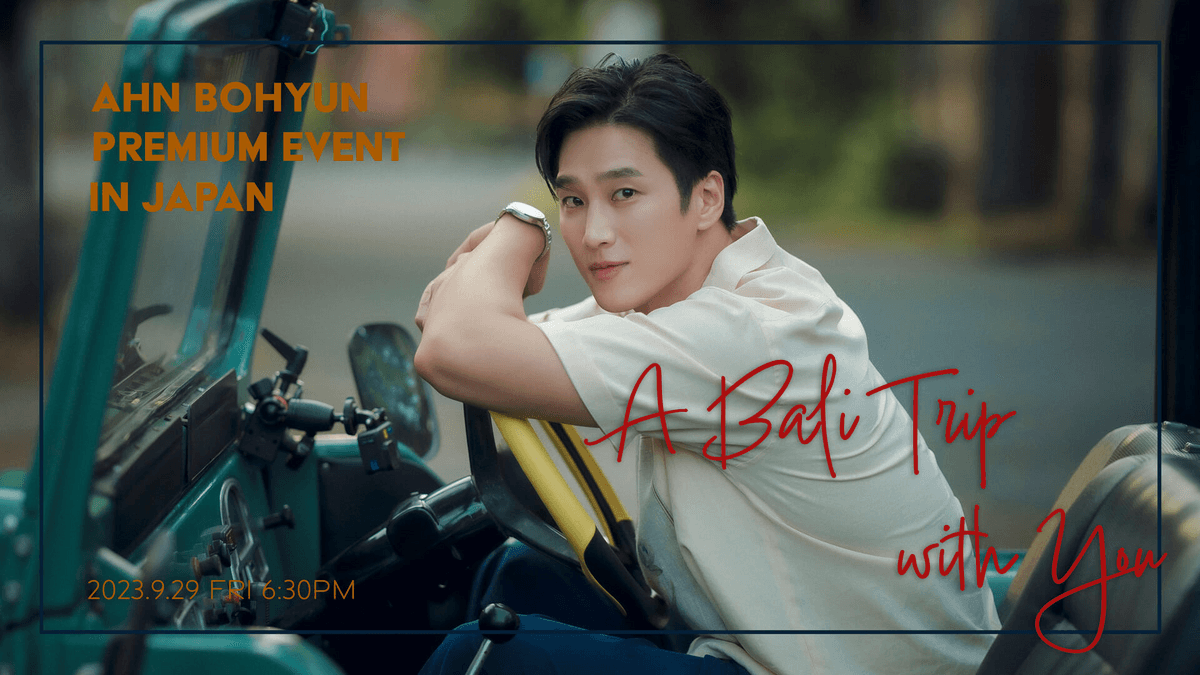 TBS Glowdia (Representative of Minato-ku, Tokyo: Ken Sonoda) will be one of the organizers and will be held on September 29, 2023~", and decided to hold a "farewell party" for all visitors after the show.
This event was held to commemorate the release of the photobook & DVD "Ahn Bo-hyun's Bali Vacation" which was shot in Bali, Indonesia in April this year. From an innocent smile to an unpretentious face.
On the day of the event, there will be many special corners where you can fully feel the charm of An Puxian, and there will be singing and chatting time, reviewing the memories of Bali, and spending a good time with your fans.
This farewell party is a special visitor benefit for An Puxian to personally see off fans who came after the performance. This will be a rare opportunity to get up close and personal with the hottest actor, Ahn Bo-hyun, so please come to the venue by all means.
Tickets will be on sale at Ticket Pia from 14:00 on September 1 (Friday).
In 2020, Ahn Pu-hyun played the villain role for the first time in the TV series "Itaewon Class", which is very popular at home and abroad, and has received widespread attention for his strong villain role. Since then, he has successively starred in topical works such as "Yumi's Cell", "My Name: Lies and Revenge", "Military Prosecutor Doberman", "Rebirth", and his popularity has continued to rise.
<活動信息>
■ date and time
September 29, 2023 (gold)
Open 17:30 / Start 18:30
■ Venue
Edogawa General Cultural Center
■ Ticket price
For FC members and the general public: 11,000 yen (tax included) for all seat reservations
* Each person can apply for up to 4 tickets
* Preschool children are not allowed to enter
* Resale for commercial purposes is prohibited
■Visitor Benefits
farewell party after the show
■Ticket acceptance period
[FC members first]: August 21, 2023 (Month) 15:00~August 28, 2023 (Month) 23:59
[Ticket Pia]: September 1, 2023 (Friday) 14:00 to September 10, 2023 (Sunday) 23:59
[General Release]: September 20, 2023 (Wednesday) 12:00-
■ Precautions
・This performance will be held after taking precautionary measures against new coronavirus infection.
・Tickets will be sold according to the venue guide.
・Personal information registered when applying for tickets will be managed by the organizer. Personal information will be kept for about 1 month and then destroyed in an appropriate manner.
・On the day of the event, please measure your body temperature before coming to the venue. Please note that if you have a fever of 37.5 degrees or above, you will not be able to enter. Those with a body temperature above 37.5 degrees will be refused entry. (In this case, the ticket fee will not be refunded)
・Please cooperate with alcohol disinfection when entering the venue.
・Customers who wish to use the disabled space must contact the contact point for each performance at least 3 days before the performance. If you come to the venue without an application in advance, we may not be able to guide you to the venue because measures against the new coronavirus infection will make it difficult to accommodate people with disabilities.
・Please do not wait to get in and out, as this will cause inconvenience not only to the performers, but also to the venue, surrounding facilities and residents.
・Re-entry and bringing food and drinks are prohibited.
・Photography, audio recording, audio recording, and live broadcast are prohibited in the venue. Please note that if prohibited behavior is found, tickets will be confiscated and you will be expelled from the venue.
・If you do not follow the rules and etiquette required by the organizer, you may be refused entry or asked to leave.
・Unless the show is postponed or canceled, tickets cannot be refunded, please understand.
・We will ask for the cooperation of customers during the performance while working hard to prevent infection.
・Please note that the above actions may be relaxed due to changes in guidelines.
*Please note this information is as of Friday 1st September 2023 and may be changed or updated prior to the event.
Overview of TBS Glowdia Co., Ltd.
Head Office Address: 12th Floor, Akasaka Park Building, 5-2-20 Akasaka, Minato-ku, Tokyo Zip Code: 107-6112
Representative Director and President: Takeshi Sonoda
Established: June 29, 2018
Business scope: digital technology, IT services, video planning and production, content sales,
TV shopping, EC, store management, radio program production, event production, cultural projects
https://www.tbsglowdia.co.jp/