Indonesia
teamLab permanently established "teamLab Learn! Future Amusement Park" in Naha City, Okinawa Prefecture. It will open at "T Galleria by DFS, Okinawa" in Winter 2023.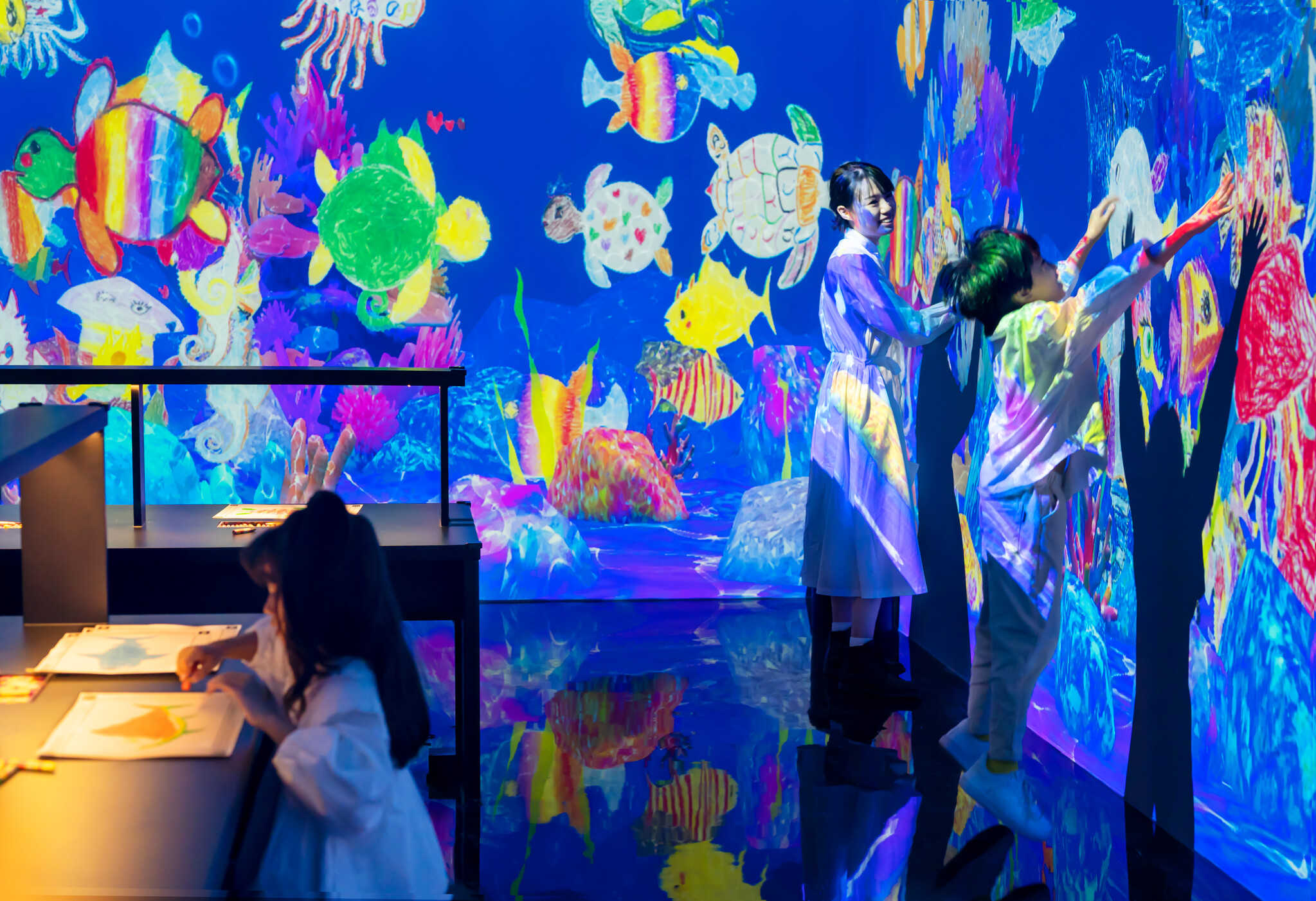 teamLab "Drawing an Aquarium Connecting the World" © teamLab
"Learn! Future Amusement Park" is an educational project based on the concept of "co-creation" of collaborative creativity, and it is an "amusement park" where you can freely create the world with others.
We believe teamLab art has the power to positively change the relationships between people in the same space. With the power of "Learn! Future Park", we believe that creative activities that tend to be personal can be transformed into free shared creative activities with others. This is a project I initiated.
"Learning! Future Amusement Park" is an exhibition suitable for all ages, and permanent exhibitions are being developed in places such as Johannesburg, Singapore, Dubai, and Shenzhen. To date, more than 15 million people worldwide have experienced it.
(overview)
Team Lab Learning!Okinawa Future Amusement Park
https://www.teamlab.art/jp/e/dfs_okinawa/
"Co-creation" co-creation
https://www.teamlab.art/jp/concept/co-creation
business hours: planned for winter 2023
place: T Galleria Okinawa by DFS (4-1 Omoromachi, Naha City, Okinawa Prefecture)
About DFS Group
DFS Group is the world's leading luxury travel retailer. Since its establishment in Hong Kong in 1960, it has been a pioneer in the global luxury travel retail industry, offering customers the best selection of more than 750 of the most popular luxury brands through 885 boutiques across four continents. Today, DFS' network includes duty-free stores at 14 major international airports, T Galleria stores in 25 locations around the world, and stores in partner and resort destinations. Home to the world's largest luxury conglomerate, Moët Hennessy Louis Vuitton (LVMH) and DFS co-founder Robert Miller, DFS Group has more than 5,000 employees dedicated to inspiring guests. We create the shopping experience. Headquartered in Hong Kong, DFS Group has offices in Australia, Cambodia, China, France, Indonesia, Italy, Japan, Macau, New Zealand, Singapore, United Arab Emirates, United States and Vietnam.
For more information, please visit http://www.dfs.com.
About T Galleria by DFS
T Galleria by DFS is the first traveler-oriented retail business concept pioneered by DFS Group. DFS opened its first street store in Hong Kong in 1968, followed by a store in Honolulu and eventually 25 stores worldwide. Today, T Galleria by DFS has operations in the United States, Asia, Europe, Oceania and the South Pacific. The concept of "T for Traveler" is closely related to travel. T Galleria by DFS brings together the world's leading luxury brands, expertly curated to provide an excellent retail environment, personalized service, and tailored to the unique needs of travelers. will respond. At T Galleria by DFS, every traveler has his or her own style and unique journey.
T-Square: https://www.dfs.com/jp/okinawa
(Team Lab)
art collection. Activities started in 2001. An international interdisciplinary group explores the intersection of art, science, technology and the natural world through collective creativity. It is composed of experts in various fields such as artists, programmers, engineers, CG animators, mathematicians and architects.
teamLab hopes to explore our own relationship with the world and new cognition through art. For perception, people compartmentalize the world and see it as a single entity with boundaries. I seek to transcend the boundaries of this perception, the boundaries between myself and the world, and the boundaries of the perception of temporal continuity. Everything exists dangerously and magically in the boundless continuum of long, long stretches of time.
He has held art exhibitions in New York, London, Paris, Singapore, Silicon Valley, Beijing, Melbourne and other places around the world. In addition to setting up museums and large-scale permanent exhibitions in Tokyo "teamLab Borderless", "teamLab Planets", Shanghai "teamLab Borderless Shanghai", Macau "teamLab SuperNatureMacau", Beijing "teamLab MasslessBeijing", etc., Abu Dhabi, Jeddah, Hamburg, Open offices in Utrecht and other places.
teamLab's work includes: National Gallery of Victoria (Melbourne), Art Gallery of New South Wales (Sydney), Art Gallery of South Australia (Adelaide), Amos Rex Art Gallery (Helsinki), Museum of Contemporary Art Los Angeles (Los Angeles), Asia Galleries San Francisco Museum of Art (San Francisco), Borusan Collection of Contemporary Art (Istanbul), Asia Society (New York).
teamLab is represented by Pace Gallery, Martin Browne Contemporary and Ikkan Art.
teamLab: https://www.teamlab.art/jp/
Team Lab Learning! Future Park: https://futurepark.teamlab.art/
Instagram (teamLab): https://instagram.com/teamlab/
Instagram (Future Park): https://www.instagram.com/teamlab_futurepark/
Facebook: https://www.facebook.com/teamLab.inc
Twitter: https://twitter.com/teamLab_news
YouTube: https://www.youtube.com/c/teamLabART