Japan
Taste the specialties of the sister cities of Aomori and Fukushima! "JAPAN FOOD TRAVEL Vol.5 Mutsu City/Aizuwakamatsu City Fair", a project that connects Tokyo and rural areas through food, will be held at 7 stores in Tokyo from Friday, September 1, 2023.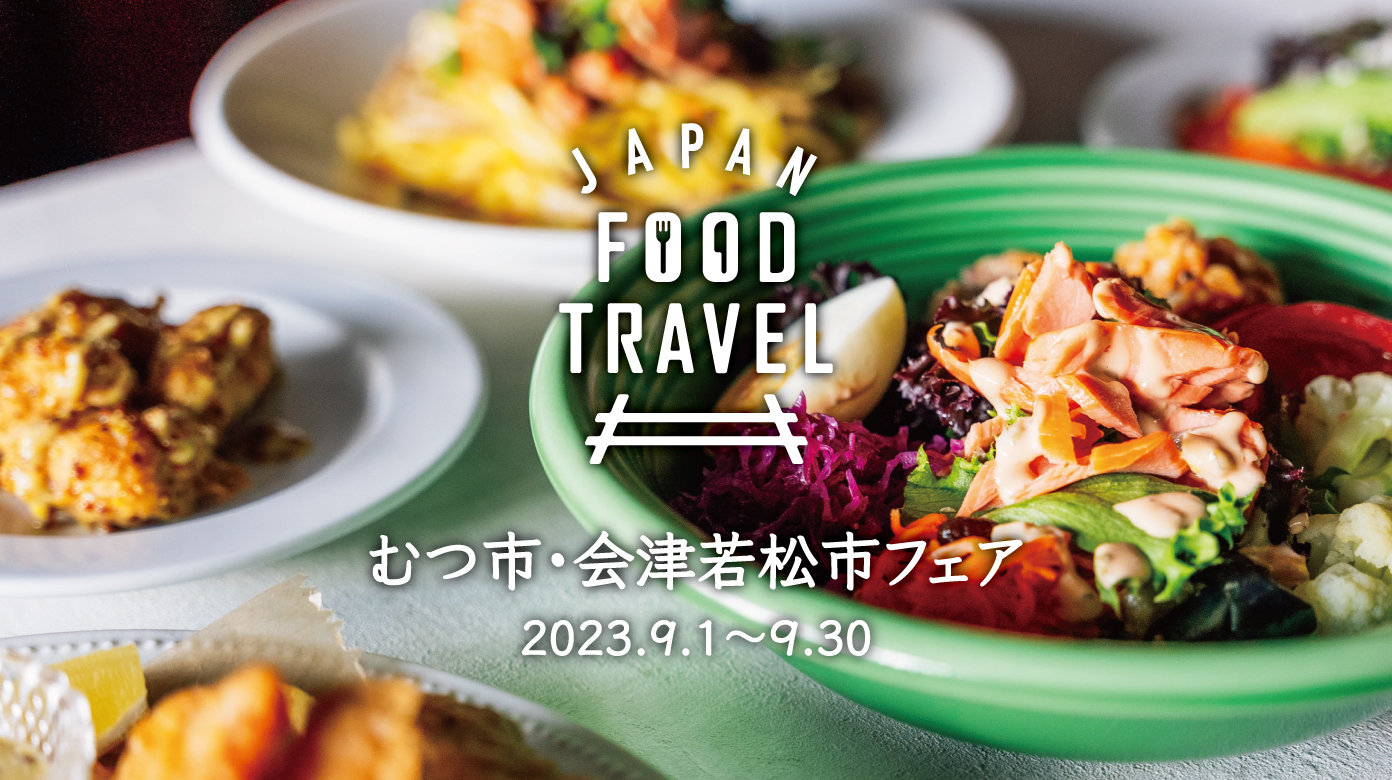 ■JAPAN FOOD TRAVEL~Looking for delicious Japanese ingredients you don't know~
JAPAN FOOD TRAVEL is a menu developed by each store operated by CLASSIC INC. based on the concept of each store. It is not only delicious, but also uses extremely rare ingredients that are hard to find in Tokyo. It is a preparation item. And provide dishes.
There are still many wonderful ingredients in Japan that we don't know about. Through this project, we hope that you can get to know the land and food culture, and feel as if you are traveling.
■ Vol.5 Mutsu City, Aomori Prefecture & Aizuwakamatsu City, Fukushima Prefecture
JAPAN FOOD TRAVEL Vol.5 is the first co-hosting event of this event, and ingredients from two historic friendship cities, Mutsu City in Aomori Prefecture and Aizuwakamatsu City in Fukushima Prefecture, will be used. Through the joint cooperation of food ingredients, the two cities will pass on the charm of their respective regions to everyone.

・Mutsu City, Aomori Prefecture
Located on the Shimokita Peninsula in the northeast of the prefecture, it is the largest city in the prefecture and is surrounded by the sea on three sides. It is a treasure house of grain and produces a variety of agricultural, forestry, animal husbandry and livestock products. seafood. Local delicacies such as melt-in-your-mouth Strait salmon, sake and wine from the northernmost tip of Honshu, and grilled miso clams are also popular.
・Aizuwakamatsu City, Fukushima Prefecture
It is a castle town where the history, culture and tradition represented by Tsuruga Castle are still alive. It is also known as the "rice production area" and "aquatic production area". It has fertile land, clean and abundant water sources, and the unique climate with large temperature differences in the basin and other conditions suitable for agricultural development. Both are highly regarded in the market.
Strait Salmon (Mutsu City)
Purely domestic "Channel salmon" raised in the rough waters of the Tsugaru Strait is characterized by its firm flesh and concentrated umami.
https://www.kaikyou.com/
Apios (Mutsu City)
Apios is a leguminous potato plant known as the "American potato" native to North America. It has high nutritional value and is characterized by fluffy, sweet and delicious taste.
One Ball Soul Pumpkin (Mutsu City)
Since each plant bears only one kind of fruit, the pumpkins are full of umami, hence the name "Ichikyu Nyukon".
https://www.city.mutsu.lg.jp/bunka/nihonichi/umaimono.html
Aizu Ground Birds (Aizuwakamatsu City)
It has no off-flavor and has great body and umami.
Aizu Selected Rice Koshihikari AiZ' S-RiCE (Aizuwakamatsu City)
The rice, which is grown using the lees of Aizu sake as a fertilizer, has received a "Special A" rating for 10 consecutive years.
https://aizs-rice.com/
Salmon mushroom cream pasta 1,580 yen (tax included)
Discount shop: TAMEALS Shinagawa
Pasta in a creamy sauce incorporating Channel salmon and seasonal mushrooms characterized by the elegant flavor of the fat. In addition to the deliciousness of the ingredients, we have created a dish that you will never get tired of enjoying the aroma of herbs.

Aizu fried chicken 680 yen (tax included)
Discount stores: TAMEALS Shinagawa, Depot
*Arrangements may vary by store.
Aizu chicken breast with no smell and excellent rich umami taste is moist and served with a slightly sweet honey mustard sauce.
■JAPAN FOOD TRAVEL Vol.5 Mutsu City/Aizuwakamatsu City Fair Overview
Period: September 1 (Friday) to September 30 (Saturday), 2023
Holding stores: TAMEALS store (Shinagawa store, Ikebukuro store, Otemachi store), Depot, ALMA, VAPEUR, IL BACARO ALMA
(JAPAN FOOD TRAVEL Program Outline)
The "JAPAN FOOD TRAVEL ~National Food Travel Starts Here~" program where you can taste precious ingredients from all over the country at the franchise stores of the CLASSIC Group. In addition to deliciousness, we also offer dishes that match the concept of each store using rare local ingredients in Tokyo. How about taking a trip to the places you frequent in Tokyo, tasting local ingredients, and learning about the local customs?
【Summary of Participating Cities】
Hometown taxes are also a must see! You can view various return gifts on the Hometown Tax Portal.
Mutsu City Official Site
https://www.city.mutsu.lg.jp/
Aizuwakamatsu City Official Website
https://www.city.aizuwakamatsu.fukushima.jp/
【Company Profile】
Company Name: Classic Limited
Location: 〒150-0011 Tokyo Shibuya Ward East 2-27-2 Est 205
Business Description: Restaurant Management
https://classic-inc.jp