Singapore
Taste hunter Kaishui to go!Singapore's seasonal food guide and behind-the-scenes look at Asia's 50 Best Restaurants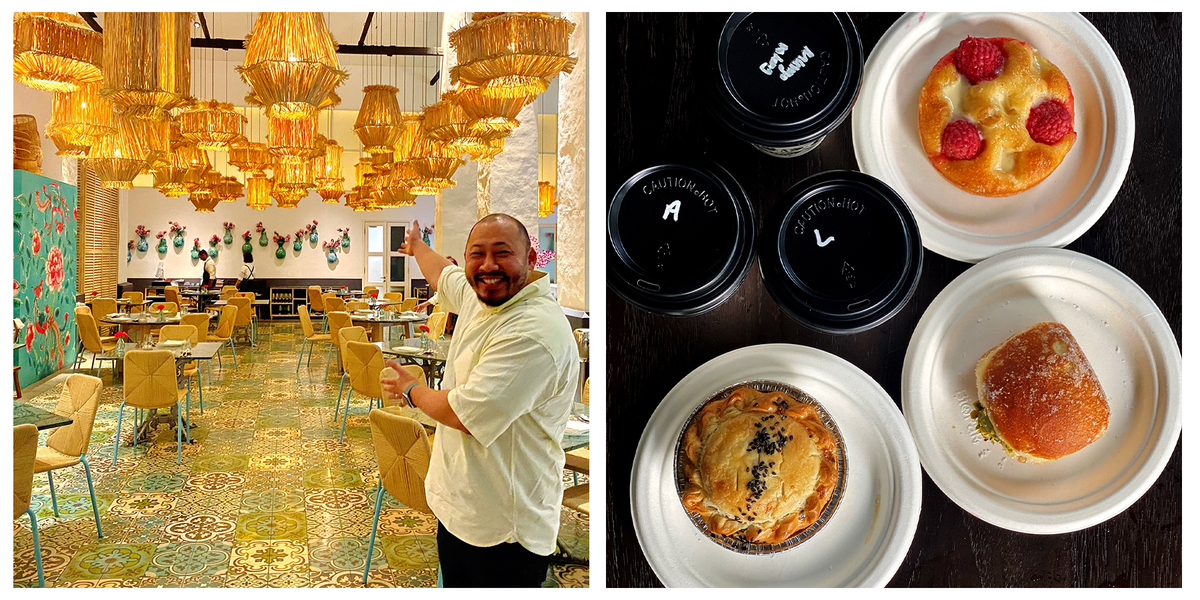 The "World's 50 Best Restaurants" is a food competition that rivals Michelin. The Asian edition of "Asia's 50 Best Restaurants 2023" was held in Singapore, the capital of gourmet cuisine. Mr. Suzuki Yoshimizu, also known as "Taste Hunter Keisui", made his debut as a chef and reporter this time. Take me on a tour of the latest happenings in Singapore.
I am Qi Shui from Taste Hunter. Please continue to support the slightly manly gourmet ladies!
My job is to find the next food scene
Always smiling and fluent in English. From a high-end restaurant that is difficult to make a reservation to a deep izakaya in Shinjuku 2-chome, the power foodie Suzuki Keisui (commonly known as keisui) who continues to conquer "the most attention-grabbing delicacy ♡" said at the end that he was appointed to the position and became a leader in the food industry hot topic. This is Taste Hunter. Known as the official work certified by the secretariat of "The World's 50 Best Restaurants" (hereinafter referred to as "The World's Top 50").
Unlike Michelin, the competition features ordinary people, known as electors, voting for restaurants. The only people who can take a stand are the chairman and taste hunters who appoint voters. Tastehunter is still a new class with only 14 people worldwide (spring 2023). Keisui is the first member from Japan. astronaut!
Like the chairperson and voters, the Taste Hunters are 100% volunteers. However, the level of requirements is very high. It is said that its role is to make the "World 50" activities known to the whole world, make full use of digital and SNS to follow up, and constantly search for competent chefs and restaurants. Create a new era. Is it too difficult to be a volunteer? I immediately asked Guishui.
"Ugh, but you'll be able to interact with superfoodies and celebrity chefs from all over the world, and the secretariat will tell you[thisplacelookslikefunSharedit'sahoodie'sdreamlocationisn'tit?"?"
Landing in Singapore, the birthplace of gourmet trends!
By the way, Mr. Kaishui has come to Singapore. "Asia's 50 Best Restaurants in 2023" (hereinafter referred to as "Asia's Top 50") will be held as a regional competition for the "World's Top 50", so three days before the awards ceremony, they will enter the scene and detour around the hottest restaurants. Restaurant.
Keishui left Haneda late at night and arrived at Changi Airport in the early morning. When you put your luggage in the hotel, the gourmet activities will start from there! Which one is the first one?
"It's a donut. It's the same in Japan, but I heard it's popular in Singapore recently."
The interior of the store "SOURBOMBE" that opened is a masterpiece. The window is filled with colorful round fried donuts that look lovely. Each one is sandwiched with cream, and there are Basque cheesecake flavors, lavender lime & mascarpone, very tempting! Mr. Keisui, who was troubled by his troubles, chose the mango flavor. It's said to be healthier than it looks, like frying naturally fermented yeast dough in smooth and light coconut oil. Bottled "COLD BREW WHITE TIGER" is a sweet drink with vanilla, caramel, white flower, berries, orange and milk chocolate.
Sour Bang Bakery
Official website
https://www.sourbombebakery.com/
"Let's go to another restaurant for breakfast!" Qi Shui said. When the interview team arrived at Dempsey Hill, near Chinatown, they did not know exactly what had happened. Our goal is to open a restaurant in a quiet area where there are many trendy restaurants. This is a star-rated restaurant "BURNTENDS" that is selected into the "Asia's Top 50" every year. Is breakfast here?
"There is a bakery attached to the restaurant. Not only do they have trendy donuts, they also have pies, scones, sourdough, and the coffee is delicious."
While talking, I ordered the staff recommended chicken pie, raspberry danish, and pistachio cream donut. A Forbidden Cuisine Consisting Only of Gluten, Fat and Sugar…Are Singaporeans Afraid of Calories? !
Burnt Bakery
Official website
https://bakery.burntends.com.sg/
Be sure to check out the top restaurants in the country
By the way, what is the daily life of a Taste Hunter like? Mr. Qing Shui took office in October last year, and his experience as a hunter is still very short, but in the past six months, he has visited restaurants more grandly than ever before.
"I heard that there will be several other hunters from Asia besides me at this year's awards ceremony and the official events held before. Also, the head of social media from the UK headquarters will also be coming. This is our first We met for the first time, but we've been communicating online since last summer's interview, so it doesn't feel like the first time."
14 taste hunters around the world are also Instagram foodies in their own way. I visit various restaurants in Japan and overseas, and attend closed dinners for gourmets whenever possible. Even though it's my favorite part of the restaurant world, it seems hard.
Of course, the purpose of going abroad is also to eat. Keisui-san is usually a genre-free crowd, from casual to fine dining, but when he's visiting a new country for the first time or after a long absence, he always keeps an eye on the country's top trends and restaurants with star chefs. During this trip, we visited ODETTE, which is one of the few Michelin-starred restaurants in Singapore and has won the first place in Asia's Top 50 for two consecutive years.
One of the characteristics of "Asia's Top 50" and "World's Top 50" is that there are many innovative restaurants, but "ODETTE" mainly focuses on solid French cuisine. You can't stop drinking while admiring the modern clean space and stylish tableware, but the food is also very good. Maybe because it was a Saturday lunch, the place was packed. So is another destination for Singapore's award-winning foodie.
Odette
Official website
https://www.odetterestaurant.com/
The culinary journey continues. Another thing Keisui-san brought up was "Zén", which he said "I definitely want to remember". Scottish-born chef Tristin Farmer serves as head chef at the restaurant, built on the former site of the famous Restaurant André, which pioneered Singapore's culinary scene. The restaurant's specialty is "a fusion of modern Nordic flavors and Japanese cuisine". Elaborately crafted by the owner and head chef of the three-star restaurant "Frantzén" in Stockholm, Sweden, the restaurant makes extensive use of high-quality ingredients imported from Japan, transforming them into exquisite tasting courses with modern interpretations.
The restaurant has a good reputation, and five Japanese chefs who came to Singapore to participate in the award ceremony had a group lunch with us. Gui Shui, you are really destined!
"When you consider that there are a lot of Japanese ingredients, that's the selling point. It's interesting, isn't it? Among them, Japanese ingredients are popular. Because it's at the forefront of the financial business, and fine dining plays a big role." As entertainment and A place for business negotiations. Here is a fertile ground for the growth of unique catering culture. Shin" (Keisui)
While the exterior hasn't changed much from the "Andre's Restaurant" era, the interior has been remodeled in a modern Scandinavian style.
The fish dishes use goat's milk as a sauce, and the texture and umami of the ingredients are irresistible.
Zen
Official website
https://www.restaurantzen.com/
I like "something you can only find there"
Guishui's trip to Singapore continues. When it comes to what you can't miss in Singapore, it is definitely the BAR culture. The World's Top 50 has sister events(?), one of which is the World's Top 50 Bars. 50″, two companies were shortlisted.
Moreover, in October 2023, the stage of the first Asian competition has been confirmed in Singapore, and the lively atmosphere in Singapore this year seems unstoppable.
This time, during her busy restaurant tour, Ms. Guishui chose "LOW TIDE", a bar full of local atmosphere in Chinatown. Overhanging patio seats create an exotic ambience, and meals and cocktails have a tropical feel, complete with baggy shorts, T-shirts and sandals.
low tide
Official website
https://www.lowtide.sg/
Another Nyonya restaurant called CANDLENUT said, "This trip to Singapore made me really like it," Keesui said. This dish is called Nyonya or Peranakan food, and it is said to have originated in Malaysia. Both Nyonya and Peranakan mean "mixed blood" in a broad sense. It's actually a mix of Chinese and Malay cuisine, and although it looks Chinese, it uses a lot of coconut milk and spices, giving it a South Sea-like flavor. Lovely colors and fun crafting, plus fancy restaurants, traditional ethnic dishes like this one, and street food, that's the charm of Singapore.
"CANDLENUT" pairs such Nyonya cuisine with a slightly modern flavor, and it is easy to eat and attractive with alcohol. This is also a Michelin star restaurant. It is recommended to dine with multiple people. It seems that Mr. Keishui also spent a relaxing and happy time with his friends surrounded by Nyonya.
The modern feel goes well with the coquettish ethnic feel. Jing Shui was also deeply moved by the polite, slow-talking and serving senior staff. "As a foodie, I am very touched that everyone enjoys their work!"
candle fruit
Official website
https://www.comodempsey.sg/restaurant/candlenut
During the 5 days in Singapore, I hurriedly turned around. Mr. Qingshui is busy looking for taste, besides visiting restaurants, he is also struggling. Finally, let me show you the backside of "Hunter's Business".
Whether it's in a hotel or a cafe, I'm constantly gathering information and keeping in touch in my spare time. Keisui-san (not the iPad) curled up in front of his computer.
When facing the chef, Qishui will take a step back because of his respect for the chef. On the eve of the ceremony, Mr. Guishui also took a rare group photo with him (wearing a hat on the left back). are you drunk?
The World's Top 50 is managed by British media and marketing company William Reed. The moment I say hello to CEO Charles Reed! Mr. Keisui, the demon who promotes Japan, wears a shirt with Chiyofuji and Kinkinjin patterns.
Mr. Kaishui, who has experienced the dizzying food front in Singapore, seems to be unable to forget the beauty even when he returns to Japan.
"There are still a lot of stores I haven't been to, and new discoveries.
um, really? ! As taste hunters would expect…but food-filled Singapore may indeed be a food country. Singapore is a gourmet paradise, with many flights from Japan, the time difference is only one hour. If you're considering going abroad for the first time in a while, this is the country you should definitely aim for! Get tons of great Singapore information from keisui's Instagram.
Guishui's Instagram
https://www.instagram.com/keisui/
Partner: Singapore Tourism Board