Singapore
[Swiss Hotel Nankai Osaka]There is also a plan that is limited to one group per day, so you can fully enjoy the hotel's specialties!"20th Anniversary Special Banquet Plan Winter Special" perfect for year-end parties and New Year's parties | Press release (Ehime Shimbun Online) Article details | Ehime Shimbun Online
Swissotel Nankai Osaka
[Swiss Hotel Nankai Osaka]There is also a plan that is limited to one group per day, so you can fully enjoy the hotel's specialties! "20th Anniversary Special Banquet Plan Winter Special" suitable for year-end parties and New Year's parties
August 17, 2023 (Wood)

(Swiss Hotel Nankai Osaka)

Swissotel Nankai Osaka
Osaka, Japan- The new plan "20th Anniversary Special Plan "Winter Special" is now available. During the period until February 29, 2024 (Thursday), we will launch three types including "Swiss" which is "only one group per day" program, where you can enjoy the hotel's proud dishes and attractive offers. .
We have prepared a banquet plan for you, where you can enjoy special dishes prepared by skilled chefs in the banquet hall with exquisite Swiss design interior and open high-quality private space. The "Swiss" plan is limited to one group per day and includes a special Western set menu to choose from the prefix menu, 10 free drinks, a toast with a glass of sparkling wine, and an original gift. special content,
You can enjoy it for 20,000 yen per person.
In addition, we have many plans of table dishes that can be enjoyed easily from buffet and set menu.
It can be used for many occasions, from business occasions to family dinners, annual meetings and New Year's parties for the first time in several years, from formal to casual occasions. Live a luxurious time with authentic Swiss hospitality.
20th Anniversary Special Banquet Plan Winter Special Overview
Release period: ~ February 29, 2024 (Thursday)



"Swiss" program details
Terms of use: Only 1 group *15 people or more per day can make an appointment
Price: 20,000 yen/person
Dishes: Special western food (prefix), toast with sparkling wine, unlimited drinking 10 kinds of free drinks
menu:
Bread | Scallop and Smoked Salmon Tartare | Minestrone | Grapefruit Granita | Minestrone Soup
Yellowtail poiret (or today's fresh fish + abalone) | Grilled beef tenderloin (or roast beef) |
Chef's Special Dessert (or Dessert Buffet) | Coffee
*You can change one of fish dishes, meat dishes and desserts.
Offer: unlimited sparkling wine or aperitif, original gift
"Zurich" program details
Terms of use: Reservations are accepted for buffets with more than 30 people and tables with more than 15 people
Price: 11,000 yen/person
Cuisine: Western buffet, Western table meal, Chinese meal, toast sparkling wine, unlimited drinking 10 kinds of free drinks
"Geneva" project details
Conditions of use: Reservations are available for more than 15 people
Price: 14,000 yen/person
Dishes: Western set menu, sparkling wine toast, 10 kinds of free drinks
Offer: unlimited sparkling wine or aperitif, original gift
Please refer to this press release for "20th Anniversary Special Banquet Plan".
https://prtimes.jp/main/html/rd/p/000000207.000021966.html
For other 20th anniversary special projects and details, please refer to the 20th anniversary website.
Swissotel Nankai Osaka 20th Anniversary Special Website
https://swissotelnankaisaka.jp/20th_anniversary
(Consultation) 06-6646-5124 (direct dial)
(Official site) https://swissotelnankaiosaka.com/ja/banquet/
<注意>
*Prices are inclusive of 13% service charge and 10% GST.
*Contents and fees are subject to change without notice.
*All photos are images.
◆ Overview of Swissotel Nankai Osaka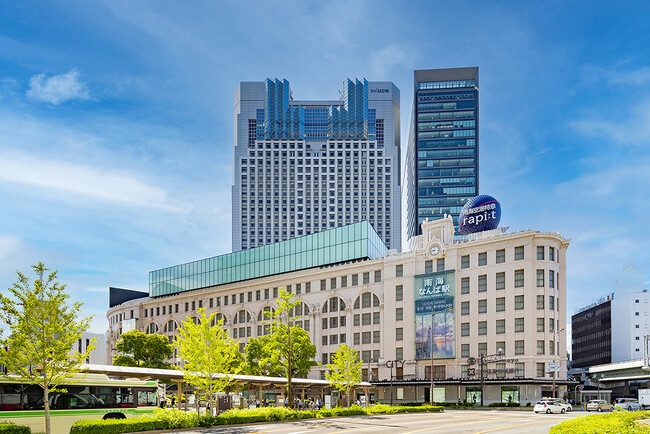 ◎Facility name: Swissotel Nankai Osaka
◎Location: 5-1-60 Namba, Chuo-ku, Osaka City, Osaka Prefecture
◎ Transportation: Directly connected to Nankai Electric Railway "Namba" Station /
Near Exit 4 of Namba Station on Osaka Metro Lines
◎ Number of rooms: 546 in total
◎Facilities: "Table 36", Chinese restaurant "Empress Room",
Japanese cuisine "Hanagoyomi", teppanyaki "Minami", food and drink "Shun"
(restaurant), "Bar 36" (bar), "The Lounge"
(Cafe Lounge), Swiss Cuisine (Takeaway),
"Purovel Spa & Sports" (fitness/spa), banquet hall,
Chapel, shrine, photo studio, costume room "LUCE"
◎ Official website: https://swissotelnankaiosaka.com/ja/
More about Swissotel Nankai Osaka
Swissotel Nankai Osaka is part of Swissôtel Hotels & Resorts. We are located in the most dynamic "Minami" in Osaka, the center of business, culture, shopping, gourmet, fashion and entertainment, offering unparalleled convenience. As a luxurious city gateway, it is the only hotel in Osaka directly connected to Kansai International Airport and railways. It is located directly above Namba Station, a transportation hub in Osaka, with easy access to historic Kyoto, the world-heritage ancient capital Nara, and the international port city of Kobe. The hotel is well-equipped with various facilities including 6 restaurants and bars, a fitness center and a spa. The hotel has won many awards such as "TripAdvisor Excellence Award", "World Luxury Hotel Award", "World Travel Award" and the wine list award of American wine magazine "Wine Spectator". For reservations or questions, please call 06-6646-1111, visit our website (www.swissotelnankaisaka.com/ja) or contact your local travel agency.
About Swissotel
Swissôtel Hotels & Resorts is a world-renowned Swiss brand, adhering to the tradition of Swiss hospitality, bringing you a fresh and energetic feeling in the Alps. It has been recognized for its modern, intelligent design, superior craftsmanship and commitment to sustainability. We provide a moment of relaxation for global travelers to discover the true joys of life and experience "living well". The Swissôtel brand was established in 1980 and currently has more than 30 hotels worldwide. These include flagship properties such as Swissotel The Bosphorus Istanbul, Swissotel The Stamford Singapore and Swissotel Redhomi Moscow. Swissôtel is a member of AccorHotels, the world's leading travel and lifestyle group, offering hospitality through more than 5,000 hotels, resorts and residences in 110 countries around the world.
Company Press Release Details
GO TO PR TIMES TOP
*This information is a press release issued by PR TIMES Co., Ltd., and the responsibility for publishing this information belongs to the issuing company.