Vietnam
Support growing companies with new business models.Development companies in Japan and Vietnam announce a new service to reduce development costs through revenue sharing | BAP Solution Japan Co., Ltd. Press Release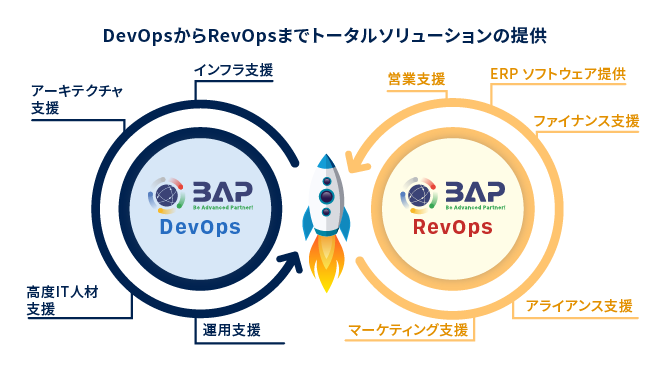 ■ problem
Many new businesses face challenges such as:
(1) Rising labor costs for development and difficulty in recruiting workers
② When outsourcing development, it is difficult to find a reliable company
(3) Risk is high because development costs are incurred before sales
If the business plan does not go well, cash flow will deteriorate and the continuation of the business will be threatened.
Consulting companies also face challenges in finding reliable development companies and lack of senior IT personnel who can handle DX.

■ About new services
BAP Solution Japan has introduced a fee structure that reduces development costs through revenue sharing, and the maximum initial cost borne by the company can be 0 yen. Additionally, revenue sharing can be set with deadlines, providing flexible support as the company grows.
In addition, we can provide overall solutions from DevOps to RevOps and participate from the upstream stage of product design. Therefore, we are able to accept developments with a sense of speed and respond quickly to the market.
With this total solution, we can support DX projects owned by our clients' consulting firms.

■Example of support field
▼Development and operation
・Infrastructure construction support
・System architect support
・Advanced IT HR support
・Operation support
▼Update operation
・Provide ERP package service
・Marketing support
・Alliance support
·financial support
·sales support
■ About BAP Solution Japan Co., Ltd.
We have 450 engineers in Japan and Vietnam and have a track record of supporting companies ranging from large Japanese corporations to startups. In addition, he holds ISO27001 (information security) and ISO9001 (quality) qualifications, and has rich personal connections mainly in the blockchain industry. As a partner to growth companies and consulting firms, we will do everything in our power to support their business success.
【Company Profile】
Company Name: BAP Solution Japan Co., Ltd.
Head office location: 1-11-3, Kayabacho, Nihonbashi, Chuo-ku, Tokyo
Okamoto Building 5F
Representative Director: Moto Takai
Business: Software Development
Number of employees: 450 (Japan/Vietnam)
Established: December 2016
HP: https://bap.jp/
Contact: sales@bap.jp