Taiwan
Spotlight: U.S. military drills over China's Taiwan conflict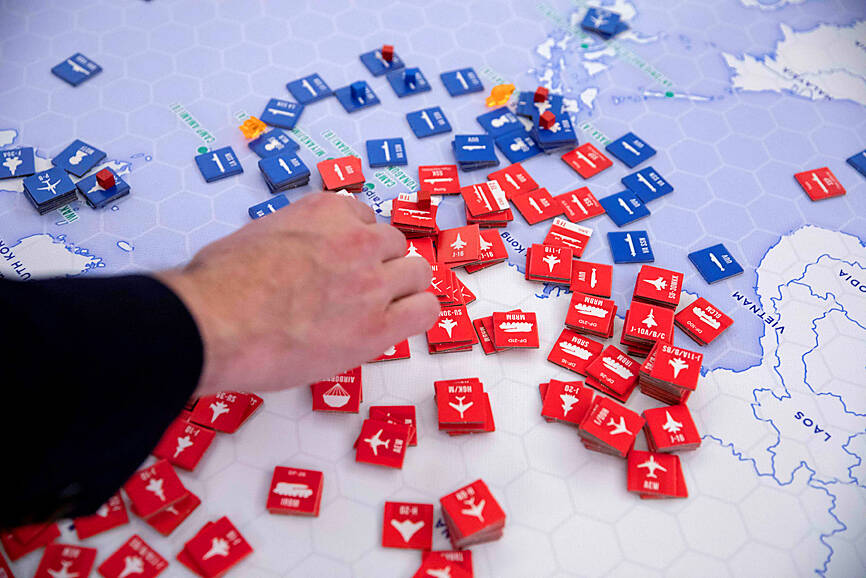 Amazing tolls:


Tabletop exercises don't appear to defeat a takeover of Taiwan as allies flee and America's stockpile of long-range missiles is quickly destroyed

The date is April 22, 2027, 72 hours after China launched its first attack on Taiwan and the U.S. military responded. The casualties on all sides have been staggering.

It's a war game, but with serious purpose and high-profile players: members of the U.S. House Select Committee on U.S.-China Strategic Competition.

The conflict unfolded over tabletop maps and markers under a giant gold chandelier in the Ways and Means Committee Room of the U.S. House of Representatives.

The exercise explored U.S. diplomatic, economic and military options as the U.S. and China teeter on the brink of war over Taiwan.

An evening last week played out like a board game, part of a committee's in-depth review of U.S. policy toward China, as lawmakers, especially the Republican-led U.S. House of Representatives, focused on tensions with Chinese President Xi Jinping's government .

In war games, Beijing's missiles and rockets fell on Taiwan and American troops as far away as Japan and Guam. Initial casualties included hundreds, possibly thousands, of U.S. troops. Taiwan and China have even more to lose.

To Washington's dismay, the war game with terrified and alienated allies left the United States fighting almost entirely alone in support of Taiwan.

The role-playing scene did not include a call to a U.S. hotline to Mr. Xi or one of his top generals to calm the situation.

Lawmakers said the wargame is not about planning a war, but about finding ways to strengthen U.S. deterrence and prevent a war involving the U.S., China and Taiwan from starting.

U.S. Rep. Mike Gallagher, chairman of the committee, began by telling colleagues that, ideally, U.S. lawmakers would exit the war game with two convictions.

"One is a sense of urgency," he said.

The second is a sense that "we can do something meaningful in this Congress through legislative action to improve the prospects for peace and stability across the Taiwan Strait," Gallagher said.

In fact, the committee's Democratic leader, U.S. Rep. Raja Krishnamoorthi, told lawmakers: "We cannot face the situation we are going to face tonight."

"The only way to do that is to stop the aggression and prevent conflict from happening," Krishnamoorthi said.

The United States does not officially recognize the Taiwanese government but is Taipei's most important provider of arms and other security aid.

Liu Pengyu, a spokesman for the Chinese embassy in the United States, said in response to the military exercises that China hopes to achieve peaceful reunification with Taiwan, but reserves "the option to take all necessary measures."

"The US's so-called 'war games' are intended to support and embolden the Taiwan independence separatists and further aggravate the tension in the Taiwan Strait. We firmly oppose it."

In war games, lawmakers play the blue team, playing the role of advisers to the National Security Council. They assume the president's instructions: If possible, prevent the Chinese from taking over Taiwan, and if not, defeat it.

Experts at the Center for a New American Security think tank, whose research includes wargaming possible conflicts using real-world scenarios and unclassified information, played the role of the red team.

The drills started with opposition lawmakers in Taiwan talking about independence.

Angry Chinese officials responded by making unacceptable demands on Taiwan, as Stacy Pettyjohn, director of the think tank Defense Project, recounted.

Meanwhile, the Chinese military puts intrusion-capable units in place. Steps such as bringing blood supplies to the healing troops showed that this was no ordinary military exercise.

Ultimately, China imposed a de facto blockade on Taiwan, which was intolerable for a country that produces more than 60 percent of the world's semiconductors and other high-tech equipment.

As the U.S. military braced for possible combat, U.S. presidential advisers — members of House committees gathered around and studied wooden tables with unfolded maps and troop markings — gathered.

They posed questions to retired U.S. Air Force General Mike Holmes, who serves as chairman of the Joint Chiefs of Staff, before deciding on a course of action.

One lawmaker asked what the economic consequences would be if the U.S. went extremist in terms of economic punishment.

It is "catastrophic" for the United States and China, which is also fighting back against the US economy.

"Who's going to tell the president that he has to say to the American people, 'Say goodbye to your iPhone?'" asked US Rep. Ashley Hinson.

The lawmakers asked if there was any way for U.S. leaders to communicate with Chinese leaders.

No, Chinese leaders have a history of avoiding calls to U.S. hotlines, and that's a problem, the exercise leaders told them.

In a war game in which U.S. officials tried to send a message to their Chinese counterparts through U.S. business leaders based in China, China then used its Dell, Apple, Hewlett-Packard and other product businesses as a first step in the attack.

Are potential Chinese military targets "close to major metropolitan areas that would include millions of people"? asked Mikie Sherrill, representative of the United States.

Has Taiwan tried its best to calm the situation?

Yes, it will do what it can, lawmakers have been told.

"I don't know if we've exhausted all diplomatic options," Gallagher said.

Then, on paper, U.S. and Chinese satellites, space weapons, drones, submarines, ground troops, warships, fighter squadrons, cyber fighters, communications experts, bankers, U.S. Treasury Department officials, and diplomats go to war.

Finally, wargamers released the casualties of the first wave of battles before lessons were learned. Lawmakers pored over tabletop maps and cringed at hearing of particularly serious setbacks in America's success.

America's stockpile of long-range missiles? gone. Global financial markets? shake.

American allies? As it turns out, Chinese diplomats have done their homework to keep them on the sidelines, even though the sweeping U.S. economic measures against the Chinese economy appear to have put them off. They put this on hold.

In the final "hot wash" briefing, lawmakers identified several key military weaknesses highlighted by the wargame.

"It's not good to run out of long missiles," said U.S. Rep. Dusty Johnson.

The most glaring flaws, however, arose in diplomatic and nonmilitary planning.

Becca Wasser, a senior fellow at the think tank, played a convincingly threatening Chinese official, noting that lawmakers were repeatedly frustrated during war games by the lack of direct, direct leader-to-leader crisis communication. This is something Beijing and Washington have never managed to achieve consistently in the real world.

"In peacetime, we should have these lines of communication," Wasser said.

Lawmakers said the exercise also highlighted the risks of neglecting to craft a well-thought-out package of economic penalties and failing to build consensus among allies.

"As we get closer to 2027, they're going to try to isolate us," U.S. Representative Rob Wittman said of Xi's administration.

Holmes, as chairman of the Joint Chiefs of Staff, tried to reassure lawmakers after the first three days of fighting.

"We survived," he said.
Comments will be moderated. Keep comments relevant to the article. Comments containing abusive and obscene language, personal attacks or propaganda of any kind will be removed and banned from use. The final decision will be at the sole discretion of The Taipei Times.