India
Sojitz Makes Additional Investment in Intelligent Retail Private Limited (RIPPLR), an Indian Consumer Goods Wholesale and Logistics Company | Sojitz Corporation Press Release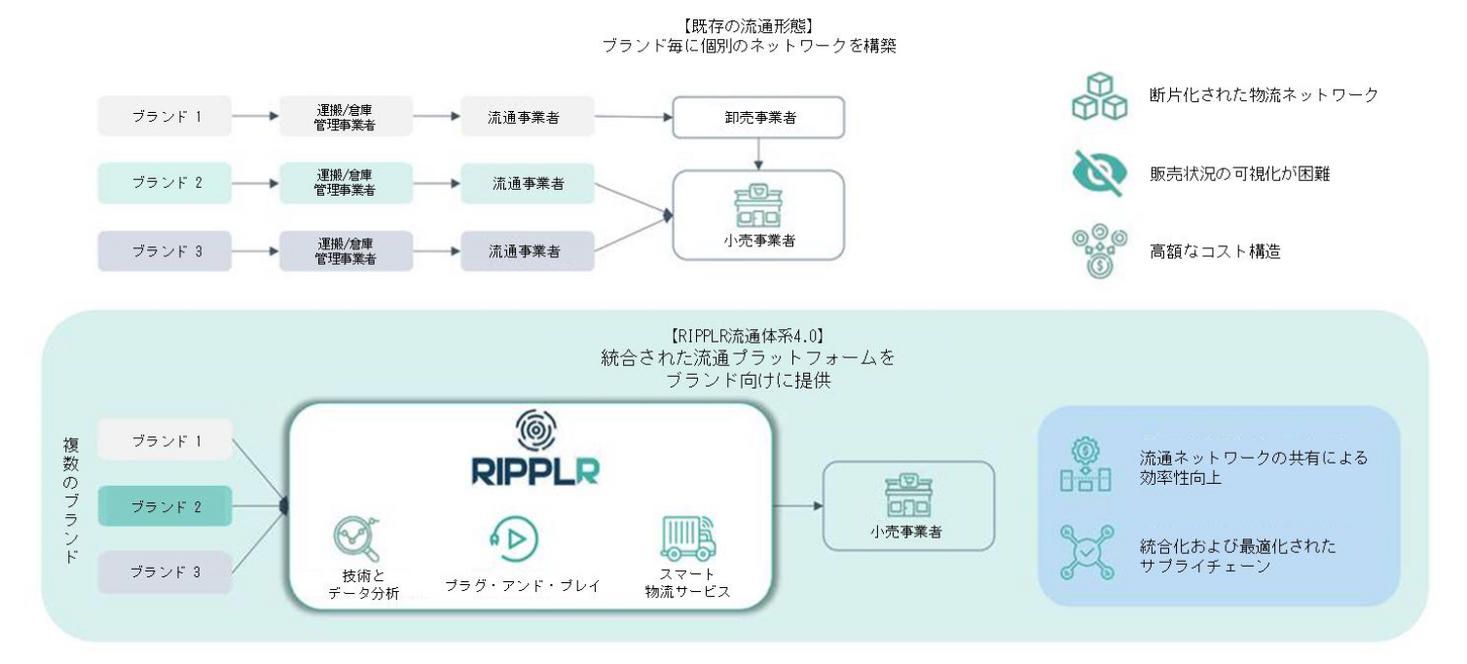 Due to the huge domestic demand of about 1.4 billion people, the Indian retail market is expected to grow into the world's third largest retail market ($1,158 billion) by 2025, and consumers' willingness to purchase is expected to remain at a high level. On the other hand, there are more than 14 million retail stores in a vast land with different nationalities, languages, cultures and systems, and many existing dealers are privately owned, so the complexity and inefficiency of the distribution structure are one question. Key challenges facing Indian consumer goods and food manufacturers.
RIPPLR has built an order management, distribution management, sales performance management, and inventory management system (which can share sales information with destinations in real time) on the self-developed platform to keep abreast of sales and distribution status. By simplifying our distribution structure, we are able to deliver products accurately, quickly and efficiently at low cost. We are expanding our presence in major cities mainly Bangalore.

 
[The difference between the existing logistics system and RIPPLR]
The funds raised this time will be used to open new bases in India's vast land and develop more wholesale and logistics related systems, which are RIPPLR's strengths.
Sojitz makes full use of its strong overseas network in demand regions such as Southeast Asia, as well as its wholesale business knowledge in emerging countries accumulated through business activities centered on Vietnam, to contribute to solving existing issues and solving problems. For the development of the local economy, our future goal is to participate in other businesses in the Indian retail industry.
(refer to)
【RIPPLR Company Profile】
Company Name

Smart Retail Pte Ltd




proprietary platform

Rip Puller




year of establishment

2019




The location of the company

Flat No 1301, A-10 Block, Elita Promenade Apt, 18th Main, JP
Nagar Phase VII, Bangalore, Karnataka – 560078, India




Representative

Santosh Sadashiv Dabuk, Abhishek Vijay Nehru




business content

Wholesale platform operation




Number of employees

1,001 (as of March 2023)









【Related news release】
Jan 20, 2022 Sojitz Enters Consumer Goods and Food Wholesale Business in Growing Indian Market
https://www.sojitz.com/jp/news/2022/01/20220120.php