Japan
Shinrin-yoku, the Japanese Art of Forest Bathing | Japanese Monthly Web Magazine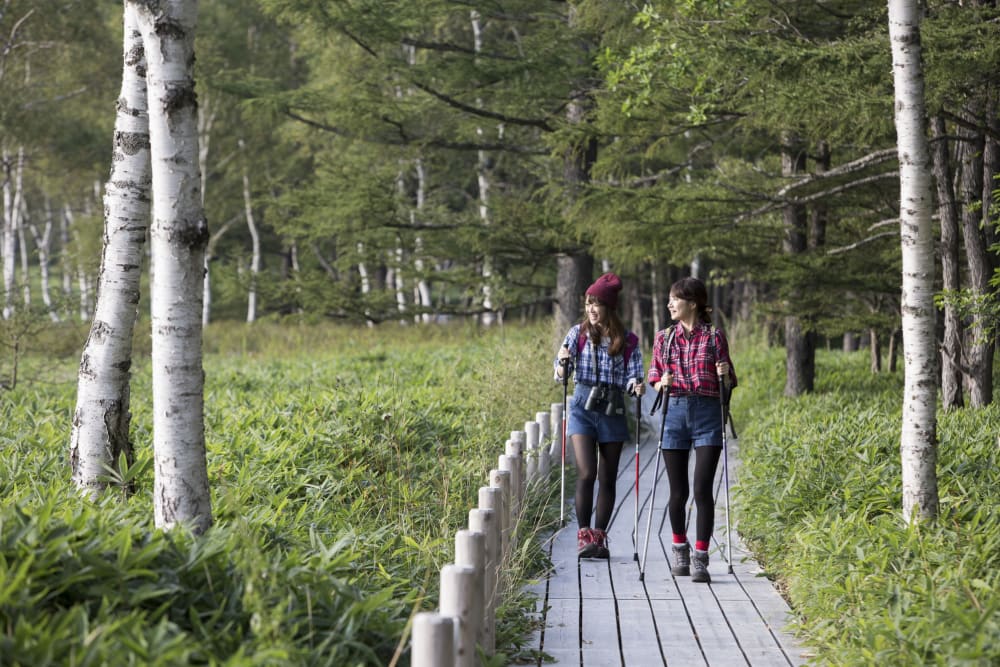 Forest bathing, known in Japanese as "shinrin-yoku," is a uniquely Japanese activity developed in the 1980s. In this practice, participants succumb to the powerful energy and exquisite calm that pervades the forest, Japan's natural ecosystem. In turn, they gain opportunities for reflection, a boost of positive energy and a restored sense of well-being. Read on to learn where this tranquil art originated and where to experience it.
Mother Nature: The Origins of Forest Bathing
Conceptualized by the then Forest Service in 1982, forest bathing is a physical and mental exercise with two key purposes. First, it was a response to Japan's technological revolution, providing an antidote to the high-octane lifestyle that was replacing traditional nature-oriented society. Second, it encourages Japanese people to reconnect and preserve the surrounding natural landscape.
Both intentions are still relevant today. Forest bathing is a low-impact pursuit that celebrates the natural order of woodland environments rather than altering them, and provides a welcome space for mindful meditation. So how does it work?
it's actually really easy. On a forest bathing trip, the explorer quietly wanders through the forest landscape, focusing on the energy of the surrounding environment and most importantly, appreciating the present moment. While this may be a one-person pursuit, there are plenty of guided tours to choose from. This time, we will explore the forest bathing spots of Iiyama (Nagano Prefecture) and Nikko (Tochigi Prefecture), while introducing spots around Tokyo for those with limited time.
Take a digital detox in one of Japan's many forests.
Photo provided by: Forest Healing Base "Iiyama"
Embrace Forest Therapy and Wellness in Iiyama City, Nagano Prefecture
The charming city of Iiyama is located in northern Nagano Prefecture, about two hours from Tokyo on the Hokuriku Shinkansen. Recognized in 2005 as a region of extraordinary healing power, this extraordinary destination attracts travelers seeking solace and rejuvenation.
The picturesque scenery around Iiyama, where rivers, lakes and vast forests harmoniously blend together, is mesmerizing. Nature lovers eager to soak up the beauty of Iiyama's forest will find plenty of well-marked trails for hikers of all levels. Since the popular forest bathing site is located around 500 meters above sea level, hikers can enjoy a peaceful break in the fresh, cool air and comfortable shade of this living forest.
Get lost in the embrace of nature.
Photo provided by: Forest Healing Base "Iiyama"
Among the many enchanting forests of Iiyama, Nabekura Kogen's famous Mori House is a true paradise of natural wonders. This serene sanctuary beckons forest bathers for serene hikes beneath the majestic beech trees, or relaxing yoga sessions under the soft dappled sunlight.
For those looking to escape into the lap of nature, Iiyama offers a range of activities beyond forest bathing. Visitors can canoe along the tranquil waterways, enjoy an outdoor camping adventure, or embark on a snowshoe tour amidst the allures of winter.
Explore mindfulness in a sanctuary under a leafy canopy.
Photo provided by: Forest Healing Base "Iiyama"
Relax and explore in Nikko, Tochigi Prefecture
Nikko National Park is located in Tochigi Prefecture, about two hours north of Tokyo by car, and covers an area of ​​1,150 square meters. Wilderness built in 1934. This stunning region is full of mesmerizing natural wonders, from towering mountains and incredible wildlife (including monkeys and bears), to verdant forests famous for beeches, maples and oaks, winding rivers and lush meadows.
For forest bathers, Sunshine National Park is the perfect place to enjoy this natural pursuit.
With so much to explore in Nikko, vast wilderness is at your fingertips and you can take a sunbathing trip on your own. You'll find countless places to take uninterrupted walks, enjoy the peace and tranquility of your surroundings, and take time to connect with the present moment.
Of course, there are other things to experience in the park. Not to be missed leaving the southern entrance of Nikko National Park, where a string of shrines and temples are a UNESCO World Heritage Site. Among the many wood carvings at the site are primitive monkey carvings embodying the proverb "see no evil, speak no evil, and hear no evil".
Discover serenity under a canopy of verdant trees.
Mount Mitake: Relax and Reflect on the Famous Mountain in West Tokyo
One of the most popular hiking destinations near Tokyo, Mount Ontake has an irresistible appeal. Visitors can slowly ascend Mount Ontake's 929-meter summit, making this majestic mountain an excellent choice for beginners and those keen to enjoy hiking without worrying too much about the challenge.
Ontake is home to a rich and vibrant ecosystem, surrounded by towering trees, including a sacred cedar tree (also known as a "sacred tree") at Sanansha Shrine. The cedar is believed to protect soon-to-be mothers, in addition to bringing good luck and longevity, and thus attracts pilgrims. However, any visitor to Mount Mitake will be captivated by this stunning specimen.
The moss-covered rocks of Mount Mitake can be seen outside Musashi Mitake Shrine.
Dating back to 90 BC, Musashi Mitake Shrine is a particularly special place, located on top of a mountain, a truly remarkable place to contemplate. Getting to Mount Mitake from Tokyo is easy. Board the train from the city center and just over 90 minutes later you'll find yourself ready for an unforgettable forest bathing experience.
Escape from Central Tokyo: Meiji Shrine and Institute of Nature
Sometimes time constraints mean you can't always fit everything into a visit to a new destination. However, even if you're only planning a short stay in Tokyo, you don't have to miss out on a forest bathing experience.
The densely forested Meiji Jingu Shrine offers a peaceful site and natural landscape for visitors to enjoy during their visit. The site was established to enshrine the gods of Emperor Meiji and Empress Shoken, and approximately 36,000 trees were planted. Surprisingly, it's just a short walk from downtown JR Harajuku Station.
Meiji Jingu Shrine is an enchanting forest landscape.
Just a stone's throw from central Tokyo, the Natural Research Institute in Minato is another hidden gem. A haven of tranquility, forest bathers can escape and rejuvenate as they wander through the reserve's forests and swamps.
The Nature Research Institute is an incredible escape from Tokyo's urban sprawl.
Photo credit: Nature Institute
information