South Korea
Seoul with Sujin Ssi: Beyond K-pop and K-drama, a city full of culture and tradition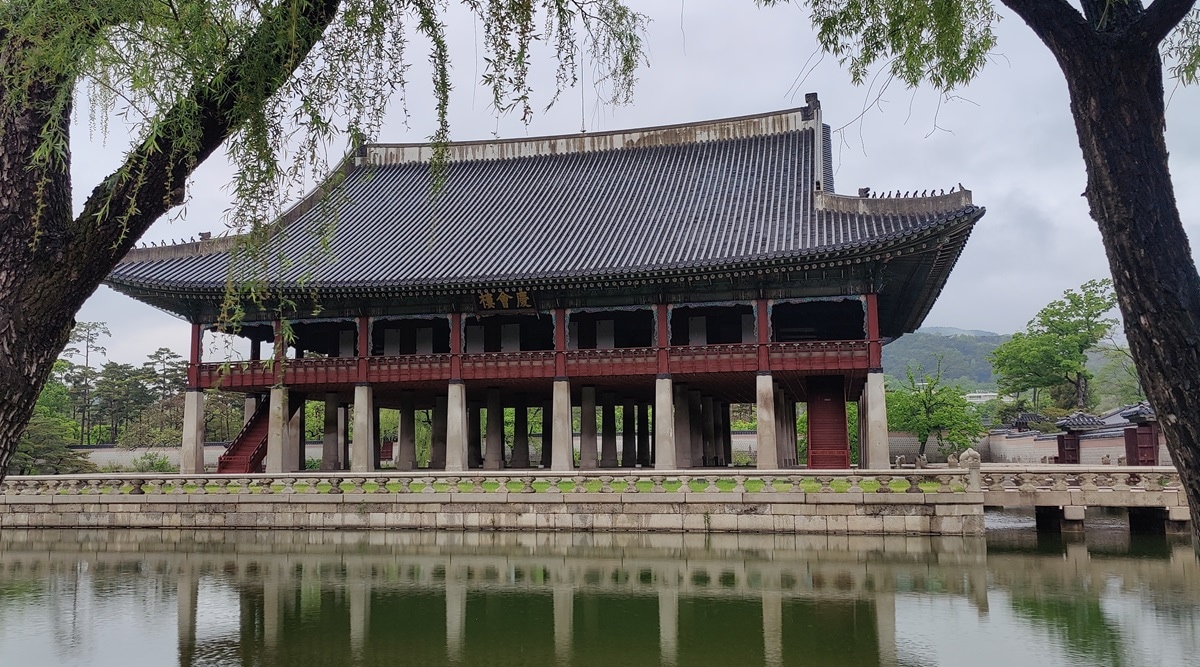 Sujin Sith (Miss) always wore a bucket hat and overalls and greeted our Korean tour group with a big smile every morning. We call her Miss Kim for our tongues, not trained in Korean. In turn, she named us according to her convenience, which betrayed a sarcastic sense of humor. For example, she called the executive of a tour company in Chennai an "Indian swagger" because he was always ready to pose for the camera, rain or shine. If I had to guess, I'd say she was in her forties. When asked her age, she dismissed the question with a smile, saying, "We don't ask that in Korea".
Why am I telling you all this? Because most of what I know about Korea, and what follows, comes from her insights and perspectives. Miss Kim lives in Paju, about 33 kilometers from Seoul, and she can speak English with an American accent. She couldn't answer why she had an American accent, but said most Koreans don't speak English, or well if they do. Her father, on the other hand, always encouraged her to learn English – a skill that would come in handy when working as a tour guide.
We chatted with Miss Kim over coffee at Terarosa (one of South Korea's most popular coffee shops), and topics ranged from climate change to the country's compulsory military service and relations with North Korea. Recently, she told us, the pay offered during military service has been higher than before, prompting more people to choose it as a career.
Coffee isn't hard to find in Seoul, with almost one in every three shops being coffee shops, so there's always time to sit and chat. In another conversation in Myeongdong, a large shopping district with the best international brands and local street food, Miss Kim spoke about Japan's 35-year rule of South Korea. Now, relations between the two countries are at peace, she said. In a lighthearted way, most South Koreans love Japanese food, but historical grudges show up at soccer games, she added.
Myeongdong is our introduction to Seoul. Our first stop was Yoogane, known for its chicken chops (or shredded chicken marinated in a chili-sweet sauce with noodles) cooked at the center of the table. They also have vegetarian options, which is an experience not to be missed. Ms. Kim, who is used to her Indian customers "always eating a lot", ordered a generous portion for each member, and was surprised to see that we couldn't finish it.
With the promise of better appetites later in the day, we headed to a skin-care clinic, where we got our much-anticipated K-beauty experience. For the uninitiated, Korean skincare has become popular around the world, especially since K-dramas with fair-skinned, blemish-free heroines. If you're like me and uncomfortable with the touch of strangers, my advice is to forego an hour of massage, delicate scents and relaxation. Treatments range from KRW 64,000 (approx. Rs. 4,000) to KRW 2,40,000 (approx. Rs. 14,000) and usually take 60-80 minutes. After a seven-hour red-eye flight, the experience seemed to bring us back to life. Miss King – a professional actress before she became a tour guide – was at her dramatic best, gasping and praising us as we emerged with dewy, visibly brighter skin .
Myeongdong (Myeongdong), a large shopping district in Seoul
For brevity, I'll leave you all the details of the itinerary and stick to the best parts. Traveling in Seoul will make you feel like you've arrived in a futuristic metropolis with gleaming skyscrapers and sleek cars, from Genesis and Maybachs to Hyundais and Teslas. In many ways, Seoul is like a steel fortress, but it is full of culture and tradition. Remnants of Seoul's past, when it was known as Hanyang during the Joseon Dynasty, such as parts of the city walls that once surrounded the capital, the giant gates and palaces used to enter, still dot the city.
Seoul is bisected by the Han River into Gangbuk (literally Hebei) and Gangnam (Henan), the more luxurious and affluent areas and the inspiration behind Uncle Psy's popular song gangnam style. Lotte Tower, the tallest building in Korea, has 123 floors and an observation deck at the top, also located in Gangnam.
On our second day in Seoul, we witnessed the meeting of old and new. Starting in the morning at a rental shop, we quickly change into Hanbok (traditional Korean clothing) before heading to Gyeongbokgung Palace, the grandest Joseon Dynasty palace in Seoul.
Terarosa is one of the most popular coffee shops in Korea (postcard)
An interesting feature of the palace, and a testament to an ancient belief, are the Japsang figures on the roof. These monkey-like figures, culminating in a dragon's head, are believed to ward off evil spirits and prevent fire (in the old days, buildings were built of wood, which was a fear). The image of Japsang can also be seen in modern buildings such as the Blue House or Blue House, the presidential residence built in 1991 and now open to the public as the current president moved the seat of power to Yongsan. During our tour of the Blue House, Miss Kim introduced us to another architectural marvel: traditional Korean houses, called hanoks, built without nails so they can be easily assembled and disassembled.
After leaving the palace, we continued on to Insadong, a street full of art galleries, Korean restaurants, and traditional handicraft and craft shops. Hidden in a back alley, Sanchon is a vegetarian temple gourmet restaurant that promises to satisfy your taste buds with a variety of simple dishes prepared with minimal spices but each with a unique taste. This is perhaps the best place to try different Korean vegetables and herbs, kimchi and herbal teas.
The next destination on our itinerary was Yeouido, a large island on the Han River and the financial and political center of Seoul. It is accessible from the mainland via a six-lane bridge (one of 31 bridges over the Han River). It is home to Yeouido Park, which was built on reclaimed land. South Korea has been active in land reclamation projects for years – perhaps the most recognized of which is Incheon Airport, which has been hailed as one of the best in the world.
Yeouido also houses the National Assembly, the headquarters of the Korea Broadcasting System (KBS), and several other financial and trade institutions. Cruise along the Han River from Yeouido to catch a glimpse of Seoul's skyline with its towering buildings and dome-shaped parliament. Our day ended with a sumptuous Italian dinner atop the 54th floor of the Federation of Korean Industries building, with clouds in the sky.
Yeouido Elan Cruise Terminal (quick photo)
On our third and final day in Seoul, we focused on Hallyu and all things Korean before we headed to the picturesque coastal city of Yeosu. Hallyu refers to the "Korean wave", which is the growing popularity of Korean culture these days. Even for those who aren't as obsessed with BTS or Black Pink as most K-pop fans are, HiKR Ground makes for a day of fun. Powered by advanced technology and extended reality, HiKR offers visitors a range of activities. There are replicas of subway trains or laundromats, complete with studio lighting and music systems, where visitors can recreate K-pop music videos, or indulge in games that test their on-screen choreography abilities.
Whether you want to visit your favorite K-drama filming locations, immerse yourself in traditional culture while wearing a Hanbok, treat yourself to soju at a bar on Itaewon Street, shop for the best brands or handicrafts, or just stroll through the skyscrapers In the Maze – Seoul has something for everyone.
The city offers hospitality to all. The Koreans we met on our trip were polite, courteous and always ready to help. We found silence inside public transport and ordered queues at tourist spots. Miss Kim is the embodiment of this Korean discipline. Like a teacher, she will command the whole team to ring the "Hello'When we meet new people,'Hanneda, Kansas'(thank you) our server and driver. If we go to a busy restaurant, Miss Kim is quick to jump up and serve us herself. I dedicate this travelogue to her for her warmth even on a rainy day. Hanneda, Kansas Sujin Sith!
The author was on a study tour to Korea sponsored by the Korea Tourism Organization under the Ministry of Culture and Tourism of the Republic of Korea.