Myanmar
Safety and security – Myanmar travel advice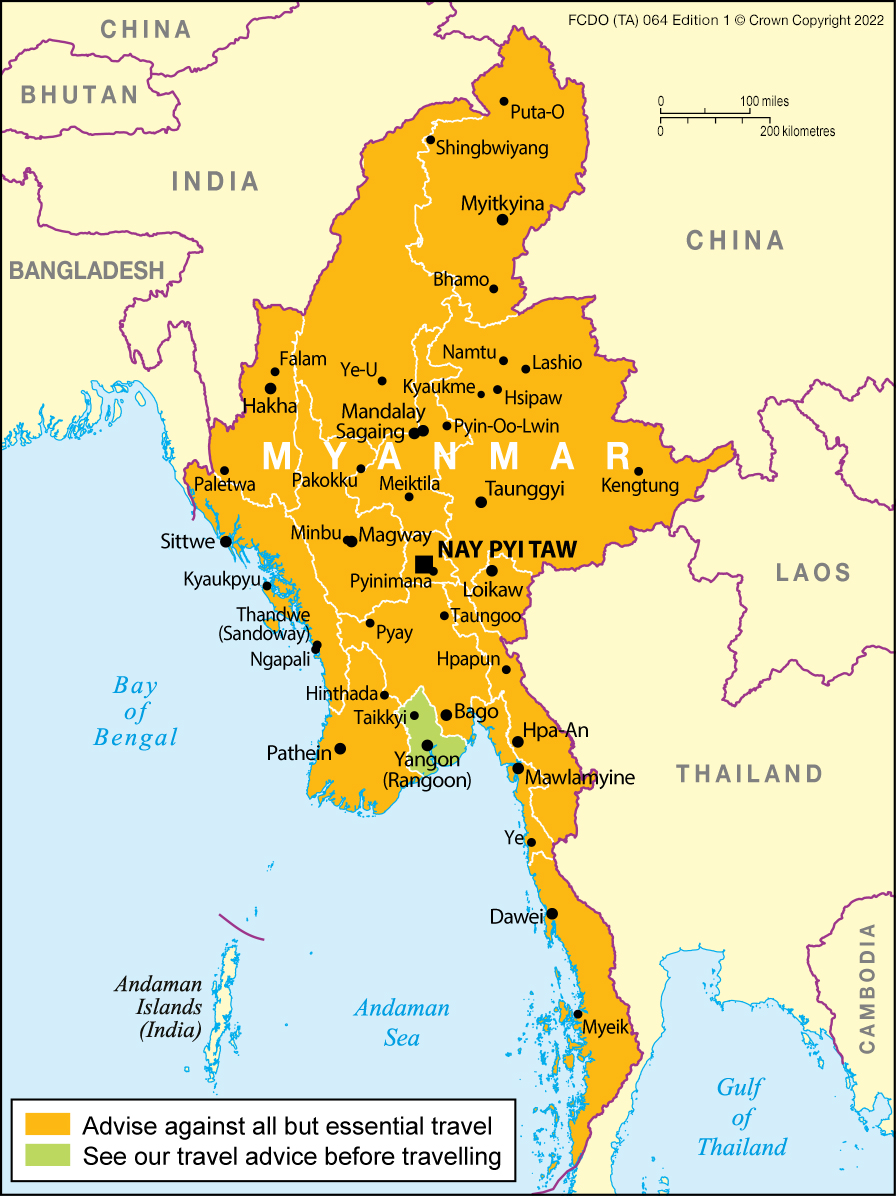 Political situation
Myanmar held national elections on November 8, 2020, with the National League for Democracy Party winning a majority. The military then accused the election of fraud and demanded a review. On February 1, 2021, the Myanmar military declared a state of emergency and took over. Widespread political violence has resulted in the deaths of hundreds of ordinary people and a significant increase in active clashes between armed actors.
You should be cautious and avoid all demonstrations, large crowds and political rallies. You should not attempt to photograph any party. For more information, see Photography and Drones. You should be vigilant and follow the advice of your local government.
Opposition activists have carried out multiple targeted bombings of official buildings. The use of improvised explosives is becoming increasingly sophisticated and lethal. Most of these attacks targeted security force locations, wards and administrative offices in townships, but also included attacks on schools and hospitals.
Disregarding military orders or ignoring curfews may result in detention and/or prolonged imprisonment. A nationwide curfew was imposed. Local wards may change rules and curfew times unexpectedly, so it's important to keep abreast of local rules.
Myanmar has long suffered from internal conflict involving some ethnic armed groups in Myanmar's border areas. Violent clashes are still possible in some parts of all border countries.
The political situation remains unstable. After extremely narrow legislative reforms, restrictions on freedom of assembly, freedom of movement and the right to form trade unions remain. Restrictions on freedom of speech, movement, religion and political activity remain in place, and criticism of the government can lead to imprisonment, detention and deportation under existing laws.
On important anniversaries such as the anniversary of the coup (1 February), Armed Forces Day (27 March), the anti-government uprising of 8 August 1988 and the protests of September 2007, and Martyrs' Day (July 19) and other public holidays, you can expect an increase in security forces in Yangon and elsewhere in Myanmar. This has been especially true since the military took power.
Yangon Region
Although we no longer recommend that you do not travel to the Yangon region for essential travel, there is still a higher risk. If you are in the Yangon region, you should be vigilant, proceed with caution and seek local advice, especially when traveling in a township under martial law. Currently, the townships under martial law are Hlaing Thayar, Shwe Pyithar, North Okkalapa, North Dagon, South Dagon and Dagon Seakkan, but this could change.
Violent incidents, such as explosions in public places or riots caused by protests, may go unnoticed throughout the region. Businesses linked to the military and visible military installations such as checkpoints are often targeted. You should regularly seek local advice as the security situation remains fluid and may change over a short period of time. The risk is higher when senior military officials visit Yangon, and on important national occasions such as Armed Forces Day (March 27). If you need to travel to Yangon during these times, you should seek local advice and keep a low profile. If you're in a threatening or intimidating situation, don't try to get through it. Turn around and head to safety.
crime
There are no official published accurate crime statistics. Anecdotal evidence points to occasional violent crimes against foreigners. The most common crimes are nonviolent crimes of opportunity (pickpocketing, theft of unattended property in public or hotel rooms, bag snatching, gem/confidence scams). Criminal activity continues and may increase in an unstable environment as a result of the coup. Burglars often try to distract their victims by asking questions, begging, selling items, or bumping/bumping. You should be extra careful with your belongings and always take sensible safety precautions.
Myanmar remains largely a cash-only society. Travelers who often need to carry large amounts of local currency should avoid displaying cash or other valuables in public. Beware of merchants who offer to sell precious, gold, and semi-precious stones. This may result in significant monetary loss and/or violation of local laws. Do not buy gems or minerals from unauthorized sources.
Although violent crime and robbery rates against foreigners are low, especially in Yangon, crime rates are rising due to economic pressures. You should always be vigilant, even if you live with friends and are provided by your employer or landlord.
scam
There have been incidents where people received emails from individuals claiming to work for British companies seeking loans to further their business interests in Myanmar. The men said they were acting on the advice of the British embassy. Please see our page on fraud and financial scams for further guidance.
border area
Violence is high and the situation unpredictable in most nation-states and border areas. The Myanmar government has restricted travel to most border areas. Unmarked mines also pose a threat in many border areas. In the north-west and south-east, there have been active military operations involving the use of air strikes, artillery shelling and ground forces.
mines
Due to years of conflict, the threat of landmines in rural areas is high, especially in northern and central Rakhine, northern Shan and Kachin states. There is no reliable source of mine mapping, and there is evidence that the use of mines has spread to other areas since the coup. Some areas with known mines are marked with signs, but this practice is not widespread. Visitors should exercise extreme caution if driving on major roads in these areas. In 2019, a foreign tourist was killed by a landmine while leaving the main road near the town of Hsipaw in northern Shan State. A woman accompanying him was also injured in the incident.
air travel
This FCDO Cannot advise on the safety of individual airlines. However, IATA publishes a list of registered airlines that have been audited and meet a number of operational safety standards and recommended practices. This list is not exhaustive, and the absence of an airline on this list does not necessarily mean it is not safe. A list of recent incidents and accidents can be found on the Aviation Safety Network's website.
Airlines often code-share flights, which means airlines sometimes use aircraft outside their own fleet. In this case, passengers are not always informed in advance.
Local flight schedules are subject to change without notice. Allow enough time in your travel itinerary to get used to this.
rail travel
Rail safety standards are significantly lower than in the UK.
road trip
Overland travel can be dangerous, especially during the rainy season (May to October). Roads may be impassable and bridges may be damaged. Road travel between many regions other than key destinations such as Yangon, Mandalay, Bago and Ayeyarwady regions is restricted.
Road safety standards are significantly lower than in the UK. Under Myanmar law, the driver of a car who has an accident with a pedestrian is always at fault. Many vehicles, including taxis and buses, are in poor mechanical condition and serious road accidents are not uncommon. Although driving on the right side in Myanmar, most cars are right-hand drive.
Sea and river trips
Seek local advice on safe places to swim or dive in the sea. River transport may not meet internationally recognized safety standards and search and rescue facilities may be limited.
Passenger ship in Rakhine State was attacked.
During the monsoon season (usually May-October), heavy rains can cause flooding. Before taking any river trip, make sure you have a life jacket and check your local weather conditions. All travelers should avoid wading, swimming or bathing in fresh water to prevent contracting schistosomiasis.see health
Cell Phones and the Internet
Authorities in Myanmar have regularly cut off mobile internet services and blocked several websites. Internet or cell phone may be cut off without notice.
Myanmar's technological infrastructure has improved. International GSM roaming is now available in Myanmar, with 3G and 4G available on all local networks. Some UK SIMs work if roaming is enabled, and coverage is fairly reliable in major cities. UK mobile service providers may charge particularly high prices for roaming in Myanmar.
Many tourists travel with a spare cell phone and purchase a SIM card on arrival for a nominal fee. It can then be topped up as needed.