Vietnam
Press Release Capital and Business Alliance Agreement and Global Strategy with DTP Education Solutions, a Major Educational Publishing Company in Vietnam | Gakken Holdings Co., Ltd. Press Release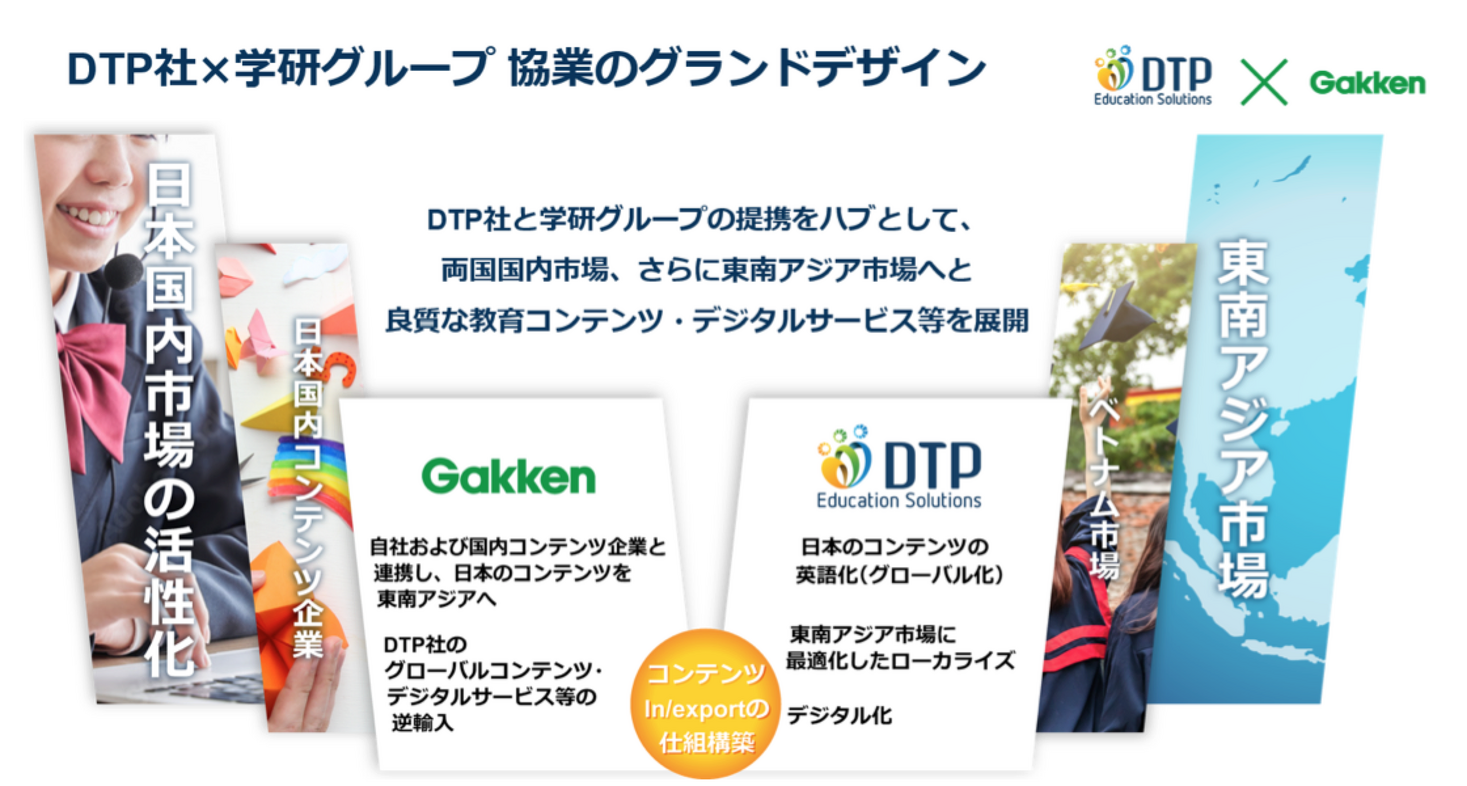 Gakken signed a capital and business alliance agreement with DTP Education Solutions JSC (hereinafter referred to as DTP). We are developing a global strategy with the goal of increasing our global presence to 30% by 2030. Through this partnership, in addition to Vietnam, we will also launch new education business in Southeast Asian markets such as Myanmar, Laos, and Cambodia, where both companies have a presence, and carry out commercial distribution that will benefit the education industry in Japan and Vietnam .
Gakken has expanded its global presence. In Malaysia, Myanmar and other places, we are promoting the introduction of science experiment classes and cram school programs into school curricula; in China, we are promoting licensing business and science experiment classes.
In Vietnam, where education is particularly popular in Southeast Asia and the number of dual-career families is increasing, in April 2022 we reached a capital and business alliance agreement with KiddiHub, the largest education platform, to jointly develop the STEAM education business Young children, I am here. This is the second capital partnership with DTP, and by having a customer base throughout the K12 market, we will partner with Gakken Group to provide high-quality Japanese content and digital services suitable for every age group. I will continue.
▲ The big picture of the cooperation between DTP and Xueyan Group
In the cooperation with DTP, we will first focus on the development and deployment of school STEAM projects, school book sales, and online English conversation business. The two companies will work together to create new education businesses in Vietnam and Southeast Asia markets, creating business flows that will benefit the education industry in Japan and Vietnam.
▲Specific short-term cooperation projects
■ Click here for materials at the time of the press release.
https://ir.gakken.co.jp/ir/news/20230411_DTP_Pressconference/main/0/link/230411_DTP_Press%20conference.pdf
Gakken Holdings CEO comments:
"This year marks the 50th anniversary of the establishment of diplomatic relations between Japan and Vietnam. I am very happy that we can reach a capital and business cooperation agreement with DTP, which has a good track record in the education industry, in such a field for a year. Of course, Gakken will be realized through business with DTP Our own global strategic leap, but we hope to use this cooperation as an opportunity to contribute to the field of education in Japan, Vietnam.Increase"
DTP CEO Phuc said:
"We have decided to start a strategic plan with Gakken to promote the future development of Vietnam's education industry. Our goal is to work together to provide services in the Southeast Asian market."
DTP Educational Solutions AG
Address: 148-150 Nguyen Dinh Chinh Street, Ward 08, Phu Nhuan District, Ho Chi Minh City, Vietnam
Representative: Vo Dai Phuc (CEO)
Established: 2003
URL: https://www.dtp-education.com/
Business content: Sales of school textbooks and learning materials, school business centered on English conversation, sales of educational content and services
DTP is an education and publishing company established in 2002 with the mission of "continuously conducting research and development, and providing high-quality services and products for Vietnamese education". The main business is sales of school textbooks and learning materials, school business centered on English conversation, and sales of educational content and services. We provide products and services to more than 10,000 educational institutions from kindergarten to higher education, with a total of more than 3 million customers. We have overseas bases in Singapore, Thailand, Laos and Cambodia, and 10 regional bases in Vietnam.
Gakken Holdings Co., Ltd.
Address: 2-11-8 Nishi Gotanda, Shinagawa-ku, Tokyo
Representative: Hiroaki Miyahara, President and Representative Director
Established: 1947
URL: https://ghd.gakken.co.jp/
Business Scope: Educational services such as production and sales of cram schools, publications, and child care products, etc., operation of care facilities such as elderly care facilities, dementia group homes, and child care support facilities.
Gakken was founded in 1946, shortly after the war. Founder Hideto Furuoka firmly believed that "reconstruction after the war can only be achieved through education." Based on this belief, we have delivered learning materials such as "Science" and "Learning" to many families across Japan. The belief of Xueyan Group has not changed so far. In addition to the publishing industry, we are expanding into the field of school education, developing the cram school business, creating educational opportunities, developing and providing excellent teaching materials, and starting from the housing business for the elderly. We are growing the medical benefits business.