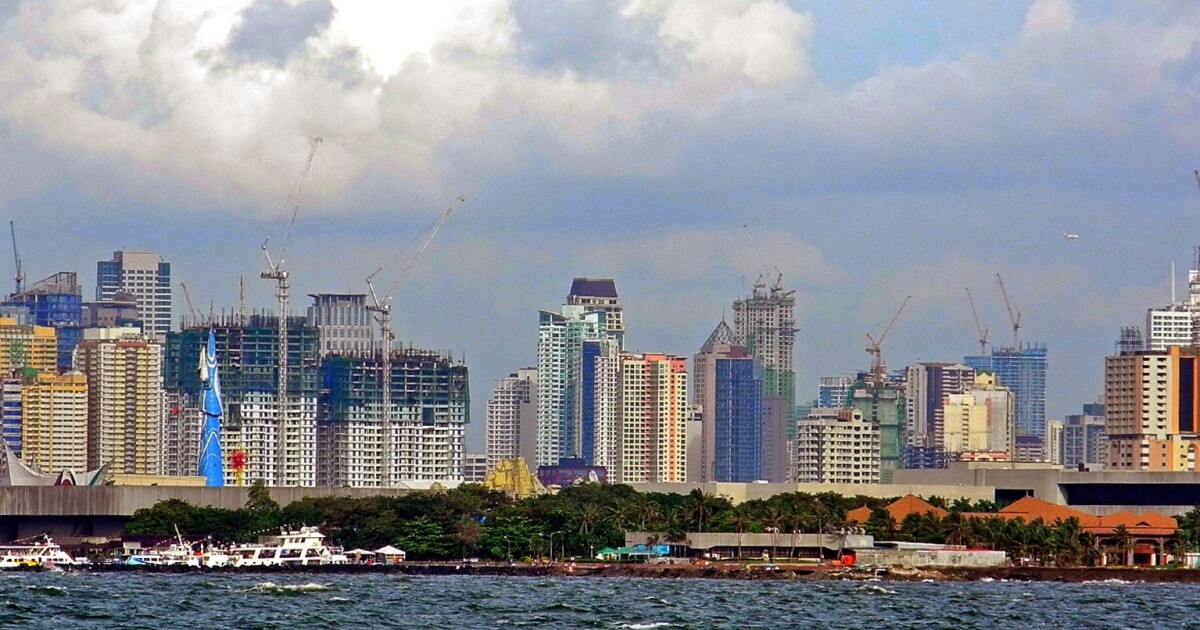 BARANGA, Philippines — As the school day draws to a close at Baranga Elementary School on the Bataan Peninsula, children pour from classrooms into the sweltering afternoon weather.
In the back of their classrooms, they toyed with the regulations of hideous American and Japanese officers. This incredible monument commemorates the surrender of thousands of American and Filipino troops in the spring of 1942. By giving up, Bataan unit commander General Edward King and one of the men pictured here hope his starving, sick troops will be spared further suffering. "You have nothing to be ashamed of," he told them.
The happy cries of the children unleashed from the classroom tell me they still don't understand what's going on here. When they learn about history, I hope they won't be as frustrated with their ignorance as I am.
As we return to the highways traveled by Filipino and American soldiers, with no food, no water, and no medical help, I also hope that the children will remember this tragedy with more pride than sadness.
It's not easy, but, then, very little about the Philippines.
When you think of the country of 7,000 islands in Southeast Asia – actually, as a traveler, are you? – what comes to mind? This disturbing terrorism that the State Department continues to update travel warnings? With such severe poverty, the country's per capita annual income of US$4,100 is almost four times that of neighbouring Malaysia? So seriously dishonest hoax, political and otherwise, that Hong Kong-based political and economic risk consultancy named it one of the most corrupt countries in Asia in 2011?
It's a hard place to love and a hard place to visit (think heat, traffic, smog). But its people are such effective ambassadors to this underdog that I can't help but ignore its other shortcomings and fall into its arms for the second time in my life. This time, on the important 70th anniversary, I am here to relive the history of World War II.
In September, I returned to my former home, Manila, determined as an adult to understand what I had been avoiding as a child. The city, which is also the capital, is not my main destination, but it makes a great starting point for trips to Corregidor and the Bataan Peninsula.
Manila has always played a strategic role in the life of this self-help nation. It sits on a large natural deep-water harbor guarded by a tadpole-shaped Corregidor, and its strategic location is valued by the enemy. The Bataan Peninsula spans the bay.
Ferries to Corregidor leave early to take visitors to this former penal colony. This was my second trip to the island, but in retrospect I'm sure my first visit was met with protests. What 10-year-old wants to visit the ruins of a war that her father rarely mentions? I know he went to Manila shortly after the liberation of the US Navy, I don't know why he chose to come back a second time, for two years, this time for the Veterans Administration (now the Department of Veterans Affairs). I thought then, and for many years after, that his decision was a desire to take risks, and I was reluctant to be a part of it.
This time in Corregidor, history and hardships began to take hold. The ferry takes tourists from Manila to a pier 35 miles away, and then a tour bus takes us to the high points: the battery, where the cannons were installed; the crumbling ruins, some of which house soldiers, others contain facilities such as swimming pools and cinemas ; Commemorating the American and Filipino soldiers who fought side by side here until General Jonathan Wainwright was forced to surrender more than 70 years ago.
Tour guide Rowena Alvarez's presentation was fair, never blaming American leaders for mistakes, never condemning America's "Europe First" policy. I can do this for myself. At the water's edge, the statue of General Douglas MacArthur, with a pipe in one hand and a farewell salute raised in the other, left me pale.
MacArthur retired from the U.S. Army in 1937, but was recalled in July 1941 to command the U.S. Army Forces Far East. In their well-reported book, "Tears in the Dark: The Story of the Bataan Death March and Its Aftermath," authors Michael and Elizabeth Norman write that MacArthur's picture of Washington's war-ready Philippines is more optimistic than it should be. With the exception of the Boy Scouts of the Philippines, an elite group of well-trained soldiers, most of the Filipino army was poorly trained – told to dig foxholes, some had to ask what those were – and were poorly equipped, some were Forced to wear coconut shells without their helmets.
Along with U.S. troops as optimistic as MacArthur, they were drawn into a war that began just eight hours after the Hawaii attack. Like the American planes at Pearl Harbor, the planes here were abandoned in the open and almost all destroyed by Japanese airstrikes.
Not long after, Manila was declared an "open city," meaning it gave up without a fight. The U.S. military concentrated on the defense of Bataan and Corregidor.
The Japanese thought they could take the Philippines in three weeks, maybe less. U.S. and Philippine troops held them back for five months. Soldiers weakened by disease and malnutrition displayed astonishing strength as military leaders were in short supply.
Meanwhile, MacArthur is huddled in Corregidor's Marinta Tunnel, the 831-foot-long passage now home to a gripping sound and light show. From here, MacArthur wrote to his sick and starving soldiers: "Help from America is on its way.  … Thousands of troops and hundreds of planes are being dispatched. Exact time for reinforcements to arrive is yet to come. Not clear, because they will have to fight them through Japanese attempts," the Normans reported in "Tears."
The author said it was a "Kiss of Judas". Help didn't come—at least, not at the time, MacArthur knew.
By order of President Roosevelt, MacArthur and his family were evacuated from Corregidor to Australia in March 1942. Corregidor's statue bears the general's famous quote: "I will be back." He kept his word, but it took him and his troops more than two years to fight back. By then, thousands of soldiers had died at the hands of captives.
[About6000JapanesesoldierswerekilledwhenCorregidorwasrecapturedin1945Inthe1980stheremainsoffallenenemieswerecrematedandreturnedhomeTodaytheirformercemeteryistheJapaneseGardenofPeaceinCorregidorourlaststopA10-foot-tallDharmapresidesoverthiscontemplativeplaceSomesaythestatueisthegoddessoflovebutperhapsmoreaccuratelyshemeanttoimplypityandsympathy-theheartoflove[1945年重新奪回科雷吉多爾時,約有6000名日本士兵喪生。在1980年代,陣亡敵人的遺體被火化並返回家園。今天,他們曾經的墓地是科雷吉多的日本和平花園,這是我們的最後一站。一座10英尺高的佛法主持著這個沉思的地方。有人說這座雕像是愛的女神,但也許更準確地說,她的意思是暗示憐憫和同情——愛的心。
The ferry back to Manila was very quiet.
marching with death
To drive the roads of Bataan and see its scenery is to begin to understand the story of the death march more fully. Bataan fell on April 9, 1942, and a death march began shortly thereafter. The army began to build up along the road from Mariveles, then a fishing village, now a humble industrial city of about 100,000 people at the tip of the peninsula.
The Japanese were unprepared for a large number of prisoners, the number of which is unknown even today. Some say 100,000; others, 75,000. There are more Filipinos than Americans, but Filipinos have a better chance of escaping because they can integrate into the village.
It is known that the thousands who started the march did not finish it. Soldiers, already weakened, trudged through the scorching sun. Some people die from heat stroke. Others were mad with thirst and drinking from the gutter, which made them even sicker. Others who stumbled were executed on the spot.
On our way to the start of the parade, we circled the winding paths to the Samat Hills National Shrine near Baranga. Elevator inside 300-foot cross shakes Views to the peninsula. From this vantage point, the suffocating canopy of vegetation largely explains its defensive nightmare.
From there, we drove to Mariveles, where the nightmare deepened. The 1km Bataan Death March in Mariveles, on this day, the American and Philippine flags stretched out in the breeze. A nearby plaque describes the 66-mile march. The plaque read that the surviving soldiers walked to the train station before embarking on a three-hour "freight train death trip". The boxcar, which could hold about 50 prisoners, was crammed three times as many. Many of them were out of breath.
Those who survived the torture began a final walk of nearly four miles that took them to Camp O'Donnell, a converted U.S. military facility in Karpas. A Mariveles plaque describes it as "one of the most hellish concentration camps of World War II." The Japanese, who never ratified the Geneva Convention on the Treatment of Prisoners, had said they would follow the rules, but didn't. Thousands of prisoners died at O'Donnell, sometimes dozens of people a day. Some prisoners were sent to other concentration camps, some to labor camps in Japan, but in any case, the death rate was as appalling as the brutality.
The march-per-kilometre markers can be understood as wallpapers for everyday life, but each of these obelisk-shaped mini-monuments—at two, three, eight, ten and beyond—brings the More and more sense of doom comes, because by then I understand how misplaced the king's hopes for mercy are.
As we drove back to Manila, our guide Edward Baguio mentioned that Americans often mispronounce "Bataan". It has a glottis stop between the double A's – a kind of throat stutter. After spending a day here, I found something in my throat that came naturally.
stand together
The toll of the war is still evident in places large and small in Manila. feet of wall. Santiago, a historic stronghold where the Japanese imprisoned soldiers in underground dungeons filled with bullet holes from fierce fighting. In fact, the struggle to take Manila from the Japanese was so intense that the city, once known as the Pearl of the Orient, was nearly destroyed. Angry Japanese soldiers massacred up to 100,000 residents in the so-called Manila massacre.
This is the Manila my father saw in 1945. It has been liberated, but not yet free from terror – and probably never will.Arrived in Manila, it baffles me that he chose to return after 19 years as part of a mission to benefit Filipinos fighting for America
Why go back to a country that was or is now charitably described as a developing country? I pondered this Sunday morning at the Manila American Cemetery and Memorial, honoring killed or missing soldiers from the Pacific Theater. I read some of the names of the 36,000 missing soldiers inscribed on the circular monument wall, and I walked among the headstones of over 17,000 graves: Saul Margolis, Ohio, August 2, 1942 ; Junior L. Jackson, Tennessee, Nov. 9, 1944; Wilson Scott, California, Nov. 12, 1944. Other markers simply said, "Here rests a comrade, God only knows."
Filipinos fought for America when we needed it most. American soldiers and women gave their lives for freedom. They have always stood by our side. My father will support them. It doesn't get more complicated than this.
In the silence of that Sunday morning, I salute all of them.
travel@latimes.com