Cambodia
OUI Inc. Smart Eye Camera Registered as a Medical Device in Cambodia | OUI Inc. Press Release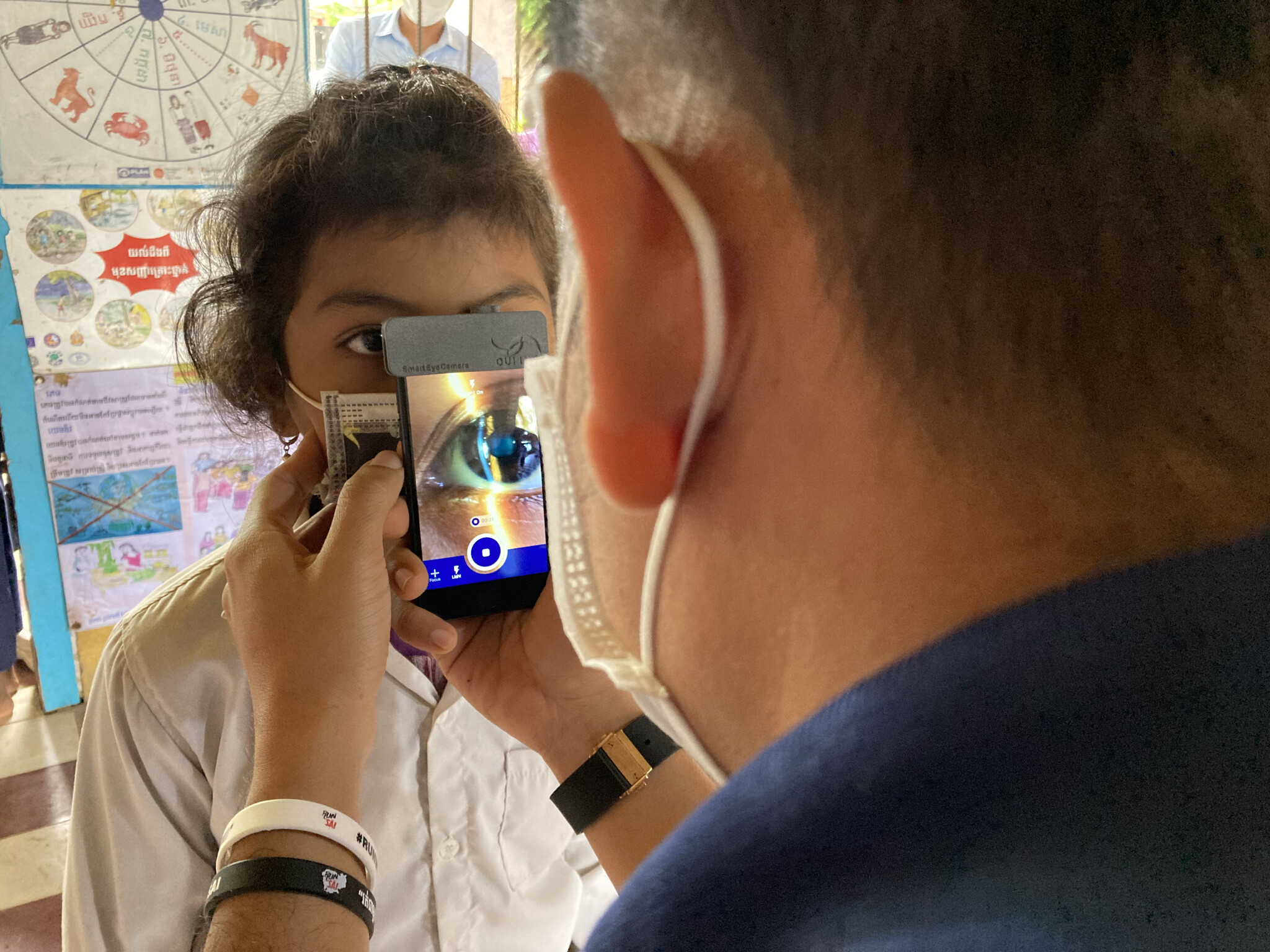 (About Smart Eye Camera (SEC))
OUI Inc. is a venture capital company of Keio University School of Medicine where medical, engineering and business professionals work together under the concept of "reducing the global blindness rate by 50% and protecting people's health through eyes". We developed the SEC, an iPhone attachment type medical device that can perform eye exams, from scratch and completed it in about a year and a half. This is Japan's first ophthalmic medical device using an iPhone camera and light source, and results of animal experiments and clinical studies using human eyes have proven that it has the same performance as existing slit lamp microscopes.
Cataract is the leading cause of blindness in the world. Although blindness from cataracts is extremely unlikely if treated promptly, blindness from cataracts has become a social problem in developing countries. The SEC is a compact medical device that can be connected to an iPhone, allowing eye exams to be performed anywhere, such as in areas without electricity or in disaster areas.
【About Cambodia medical device registration】
Through the SEC, OUI Inc. is dedicated to bringing correct diagnosis to patients who previously lacked access to eye care and overcoming preventable blindness and vision impairment worldwide.
So far, we have cooperated with local ophthalmologists, NGOs, medical institutions and international organizations to conduct various pilot demonstrations in more than 25 countries around the world, including Asia, Africa and Latin America.
In Cambodia, we have been working with Siem Reap Hospital and local ophthalmologists since 2021 to demonstrate how to use smart eye cameras for school health checks and outreach in rural areas.
The smart eye camera has been registered as a medical device in Japan in June 2019, in Europe in June 2021, and in Kenya in October 2021, and will be registered as a medical device overseas this time. In the future, we will strengthen cooperation with Cambodian ophthalmology experts and medical institutions, and strive to solve local ophthalmology problems.
refer to)
June 11, 2021 Press Release "OUI Inc. Receives CE Mark for Smart Eye Camera"
https://prtimes.jp/main/html/rd/p/000000014.000064389.html
October 4, 2021 Press Release "OUI Inc.'s Smart Eye Camera Registered as a Medical Device in Kenya"
https://prtimes.jp/main/html/rd/p/000000015.000064389.html
OUI Inc. will continue to cooperate with various partners in Japan and overseas to reduce the blindness rate in the S world by 50%, and strive to protect people's eye health.
【Company Profile】
OUI Inc. is a venture capital company of Keio University School of Medicine where medical, engineering and business professionals work together under the concept of "reducing the global blindness rate by 50% and protecting people's health through eyes".
Company name: OUI Inc. (OUI Corporation)
URL: http://www.ouiinc.jp
Head office location: DFビル510, 2-2-8 Minami-Aoyama, Minato-ku, Tokyo
Representative Director: Eisuke Shimizu
Established: July 15, 2016
Business content: Development and commercialization of pharmaceuticals and medical devices based on doctors' ideas and consulting services