Laos
ONODERA USER RUN launches free education in 5 overseas countries, talks with Deputy Prime Minister Sohnsay and Minister Baikham Starts expansion in the 6th country Laos | ONODERA USER RUN Co., Ltd. Press Release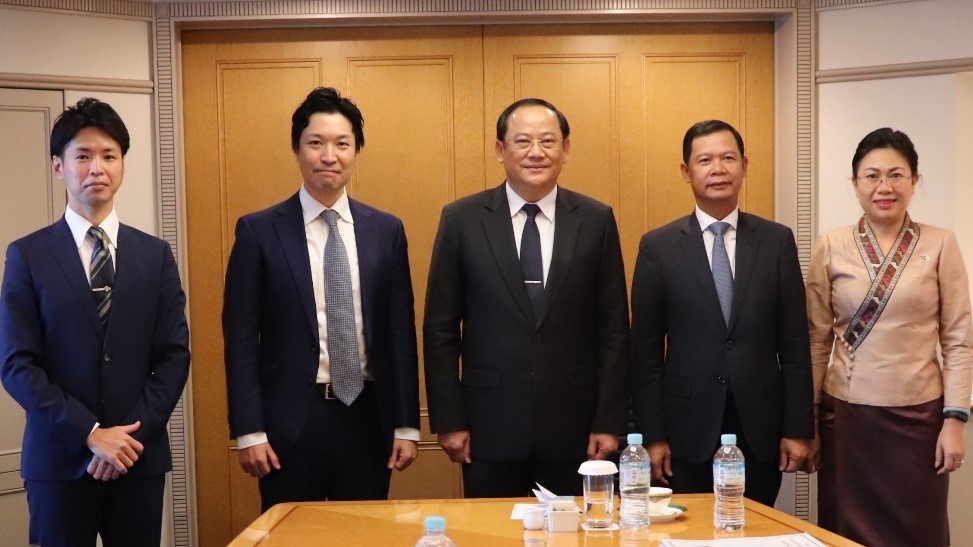 ONODERA USER RUN Co., Ltd. (President: Jun Kato, location: Chiyoda-ku, Tokyo, hereinafter referred to as "ONODERA") held a meeting with the Deputy Prime Minister of the Lao People's Democratic Republic Somsay Sippandon and the Minister of Labor Social Welfare Baikham Katignya Confirmed OUR .We have received full cooperation in the establishment and delivery of overseas free education programs utilizing the skills system, so we will start expanding to Laos, which is OUR's sixth country.
In February 2023, we will register a subsidiary locally, open a training base, and plan to conduct Japanese and special skill training from March.
>Vice Prime Minister Sun Zhai held a meeting with OUR President Kato during his visit to Japan (September 26, 2022)
*From center to right: Deputy Prime Minister Song Sai, Deputy Foreign Minister Phosay Kaykhampitoon, Ambassador to Japan Van Samuel
                                                   
> Discussion by Minister Baikham and OUR Executives Iwasaki and Ageo at Lao Ministry of Labor and Social Welfare (October 6, 2022)
In December 2018, the Diet approved and established a new status of residence "Specified Skilled Skills" for the purpose of employment of foreigners. Beginning in April 2019, the system accepts foreigners who have certain professional knowledge and skills and are ready to work in 14 industries, including nursing, catering services, and construction, which are severely short of talents. resource.
The Japanese government plans to accept up to 340,000 foreign workers in the next five years from 2019, and 14 fields (currently 12 fields) are designated as specific industrial fields, assuming 60,000 people. Considering Japan's declining working population and super-aging society, it is now inevitable to deal with and accept foreign human resources with specific skills.
However, the Specified Skilled Skills System is a new status of residence, and it cannot be said that it has been widely used due to insufficient accurate information on the system, differences in technical training, and the system of business operators accepting foreign workers. . My situation.
Among them, OUR, as a leading company for talents with specific skills, currently has educational bases related to Japanese and specific skills in 5 countries in Southeast Asia, and conducts professional education in various fields on the basis of its own education. By doing it for free, we are developing talented young people who are equipped to cope.
In addition, as an introducing registration agency certified by the Immigration Control Agency, we have an advantage in introducing "visible" talents such as personal ability and personality. We provide safety, security and reliable quality system through one-stop business.
At present, 1,389 people with specific skills who have been trained by OUR and introduced to Japanese companies have been tentatively appointed across Japan, and 519 of them have started to work in an orderly manner*1 due to the relaxation of immigration this spring.
*1 As of October 14, 2022
【2International Agreement (Memorandum of Cooperation)】
Memorandum of Cooperation (MOC) with the Lao People's Democratic Republic to facilitate the smooth and proper dispatch and acceptance of promising human resources concerning the residence status of "Specified Skilled Workers". On July 28, 2022, the MOC signing ceremony was held in Vientiane, the capital of Laos, and the signing has been completed.
Immigration Services Agency Press Release Materials
https://www.moj.go.jp/isa/publications/press/03_00026.html
(refer to)our companyOverseas free education base]

(About ONODERA USER RUN Co., Ltd.)
ONODERA USER RUN Co., Ltd. was established in November 2016. We are conducting human resource education in five Southeast Asian countries (Myanmar, Cambodia, Philippines, Vietnam, and Indonesia), and we are conducting human resource introduction business specializing in specific skills*2 in Japan. As of October 14, 2022, the number of students is 3,008, so far 1,774 have passed the designated skills training, 1,389 have obtained job opportunities, and 519 have worked in the recommended destinations. We introduce human resources who can work stably for a long time by providing one-stop services from Japanese language/specific skills education to recruitment, post-employment life support, and qualification acquisition.
*2 We are a registered support organization certified by the Ministry of Justice.
Location: 100-0004, 14th Floor, Otem Center Building, 1-1-3 Otemachi, Chiyoda-ku, Tokyo

Established: November 1, 2016

Capital: 100 million yen

Representative: Representative Director Jun Kato

URL:https://onodera-user-run.co.jp/
(About Onodera Group)
ONODERA GROUP operates globally in various businesses such as food, human resources, health and sports, including LEOC Co., Ltd., which provides catering at more than 2,700 locations nationwide. Based on the corporate philosophy of "bringing joy and excitement to customers" and "bringing growth and happiness to partners," we will continue to meet new challenges as a leading company that creates happiness for everyone. and "contributing to society".
Location: 100-0004, 16th Floor, Otem Center Building, 1-1-3 Otemachi, Chiyoda-ku, Tokyo

Established: April 1, 1983

Capital: 50 million yen

Representative: Group representative Yuji Onodera

URL:http://www.onodera-group.jp/