Philliphines
Okada Manila is full of entertainment! One of the Best Casino Hotels in Manila | Eltha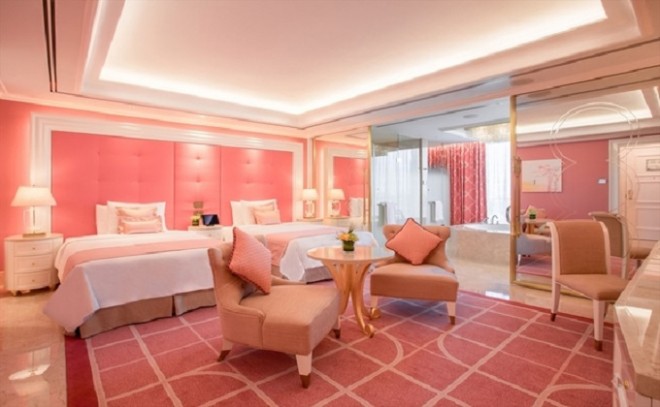 Okada Manila is an Integrated Resort (IR) located in Manila, Philippines. In addition to hotels, it also houses luxury casinos, clubs and shopping malls. With luxurious rooms, this is a hotel in Manila that will make you want to stay right away!
So, this time we will introduce information other than the casino, such as Okada Manila's rooms and facilities, restaurants, and swimming pools.
Transportation to Okada Manila
As the name suggests, Okada Manila is an integrated resort (IR) founded by a Japanese businessman, covering a whopping 42 hectares! There are casinos, hotels, swimming pools, shopping centers, restaurants and more. I am here.
It is about 10 minutes' drive from Ninoy Aquino International Airport, facing Manila Bay, with an excellent view!
The hotel has a free shuttle bus that connects major shopping malls and areas that are convenient for sightseeing, which is very convenient to use. Please check the official website for the operating schedule.
One of the most rooms in Manila!Rooms at Okada Manila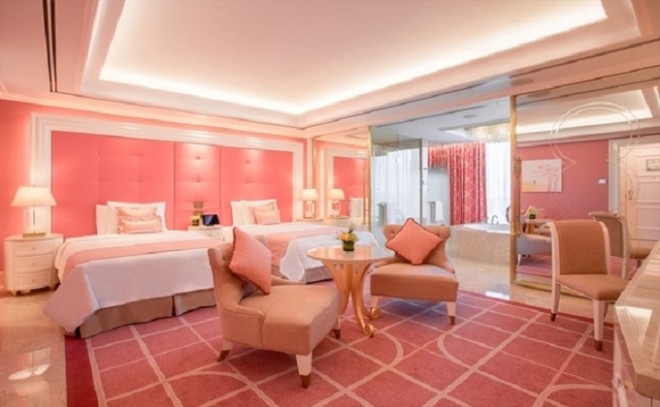 Photo: Rakuten Travel
The rooms are divided into Pearl Wing and Coral Wing, with the most rooms in Manila.
There are three types of rooms: deluxe rooms, suites, and villas. The rooms in the Pearl Wing are all lovely pink interiors! There is also a round jacuzzi for a luxurious stay.
Since the founder is Japanese, there are items made in Japan everywhere such as bathrooms and toilets, so it is easy to use.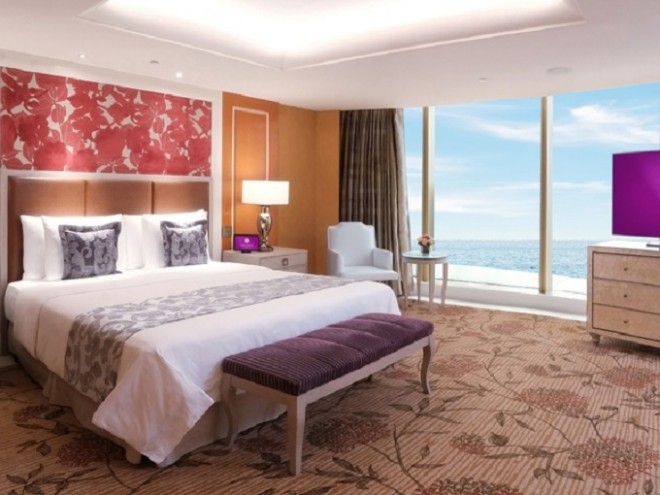 Photo: Rakuten Travel
There are many types of suites, such as junior suites, senior suites, Manila Bay suites, etc. The executive suites in the photos are as large as 200 to 250 square meters! Divided into living and dining rooms, it even has a private massage room. This is the room you've always dreamed of.
Okada Manila has many restaurants to choose from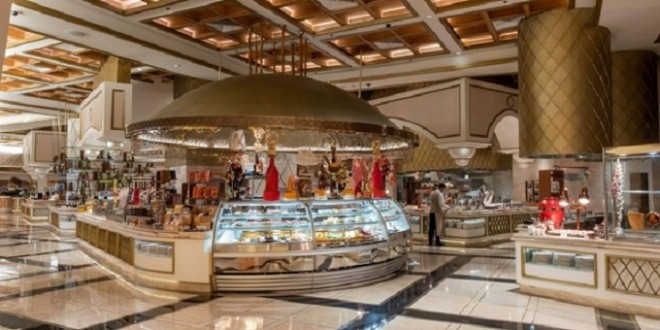 Photo: Rakuten Travel
Breakfast is served in the Medley Cafeteria. We offer a variety of international menus including Filipino, Japanese, Chinese, Korean and Indian. Also enjoy the hotel's delicious homemade desserts, so you might have too much in the morning.
All you can eat lobster for dinner is a hot topic! A popular restaurant worth visiting not only for breakfast, but also for lunch and dinner.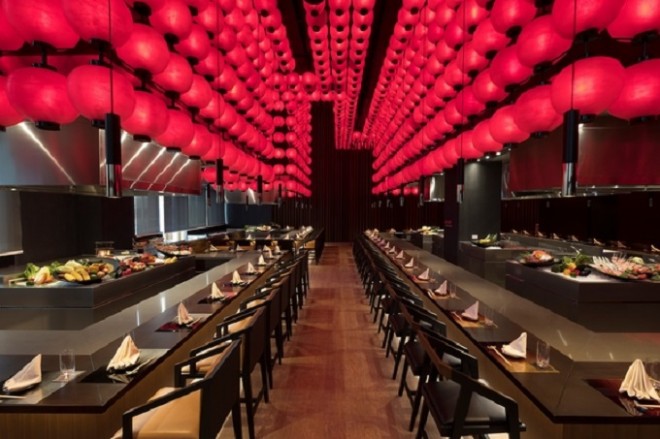 Photo: Rakuten Travel
One of the good things about Okada Manila is that there are many Japanese restaurants. There are many well-known restaurants such as Robatayaki restaurant Enbu, sushi restaurant Ginza Nagaoka, and Michelin-starred Kappo Imamura! In addition, there are a variety of restaurants serving Chinese, Korean, and Italian cuisines, as well as lounges and bars to choose from.
Okada Manila's swimming pool turns into a club at night!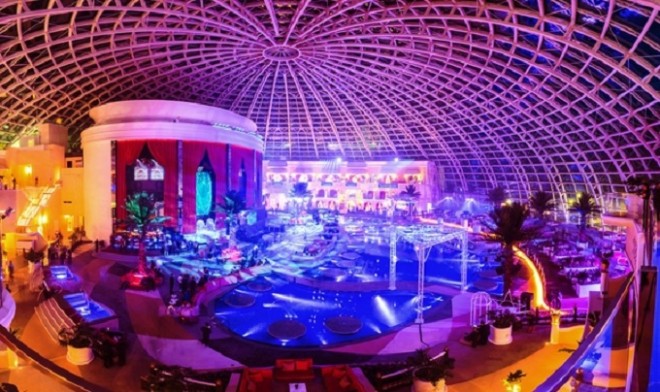 Photo: Rakuten Travel
Anyway, Okada Manila is very big, and the swimming pool is also a non-standard size. Manila Bay Pool is surrounded by a glass dome 30 meters high and 100 meters wide, giving it an open feeling! It becomes a beach club by day and a nightclub by night. Various events are also held. There is also an outdoor coral wing pool.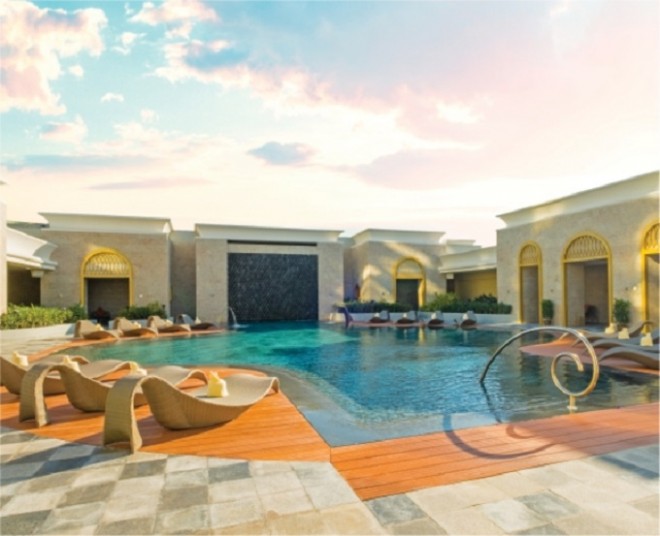 Photo: Rakuten Travel
For those who want to spend relaxing time in the pool, we recommend the pool with spa. This is a special space for spa users only. The pool has a mediterranean vibe! The spa menu has a variety of facials, body massages, healing treatments and even a beauty salon.
Speaking of Okada Manila, the fountain show!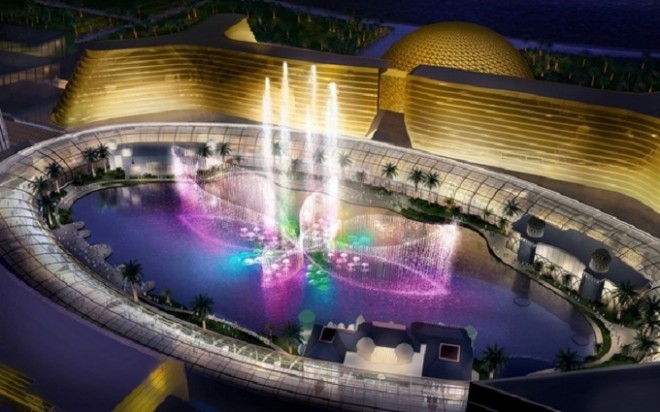 Photo: Rakuten Travel
One of the largest fountain shows in the world, the Okada Fountain is synonymous with Okada Manila. 37,000 square meters of fountain pool, light and music must-see! The opening hours are 18:00-22:00 from Monday to Thursday, and 18:00-24:00 on weekends, and you can watch freely. (Please consult the hotel for the specific time)
In addition, the "Crystal Corridor" surrounding the fountain and the "Retail Boulevard" connecting the two wings also gather luxury brand stores, jewelry stores and restaurants.
In addition, there are many attractions such as a kid's club suitable for family outings, a vast garden suitable for walking, and more!
Substandard hotel!Okada Manila is too grand
Okada Manila is not only for those who love casinos, but also for those who don't want to be a casino. Enjoy everything from leisure activities to shopping and fine dining on site, and enjoy a resort feel by the large pool. There are also kid-friendly facilities, perfect for a family trip! Japanese hotels have staff who can speak Japanese at any time, so you can rest assured.
If you're wondering where to stay for your next trip to Manila, look no further than Okada Manila!
*Information as of July 2023. Please check the official website for the latest information.
■ Relevant memos
Okada Manila (external link)
https://www.okadamanila.com/

(Travel Japan Navigation)
Tourism JP Editorial Department