HongKong
niko and …'s first collaboration with the popular picture book series Bread Dorobo will be released on Friday, July 21st.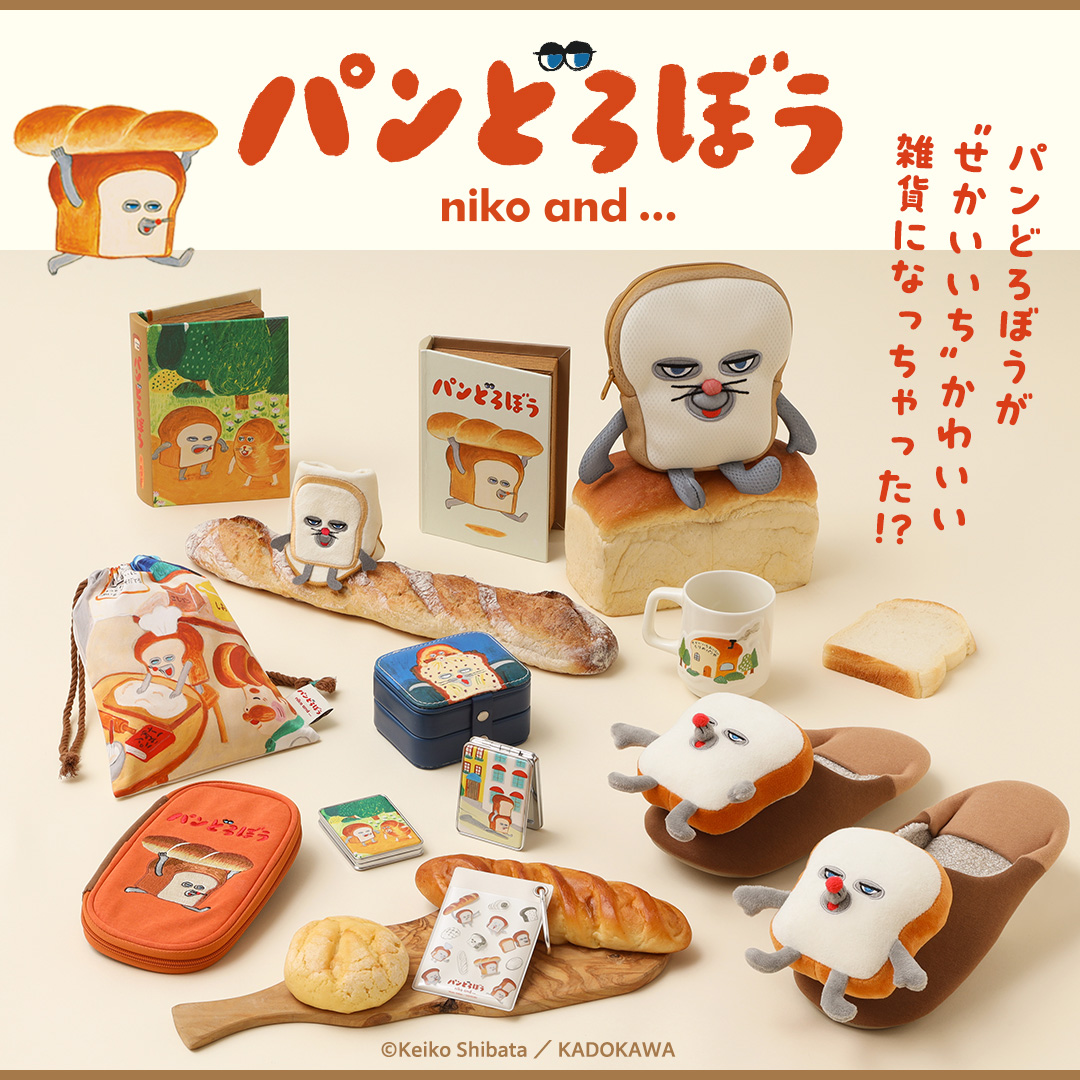 niko and … developed a project to propose unique things and do things through the nine elements of the brand "uni9ue senses" (clothing, food, housing, play, knowledge, health, travel, sound and LOCAL).
The picture book series "Pandorabo" (screenwriter by Keiko Shibata) was so popular that it was reprinted immediately after it was released, and the cumulative sales exceeded 1.8 million copies, which is rare for picture books. Since its first release in April 2020, the response has been overwhelming and it has been reported by many media.
Loved by fans of all generations from kids to adults, "Banadorobo" warmed my heart, and I was attracted by its humorous world view, which led to the debut of niko and… and "Banadorobo" cooperate.
In this collaboration product, the art of Volume 1 "Bread Thief", Volume 2 "Bread Thief vs Fake Bread Thief", and Volume 3 "Bread Thief and the Mysterious French Bread" is incorporated into household items. The "travel pouch", which is convenient for storing luggage when traveling, and the "folding umbrella" and "folding umbrella case", which are the first collaboration items, are a lineup that adults can enjoy and use in the upcoming travel season. In addition, we will also develop original goods that make your daily life fun and soothing, such as a three-dimensional "laundry bag" that makes washing fun.
niko and … × "Bread Dorobo" Collaboration Outline
release date

:

July 21, 2023 (gold)

development shop

:

Niko and … nationwide stores, overseas stores (Hong Kong, Taiwan, China, Thailand)

Official Online Shop .st, ZOZOTOWN, Lotte Fashion
*Release date may vary by store.

special site

:

https://www.dot-st.com/nikoand/cp/202307product_zakka

※Open at 10:00 on July 21, 2023 (Gold)

* Products will be released sequentially after 10:00
■Collaboration product details (extracted from some products / tax-included prices)
travel organizer
S: 2,750 yen (tax included)
Men: 2,970 yen (tax included)
2 types of folding umbrellas
3,960 yen (tax included)
2 types of folding umbrella boxes
1,650 yen (tax included)
laundry bag
1,870 yen (tax included)
accessory tray 
3,300 yen (tax included)
towel handkerchief
1,650 yen (tax included)
■ About "Bread Thief"
A picture book by illustrator and picture book author Keiko Shibata. The surreal and mischievous characters gained popularity and won numerous awards.
■ About Ms. Keiko Shibata, the author of "The Bread Thief"
Illustrator and picture book author living in Kochi Prefecture. Mother of 2 children. Picture book works include "Cobra" series (Tedansha), "Polar Bear" series (PHP Institute), "Pome-chan" series (Hakusensha), etc.
About Nico and…
niko and … is a "fashion editorial brand" that develops clothing, miscellaneous goods, furniture, food and beverages. We offer a collection of pieces that are not only functional but also have a sense of humor. Based on information like this, we are developing our business for men and women in their 20s and 30s.
142 stores nationwide (as of June 2023, including online stores).
– Official Online Shop.st (dot Estee) – https://www.dot-st.com/nikoand/
-Official brand site- https://www.nikoand.jp/
<Instagram> https://www.instagram.com/nikoand_official/
■ About Adastria Co., Ltd.
Adastria Co., Ltd. (President: Osamu Kimura) is a chain of casual fashion specialty stores with more than 30 brands including "Global Work", "Niko and", and "Lowrys Farm", with approximately 1,400 stores in Japan and overseas . In 2023, we will celebrate the 70th anniversary of our establishment, with the mission of "Fun with fashion!"
<總部地點> Shibuya Hikarie, 2-21-1 Shibuya, Shibuya-ku, Tokyo 150-8510
<URL> https://www.adastria.co.jp/