Thailand
NIA releases Thailand 2023 profile on its strengths in setting up startups 'Key Destinations' announces foreign startups in Thailand with growth opportunities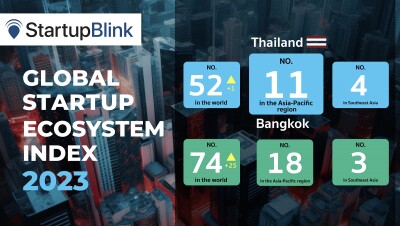 Bangkok, Thailand – Media OutReach – August 29, 2023 – "Start-ups" have been designated as a national level economic growth strategy for many years. Legal frameworks and benefits have been boosted to support business entrepreneurs and innovation has been witnessed in start-ups with varying capabilities. Another aspect that is of particular interest is the surge of unicorn groups, whether it is Flash Express, LINE MAN Wongnai, or Ascend Group, which can raise billions of baht in funding. In addition, Thailand remains an important landmark suitable for setting up start-ups, with the advantage of facilitating and complying with new global investment directions. Its location in the center of the region, close to big markets such as ASEAN, China and India, enables start-ups operating in Thailand to connect with multiple countries. At the same time, it has one of the best infrastructure, cost of living, lifestyle, and government support in every aspect, all of which will help drive the emergence of new start-ups. Here are some interesting highlights:
Global Ranking of Thai Startups
The National Innovation Agency (Public Organization) (NIA) has released a comprehensive startup ecosystem map and the 2023 Thailand Global Startup Ecosystem Index ranking published by research center StartupBlink. The index ranks 100 countries and 1,000 cities with the best startup ecosystems in the world, and Thailand ranks 52nd globally, up one place from the previous year. Meanwhile, Bangkok jumped to 74th place in the 1,000 cities with the best startup ecosystems in the world, jumping 25 places, surpassing neighboring cities such as Kuala Lumpur, Malaysia, which ranks third in ASEAN. Additionally, Chiang Mai, Phuket, and Pattaya were also among the top 1,000 cities with the best startup ecosystems. Notably, their strong performance in the transport sector underscores their 43rd position in the global ranking. This highlights the development of Thailand's startup ecosystem.
Grow with a giant that is always there to support
For starting a business, another indispensable and important factor is capital. There are many large companies in Thailand ready to act as corporate venture capital (CVC) providers, focusing on investing in start-ups with interesting technologies and innovations. It is also another way to strengthen the strategy and competitiveness of the parent company, such as SCB 10X, which was one of the first banking groups to adapt to the changing circumstances of innovation and technology.
AddVentures by SCG aims to become a leading domestic and Southeast Asian venture capital firm, ready to drive the creation of new start-ups and propel them to unicorn level, with the goal of finding innovations from start-ups around the world. This is to increase the efficiency of SCG by seeking innovation and developing new business. In addition, Krungsri Finnovate is strongly supporting fintech startups and technologies involving banking in Thailand and Southeast Asia, aiming to make as many startups as possible unicorns and working to build a sustainable economy in Thailand and Southeast Asia Ecosystem Asia.
There is also the Technology and Innovative Enterprise Development Fund (TED Fund) of the Ministry of Higher Education, Science, Research and Innovation (MHESI), which supports and facilitates technology and innovation entrepreneurs, especially new Base. It is also a catalyst for increasing the amount of research and innovation for commercial use, which will create investment value and create progressive and sustainable economic value.
Government policies are ready to accelerate start-ups to become stronger
Many government agencies are ready to support Thai start-ups to develop and compete in the domestic and international markets, such as the National Innovation Agency (public organization) or NIA as a "focus commander" and to promote an innovation ecosystem conducive to realizing the potential of work through capital and Driven by knowledge, creating an innovative enterprise focused on 5 areas. These include food agriculture, healthcare, tourism, climate and soft power. It also plays an important role in being a bridge connecting various institutions, both public and private, to promote Thailand as an innovative nation.This is achieved through cooperation with a network of partners under the Ministry of Higher Education as well as external agencies such as the Office of the Board of Investment (BOI), Office of the Council for Scientific Research and Innovation (TSRI) and Digital Economy Agency or depa etc.
Large-scale event highlights Thailand as investment region
Thailand's economic strategy continues to promote the development of Thailand's entrepreneurial ecosystem. There are several large programs supporting the growth and investment of innovative start-ups. This includes the government using the BCG model as a guide to drive three aspects of the economy: bio-economy, circular economy and green economy.
The goal is to create natural and environmental sustainability, increase economic growth rates, reduce social inequality and increase potential for self-reliance. In addition, it also focuses on the development of two industrial clusters: 1) The innovative development of domestic existing industries (the first S-curve) to create short- and medium-term growth, including modern automobile industry, smart manufacturing industry, etc. Electronics, high-quality tourism, agriculture and biotechnology, and high-value-added food; 2) Innovative development of emerging industries (new S-curve) supporting advanced technologies, aiming to become an important mechanism driving the economy, including robotics industry, aviation industry, digitalization, comprehensive Medicine as well as premium fuels and biochemistry. There is also the Eastern Economic Corridor (EEC), investing in infrastructure and modern industries in the three provinces of Chonburi, Rayong and Chachoengsao. It has many commercial and industrial sectors to support start-ups.
It can be said that there are continuous opportunities for the emergence and growth of Thai start-ups. There are many factors, including the willingness of the public and private sectors to upgrade the ecosystem and infrastructure to support fast-growing business models, and cities with great lifestyles and locations waiting to welcome Thai and foreign investors.
Hashtags: #NationalInnovationAgency #NIA
The issuer is solely responsible for the content of this announcement.