Taiwan
My first Spring Festival in my friend's hometown, Chaozhou, Taiwan | Column | Livhub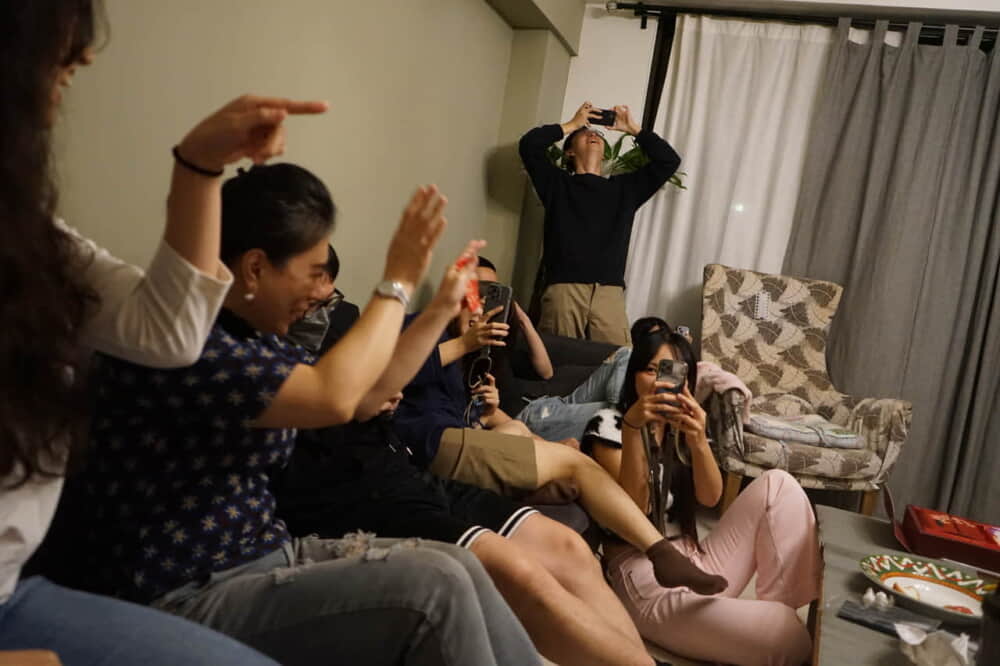 I decided to rush to Taiwan from the beginning of the year, I decided to spend the New Year (Lunar New Year) there.
When I was in Taiwan, I was usually in Taipei, but during Chinese New Year, there was almost no business, so I decided to go to Tainan. Tainan is a city in the southwest of Taiwan, known as the ancient capital of Taiwan. Before the corona disaster, I used to go there quite often, so I have a lot of acquaintances. This is the perfect place to celebrate Chinese New Year for the first time in your life.
This year's New Year's Eve ("New Year's Eve" in Taiwan) falls on Saturday, January 21. On the 9th, I moved to Tainan to eat, drink and have fun with my friends. I wanted to work in a cafe so I went to town but couldn't find an open shop. The cafe I managed to find closed early in the day, so I stayed for less than an hour. In the evening, the friends went to their respective houses and locked themselves in their rooms as quickly as possible. Especially the first three days (Taiwan expresses it as "First First", "First Second", "First Third") it seems that most of the shops and services are closed. Convenience store for a few days. I am so sad.
At that time, Janna and Josh contacted me when they found out I was in Tainan. The two met while visiting Taiwan in February 2020, when they were unable to travel abroad due to the corona crisis. At that time, I was running the salon "Youth Life Changing Skin Shop" in Tainan, and I was invited to the party through mutual friends.
Josh (left) and Jana (right)
However, things have changed a lot due to the COVID-19 crisis, and he now lives on two bases, commuting between Taipei and Jana's hometown in Chaozhou Township, Pingtung County (*1). He also invited me to visit him because he was celebrating Chinese New Year at his parents' house in Chaozhou. What a blessing. So I can travel around Chaozhou and surrounding areas by car.(*1) One of the administrative divisions of Taiwan
On January 23, get off at Chaozhou Station. The Taiwan Railway operates during the Spring Festival, and it takes about 1 hour and 30 minutes from Tainan Station without changing trains. Compared with Taiwan's high-speed rail (equivalent to Japan's Shinkansen), the speed is slower and you can enjoy the passing scenery. Jana and the others drove to pick us up, and we walked to the city center. In the car, we enjoyed the reunion while chatting about each other's recent situation. Josh and Jana, who are professional guitarists, formed a unit and were producing original music, so he let me hear the source right away.
Playlist of songs by Jana et al.
Both are Christians and currently perform at Christian events and say most of their work is touring. Since 2020, the epidemic has been in full swing. Jana, who felt the limitations of the salon's operations, changed her direction, went to different places, and interacted with more people through music. According to Jana, about 7 percent of Taiwan's population is Christian. Considering that Taiwan has a total population of more than 23 million, this is by no means a small number. I'm not a Christian, but I've never been preached or solicited, and it's nice to be treated with the freshness of "people are people".
First, I went to a very popular oden restaurant "Miaokou Homemade Sailfish Heihuan" to fill my stomach. It looks and tastes similar to Japanese oden, but also has unique Taiwanese features, such as corn kernels wrapped in kelp and the option to deep-fry some ingredients. But it's delicious.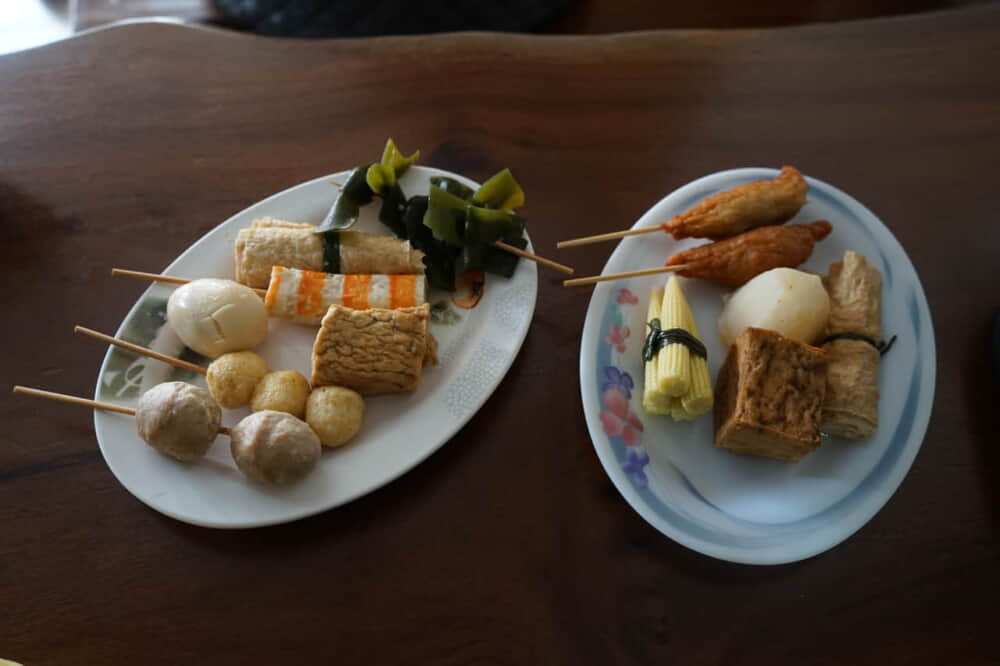 Miaokou Homemade Black Fish Oden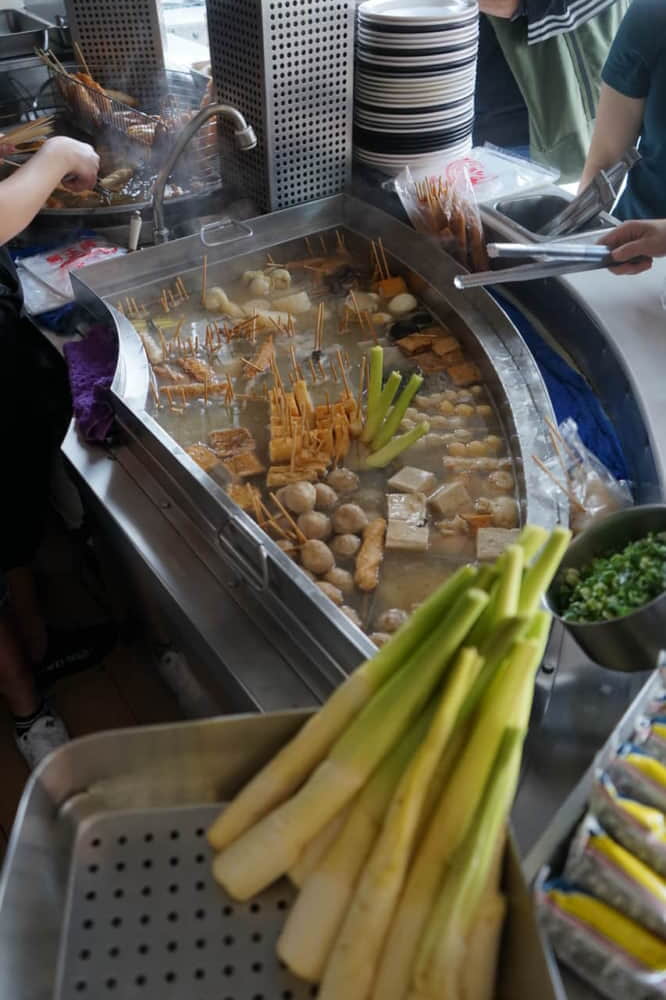 Customer-selected ingredients
After lunch, we moved to "Arun Ice Shop Chaozhou Baked Ice" for dessert. This is also a well-known popular store in the local area. The signboard says "Founded in Minkoku 54" (opened in 1965 in the Gregorian calendar), indicating that this is an old store. It looks like shaved ice at first glance, but the toppings are covered in ice and warm, hence the name "baked cold ice". You can put the ingredients and ice cubes into your mouth at the same time, or you can melt the ice cubes a little to make it like this.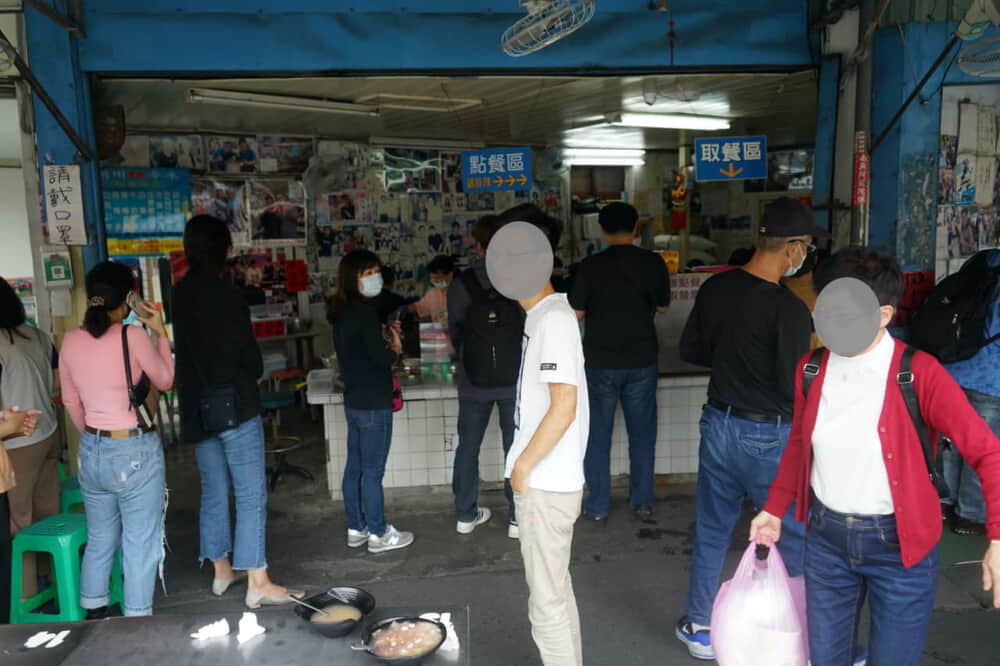 It was very busy and there was a long queue outside the store.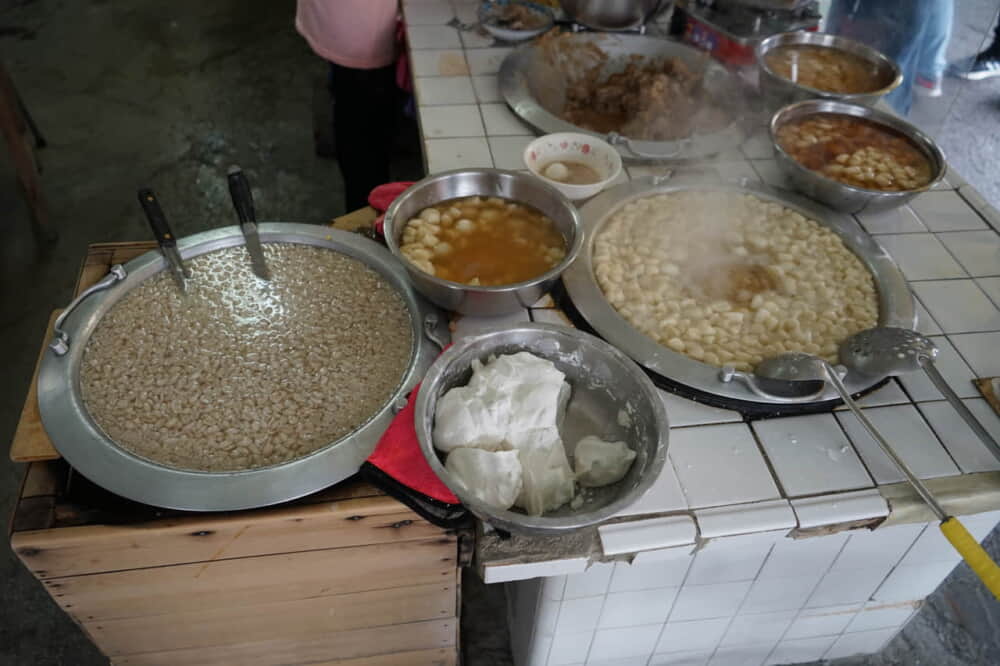 Various ingredients for "Baked Ice". Steam rises, exuding a sweet aroma.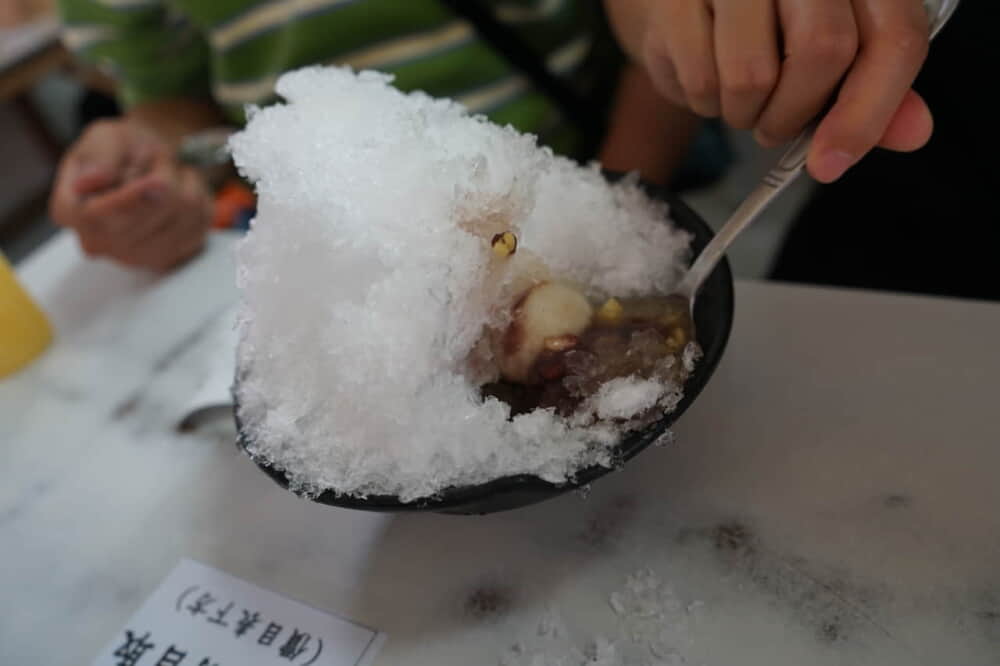 There are a lot of ingredients under the ice.
After dinner, I decided to walk around the town. If I had to use one word to describe the atmosphere here, it would be "chill" (calm, laid-back). First of all, there are almost no tall buildings here, and there is no sense of oppression. The faded Chinese signboard came into view, and the air was filled with a good sense of restlessness. The roads are wide, but the sidewalks are not well maintained and there are few traffic lights. When crossing the road, Jiana and the others waited for the opportunity when there were fewer cars, and crossed the road without hesitation. This is really a bold move unique to locals. But in Taiwan, car traffic etiquette is not flattering, tourists need to be cautious.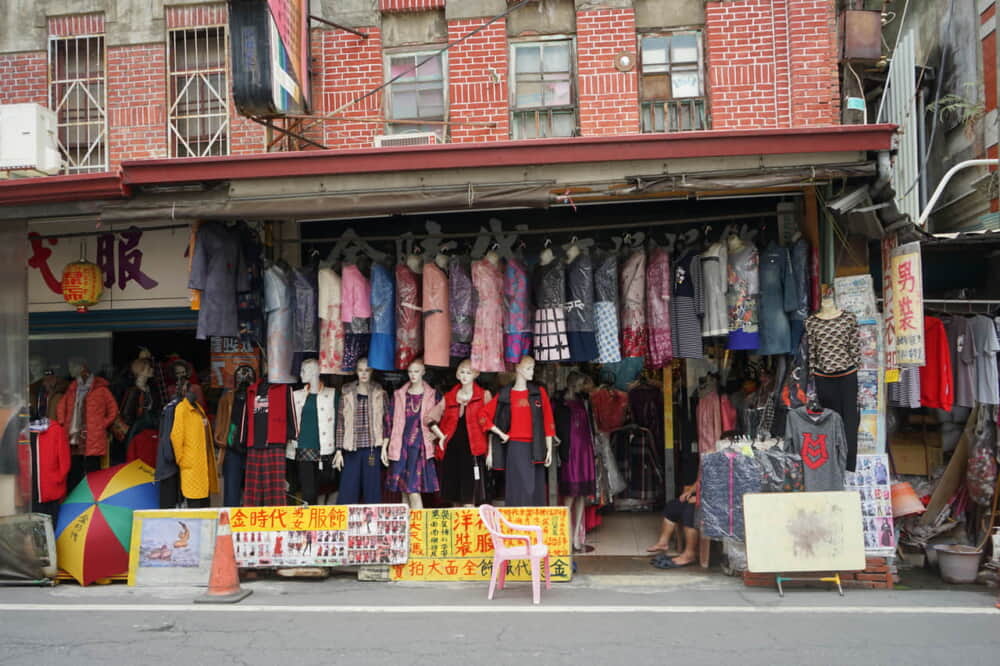 A nostalgic clothing store that makes you forget the time. The models are very classy.
After a long walk, Josh said, "Let's go to Donggang Fishing Port." One of the largest fishing ports in Taiwan is crowded with customers looking for fresh seafood every day. It is about 30 minutes' drive from Chaozhou. This is a great proposition for tourists as it is a place with high barriers to entry. However, when we arrived at Donggang, there were so many people that we couldn't even stop the car. On the third day I totally licked the east port.
There are all kinds of seafood displayed in the market, and you can push it around and look around. There are many female salesmen, and after a short stop, lively sales will begin. Not that I'm throwing a tantrum, but there are sure to be good shellfish and shrimp, so I buy them. It is best to eat it fresh, so we went to the restaurant "Eshinshidaini" in the market.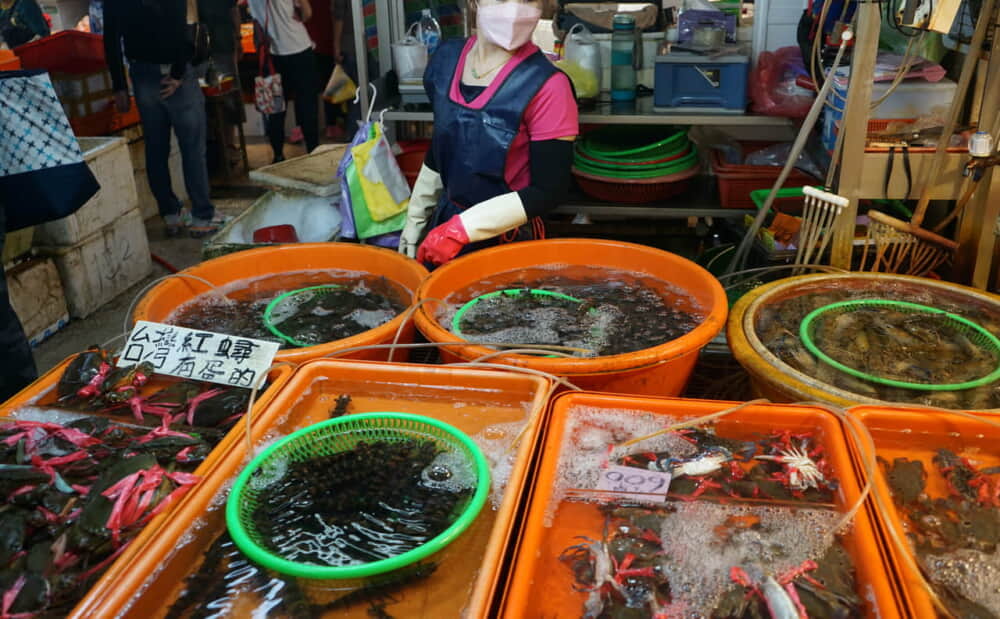 Saleswoman at the market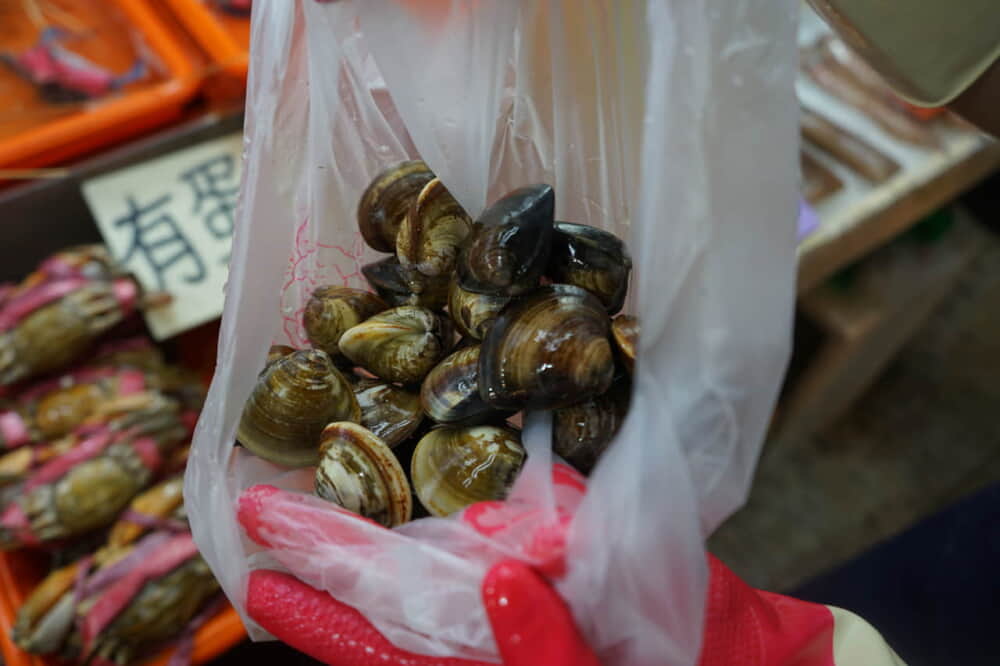 shellfish purchased
Restaurants where guests bring their own ingredients are fun, which I don't think is common in Japan. Boiled shrimp, fried shellfish, simple a la carte. First of all, the shrimp meat is soft, juicy and has no smell. It is eaten by dipping it in a soy-based sweet and savory sauce with garlic. The clams were fried with basil (Taiwanese basil), equally crispy and full of flavour.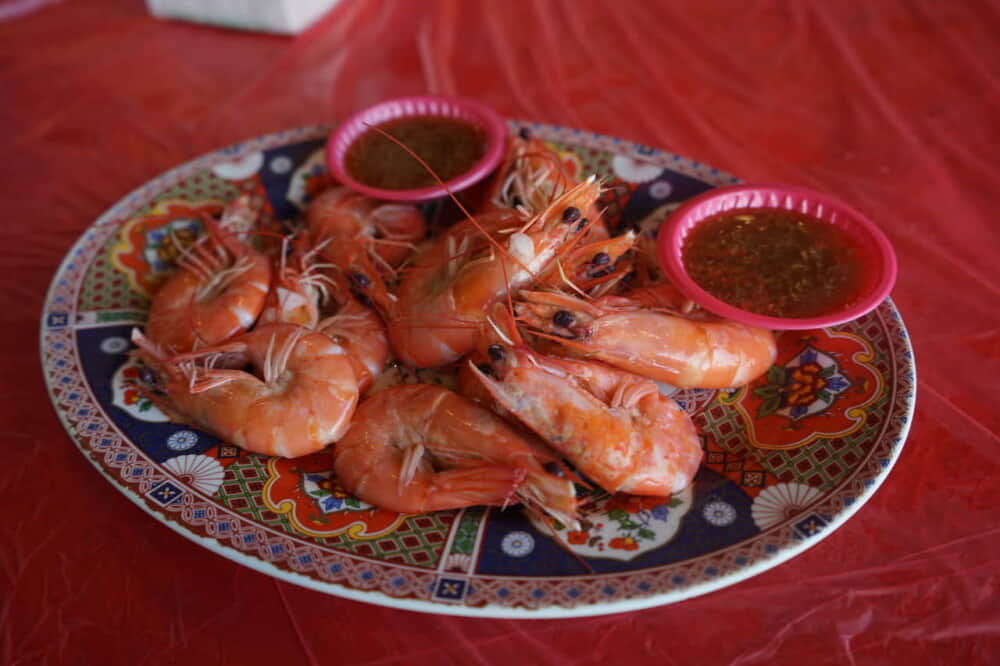 boiled shrimp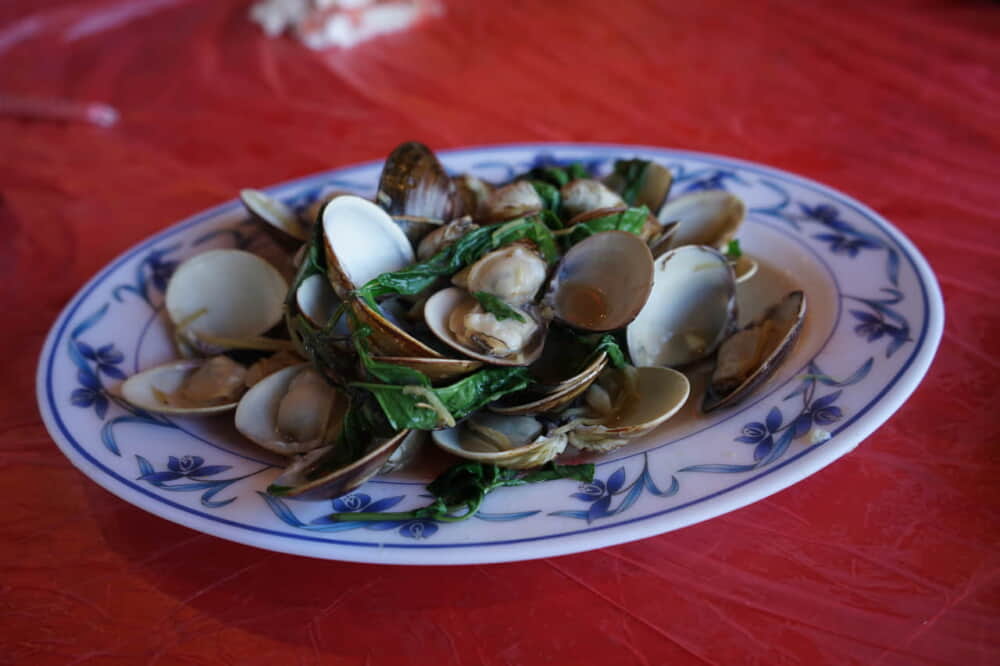 Fried shellfish basil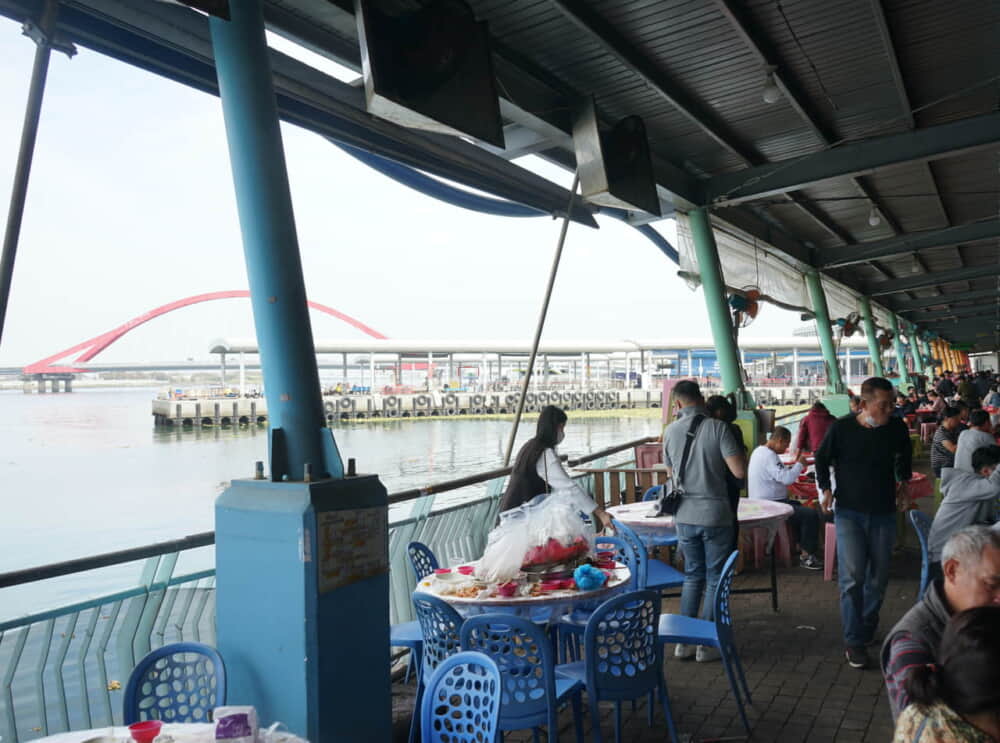 Cuisine restaurant "Eshinshidaini". I love the patio seats facing the ocean.
I'm already very hungry, but the self-driving journey in Chaozhou is still going on. Next, we headed to the Dabaowan Sea-Crossing Bridge. It is said to be a memorable bridge that Josh chose for his first date with Jana. It is a movable bridge with a total length of 579 meters and is famous for opening every weekend. When I asked if the bridge breaking in two would be bad for the relationship, the two of them burst out laughing for some reason. I can't help but feel that there is a gap between Japan and Taiwan in terms of laughing points. It's not uncommon for a grown-up gimmick to be slippery and a serious statement to be popular.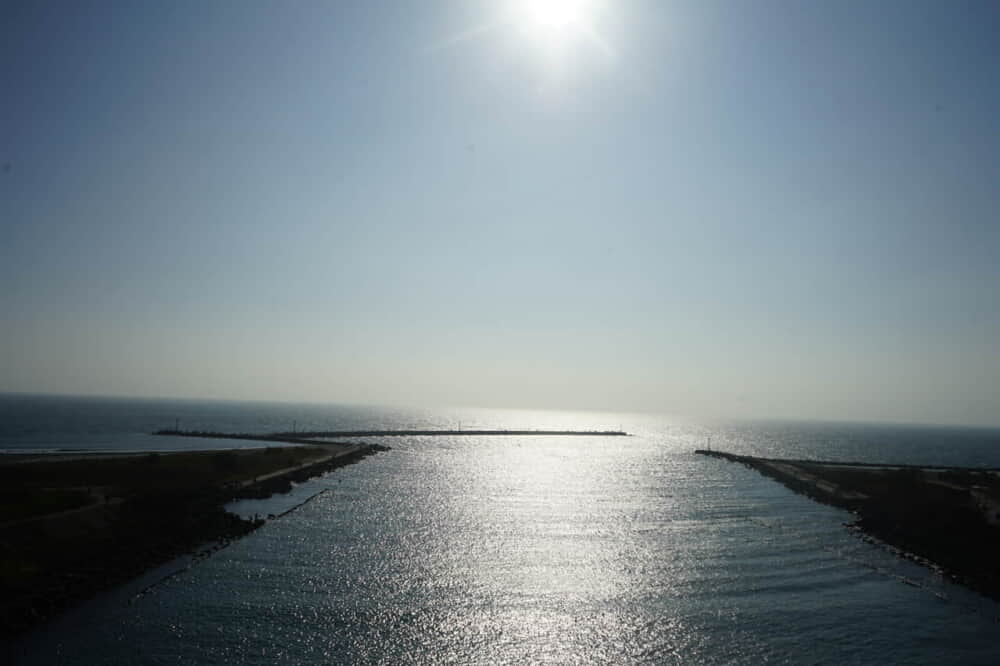 Overlook from the center of Dapeng Bay Bridge.
Next, we headed to Fuwan Chocolate, a chocolate brand located in Pingtung. It features manufacturers managing all processes from cocoa production to commercialization. There is also a high awareness of sustainability such as the profit guarantee system for the farmers who buy and environmentally friendly farming methods that do not use pesticides or chemical pesticides. The land is very large, and there is also an accommodation facility "Fukuwan Shoen". Cocoa trees can be seen everywhere and the fruit can be seen up close. I didn't expect that cocoa can be grown in Taiwan, which is really a fresh discovery.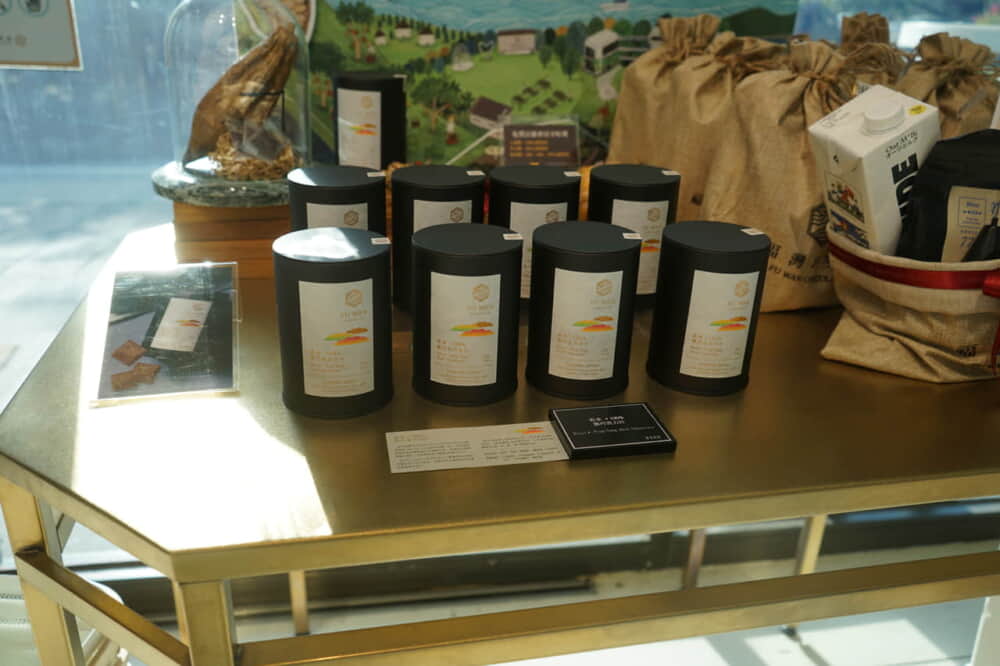 The packaging design is also exquisite.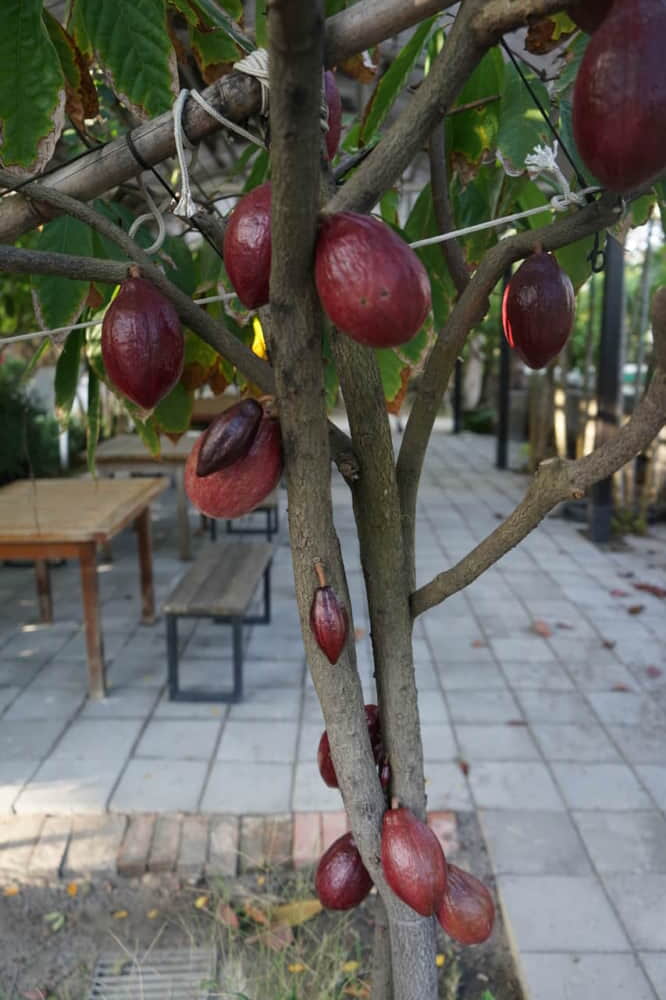 cocoa tree with fruit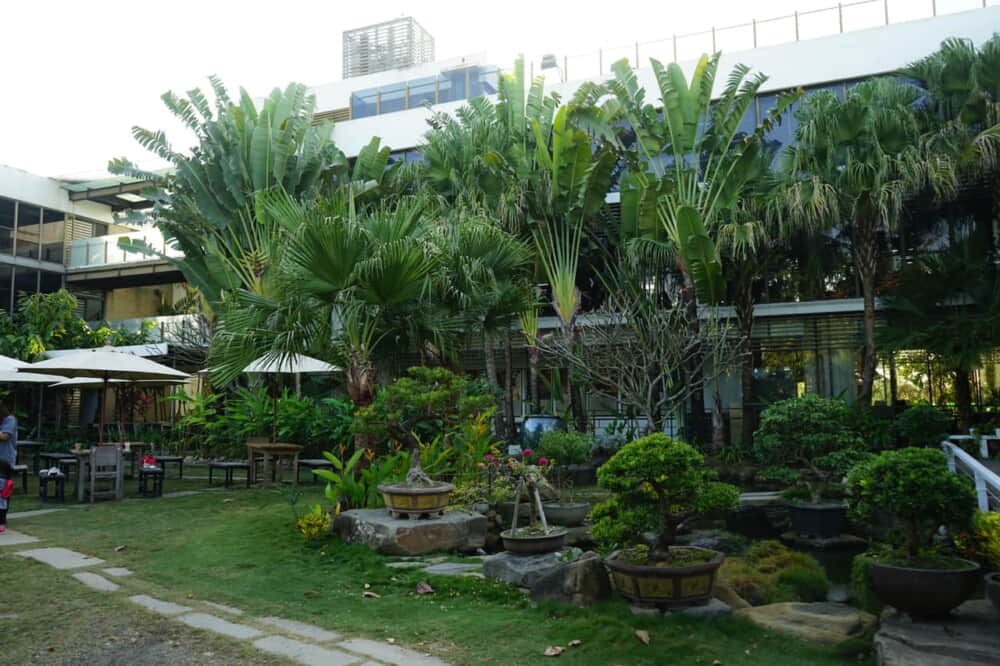 Fuwan Coffee Villa (Fuwan Manor)
The last place we went was the old fashioned ice cream shop "Eiwa Shogo Amane", Jana's father loves it so much he keeps passing by. There are two flavors to choose from: pineapple, dragon fruit, and Taiwan's typical taro. The cup was still tightly wrapped, so it was full. Making full use of the refreshing taste of the ingredients, it is more like sherbet than milk ice cream. At first, I was overwhelmed by the quantity, but surprisingly I could eat it all.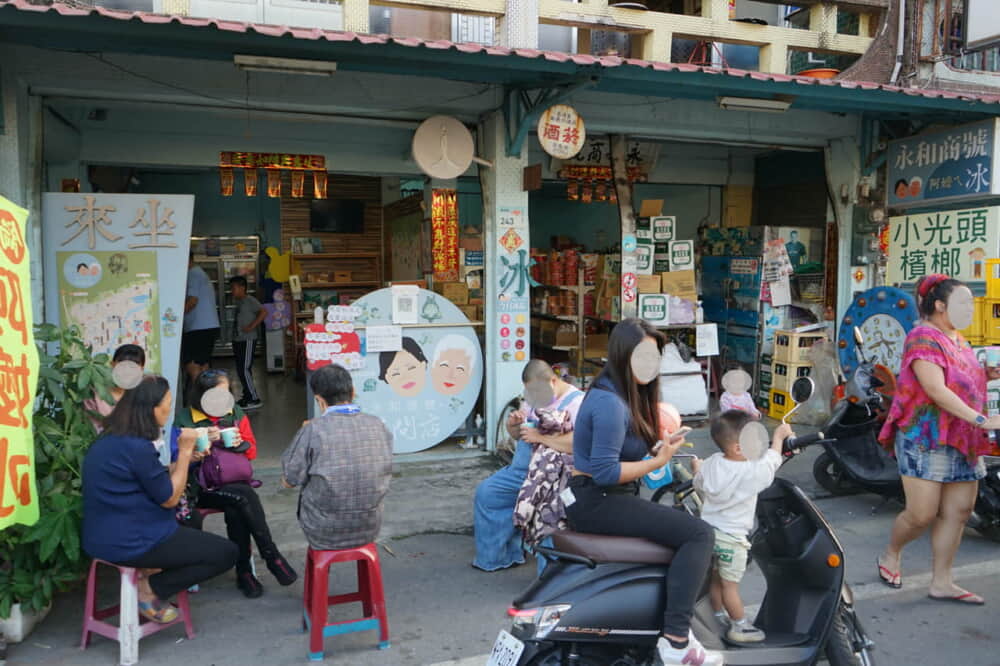 It looks like it's a popular store with a lot of customers.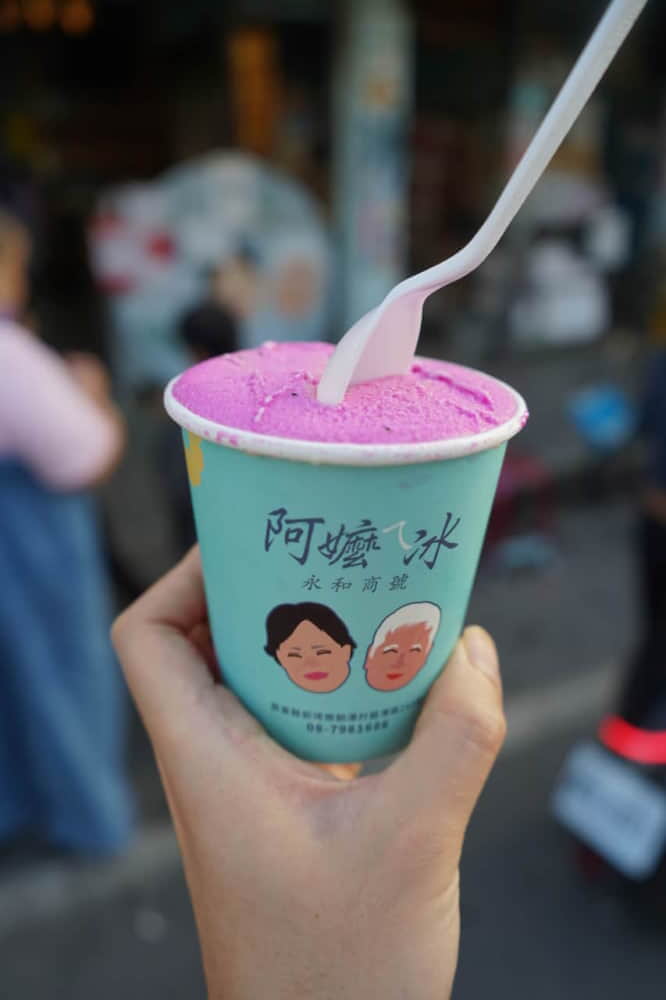 Original mug with owner's cute caricature
Back in Chaozhou, I thought the day would end like this, but I didn't expect to have dinner with Jana's family this time. This is an annual event that not only invites family members but also friends and relatives to attend. I was impressed by how generously they invited unidentified foreigners like myself, but not all Taiwanese families are so open. After enjoying hot frying (*2) with a large family of about 10 people, we headed to Jana's parents' house. There will be a special performance, so I hope you will come and see it.(*2) A place like a Taiwanese izakaya, where you can enjoy a variety of dishes such as fried food, stir-fry, and soup, along with beer and other alcoholic beverages.
After arriving at Jana's parents' house, the group rested in the living room. Jana's brothers, their lovers and friends are all immersed in the smartphone game. Josh seemed engaged, too, and Jana seemed upset, saying, "Everyone is like that now." When I asked him when the show started, he said, "He'll be here soon, just wait for me."
After a while, "he" finally appeared in the living room. At first glance, it's hard to imagine what he's up to, since he's a soft-spoken bespectacled man. Are you a magician or what? "He's actually a bodybuilder, and today he's doing a muscle show," Jana told me excitedly. This young man who called himself John Junwei was actually a classmate of Jana's younger brother, and he seemed to be a champion of the National Physique Competition. I didn't notice it because I was wearing baggy running clothes.
Jana's mum couldn't hide her excitement and jumped for joy when he showed up in boxer shorts when he was ready. The show begins with rhythmic music, accompanied by horn parts, like an old-fashioned detective drama. People immersed in mobile games are also very excited at this time, and twisted red envelopes (Taiwanese gift packages) are flying around. I didn't expect to come to Chaozhou just to watch the muscle show, but such a coincidence is probably one of the real joys of getting along with the locals.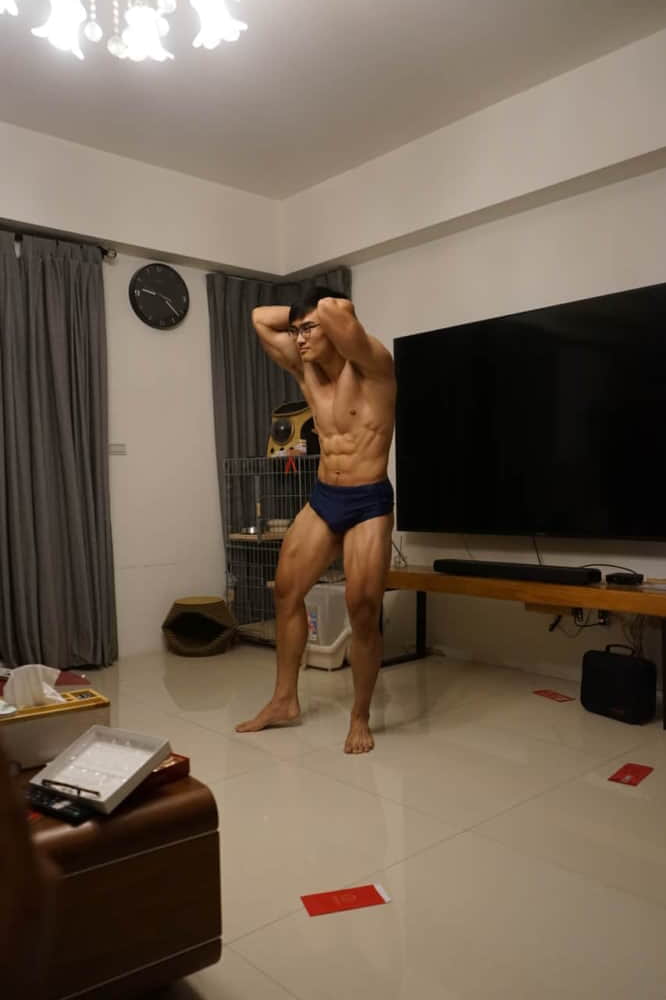 John Junway's muscle show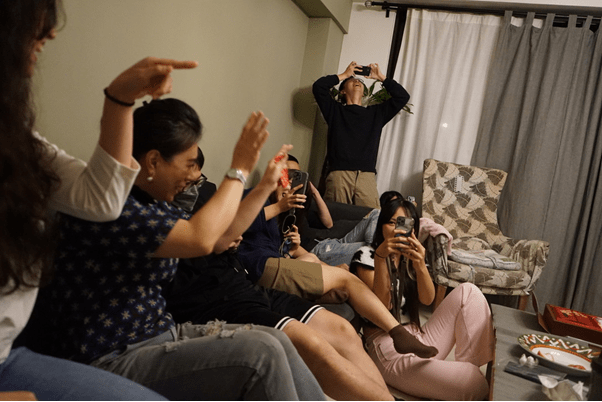 The Jana family rejoices
Jana's family's Lunar New Year party culminates as everyone heads to the night market. It was the first time I'd been to a night market since the corona crisis, but it was packed and there was a full renaissance, so I was delighted. Once again, I would like to express my gratitude to Jana and her colleagues for such a valuable opportunity, and I want to treat them with the same hospitality when they come to Japan. I don't know if I can train the muscles to perform.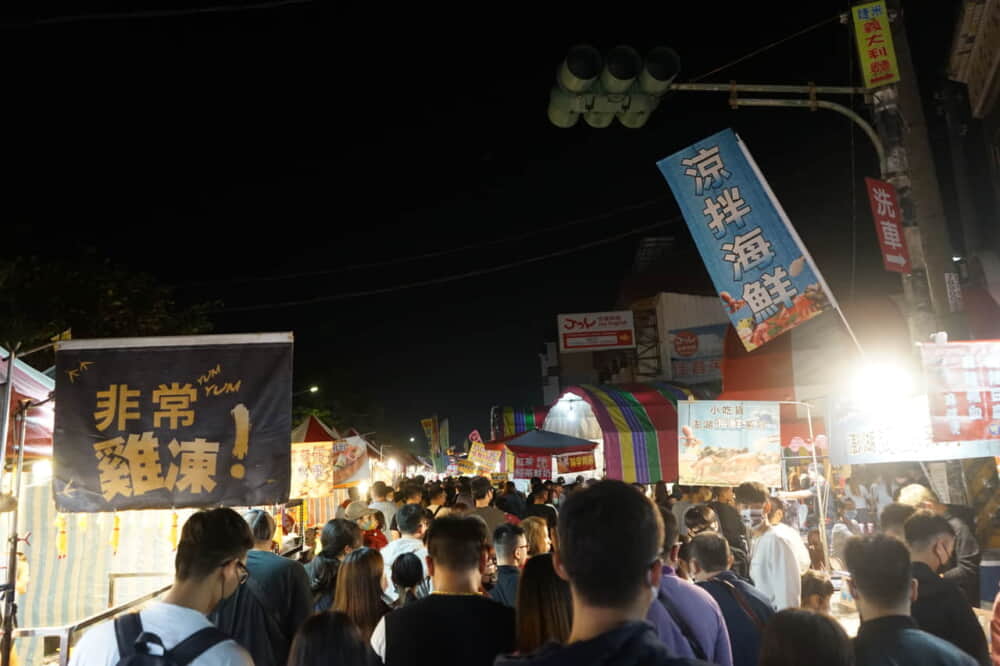 (Related articles) Next time you go to Taiwan, aim for the nostalgic city "Tainan"
(Related Post) Till You Discover Bali Roadside Flowers Connect Community and Families
The following two tabs change the content below.

Widely active in editing, writing and music production. "Taiwan Yoko" is serialized in Tower Records' media Mikiki. In recent years, with Taiwan as the center, Asian music and culture have been disseminated through various media such as the Internet, magazines, and radio.