Indonesia
(May 20-Tokyo, free admission) Exhibition "CULTURE WEAVERS 01" of 15 cartoonists and illustrators from Taiwan, Hong Kong, Indonesia and Turkey will be held at Shimokitazawa "Sunabako" | Culture Weaver LLC Press Release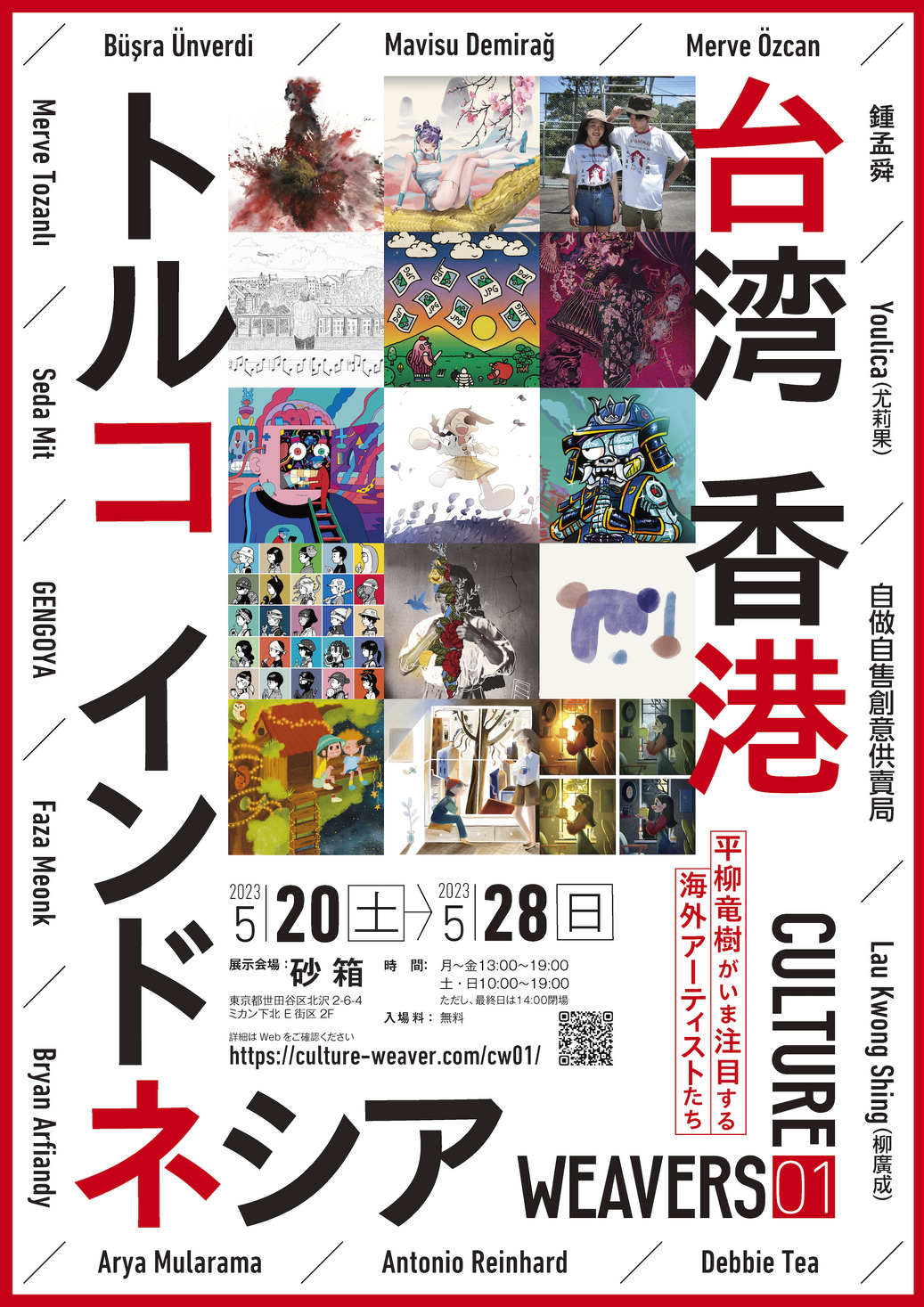 Culture Weaver 01
Time: Saturday, May 20, 2023 to Sunday, May 28, 2023

Business hours: Monday to Friday 13:00-19:00, Saturday to Sunday 10:00-19:00
However, the last day (May 28) ends at 14:00

Venue: Sandbox (2-6-4 Mikan Shimokita E Block 2F, Kitazawa, Setagaya-ku, Tokyo)

Free admission
Click here for more information.
https://culture-weaver.com/cw01/
Art cards (business card size) of exhibited works will be distributed free of charge. Seats are limited, please come early.
participating artists
Zhong Mengshun

Eureka

Self-made and self-sold creative supply and sale bureau

Liu Guangcheng

debbie tea

Antonio Reinhard

Arya Mularama, Gogoporen, Gogoporen

Brian Affiandi

Fazamenk

GENGOYA (Language Store)

Sethar MIT

Merve Tozanlı

Büşra Ünverdi

Mavisu Demirağ (マヴイス・テミラー)

Melve Ozcan
You can download the PDF data of the poster here. Please use it with confidence.
https://prtimes.jp/a/?f=d113312-3-4f55334c13186621e5d2eb3ec760e75b.pdf
About Cultureweaver LLC
We support the international expansion of content businesses, with a focus on manga. In addition to companies who want to strengthen overseas expansion of their own works or who want to purchase a wide range of overseas works, some outsourcing such as overseas coloring, management of overseas illustration competitions, and even overseas We provide a wide range of support including visualization and commercialization.
Company name: Culture Weaver GK.
Head Office Address: 6th Floor, Ichigo Higashi Higashi Ikebukuro Building, 1-34-5 Higashi Ikebukuro, Toshima-ku, Tokyo
Business scope: consulting, coordination, translation, etc.
Representative: Pingliu Longshu
Established: September 10, 2019
Capital: 3 million yen (as of December 2022)
Website: https://culture-weaver.com/