Indonesia
Marriott Bonvoy Partners with Dutch Electronic Music Duo Parallelle to Express the Power of Travel Through Music | Marriott Press Release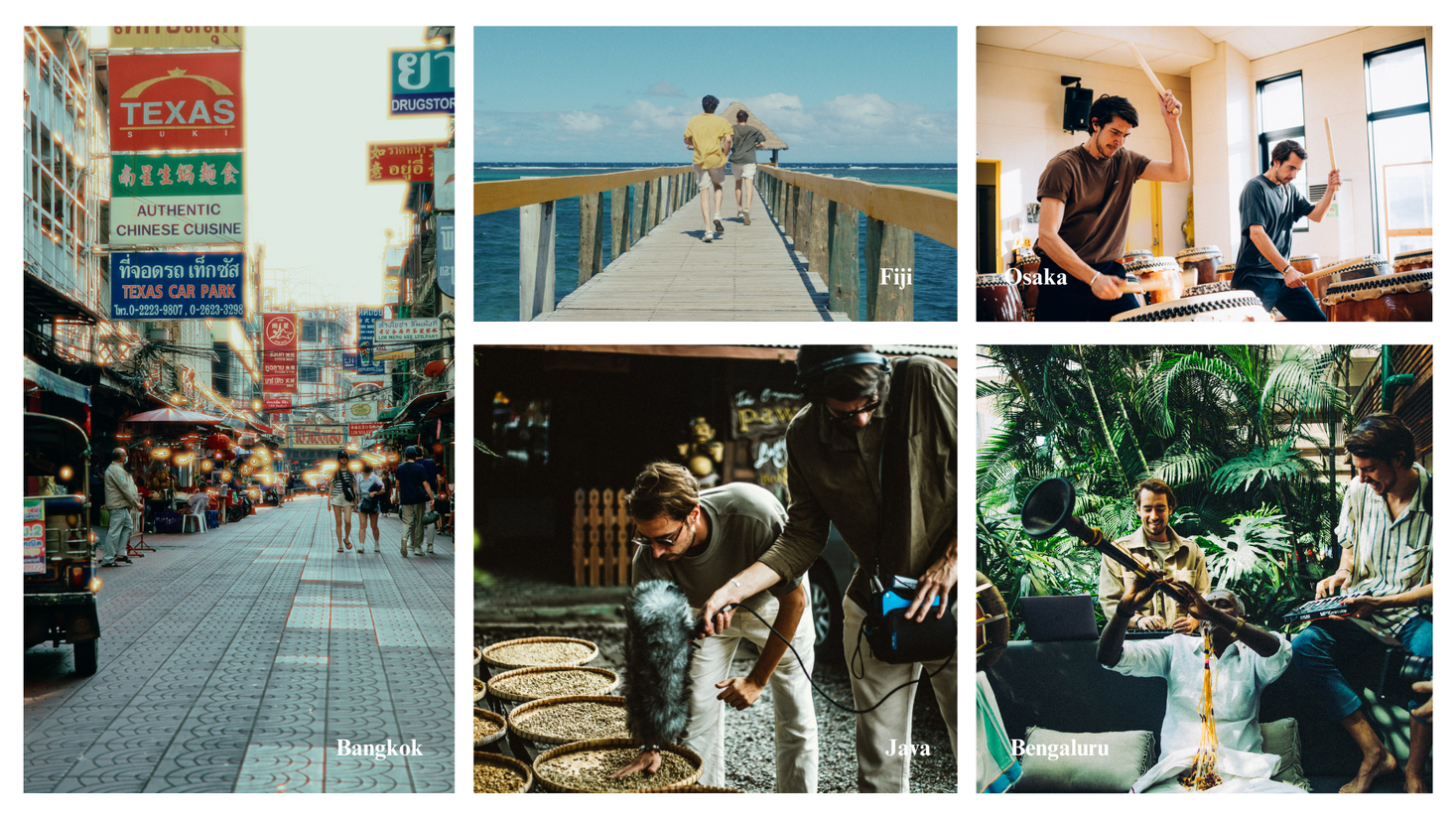 Marriott International Group (Headquarters: Maryland, USA, CEO: Anthony Capuano), the travel project "Marriott Bonvoy", which owns 31 brands, recently announced the formation of multi-instrumentalists in Amsterdam, who are electronic music composersParallel (https://parallellemusic.com/)And created a music video that inspires travelers to feel the power of travel through sound. Inspired by the traditional culture and sounds of local communities in popular Asia Pacific destinations, the five-part music video takes you through Java, Fiji, Osaka, Bangkok and Bangalore in beautiful images and sounds. .
This music video is part of the Parallelle video series, heavily influenced by multiculturalism."one day"To be part of this series, the duo travels the world capturing the everyday voices of local communities and telling their own stories through music. The music video was created by a French filmmaker and photographer widely acclaimed for a wealth of filmmaking talent unique to the region.Arnaudmoro (https://arnaudmoro.com/ )The gorgeous colors and visual beauty are created by his keen perspective and artistic expression.
auditory travel
Through the unique sounds of the Asia-Pacific region, such as the hustle and bustle of the roads in Bangkok, the heavy rain in Java, the traditional Nadaswaram flute of South India, the a cappella singing of Fiji, and the laughter. For stall owners in Osaka, the region is a diverse culture. center. It represents a melting pot. Travelers can experience the distinctive rhythms of the Asia-Pacific region through images and music.
The music video features the following hotels from Marriott International's more than 1,000 properties in Asia Pacific's most attractive destinations:
Indonesia: The Hermitage Portfolio Hotel Jakarta, Sheraton Mustika Yogyakarta Resort and Spa
Fiji: Sheraton Fiji Resort, Fiji Marriott Momi Bay Resort
Japan: W Osaka
Thailand: W Bangkok
India: JW Marriott Bengaluru Prestige Golf Shire Resort & Spa, JW Marriott Hotel Bengaluru
Express the power of travel through sound
As part of this partnership, Marriott Bonvoy and Parallelle have co-created and hosted unique music-focused Marriott Bonvoy Moments. At the W Sound Suite at W Seminyak, Bali, you can experience mixed music tracks and learn how to create inspired music. Members also enjoy VIP access to the Dissolve Weekend music festival, led by Parallelle, to end it all. The festival also includes W Bali Seminyak DJ Damian Saint and a DJ mix of Bali DJs DBRA and PAPÜ.
Marriott Bonvoy members can look forward to even more compelling music-centric moments throughout 2023. For the latest information on Marriott Bonvoy Moments, visit https://www.marriott.co.jp/loyalty.mi.
The five-part music video is available on YouTube (https://www.youtube.com/playlist?list=PLsWCsd2pVLnT5qT_2y3AhAw9GfbsnNxGu), Instagram (https://www.instagram.com/parallelle_/?hl=en), Facebook ( https://www.instagram.com/parallelle_/?hl=en) https://www.facebook.com/MarriottBonvoyAP/ ), you can enjoy an immersive visual and auditory experience. Also, if you want to listen to club versions of songs featured in music videos, visit Spotify (https://open.spotify.com/artist/0vUlarTf6Zl87ewxRbFd9f), Apple Music (https://music.apple.com/us/ ) artist/parallelle/1196389618 ), Beatport (https://www.beatport.com/artist/parallells/597225), Deezer (https://www.deezer.com/ja/offers) Parallel official channel.
■ Comments by Thomas De Vie and Julien De Vie of Parallelle
"Travel is about more than what meets the eye. Through sound, you can experience places and cultures like never before. Occasionally local musicians are featured. We hope our music inspires people to explore new destinations and cultures."
Comment by John Tumey, Vice President of Marketing, Asia Pacific (excluding China), Marriott International
"We believe that experiencing a destination is not just about admiring the sights, but about connecting with the local community and immersing yourself in the local way of life. Our partnership with Parallelle does just that. This partnership will not only elevate the travel experience , while also enhancing the unique beauty of each neighborhood you visit, allowing travelers to imagine their journey through sound and strengthening their connection to their favorite destinations. We want to showcase our culture and connect travelers to Connecting with the power of travel and inspiring them to revisit what it really means to explore the world."
About Marriott Bonvoy
Marriott Bonvoy, Marriott International's award-winning travel program and marketplace, offers new and exciting experiences to members around the world. With an unrivaled portfolio of 31 brands, Marriott Bonvoy delivers award-winning hospitality in some of the world's most memorable destinations. Members can earn points for hotel and resort stays, including all-inclusive resorts and premium home rentals, and make everyday payments with a co-branded credit card. Plus, future stays and experiences, including Marriott Bonvoy moments https://moments.marriottbonvoy.com/en-us, and premium products purchased through our partners at the Marriott Bonvoy boutique. Points can be used on the Marriott Bonvoy mobile app to provide a highly personalized, contactless experience so you can travel with peace of mind. For more information on Marriott Bonvoy and free membership registration, please visit https://www.marriott.co.jp/loyalty.mi. To download the Marriott Bonvoy app, visit https://mobile-app.marriott.com/en-us. We also send messages on Facebook, Twitter, Instagram and TikTok from time to time.
About Parallel
Parallelle are two brothers from the South of France who now live in Amsterdam, The Netherlands. He is a multi-instrumentalist, composer, producer and record label owner. We offer music that spans techno, electro-jazz and underground dance. He has performed live, mix and DJ at music festivals around the world including Burning Man, Wonderfruit and Fusion. In 2019, he launched his artist label "Klassified Records" and opened "The House of Klassified" creative center in Amsterdam, which includes a studio, recording facility, art gallery and co-working space. The music is heavily influenced by world cultures, which is reflected in the concept of the video series "A Day In". The collection immerses you in different cultures around the world, capturing the sounds of everyday life and unfolding their stories musically. About Parallelle Facebook (https://www.facebook.com/parallelle/), Instagram (https://www.instagram.com/parallelle_/?hl=en), TikTok (https://www.tiktok.com/ ) @parallelle?lang=en) You can find more on Soundcloud (https://soundcloud.com/parallelle) and Spotify (https://open.spotify.com/artist/4j2NOrZwtpyVrtrCXsKsag?si=It74uDC7SySOlz70vL6anQ&nd=1) information.) Listen to the song.