Malaysia
Malaysia Tourist Attractions: From Batu Caves to Sipadan Island; 5 Top Places To Visit in the Southeast Asian Country if You Are an Avid Traveller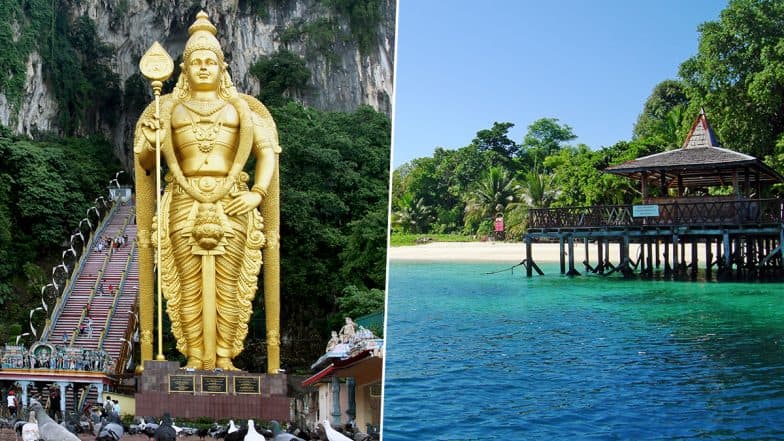 Do you have a wandering spirit? If yes, have you been to any South Asian countries? If you're wondering where to experience the true grandeur of a historic wonder, or if you're not interested in retracing ancient cultures, what about fabulous golden beaches, national parks and city lights? Well, one can witness all these gems of Malaysia that offer a myriad of tourist attractions that will give you an experience you will never forget. The country is known for its diverse landscapes, 130-million-year-old jungles, scuba diving centers, colonial destinations, luxury shopping malls, flea markets, holy places, delicious food, and cultural heritage that reflects the country's multicultural flair and rich history. famous place. From Gulmarg to Tawang, 5 places to experience magical snowfall! Every year, Malaysians celebrate a special event on 16 September to commemorate the day the Federation of Malaysia was established in 1963. Malaysia Day 2022 falls on a Friday. Let's learn more about this lovely country and all the major sightseeing hotspots.
1. Batu Caves, Selangor
Batu Caves consists of three small caves and many smaller caves containing statues and shrines to ancient Hindu deities. The main Cathedral Cave is at the top of 272 colorful steps, with a huge statue of Lord Murugan welcoming visitors in the middle.
2. Sipadan Island
The famous Sipadan Island is the best tourist destination in Malaysia, where you will have the chance to see everything from extraordinary flora to exotic fauna! This place is known as the richest marine habitat in the world.
3. Gunung Mulu National Park
Gunung Mulu National Park is a famous UNESCO World Heritage Site with lush rainforest and large basements. Deer Cave is particularly charming, with a ceiling over 122 meters high, waterfalls cascading from the rocks, and a beautiful sinkhole opening.
4. Ipoh, Perak
Ipoh is the historic heart of Malaysia with its colonial buildings, traditional shops and many Buddhist and Hindu cave temples.
5. Penang Hill
Stunning Penang Hill offers green vistas, rainforest, canopy walks, ziplines and sky bridges with 360-degree views of the bay and islands.
Before you pack your bags and fly to Malaysia, bookmark this article. We've covered just about every favorite for people looking to spend some relaxing time with family and friends. Happy Malaysia Day 2022!
(The above story first appeared on LatestLY on September 15, 2022 at 10:00 AM CST. For more news and updates on politics, world, sports, entertainment and lifestyle, log on to our website latestly.com) .