India
Little Venice – Panorama of India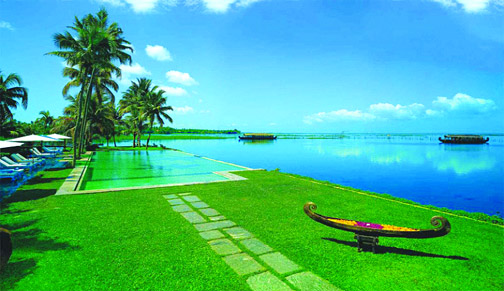 With emerald green waters flanked by lush vegetation, Kumarakom is a charming backwater resort 16 km from Kottayam, Kerala. Located on the shore of Vembanad Lake, Kerala's largest lake, Kumarakom is a group of man-made islands reclaimed from the lake.
Famous for rice fields, fishing, beaches, backwater network, delicious local cuisine, traditional Kettuvalloms (rice barge) houseboats, and luxury and budget resorts. The 14-acre Kumarakom Bird Sanctuary here is a favorite habitat for migratory birds and a haven for ornithologists. Experience the beauty of the place on a two-hour canoe trip at sunrise or sunset. Kumakong is the first destination to implement responsible tourism.
Kumarakom Bird Sanctuary
Kumarakom Bird Sanctuary, also commonly known as Vembanad Bird Sanctuary, is a stunningly beautiful bird sanctuary located in Kumarakom, Kottayam District, Kerala, India.
Situated on the banks of Vembanad Lake in Kerala's backwaters, this bird sanctuary is a favorite destination for many native and migratory birds, making it a bird watcher's and nature lover's dream filled with ecstasy and delight.
This enriching experience is further enhanced by bird watching houseboats and jet skis available for rent. Hence, Kumarakom Bird Sanctuary is a must visit place in Kerala to explore and uncover the hidden treasures and gifts of the earth.
Kumarakom Backwaters
Formed by the beautiful Vembanad Lake, the Kumarakom backwaters are about 17 km from Kottayam, the state of God in the southern Indian state of Kerala. Lake Vembanad is the largest freshwater lake in the state and is world famous for its famous backwater tourism. The picturesque Kumarakom backwaters have proven to be the perfect backwater destination for travelers who insist on finding the backwaters.
Vembanad Lake and Alleppey in Kumarakom is the starting point for Kerala backwater cruises. Formerly known as Baker Estate, Kumarakom is now developed as a rubber estate and is home to a variety of flora and fauna. The lush green surroundings are pleasing to the eye with tall grasses, shrubs and countless coconut trees lining the horizon of the pristine lake.
Kumarakom Beach
Kumarakom Beach is known for its leisure activities and water sports. The pristine clear waters are perfect for swimming. Glistening sands, gentle surf, and a plethora of restaurants and resorts make this the perfect city to visit. This is one of those beaches where you can find delicious seafood.
Patti Ramanal
Pathiramanal, a beautiful island in Alappuzha, was owned by the Thaimattatil family until 1979. The island is covered with lush natural vegetation, providing the perfect climatic conditions for native flora and fauna to thrive. The attraction is also known as a bird watcher's paradise and a favorite with nature lovers.
'Pathiramanal', which means 'sands at night', is home to verdant wilderness, tranquil lakesides and picturesque landscapes. Spread over 10 acres, the island is home to a large number of rare and endangered species, making it an ideal location for a birding adventure. It is believed that this paradise of natural beauty is also home to plants with medicinal properties.
Kumarakom Craft Museum
The Kumarakom Craft Museum houses a stunning collection of antiques including woodwork, ornaments, paintings, portraits and more. Here you can find mostly well-preserved antiques or traditional handicrafts belonging to the region. Local arts and crafts are also available for purchase from the museum shop.
Aluvik Kuri Waterfall
Aruvikkuzhi Waterfall is an impressive 30-foot waterfall that spews gallons of water during monsoons, making it the perfect spot to visit. It is surrounded by dense forests and has several exciting hiking trails. Therefore, it is ideal for nature walks, trekking or trekking.