Vietnam
Launch of Multilingual Overseas Tickets in Partnership with Navitime Japan's "NAVITIME Travel" Service | Evolable Asia Co., Ltd. Press Release

Evolable Asia Co., Ltd. (Headquarters: Minato-ku, Tokyo, President: Hideki Yoshimura, stock code: 6191, hereinafter referred to as "our company") and Navitime Japan (Headquarters: Minato-ku, Tokyo; President: Keisuke Onishi; the following "Navitime Japan" for short), provides comprehensive navigation services in overseas air ticket sales, and online services such as "NAVITIME Travel" have opened overseas air tickets.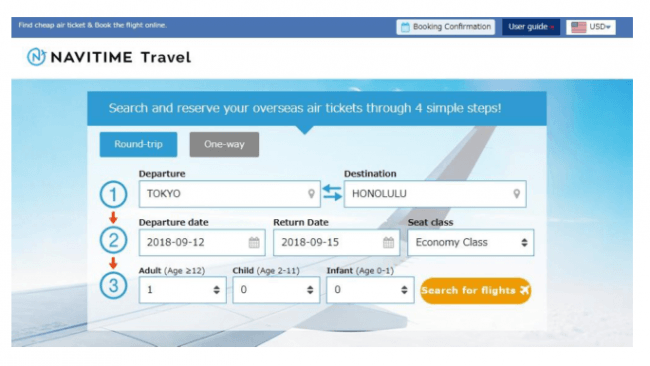 ■ Background and overview of service collaboration
Navitime Japan has long been engaged in domestic ticket sales, and thanks to the system (API) and operational cooperation with Navitime Japan, customers can access tickets in various online services such as "NAVITIME Travel*1" without switching to external sites. We provide services for searching, booking and selling tickets. In order to further expand sales channels, we have launched new cooperation with overseas air tickets.
In addition, multilingualization (Japanese, English, Traditional Chinese, Simplified Chinese, Korean, and Vietnamese) will be supported to improve the convenience of foreign users.
■Navitime Japan Overview
Navitime Japan develops and operates the navigation service "NAVITIME", which is used by 48 million monthly users*2 in Japan and overseas. "NAVITIME" is a navigation service that allows you to search for the best door-to-door route from various means of transportation such as walking, train, car, bus, and airplane. In addition to developing multilingual overseas transfer guide services, we also provide navigation applications for foreigners visiting Japan.
*1 URL of "NAVITIME Travel" website: https://travel.navitime.com/
*2 Total monthly unique users across all services (as of June 2018)
■ Promoting global expansion
In September 2016, the Global Expansion Division was established. In December of the same year, EVOLABLE ASIA GLOBAL VIETNAM COMPANY LIMITED, a Vietnamese online travel subsidiary (headquarters: Ho Chi Minh City, Vietnam, CEO: Masahide Akiyama), was established to operate overseas online travel business. We're pushing the envelope on this, and this OEM offer is one of them.
We will continue to strive to provide better services and strive to further expand and develop our business.
■ Impact on performance
We anticipate minimal impact on our business performance this fiscal year. If there is any need to change in the future, we will notify you in time.
(Navitime Japan Co., Ltd.)
Head Office: Minami Aoyama Tokyu Building, 3-8-38 Minami Aoyama, Minato-ku, Tokyo
Company Name: Navitime Japan Co., Ltd.
Representative: President and Representative Director Keisuke Onishi
URL:http://corporate.navitime.co.jp/
(Evolable Asia Co., Ltd.)
Headquarters: 19F, Atago Green Hills MORI Tower, 2-5-1 Atago, Minato-ku, Tokyo
Company Name: Evolable Asia Co., Ltd.
Representative: President and CEO Hideki Yoshimura
Capital: 1,069,291,000 yen (Paid-in capital: 3,252,715,000 yen)
URL:http://www.evolableasia.com/
(our service site)
Comprehensive travel platform AirTrip: https://www.airtrip.jp/
Business Travel Management (BTM) business: http://www.evolableasia.com/service/online_travel/btm/
IT offshore development business: http://www.evolableasia.com/service/offshore/
(Our Investor Relations website): http://www.evolableasia.com/ir/