India
(JICA/Yakult Collaborative Project) Launches "Achhi Aadat (Good Habits) Campaign" to Educate Children in Bihar, India on Hygiene Habits and Nutritional Management | FC Nono Press Release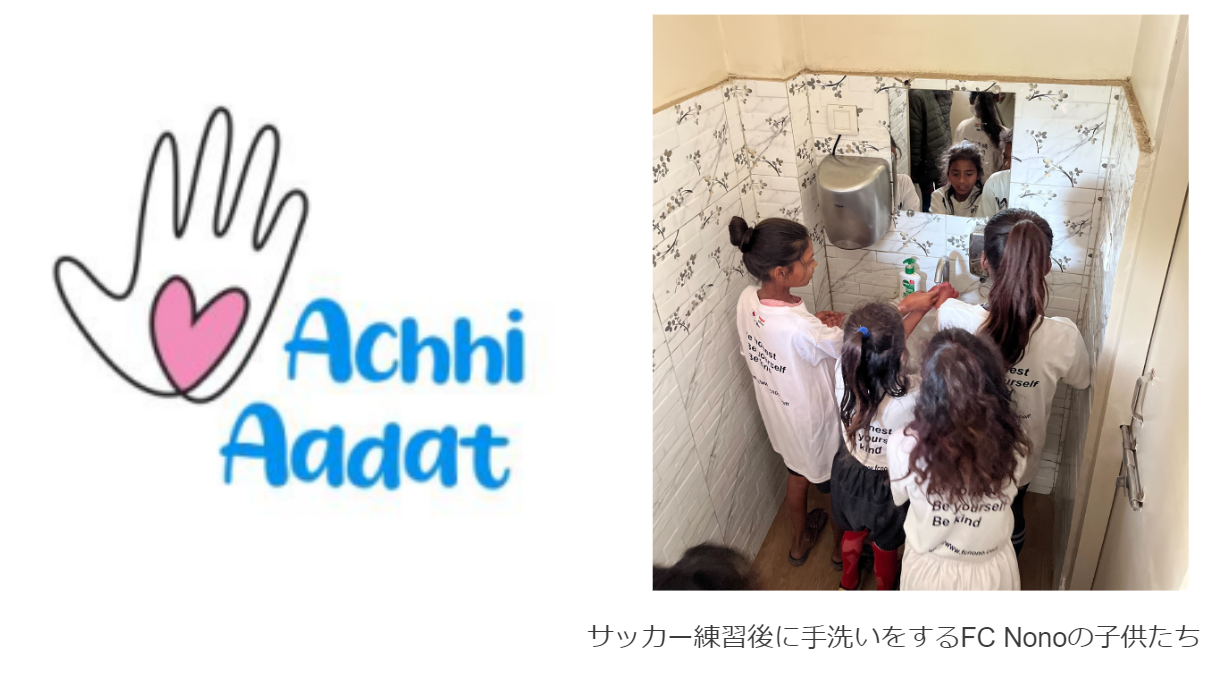 The JICA India office launched the 'Achhi Aadat (Good Habits) Campaign' in January 2021 to raise awareness on the importance of hygienic practices to prevent the spread of COVID-19 and other infectious diseases. for the whole of India. We provide information and hands-on learning about hand washing, nail cleaning and other hygiene practices, with an emphasis on approaching hygiene from a familiar perspective.
This collaboration is aimed at more than 150 children participating in FC Nono activities in Bodhgaya, Bihar, as well as children and their families in schools and orphanages in the same activity area, so that children can live a healthy life. Our goal is to help You learn how to keep healthy in your daily life. Yakult will convey the importance of nutrition and nutritional management methods for good health, FC Nono will convey the importance of physical activity through sports, and JICA India will convey the importance and proper hygiene practices such as hand washing and nail clipping.
Improving hygiene and habits is one of the activities that FC Nono emphasizes, and our goal is to put you in control. These are also relevant to maintaining children's physical and mental health and preventing injuries during physical activity.
Furthermore, the strength and potential of sports teams in developing countries lies in the opportunity to bring local people together and create enlightenment through sport. Awareness raising activities in conjunction with football activities can also help to promote understanding of awareness raising content. By participating in this campaign, FC Nono will also contribute to the creation of an effective educational foundation to disseminate the importance and specific methods of hygiene practices and nutritional management.
Comments by Mr. Mitsunouri Saito, Chief Representative of JICA India Office
We are delighted to be able to carry out the "Achie Ahdat (Good Habits) Campaign" in the holy place of Bodh Gaya together with Yakult NONE India and FC Nono. Through this campaign, we aim to convey to more people the importance of a hygienic lifestyle for the health of the people of India. Many children are still dying of diarrheal diseases around the world, but hygiene practices such as washing hands with soap are said to reduce the chances of contracting viral infections. We sincerely hope that this event will not only help the participating children in Bihar, but also help their families, friends and other relatives spread the "sustainable good habits" more widely. I am coming!
Comment by Mr. Eiji Amano, President of Yakult-None India Ltd.
I would like to thank JICA India and FC Nono for their participation in "Achhi Aadat Movement". It is a pleasure to give lectures on nutrition management in daily life to help the health of the people of Gaya, Bihar. In line with our corporate philosophy of contributing to the health and happiness of people around the world, we will contribute to the health promotion of the people of India through these CSR activities.
FC Nono representative Nozomu Hagiwara comments
We are proud to join JICA India and Danone Yakult India in the 'Achhi Aadat Movement' to promote hygiene practices and nutrition management among children in Bihar. FC Nono's mission is to improve inclusive living conditions for underprivileged girls and boys in the Indian state of Bihar. To help them build a sustainable life, we carry out a wide range of social contribution activities centered on health, education, nutrition and human resource development. We believe that hygiene and nutrition are the most important factors in realizing children's dreams. It is very important for children to acquire knowledge and habits related to hygiene and nutrition, but relevant knowledge is scarce, especially in rural areas. I appreciate the opportunity to pass on proper knowledge and information about hygiene and nutrition to children through this event.

About FC Nono
Amid India's entrenched caste and sexism, there is a social soccer team that teaches soccer to the lowest-ranked children, young prisoners who commit murder and robbery, orphans, and children with polio. In addition to running the football team, we are also working on various initiatives such as nutritional guidance and creating a future employment environment to realize the "dreams" of children.
URL: https://www.fcnono.com/