Vietnam
"Japan Travel by NAVITIME" for foreign tourists visiting Japan adds "Itinerary Release" function for inbound users | Navitime Japan Co., Ltd. Press Release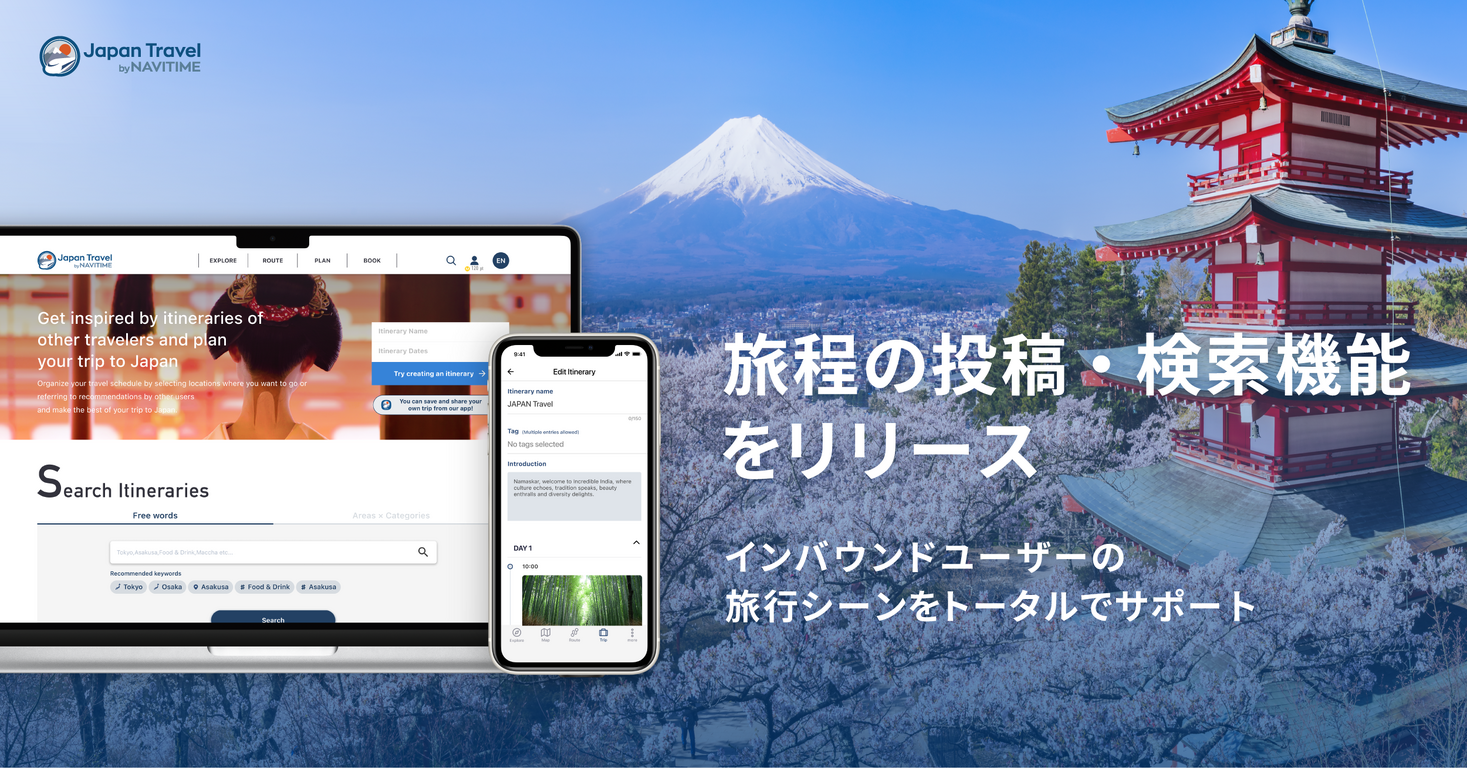 <入境旅遊解決方案介紹頁面:https://www.navitime.co.jp/tourism-solution/products/inbound.html?from=corporate>
■Background
Inbound demand is recovering, and the number of users of "Japan Travel by NAVITIME" has increased by 1.8 times compared to before COVID-19.
"Japan Travel by NAVITIME" is a navigation application provided by Navitime Japan for foreign tourists visiting Japan, and it is mainly used as a "Tabi Naka" application because its main function is to search for routes. We are also working on expanding the functionality available at the planning stage, such as the "Travel Planning" function and article content, in order to provide a service that fully supports travel scenarios.
■ About the "Publish Itinerary" function
The "post itinerary" function is a function that allows users to add photos and comments to the itinerary created by themselves and publish it. You can post your actual travel experiences, search for other users' itineraries, and edit your own plans based on your posts. You can use it to gather memories of "Tabi Ato" or to gather information about "Tabi Mae". In addition, since it is connected to Navitime Japan's database, it is possible to check whether a detour is realistic based on the location of the point and the required time using points, map information, route search, etc.
■ Diversified travel needs
Affected by the new crown epidemic, the needs of foreign tourists visiting Japan are diversified, and the number of FIT (foreign independent travelers/travelers) traveling independently and not traveling in a group continues to increase. According to data from the Japan Tourism Agency, individual tourists accounted for 90% of the total. *1
In addition, in terms of information collection, a high percentage of respondents answered "information based on actual experience (word-of-mouth, SNS, etc.)", and among these information, many people found traffic information useful. We know from survey data. *2
*1 Japan Tourism Agency "Survey on Consumption Trends of Foreigners Visiting Japan from January to March 2023" Report (https://www.mlit.go.jp/kankocho/siryou/toukei/content/001615363.pdf)
※2 Same as P.24 above
■ Advantages of the "Itinerary release" function
The "Itinerary Publishing" function allows users to share the itinerary actually experienced by individual passengers, including traffic information, as a demonstration route with other users, which will become possible. We hope to strengthen the "Tabi Mae" approach by providing information based on the actual experience of foreign tourists visiting Japan and a function that allows them to share their itineraries, including transportation information. I'm here.
In the future, we will continue to expand the functions and improve the value of the application according to the needs of foreign tourists visiting Japan, and through the application, we will provide you with a cycle experience from consideration to planning during travel. , After the trip, consider revisiting, I believe we can provide all-round support for the travel scene.
In addition, we will strengthen cooperation with companies that are committed to improving the entry acceptance environment and marketing measures, and contribute to the improvement of the domestic entry acceptance environment.
■ Schematic diagram of using "Itinerary Publishing"
"Publish itinerary" function
(1) Later itinerary
・Add photos and comments to user-created itineraries and post them.
・Itinerary posting is free and unlimited.
・You can create up to 3 itineraries for free. If you want to create more than 4 projects, you need to sign up for paid billing.
(2) Save and edit the itinerary
・You can save the itinerary and edit it to your liking.
(3) Itinerary query
・You can search for itineraries using a wide range of search axes (area refinement, location specification, tag refinement, free word search).
(4) Navigation cooperation
・Since the spots on the itinerary are linked to Navitime Japan's database, detailed information on the spots, map display, route search, and navigation are also available.
■ About "Japan Travel by NAVITIME"
Provide navigation services for foreign tourists visiting Japan
・Languages ​​available: English, Chinese (traditional/simplified), Korean, Spanish, French, German, Italian, Portuguese, Russian, Thai, Indonesian, Vietnamese (13 languages)
・Main functions: door-to-door route search, scenic spot search (free Wi-Fi, luggage storage, etc.), travel articles, travel plans, model plans, hotel/event reservations
・Usage fee: Free (some functions are paid audio navigation, detour route search, ranking of popular travel articles)
iOS https://apps.apple.com/us/app/navitime-for-japan-travel/id686373726
Android OS https://play.google.com/store/apps/details?id=com.navitime.inbound.walk
Website https://japantravel.navitime.com/en/
* "NAVITIME" is a trademark or registered trademark of Navitime Japan Co., Ltd.
*Other company names and product names are trademarks or registered trademarks of their respective companies.