Japan
"JAPAN TRAVEL AWARDS 2023" Winners Announced | Shiitake Creative Press Release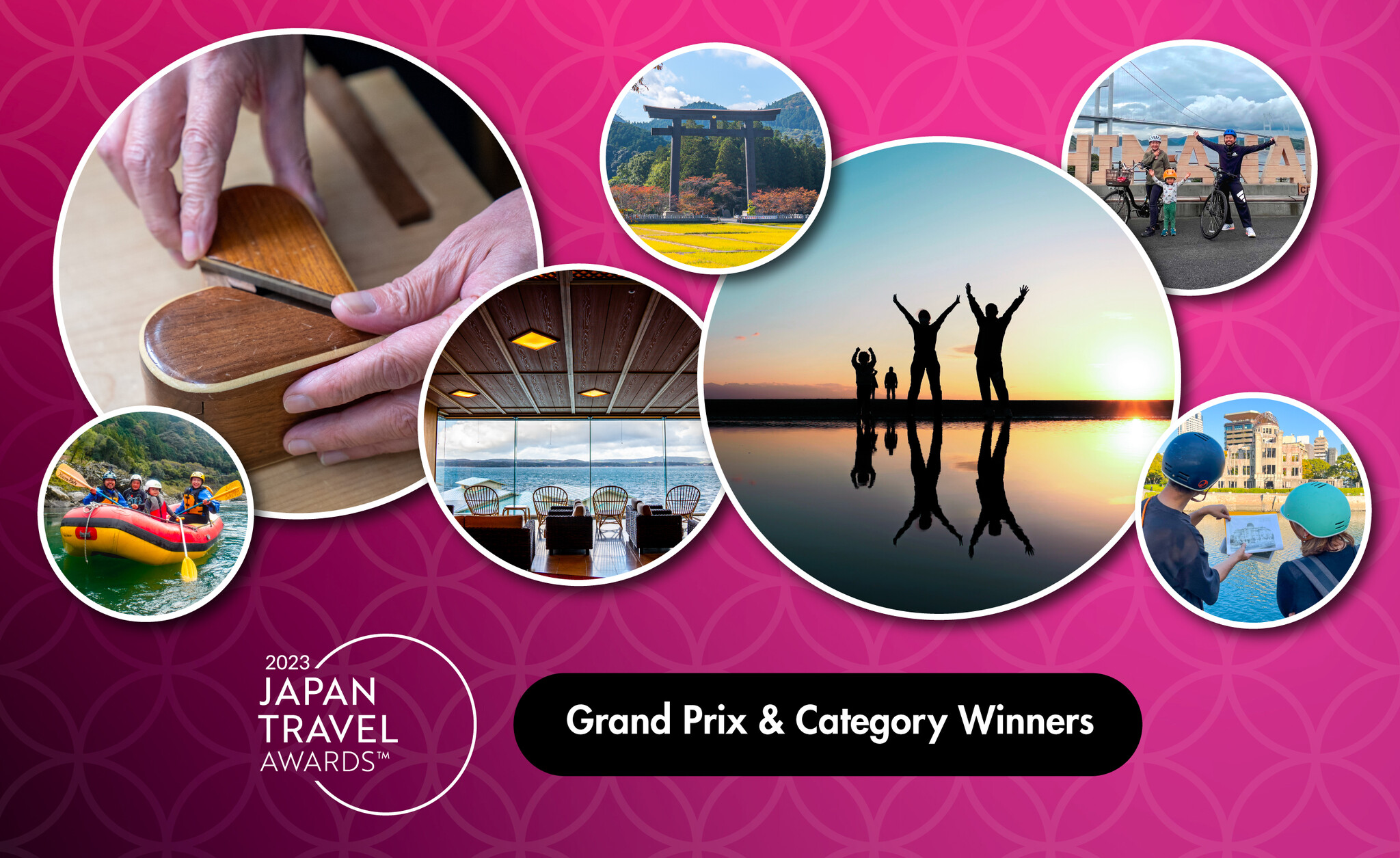 On February 21, 2023 (Tuesday), we announced the winners of the JAPAN TRAVEL AWARDS 2023 under the theme of 【Travel x Diversity】. This year is the second year, with a total of 145 entries from 36 prefectures across the country, the grand prize, category prize and special prize of 28 regions and companies certified as "Touching Places" were announced at the awards ceremony. "I am.
You can watch the awards ceremony on YouTube.
→ https://youtu.be/_7haIjTFoh4

 
Hakone Maruyama Bussan (Hakone Maruyama Bussan Co., Ltd.)
<獲獎理由>
As of 2023, the link between "traditional" and "accessibility" and "inclusivity" is less obvious. However, Hakone Maruyama Bussan, which sells Hakone marquetry and karakuri boxes and offers hands-on experiences, is actively making facilities accessible and releasing videos in sign language in order to teach their traditional crafts to more people.
In order to pass on the tradition to future generations, it needs to be accepted by many people, and for this, it embodies the need to be accepted by many people, has been highly evaluated, and has won a grand prize. .
<評委點評>
・Tradition for the sake of social progress, not tradition for its own sake, should be a major goal and should be highly valued.
・We are moving towards the future in an industry where "the tradition cannot be changed".
・A great example of how tradition can be inclusive

 
(Accessibility category)
Hakone Maruyama Bussan (Hakone Maruyama Bussan Co., Ltd.)
<獲獎理由>
Positive efforts to improve accessibility to make facilities more accessible, produce sign language interpretation videos, and train employees on diversity and inclusion were evaluated.
【LGBTQ+ sector】
not any
While we were able to identify some good initiatives, there were no winners this year because visualization was still not enough.
(sustainable category)
Kumano Kodo (Tanabe City Kumano Tourism Bureau)

<獲獎理由>
Focusing on tourism that gives back to society, sustainable tourism by activating cooperation within the region, efforts to adapt to a diverse society, and information and tourism development that are beneficial to many travelers are at a high level.is evaluated it by
(Ministry of Tourism Development)

Parent's Beach (Mitutoyo Tourism Exchange Bureau)

<獲獎理由>
Efforts to transform a polluted beach that was slated for landfill into a beach visited by 450,000 people a year were evaluated 25 years ago through cleanups by local volunteers and photoshoots for tourists.
Special Award | Special Recognition Award
(accommodation type)
Wakura Onsen Tada (Shirasaki Seaside Hotel Tada Co., Ltd.)
<獲獎理由>
Enjoy the tranquility and natural beauty of the Noto Peninsula while soaking in the hot springs while overlooking the Sea of ​​Japan. This hotel is full of hospitality. In addition to the attractiveness of the accommodation facilities, sustainable initiatives such as the use of local ingredients and a significant reduction in food loss were also assessed.
【Cultural Department】
sokoiko! Peace Cycling Tour (mint Inc.)

<獲獎理由>
To avoid repeating the same mistakes, we conducted the "Creating Peace Tour" in English and Japanese. It is evaluated as a unique travel experience that conveys the culture of "peace" that should be preserved and spread globally, not just in Japan.
(family category)

Happy Raft (Happy Raft Ltd.)

<獲獎理由>
Known as the world's top rafting, the Yoshino River gathers many advanced rafters and offers family rafting trips suitable for children over 3 years old. Many staff members are bilingual in Japanese and English, making it easy for inbound tourists to participate, and the children's environmental protection workshop has also received high praise.
(Adventure Section)
Shimanami Kaido Cycling (Shimanami Japan/Imabari City)

<獲獎理由>
Known as the "Holy Land for Cyclists", Shimanami Kaido not only has complete bicycle lanes, but also meets the diverse needs of E-bike, cross bike and bicycle. Children, children's bikes and tandem bikes. Assess as much as possible.
About the Japan Travel Awards
The award aims to recognize and disseminate new "inspiring places" in Japan based on diversity and inclusion initiatives by local governments, tourism associations, DMOs, companies and individuals involved in the national tourism industry, as well as SDG promotion activities.
■ Operating company: Shiitake Creative Co., Ltd.
A company that connects Japan and the world with the power of creativity. The main business is content creation, design and advertising production of English articles and videos. We operate the creative monthly service "Speedy Mushroom" and "Japan Travel Awards" centering on overseas promotion support for domestic companies and local governments.
Company Name: Shiitake Creative Co., Ltd.
Representative Director: Seiya Hongo
Business content: Global advertising design, article production, etc., Japan Travel Awards operation
Establishment: January 2021
Location: 2-5-2 THE CASK GOTANDA #904, Higashi Gotanda, Shinagawa-ku, Tokyo
URL: https://shiitakecreative.jp