Thailand
Is Chiang Mai safe?Here's what you need to know | 2023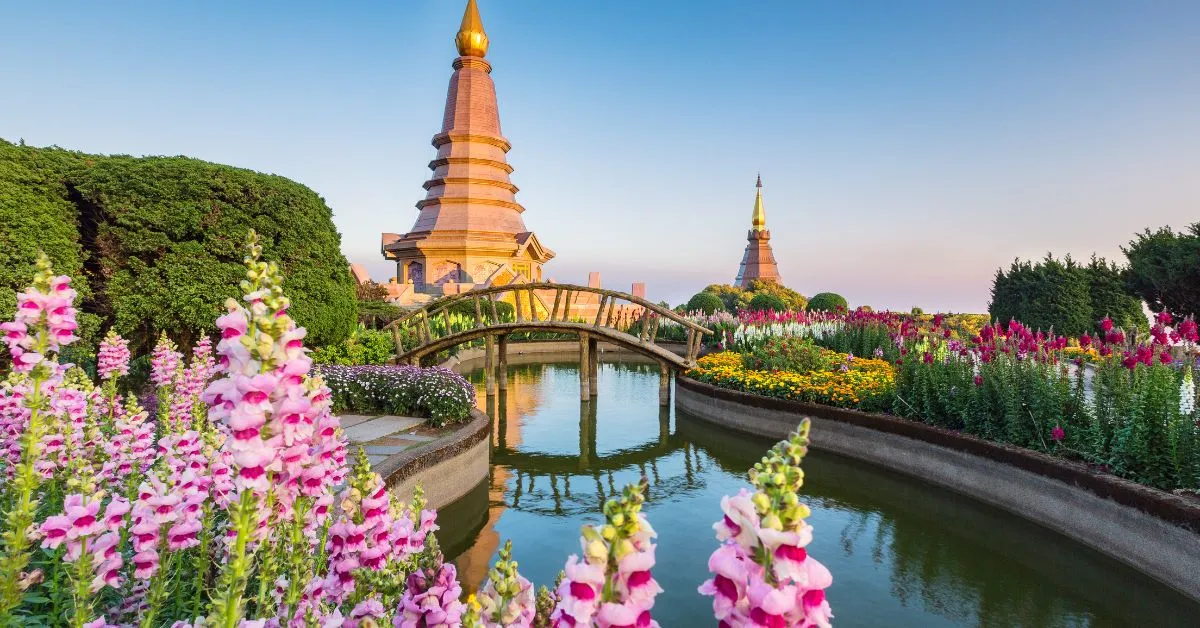 Of all the cities around the world I've visited, only a few have made me experience "love at first sight". The peaceful mountain city of Chiang Mai in northern Thailand is one of them!
While technically a city, its small size, laid-back vibe, and breathtaking mountain scenery don't make it feel like one.
Ready to travel? Don't go without travel insurance.
I recommend SafetyWing Nomad Insurance, an affordable travel insurance policy that offers automatic monthly payments that you can cancel at any time. I've been using it since 2019 and I can assure you it's the perfect solution for nomads like you and me. Learn more by reading our SafetyWing review.
For these reasons and more, this northern Thai city is increasingly popular with tourists and digital nomads.
If you've heard incredible things about Chiang Mai and are considering a trip here, you might be thinking, "Is Chiang Mai safe??
This article answers that question and covers everything you need to know to ensure a safe, fun and stress-free time in Chiang Mai.
key points
Chiang Mai is a safe destination for women and solo travelers.
It is safe to travel to Chiang Mai now.
Practice common sense and awareness when traveling in Chiang Mai.
Is Chiang Mai safe for tourists?
Chiang Mai is an extremely safe city with very little violent crime. In fact, in January 2023, Chiang Mai was named the safest city in Southeast Asia by Numbeo.
However, that doesn't mean Chiang Mai doesn't have petty crimes that are common in Thailand and Asia.
Incidents such as pickpocketing and scams are common in Chiang Mai, but not as common as in other cities.
For example, Chiang Mai's crime index is 24.5, while Bangkok's is 40.5.
Most tourists feel safe walking around Chiang Mai and comment on the warm and welcoming atmosphere.
Is Chiang Mai safe to travel right now?
As of early 2023, it is safe to travel to Chiang Mai and all COVID-19 related restrictions have been lifted.
Therefore, you do not need to show proof of vaccination or take a COVID-19 test when you arrive in the city or travel in and out of the city.
Please also note that face coverings are no longer mandatory. However, due to the very high air pollution levels in Chiang Mai, many locals and expats wear face masks when riding motorcycles or going out.
Why is Chiang Mai "dangerous"?
As mentioned earlier, there is little danger of serious crime in Chiang Mai. But at certain times of the year, air pollution is a risk factor for the city.
This comes not so much from high emissions as from the so-called "burn season".
---
Planning your upcoming adventure? Travel by bus! (Very cheap!)
---
From February to April, farmers burned their fields in the countryside around the city and nearby areas, causing smoke to billow across Chiang Mai.
This can lead to various health problems, mainly breathing problems, headaches and itchy eyes.
In fact, the smog is so bad that many locals and expats temporarily move to another part of Thailand during these months.
Of course, if you avoid traveling to Chiang Mai during the hot season, the air quality will be much higher, which is not a problem.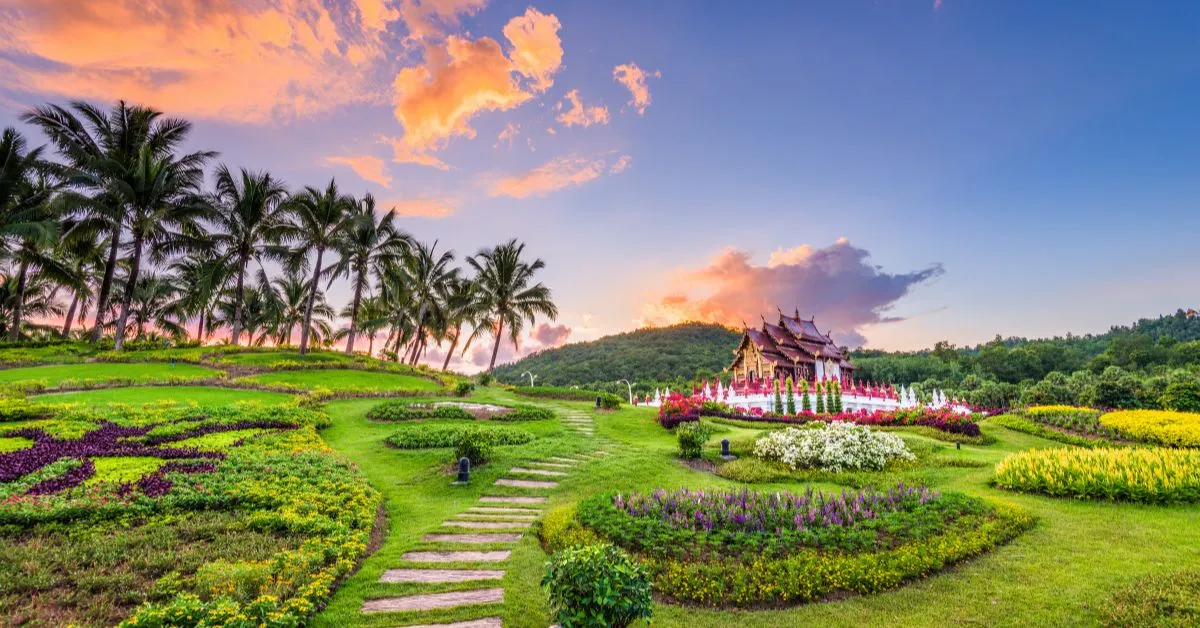 ---
---
The safest area in Chiang Mai
There are no unsafe areas in Chiang Mai, you can live in the city or the suburbs. No matter where you choose to stay, you can walk up and down the street without worry.
That being said, staying in a hotel with security is much safer than staying in an Airbnb or a house.
While not very common, burglaries in Chiang Mai do happen from time to time, with villas and beautiful modern homes being the biggest targets.
Additionally, petty crimes such as fraud and pickpocketing are most common in busy tourist areas, such as pedestrian streets, night markets, markets and around moats.
Here are three of the most popular districts in Chiang Mai.
ancient city
The Old City is one of the most popular areas for tourists as it is in the center of the action and filled with beautiful old buildings and temples. The area is also totally walkable so if you live here you can walk everywhere.
riverside
If staying in a luxury hotel or spa resort is your thing, head to Riverside, one of the city's upscale areas.
Here you'll find modern hotels with sweeping city views and elegant boutique hotels with a tranquil ambience.
Nimman Haiming
Nimmanhaemin, or Nimman for short, is a digital nomad hotspot filled with quirky coffee shops, art galleries and rooftop bars.
There are many affordable apartments here for those wishing to stay longer than a few weeks.
Things to Avoid in Chiang Mai
While there's no need to be nervous when moving around Chiang Mai, there are a few things you should be aware of so you know how to avoid them.
tuk tuk scam
Tuk-tuks are three-wheeled open-top taxis found in Chiang Mai and many tourist areas in Thailand.
While riding one of these can be a fun experience and something you'll want to check off your bucket list, be careful as scams are rife.
Many tuk-tuk drivers will overcharge you during the trip, and some will offer to take you on a sightseeing tour, where they will take you to an affiliated shop or restaurant.
Then they will encourage you to shop at that place because they will get a percentage of the money.
If you want to take a tuk tuk, always barter for a reasonable price and only get in the car after you agree a price you are happy with.
Also, don't accept tour offers from any driver; simply ask to get from A to B.
other scams
There are other common scams in Chiang Mai. For example, if you decide to rent a motorcycle in Thailand, take videos and photos of the bike before you drive it away, and pay attention to any scratches or dents that already exist.
Some rental shops will try to bill you for existing damage when you return it. If you don't have video to prove it's there, you may have to pay a fortune.
Tour companies can also try to scam you by overcharging. Be sure to research prices online for the tour you want to take beforehand so you can get an idea of ​​the average cost.
You can also ask the hotel front desk; they can tell you how much you should pay, and they may also have some trusted contacts.
visit during burning season
Finally, as mentioned, avoid visiting Chiang Mai between February and April.
During these months, fog can not only cause health problems, but also kill the experience of visiting attractions and conducting activities.
It's best to wait until after May when the skies are clear again so you can enjoy the stunning mountain views.
driving in chiang mai
I don't recommend tourists ride scooters or motorcycles anywhere in Thailand, especially in Chiang Mai.
As a relatively quiet small city, you might think that driving here is much safer than in Bangkok. Unfortunately, however, Chiang Mai has the highest traffic accident rate in the country.
This is mainly due to the mountain roads outside the city. Tourists want to explore famous places outside the city center, so they rent a scooter and drive there.
However, many roads are steep, winding, narrow and poorly maintained.
Car accidents are also common in and around Chiang Mai. So I suggest that you take public transportation or go with a group to visit the scenic spots outside the city.
Public transportation in Chiang Mai is very cheap. There are songthaews, which are cheap open taxis (red) that follow set routes.
You can hop on and off whenever you want, making them a convenient way to get around.
You can also take a Grab bike (if you are alone) or a Grab taxi, which are very affordable in Chiang Mai.
Also, since the Old Town is small and walkable, it is possible to get from one end to the other on foot.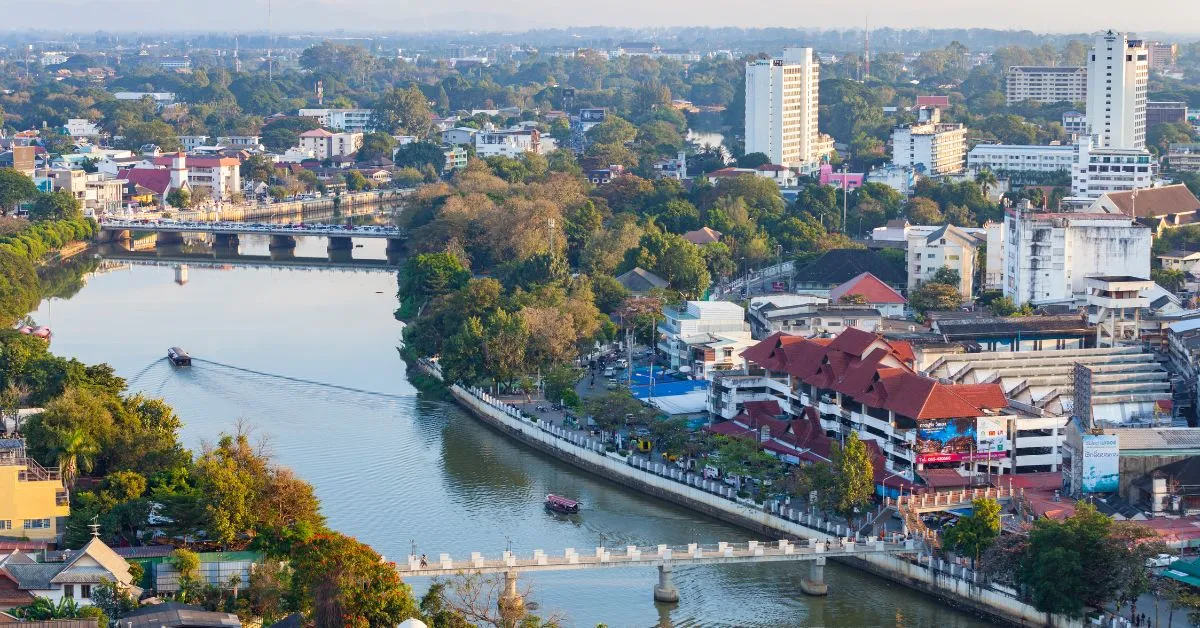 Chiang Mai Solo Traveler
I went to Chiang Mai alone and loved it! This Thai city is popular among solo travelers, so if you arrive alone, you won't be alone for long. I found it easy to meet people here and the locals are very warm and friendly.
I have zero safety concerns walking around alone, including after dark. But of course, if you're walking home at night, be aware of your surroundings.
If you have had too much alcohol, call a Grab taxi instead, just to be safe.
Chiang Mai has some great hostels, including some for social gatherings.
If you want to enjoy Chiang Mai's nightlife, check into hostels like "Slumber party" or "Stamps" where you can hang out in groups with other solo travelers.
Chiang Mai Female Tourist
Chiang Mai is a friendly, safe and pleasant city for women. I met many other women in town alone, from backpackers to digital nomads to expats.
Chiang Mai also does not have a "dirty sex tourism vibe" compared to other Thai cities such as Pattaya, Bangkok and Phuket. So, in my opinion, Chiang Mai is one of the best places in Thailand for female travelers.
However, as with any place in the world, you must be aware of your surroundings and belongings when you are out and about, and be aware of the people you encounter.
Don't leave your drinks unattended, don't accept drinks from strangers, and make sure you know your way home.
For extra security, be sure to get a Thailand SIM card so you can always be online and connect with others easily.
If you use Grab for transportation, you can use the ladies option.
Chiang Mai is perfect for digital nomads and expats
As mentioned earlier, Chiang Mai has a huge community of digital nomads and expats, so if you're looking for your next remote work destination, I highly recommend Chiang Mai.
The city is perfect for nomads. There are so many western cafes and trendy coffee shops that you can easily choose a few and alternate between them.
The city also has some great co-working spaces, and expat/nomadic events happen on a regular basis.
If you are considering a digital nomad job in Chiang Mai, read our post on living in Chiang Mai.
Chiang Mai Travel Insurance
While Chiang Mai is a very safe city, travel insurance is still crucial when visiting here or anywhere else in Thailand.
Travel insurance gives you peace of mind if you get sick and need medical treatment, lose your luggage or have your flight cancelled.
I recommend SafetyWing as they offer comprehensive coverage and the application process is quick and straightforward.
SafetyWing is also ideal for the digital nomad, as you can start your policy anywhere in the world and customize it to your unique needs.
Final Thoughts on Safety in Chiang Mai
So, is Chiang Mai safe? Absolutely! This beautiful northern Thai city is one of the safest places in Thailand and Southeast Asia.
As such, it's a top destination for women and solo travelers, and offers something for everyone.
So whether you spend a week visiting the temples, enjoying the lush mountain views while working remotely for a few months, or moving there long-term, Chiang Mai is great!
Visiting Thailand soon? Read one of the following guides: