Myanmar
"IGNITE YOGA" representative Edwards Jusato collaborated with "Tokyo Shangri-La" to supervise afternoon tea and breakfast! | IGNITE Corporation Press Release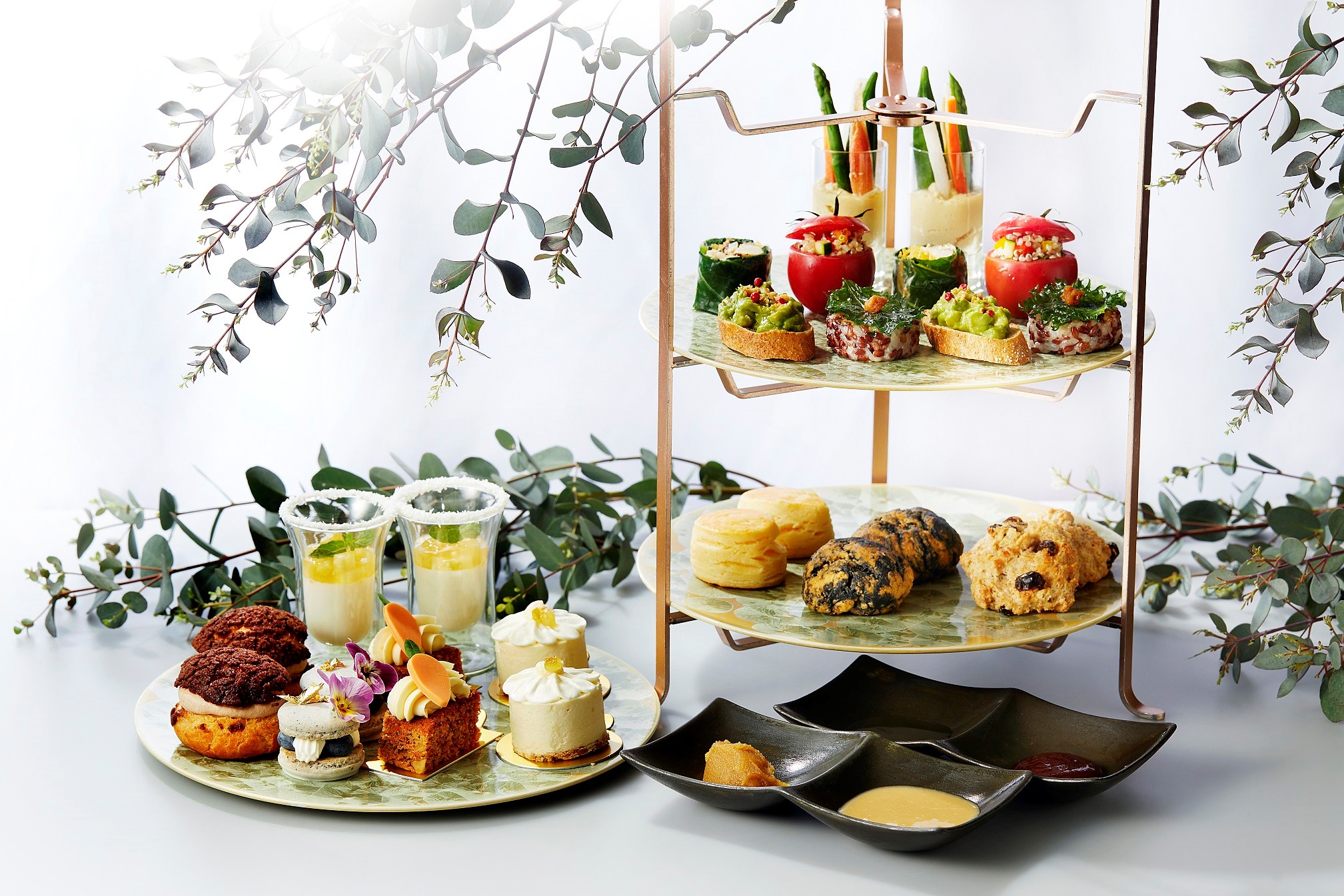 Edwards Jusato, principal of IGNITE YOGA Co., Ltd., studied yoga in California, spent college there, and moved to Hawaii to become a yoga instructor. Since 2015, he has participated in the listing of lululemon in Japan and engaged in event planning.
The afternoon tea "Healthy Summer Afternoon Tea" and "Healthy Breakfast" of "Tokyo Shangri-La Hotel" supervised by Edwards Susato are themed on health preservation, aiming to make the body and mind comfortable and positive every day. The chef and patissier of "Shangri-La Hotel, Tokyo" made many prototypes. After that, our delicious and nutritious afternoon tea and breakfast are completed to satisfy your body and mind.
The "Healthy Summer Afternoon Tea" produced by Edwards Jusato is a healthy and high-quality dessert that allows you to experience this season with a healthy and high-quality taste, so that you can be close to your body and mind when you are in a happy mood. Will be overwhelmed by blinding sun and sweltering heat. Delicious line up.
The best dessert is "Cheesecake with rice koji and white miso". A rare cheesecake made with fermented food malt, white miso, and non-alcoholic amazake. When you bite into it, the natural saltiness of the malt and the taste of white miso spread, allowing you to enjoy a rich flavor. "Passion Fruit Chocolate Chip Cookie Puffs" are made with dandelion chocolate, high-quality single-origin cocoa beans and organic cane sugar, pursuing simple and delicious taste.
The rich and rich chocolate flavor and the refreshing feeling of caramelized passion fruit ganache are attractive cookie puffs. Originating in the UK, 'carrot cake' is just the right amount of sweetness, made with cream cheese, lemon and butter, and garnished with carrots.
"Pineapple Organic Mint Tea Jelly Cashew Milk Pudding" served in a cool glass. Cashew milk pudding is made with nutrient-dense cashews, layered with organic mint tea jelly and topped with pineapple. I make it look like summer.
"Maqui Berry Macaron" is made by kneading maqui berry, a superfood that has a high anthocyanin content and is attracting attention, and topped with blueberries and cream.
We also offer 5 delicious flavors using health-conscious and seasonal ingredients. The hummus of "Vegetable Stick and Manuka Honey Hummus Dip" uses Manuka honey, which is said to have good effects on beauty and health. You can enjoy the texture of seasonal summer vegetables such as rare okra and mioga in vegetable sticks.
"Grilled fresh spring rolls with kale and scissors" Dark green eye-catching kale and roasted scissors are known as the king of vegetables. They are tailored in the style of Caesar salad and wrapped in fresh spring rolls, which looks healthy. In a light and savory lineup, it's a filling. "Organic Quinoa Stuffed Fruit Tomatoes" is a tomato stuffed with organic quinoa, zucchini, red pepper, and topped with lemon oil for a refreshing taste.
"Kiryu Yeast Whole Wheat Bread Avocado Open Sandwich" has avocado puree sprinkled with pink pepper. "Grilled brown rice risotto and additional koji miso" is a grilled cheese risotto made with a mix of brown and white rice and featuring perilla leaves and additive-free koji miso.
In addition, starting from July 1, it will be launched at the same time as Wellness Summer Afternoon Tea, supervised by Edwards Susato, with the theme of health preservation, and incorporating Japanese ingredients close to the body and mind. There are three types of breakfast: Quinoa Bowl, "Zaru Yudofu Gozen and Japanese Chicken oatmeal.
The Quinoa Bowl combines the superfood quinoa with more than 10 vegetables and Tokyo burrata cheese for the freshness and rich creaminess of fresh cheese. It is recommended to mix well with honey and mustard sauce. Zaru Yudofu Gozen mainly contains soybeans and is rich in protein, calcium and vitamins.
Warm Zaru tofu in dashi and sesame-flavored soymilk broth, served with 10 grains of rice.
Japanese Chicken Oatmeal is oatmeal usually cooked in milk and flavored with dashi stock and miso.
You can enjoy onsen eggs and chicken breast with your favorite garnish.
Edwards Susato will continue to actively collaborate with various types of people using its knowledge active around the world, and propose a healthy life close to the modern lifestyle from Edwards Susato's unique perspective.
I believe wellness is not just about physical fitness, but about the state of your mind and heart, and feeling good every day.
When I travel abroad, having a healthy breakfast after my morning yoga or run is a blissful time for me. With this image in mind, we propose a menu that makes you want to eat after exercising and that will make you feel healthy just by eating it.
Enjoy a creative and delicious menu that's not only healthy but also pleasing with plenty of superfoods.
Time: Saturday, July 1, 2023 to Saturday, September 30, 2023
Business hours: weekdays 14:30-17:30 / Saturdays, Sundays and holidays 13:00-17:30
Venue: 28th floor lounge & bar "The Lobby Lounge"
Price: 7,480 yen per person (tax included, 15% service charge excluded)
content:
〇 Dessert (5 types in total)
・Rare cheesecake with rice koji and white miso
・Passion Fruit Chocolate Chip Cookie Shoes
· Carrot Cake
・Pineapple Organic Mint Tea Jelly Cashew Milk Pudding
・Maqui Berry Macaron
〇セイボリー (5 types in total)
・Vegetable sticks and manuka honey hummus
・Fresh spring rolls with kale and grilled chicken tenders
・Organic quinoa stuffed with fruit tomatoes
・Kiryu Yeast Whole Wheat Bread Avocado Open Sandwich
・Brown rice risotto and additive-free koji miso
〇スコーン
·classic
・Black Sesame Soybean Powder
・Vegan Whole Wheat Raisins
Served with agave syrup, kaya jam, tahini and strawberry jam
〇Drinks
Time: Saturday, July 1, 2023 to Saturday, September 30, 2023
Time: 7:00~10:00
Venue: 28th floor lounge & bar "The Lobby Lounge"
Price: 5,720 yen (tax included, 15% service charge excluded)
Contents: selectable major (only one type can be selected)
・Quinoa balls, Tokyo burrata, avocado, tomato, salad, honey dressing
・Zaru soup tofu imperial meal white sesame flavor soy milk soup ten grains of rice kimchi
・Japanese-style chicken oatmeal, boiled egg, miso eggplant, kombu Tsukudani
*Reservations and inquiries: Tel: 03-6739-7877 / Email: lobbylounge.slty@shangri-la.com
*Prices shown include tax and are subject to a 15% service charge.
* Displayed contents and prices are subject to change without notice depending on the purchase.
※The image is an image.
Shangri-La Hotel, Tokyo opened on March 2, 2009 as the Shangri-La brand's first hotel in Japan. It occupies the top 11 floors of the main Marunouchi Trust Tower, a 37-story mixed-use building adjacent to Tokyo Station. The hotel has a total of 200 rooms, two restaurants, the Italian restaurant "Piacere" and the Japanese restaurant "Nadaman", as well as the lounge and bar "The Lobby Lounge". Chi Spa features five treatment rooms and the largest spa suite in Tokyo, offering healing therapies from ancient Asia.
Shangri-La Hotel, Tokyo has been awarded 5 stars in the hotel category of the world's leading travel guide "Forbes Travel Guide", and has been ranked among the top hotels for 6 consecutive years from 2018 to 2023. Won the 1st place in the 2019 Japan Travelers' Choice Awards and was rated as the 8th place in Japan by Advisor in the 2020 Best Travelers' Choice Awards. In 2019, it was ranked No. 2 among the top 10 hotels in Tokyo by Travel and Leisure, a travel magazine for the wealthy in the United States, and Condé Nast Traveler, a travel magazine of Condé Nast, a major American publisher. 4th in Japan's Top 10 Hotels 2021.
For more information on Shangri-La Hotel, Tokyo, please visit https://www.shangri-la.com/jp/tokyo/shangrila/.
As the flagship brand of Shangri-La Group, "Shangri-La Hotels and Resorts" wholeheartedly welcomes guests from all walks of life with the unique Asian hospitality of the brand. Through nature-inspired design, enticing culinary and cultural experiences, and sincere and caring service, guests will find their own "Shangri-La Moment" during their stay. Currently has more than 100 luxury hotels and resorts in Australia, Canada, China, Hong Kong, Taiwan, Fiji, France, India, Indonesia, Japan, Malaysia, Mauritius, Mongolia, Myanmar, Philippines, Singapore, Sri Lanka, Oman, Thailand and Turkey. , the United Arab Emirates and the United Kingdom. The award-winning loyalty program "Golden Circle" has been upgraded to "Shangri-La Circle" in April 2022. Coveted travel and lifestyle services connecting all Shangri-La brands, hotels and restaurants. As the curator of luxury living, Shangri-La Circle guides guests to experience their very own Shangri-La through curated travel and lifestyle offers, enticing rewards and unparalleled Asian hospitality. To register or learn more, visit https://www.shangri-la.com/shangrilacircle/.
For more information on Shangri-La Hotels and Resorts, please visit https://www.shangri-la.com/jp.
Born in Tokyo. I was introduced to yoga in California, where I spent my college years. He then moved his base to Hawaii and began his career as a yoga instructor. Supported by his unconventional style, he has appeared at numerous events as a coach representing Hawaii. After being entrusted with launching lululemon's Japanese subsidiary, he returned to Japan in 2015, where he has served as the company's ambassador since then. As Lululemon's "Master" and brand manager, he participated in event planning and brand strategy, contributing to raising awareness in Japan. Immediately after returning to Japan, he appeared in numerous events and media as a top lecturer in Japan. In 2018, he opened IGNITE YOGA STUDIO in Harajuku, Tokyo. The modern-style yoga studio developed in its own way has won the support of many people regardless of men, women and children, and its popularity is increasing. In 2020, crowdfunding was carried out due to the corona accident, supported by more than 1,800 people, and an online studio was launched. Outside of the studio, classes are being held at the Four Seasons Hotel Otemachi and the Shangri-La Hotel. The original album "IGNITE – Soul Journey" will be released in 2021. We are expanding our activities in various fields. In addition to yoga, she has active hobbies like surfing, triathlons, and snowboarding, and has achieved a Class 4 marathon. He also completed Ironman, a long-distance triathlon called Ironman, in 12 hours and 15 minutes.
◇ Juri Ko Edwards Instagram: https://www.instagram.com/jurikooo/
◇ We send columns and schedules in our newsletter every month.
Register here: https://www.juriedwards.com/
Moderated by Juri Edwards. "IGNITE YOGA" makes yoga more efficient and modern, while emphasizing the physical and mental effects that can only be obtained from yoga, as well as a mindful and fulfilling lifestyle. "IGNITE FIT" with high fitness elements such as aerobic exercise and strength training, "IGNITE ONE" and "IGNITE TWO" that exercise with breathing, "IGNITE SLOW" that deepens breathing with slow exercise, you can choose your body according to your mood One day until "RE-IGNITE", which specifically relaxes your muscles. All shows are one hour to fit your busy lifestyle. It's a contemporary yoga studio that makes it easy for everyone living in the "now" to incorporate their best effort into their lives.
◇IGNITE YOGA official website https://igniteyoga.jp/
◇ Publish the company briefing every month. If you want to distribute, please contact us through the following ways.
Contact: igniteyoga-pr@igniteworks.jp