Indonesia
Hyundai Motor Company and PT Adaro Minerals Indonesia Tbk. Sign MOU to Secure Aluminum Supply to Meet Rising Demand in Automobile Production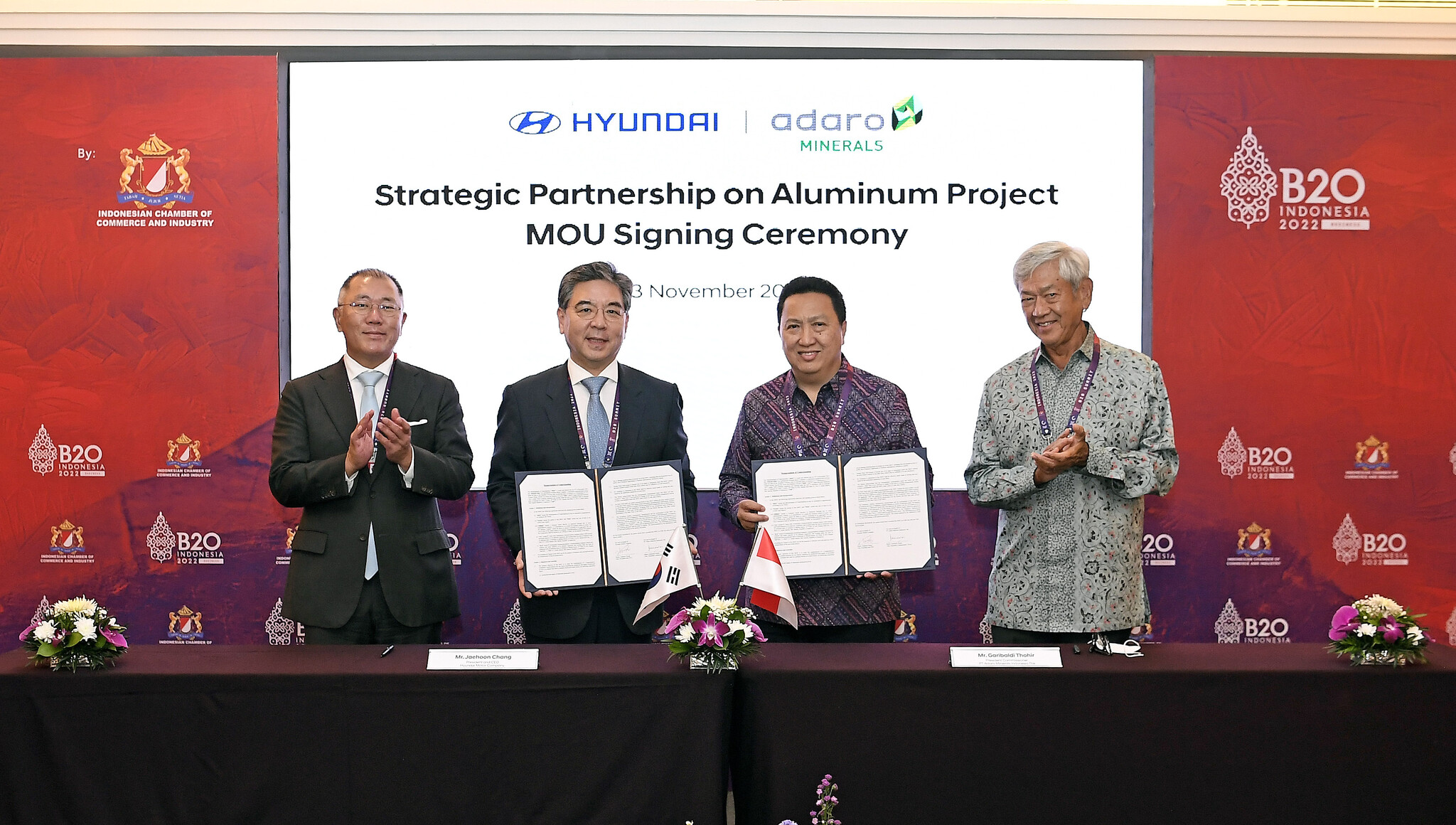 Seoul/Bali, November 13, 2022 – Hyundai Motor Co. and PT Adaro Minerals Indonesia Tbk. (AMI) today signed a memorandum of understanding (MoU) to secure a stable supply of aluminum amid growing demand for it in auto manufacturing. The collaboration aims to establish a mutually beneficial and comprehensive partnership in the production and supply of aluminum to AMI through its subsidiary PT Kalimantan Aluminum Industry (KAI).
The signing ceremony of the MOU took place on the sidelines of the B20 Summit held at the Nusa Dua Convention Center in Bali, Indonesia, in the presence of Jae-Hoon Chang, President and CEO of Hyundai Motor Corporation, and Garibaldi Tohir, Chairman of the Board of PT Adaro Minerals Indonesia Tbk.
The B20, an official partner of the G20, represents the global business community and is tasked with providing actionable policy advice on priorities set by each of the President's offices to foster economic growth and development. . This year's B20 summit identified the G20's themes of "Shared Recovery, Stronger Recovery" and "Promoting Innovation, Inclusive and Collaborative Growth (Promoting Sustainable Growth)". The collaboration between Hyundai Motor Company and PT Adaro Minerals Indonesia Tbk. demonstrates the company's commitment to accelerating the transition to sustainable energy, especially carbon neutrality.
Indonesia is rich in aluminum resources and energy and is considered to be competitive in the future. Indonesia's green aluminum is classified as low-carbon aluminum that uses hydroelectric power, an environmentally friendly form of electricity. The supply of aluminum that complies with HMC's carbon-neutral policy is expected to increase as global automakers demand more aluminum. In addition, unpredictable fluctuations lead to fluctuations in supply and demand, driving up the price of energy used in aluminum production.
"Hyundai Motor has already started operating a manufacturing plant in Indonesia and is actively cooperating with Indonesia in various fields, such as investing in a joint venture to manufacture batteries, which can create synergies in the future automotive industry. Through cooperation with aluminum smelters, we The relationship between Hyundai Motor and Indonesia is expected to be strengthened through stronger synergies," said Yong Tak Lee, general manager of Hyundai Motor Asia Pacific Headquarters.
The cooperation projects of this MOU include the production and supply of aluminum produced by KAI, the early purchase rights of Hyundai Motor for aluminum produced by KAI, and the initial negotiation rights for low-carbon aluminum produced by KAI in the future (the transaction amount is 5%). Between 10,000 and 100,000 not determined within the scope of the TPA).
"This collaboration demonstrates investor confidence in Indonesia's downstream processing of minerals in the world's largest green industrial park in North Kalimantan. With the support of Hyundai Motor, we hope to achieve a commercial operation date (COD) in the first quarter of 2025, and Christian who produced 500,000 TPA PT Adaro Minerals Indonesia Tbk said:
PT Kalimantan Aluminum Industry (KAI) is a limited liability company majority-owned by PT Adaro Indo Aluminum (AIA), which is also majority-owned by PT Adaro Minerals Indonesia Tbk. (AMI) Limited Liability Company. Hyundai Motor will continue to explore areas of cooperation on the basis of cooperation with Indonesian automobile, battery and aluminum production to ensure its leading position in the field of green vehicles in Indonesia in the future.
About Hyundai
Founded in 1967, Hyundai Motor Company operates in more than 200 countries and has more than 120,000 employees dedicated to solving real-world transportation challenges. Based on the brand vision of "Progress for Humanity", Hyundai Motor is accelerating its transformation into a smart mobility solution provider. To realize innovative mobility solutions, Hyundai invests in advanced technologies such as robotics and advanced air mobility (AAM), and pursues open innovation to introduce future mobility services. For a sustainable future for the world, Hyundai Motor will continue its efforts to introduce zero-emission vehicles powered by industry-leading hydrogen fuel cell and electric vehicle technologies.
For more information on Hyundai Motor Company and its products, please visit:
http://worldwide.hyundai.com or http://globalpr.hyundai.com
About PT Adaro Minerals Indonesia Tbk
PT Adaro Minerals Indonesia Tbk (IDX: ADMR), established in 2007, is principally engaged in mining-related businesses within the Adaro Group. The company is one of the leading coking coal producers in Indonesia, with low operating costs and high operational efficiency, supported by Adaro Group's integrated supply chain network. With abundant reserves and resources supporting long-term sustainable growth, Adaro Minerals Indonesia is supported by strong demand from blue-chip steel companies, mainly from Asian countries such as Japan, China and India. Adaro Minerals Indonesia, through its subsidiary, is currently developing an aluminum smelter project in North Kalimantan to capture green economy opportunities.
For more information on Adaro Minerals Indonesia, please visit http://adarominerals.id.