Thailand
How to spend a luxury vacation in Thailand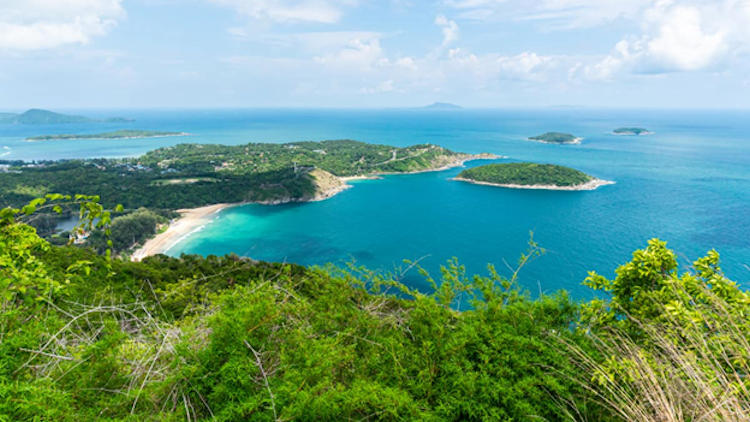 Thailand is one of the most visited destinations in Asia and the world, with many experiences to explore in luxury and style. It's important to plan your trip early on with a luxury destination specialist so you can arrange the itinerary that best matches your interests and preferences. In this post, we'll highlight some of the best luxury itineraries you can do while visiting stunning Thailand so you can get inspired and plan your trip accordingly.
Thailand is a large country with many destinations to explore. You won't be able to explore all the beautiful places in one trip. Therefore, you need to set your preferences and the main places you want to explore so that you can experience the best experience according to your interests.
This combination is highly recommended when planning any of the best Thailand luxury travel itineraries: staying at a luxury beach resort on one of the beautiful islands in southern or central Thailand. Visit Chiang Rai and Chiang Mai, especially the Golden Triangle, and of course don't miss the bustling capital "Bangkok", stay at least a few nights during your visit.
Have a great time at one of Thailand's luxury beach resorts
Thailand has more than a thousand islands with beautiful beaches and breathtaking scenery. The most popular and highly recommended islands are: Koh Tao, Koh Samui, Koh Phangan, Krabi (beach destinations from the mainland), Phi Phi, Ko Mak, Koh Kood, Koh Chang, Koh Koh Kood Koh Kood and Koh Kood Koh Kood long island.
Thailand has many island and beach destinations besides those previously listed, but these are the most recommended ones you should consider when preparing your travel plans.
If you're looking for ultra-luxury beach resorts, here's a list of resorts you should definitely add to your list of preferences:
Rayavadee Resort is the perfect place for a holiday in Krabi

Paradee Resort Koh Samed

Six Senses Koh Yao Noi

Anantara Koh Yao Yai (Newly Opened)

Soneva Kiri Koh Kood

Sepi Phi Island

Banyan Tree Krabi

The Ritz-Carlton, Krabi, Phulay Bay
We highly recommend spending approximately 7 nights at one of these resorts. During your stay, you can take a private boat to one of the nearby islands (depending on your chosen destination).
For example, if you will be staying in Phuket, you should take a private cruise to Phi Phi Island or James Bond Island. If you are in Krabi, you can take a boat to visit the 4 islands around Krabi, or go to the beautiful Hong Island.
During your stay on one of these islands, you can also enjoy the resort's facilities. Most luxury resorts offer yoga classes in the morning and also private cooking classes with a private chef so you can learn how to cook your favorite Thai dishes.
Explore Northern Thailand
When you come to Thailand, you can't miss its northern side. Northern Thailand is home to luxury resorts in the heart of nature, surrounded by mountains and other beautiful landscapes.
If you have the time to travel, it is highly recommended that you add both destinations to your itinerary (3 nights each). However, if you don't have enough time, you can only choose one of them.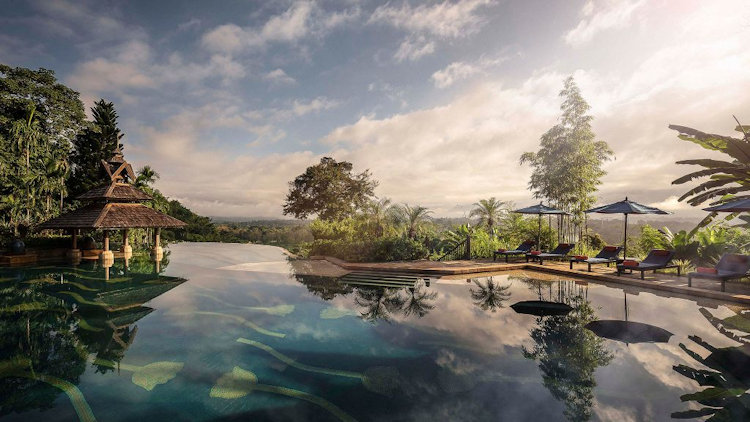 Stay at a Luxury Resort in the Golden Triangle
In Chiang Rai, the best area where you can stay is the Golden Triangle. In this northernmost part of Thailand, three borders meet: Thailand, Myanmar and Laos.
The best and most recommended resorts in Chiang Rai are: Golden Triangle Elephant Camp Anantara Resort and Four Seasons Tented Camp.
These two resorts are hidden gems away from the crowded tourist spots, offering a unique stay experience as well as unique activities that you can enjoy during your stay.
For example, at Anantara Golden Triangle, you can experience a jungle bubble stay while being surrounded by wild elephants and waking up in the jungle.
Other things you can do in Chiang Rai is visit beautiful temples. Chiang Rai is home to two of the most beautiful temples in Thailand, the Blue Temple and the White Temple. The White Temple of Wat Rong Khun is an ethereal masterpiece of contemporary Thai art, with its alabaster facade and intricate designs a surreal blend of tradition and imagination.
The blue temple of Wat Rong Suea Ten mesmerizes visitors with its brilliant sapphire hues and intricate details, evoking a sense of wonder and serenity.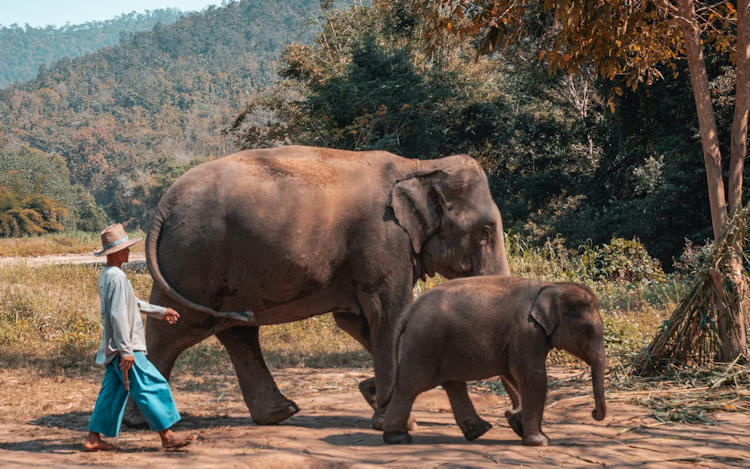 Visiting Chiang Mai
After exploring these awe-inspiring wonders of Chiang Rai, you can drive to Chiang Mai (approximately 3 hours scenic drive).
There are also many beautiful resorts in Chiang Mai that you should consider. Among these resorts we can mention: Four Seasons Chiang Mai, Villa Maha Bilong and Raya Heritage Hotel.
We recommend staying 3 nights in Chiang Mai to be able to explore its amazing places and beautiful nature. You can do a day trip from Chiang Mai to Doi Inthanon National Park (the highest point in Thailand). This stunning attraction offers unique and breathtaking vistas. During the journey to Doi Inthanon, you will also pass several waterfalls, which is a unique adventure for nature lovers.
Another recommended activity in Chiang Mai is to explore its magnificent temples and old streets. A day trip from Chiang Mai is a must do. On this day you can visit Doi Suthep, one of the most sacred temples in northern Thailand. And combine it with other temples and attractions such as Wat Chedi Luang and Chiang Mai Old Gate.
Chiang Mai is also home to many amazing elephant sanctuaries that treat elephants in a very ethical way. The most recommended visit is the Elephant Nature Park. During your day trip to one of these sanctuaries, you'll have the chance to play with elephants, bathe with them in the flowing river, prepare and feed them.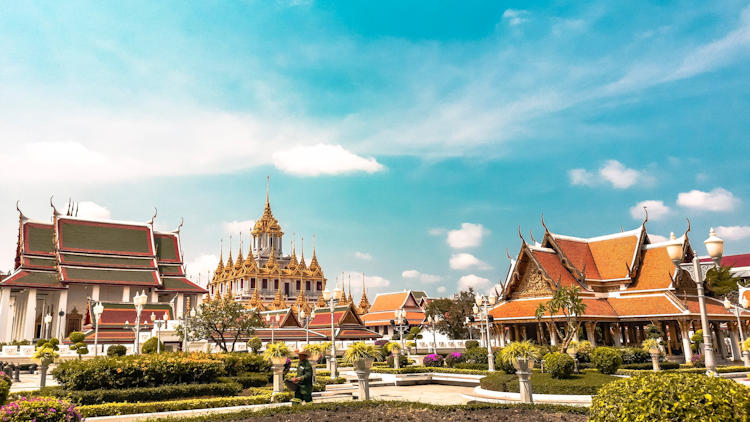 Discover luxury and fashion in Bangkok
After enjoying a pleasant time in Chiang Mai, you can continue to Thailand's lively capital "Bangkok".
Embark on a glamorous two-night break in vibrant Bangkok, where age-old tradition meets modern wonder. Begin your journey at the Grand Palace, a dazzling display of Thai architecture and culture, where the revered Temple of the Emerald Buddha stands in intricate splendor. Meander through the hustle and bustle of Chinatown's alleyways, savor the sensory delights of a variety of food and bustling markets, then experience the serenity of Wat Arun (Temple of Arun) as it reflects the setting sun on the Chao Phraya River. Uncover the city's iconic landmarks on a leisurely cruise along the river, while in the evening visit Asiatique The Riverfront, which offers shopping, dining and entertainment. Finally, explore Bangkok's modern side, shopping at luxury malls like Siam Paragon, and ending your trip with dazzling nightlife in vibrant districts like Sukhumvit. This two-night adventure combines tradition and innovation to create memories to cherish.