Myanmar
Hotelier leverages ties to Myanmar military chief to build hotel empire
Amazing Hotels & Resorts Group has become the most successful hotelier in Myanmar's hotel industry since coup leader Min Aung Hlaing became military chief in 2011.
The group was founded by tour operator and hotelier U Aung Myo Min Din, who is currently the chairman of the Myanmar Hoteliers Association.
In high school, U Aung Myo Min Din was a student of Min Aung Hlaing's wife, Daw Kyu Kyu Hla, who was a teacher at the time. Business sources told The Irrawaddy that U Aung Myo Min Din was well-liked by Min Aung Hlaing's family because he was well-mannered and hard-working.
"It was U Aung Myo Min Din who introduced Ko Aung Pyae Sone, son of military chieftain, into the hotel industry," a Yangon businessman who asked not to be named told The Irrawaddy. Zula Beach Resort is owned by Aung Pyae Sone.
Before 2010, U Aung Myo Min Din reportedly operated a travel company, Adventure Myanmar Travel, and four hotels, including Hotel Amazing Kaytu in Taungoo, Bago.
Over the next seven years, his business grew to encompass 12 hotels and resorts under the "Amazing" brand, an unusually rapid expansion for Myanmar, where it is difficult to obtain bank loans and raise capital. These multimillion-dollar luxury hotels are located in the country's most popular destinations, including the commercial capital Yangon, Mandalay and multiple beaches.
Amazing Hotels & Resorts Group said it is currently building a new hotel with more than 300 rooms and an 87-apartment luxury residence in Yangon, as well as expanding its resorts on Inle Lake in Shan State and Ngaburi Beach in Rakhine State. .
"Every businessman knows who can get a lot of money from whom, and who can help him expand his business in Myanmar in a short period of time." A travel agency source said.
Myanmar's tourism and hotel industry boomed from 2011 to 2019 as the country implemented reforms. However, no other travel agency or hotelier can match U Aung Myo Min Din's investment of hundreds of millions of dollars in just five or six years during this period, according to travel agencies who have been in the industry. For more than twenty years.
Since 2010, U Aung Myo Min Din has added 12 hotels to its chain, including the Amazing Ngapali Resort, which is being built on disputed land in the popular Rakhine state beach destination.
The land was expropriated by the Burmese military in 2000, allegedly to expand a compound occupied by local troops. However, the military compound was never built and, starting around 2013, the land was leased to various companies for hotel construction, including Max Myanmar Co., owned by military confidant U Zaw Zaw. U Aung Myo Min Din acquired the still-under-construction hotel from U Zaw Zaw in 2015 and renamed it Amazing Ngapali Resort.
When asked about this by The Irrawaddy, U Aung Myo Min Din vehemently denied receiving any support for his business from Min Aung Hlaing's family. He also denied close ties to the coup leader's family.
"The claim that (Min Aung Hlaing's family) is financially supporting (my company) behind the scenes is 100% untrue. I bid when they (the government) called for tenders and only when I submitted the winning bid did I receive it Contracts. My bids have been lost many times," he said.
He said his hotel group was wholly owned by him and financed by his own profits and bank loans, which he said he obtained by submitting contracts.
U Aung Myo Min Din said he currently owes 28 billion kyat ($15.75 million) to two local private banks, CB Bank and AYA Bank, due to the recent recession.
Asked about his relationship with the coup leader's son, U Aung Pyae Sone, he said: "Frankly, I don't spend much time with him."
Although the land in the Ngaburi hotel area is said to be military property, in fact the ownership is shared by some high-ranking military officials, including former dictator Than Shwe, ex-military spy chief Khin Nyunt and the family of the late dictator Ne Win. They lease the land and related permits to cronies.
Another military-related property that U Aung Myo Min Din has secured a long-term lease is the Kengtung Hotel.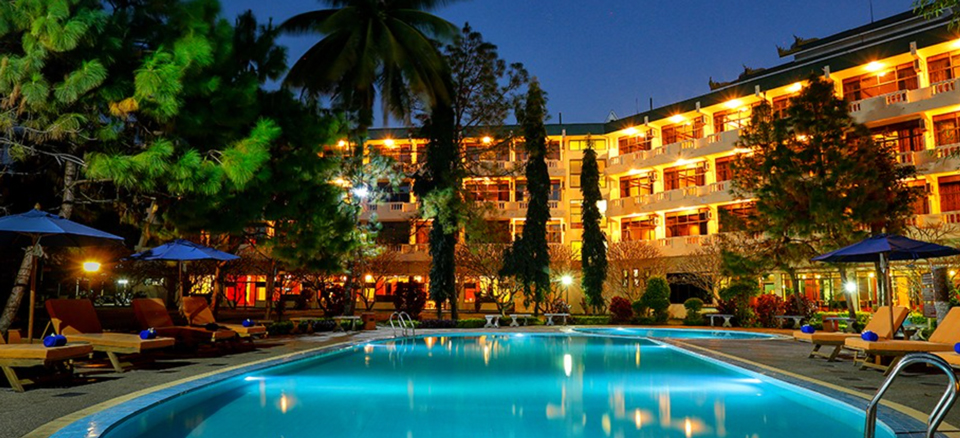 The hotel is located on the site of the former Kengtung Palace, which was completed in 1906 by Sao Kawn Kiao Intaleng, the 40th hereditary chief of King Tung. The palace was occupied by the Burmese military during the 1962 coup and was used as a government office until it was demolished in 1991 to make way for a hotel. The hotel has occasionally changed hands over the years, but only to those with ties to top military generals. In 2015, it was taken over by U Aung Myo Min Din and renamed it Amazing Keng Tong Resort.
Despite U Aung Myat Mintin's denials, he has apparently won concessions beyond the reach of ordinary businessmen.
Sources told The Irrawaddy that when Min Aung Hlaing's relatives, including his wife Kyu Kyu Hla, travel, they usually stay in great hotels and Min Aung Hlaing Hlaing) does not deny this.
"We are businessmen. Under the previous government, Aung San Suu Kyi visited Bagan and stayed at my hotel. When President U Thein Sein visited Keng Tung (he stayed at my hotel). In the same year, Aung San Suu Kyi came to To Jingdong, also staying at my hotel. When we run a hotel, we have to accept anyone who comes to stay at our hotel," said U Aung Myo Min Din.
You might also like these stories:
Myanmar civilian forces claim dozens of junta soldiers killed in landmine attacks, ambushes
Mandalay resistance fighters claim to have killed two Burmese soldiers
'Leave me alone' Hun Sen tells critics plans to meet Myanmar junta leader