Indonesia
Green Carbon Co., Ltd. attended the "Karya Kreatif Indonesia 2023" business conference hosted by the Bank of Indonesia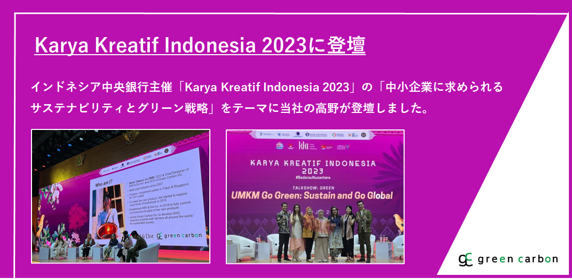 ◆ Karya Kreatif Indonesia*1 2023 Overview and Background
Organized annually by Bank Indonesia, the event aims to contribute to the further development of SMEs by presenting business matching and latest trends, trends and technologies.
A total of 150 people including senior officials of the Indonesian government, staff of Bank Indonesia branches, and small and medium-sized enterprises invited by the organizer participated. Starting from the introduction of the roadmap, examples of the efforts of the government and various industries were introduced.
Green Carbon is facilitating the creation of carbon credits, mainly in South East Asia (Philippines, Vietnam and Bangladesh), by capitalizing on the reduction of methane gas in rice fields. This time, we are consulted by the Central Bank of Indonesia and explain the potential to create carbon credits from Indonesian agriculture.
On the day of the event, a talk show themed "Sustainable Development and Green Strategies Needed by SMEs" introduced green strategies, the importance of environmental considerations, and the possibility of agricultural decarbonization projects, and spoke highly of the Green Carbon Initiative . Thanks.
In the future, in addition to the Philippines, Vietnam, and Bangladesh, we will also promote the demonstration of methane gas emission reduction and carbon credit creation in Indonesia, and cooperate with local universities and research institutions.
※1: 2023 Indonesian Creative Works: https://www.bi.go.id/id/kki2023/default.aspx
*2: "Nationally Determined Contributions"
https://unfccc.int/sites/default/files/NDC/2022-06/Philippines%20-%20NDC.pdf
○ Guests
・Deputy Governor, Central Bank of Indonesia
Mr. Filianisi Hendata
・Minister of Small and Medium Business Development and General Finance
Mr Jerusha MS Chani
・Director of the Green Industry Center of the Ministry of Industry and Information Technology
Mr. Herman Spriiadi
・PT Bloom Agro founder
Ms Emily Stuart
○ Speaker information
Takano Lily
With 10 years of investment experience as an institutional investor in financial institutions in Singapore and Japan, as well as due diligence on global alternative investments, he became interested in new investment areas. Lived on a permaculture farm during lockdown and became interested in land preparation and agroforestry using organic farming methods. In addition, he is also engaged in connecting Indonesia and Japan in his own company. Worked in Green Carbon Co., Ltd., engaged in overseas development and management strategies.
◆ Green Carbon Business Introduction
Green Carbon's vision is to "save the planet with the power of life" and grows its business primarily through the creation and sale of carbon credits. In the carbon credit business, we provide end-to-end support for (J-Credit, Voluntary Credit, JCM) registration and sales. In addition, we also develop agriculture-related businesses, environment-related businesses, and ESG consulting companies. I'm here. In addition, we have expanded our business not only in Japan but also overseas, operating in a wide range of regions from Southeast Asia to Central and South America, mainly the Philippines, Vietnam, Bangladesh, Australia, Costa Rica, etc. In the Philippines, we are working with a local university to demonstrate a project to reduce methane gas in rice fields. In Vietnam and Bangladesh, we are also working with local businesses, universities and research institutions on projects to reduce methane gas from rice paddies. In Australia we plan to start a project to register ACCUs on agricultural land. We partnered with the Japan International Cooperation Agency (JICA) to begin demonstration farmland storage in Latin America and the Caribbean.
● Green Carbon Co., Ltd.
Commodity name: Green carbon
Representative: Representative Director Jun Daeki
Location: 6th Floor, Spline Ao Tokyu Building, 3-1-3 Minami-Aoyama, Minato-ku, Tokyo
Established: December 2019
Business description: Carbon credit creation and sales business, agriculture-related business, environment-related business,
Other related business and consulting
URL: http://green-carbon.co.jp/