South Korea
From street food to restaurants: Why South Korea could be the next vegan hotspot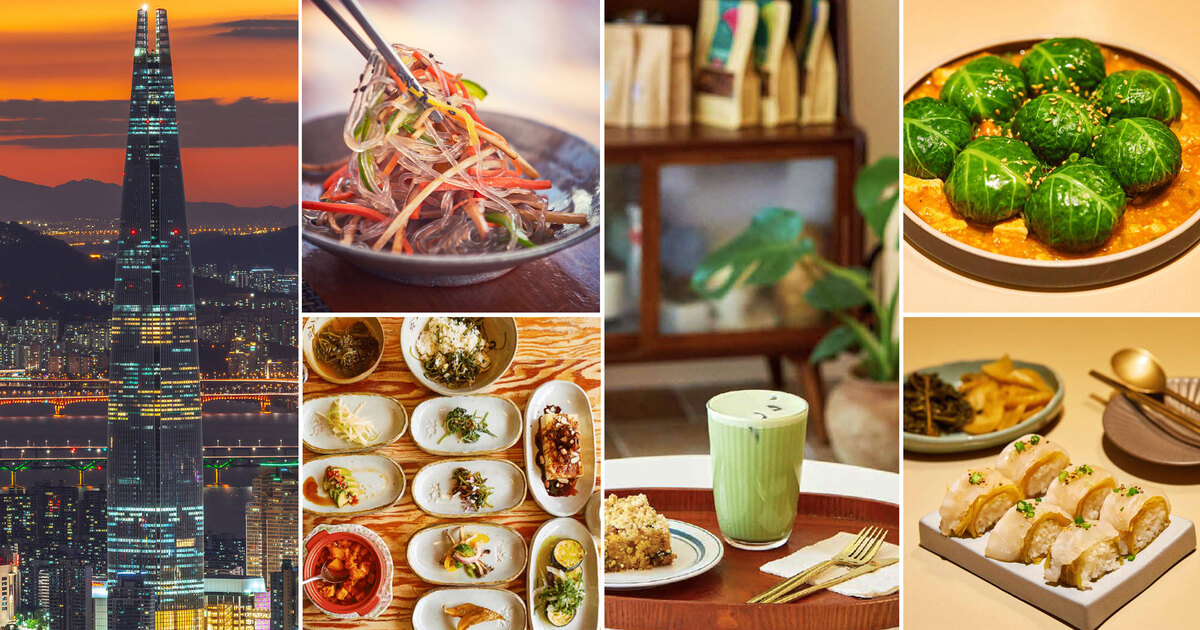 When you're choosing a vacation destination, there are probably a few things you'll be checking off your checklist. It might be something like this: breathtaking scenery, vibrant nightlife, rich culture and fascinating history. But there's no question that good food is one of the most important vacation must-haves for most vegan travelers. South Korea does have it all – and the scenery, the nightlife, the culture, the history…well, you get the idea, it has it all.
When talking about Korean food, kimchi may be the first thing that comes to mind. Spicy kimchi is popular all over the world and has become a symbol of the cuisine of Asian countries. Kimchi is usually vegan (when made without fish sauce), and despite the country's high rate of meat consumption, it's actually not uncommon for traditional Korean dishes. It wasn't until the end of the Korean War that meat consumption exploded, meaning that much of the country's cuisine has vegetarian origins. In many Buddhist temples, you'll find that plant-based dishes are still the norm for monks and nuns (more on that later).
But South Korea's modern vegan culture is thriving — especially in the capital, Seoul. In fact, Happy Cow actually has more than 600 vegetarian-friendly restaurants in this city alone, due to demand from the country's youth. According to a survey conducted in 2022, South Koreans aged 18 to 29 are the group most likely to buy vegan food. About 500,000 Koreans consider themselves vegetarians, while 1.5 million are vegetarians or flexitarians, according to the Korea Vegetarian Federation.
To see just how far plant-based cuisine has come, we spoke to several vegan travel experts (all of whom have spent time in South Korea) about their recommendations for meat-free restaurants in Seoul and their advice on finding the best Korean street food. A warning to you and your bank balance: you need to book your flight now.
Maji is one of many vegetarian restaurants in Seoul that serve temple food. | Korea Tourism Organization
Types of Korean Food
Korean BBQ is a staple in restaurants in most major cities in the United States. In fact, there are reports that there are more than 7,000 Korean BBQ restaurants across the country. Although barbecue is one of South Korea's most popular exports, there's much more to South Korea than just bulgogi.
When you visit, you're sure to come across rice-based dishes, such as the spicy, full-flavored rice bibimbap. Essentially, the dish is plant-based, although eggs and meat are often added (just ask not to be added).Like many popular dishes, bibimbap is made with a variety of vegetables, including mung bean sprouts, spinach, and Korean radish, as well as Name (refers to edible grass or leafy greens) and a savory, sweet paste called chili sauce.
and pasta Mixed vegetableswhich features sweet potato vermicelli that can be easily vegan (as long as you don't eat meat), water cold noodles (which is a seasonal noodle made with radish water, contains no beef and is vegan), and Jajang noodles. The latter features a thick black bean sauce, vegetables, and pork, but you can also find vegan versions at several restaurants (hint: check out our restaurant recommendations below).
"Jajangmyeon might not be the most appealing food you'll eat in South Korea, but it's delicious (and it's not spicy, if you need a break from spicy food)," Verena Elha of New York Vegetarian Tours Verena Erhart said. "It also happens to be the most popular takeout dish in Korea, like pizza in America. You might even see it in Korean dramas."
Earhart also recommends ordering large quantities banchanwhich is a small, usually vegetable-based side dish served in Korean restaurants.
But if you're a vegan tourist, one of the top plant-based food places you should head to first is a temple. "Be sure to try temple food before leaving Korea," Earhart said. "It's a vegan's best friend."
Not eating meat is the norm at these peaceful Buddhist places of worship. Of course, you'll find kimchi, as well as simple, low-waste meals like tofu stew and rice soup. The food is shallot-free (so you won't find ingredients like onion and garlic), super simple, healthy, sustainable and vegan (except for the occasional use of honey).
Donna Zeigfinger of Green Earth Travel, who visited Jeongwansa Temple, a 12th-century Buddhist temple in Seoul's Bukhansan National Park, agrees that temple food is a step up in flavor and experience. "I love the vibe of the temple," she said. "I really thought it was going to be bland food, gosh, was I wrong?"
The number of vegan and vegetarian restaurants in Seoul is growing. | Korea Tourism Organization
Korean street food suitable for vegetarians
When it comes to Korean food, you also can't ignore the variety of street food offerings for locals and tourists alike.
Food stalls have been an important part of Korean cultural DNA since the 1300s and are an integral part of the lives of the locals.In fact, leading travel platforms cultural trip Even described Seoul as "one big open-air restaurant". There's also good news for vegan tourists, and while there's no denying the meat-based meat here, you'll still find it easy to find plant-based food as you wander the streets for a quick, tasty meal. based food – if you know what you are looking for. Zeigfinger recommends looking for the most traditional dishes first.
"Look for Gimbap (seaweed rice rolls), Fried rice cake (spicy rice cake), and Mixed vegetables', she says, and the products are either already animal-free or you can ask for a modification. "Don't hesitate to ask food suppliers if they can make vegan dishes," she adds.
Kim Giovacco, founder of Veg Jaunts and Journeys, also recommends looking for kimbap or fried rice cakes. "It was very easy and casual food, and I absolutely loved it. It felt like comfort food to me," she recalls. Erhon is also a proponent of the motto "the simpler the better" in the Korean street food scene. Like Giovacco and Zeigfinger, she's come across kimbap and fried rice cakes that are vegetarian-friendly, but she has a few different recommendations.
"Roasted chestnuts or ginkgo are great," she notes. "If you're traveling in the fall, you should try the fresh persimmons (or buy the dried ones, it's a whole process). Ganzidian Also the Korean version of hash browns or Swiss rosti, is a type of pancake usually made only from potatoes. ' She added, 'Other pancakes like good bandage (made from mung beans) Usually but not always vegetarian (some use eggs). "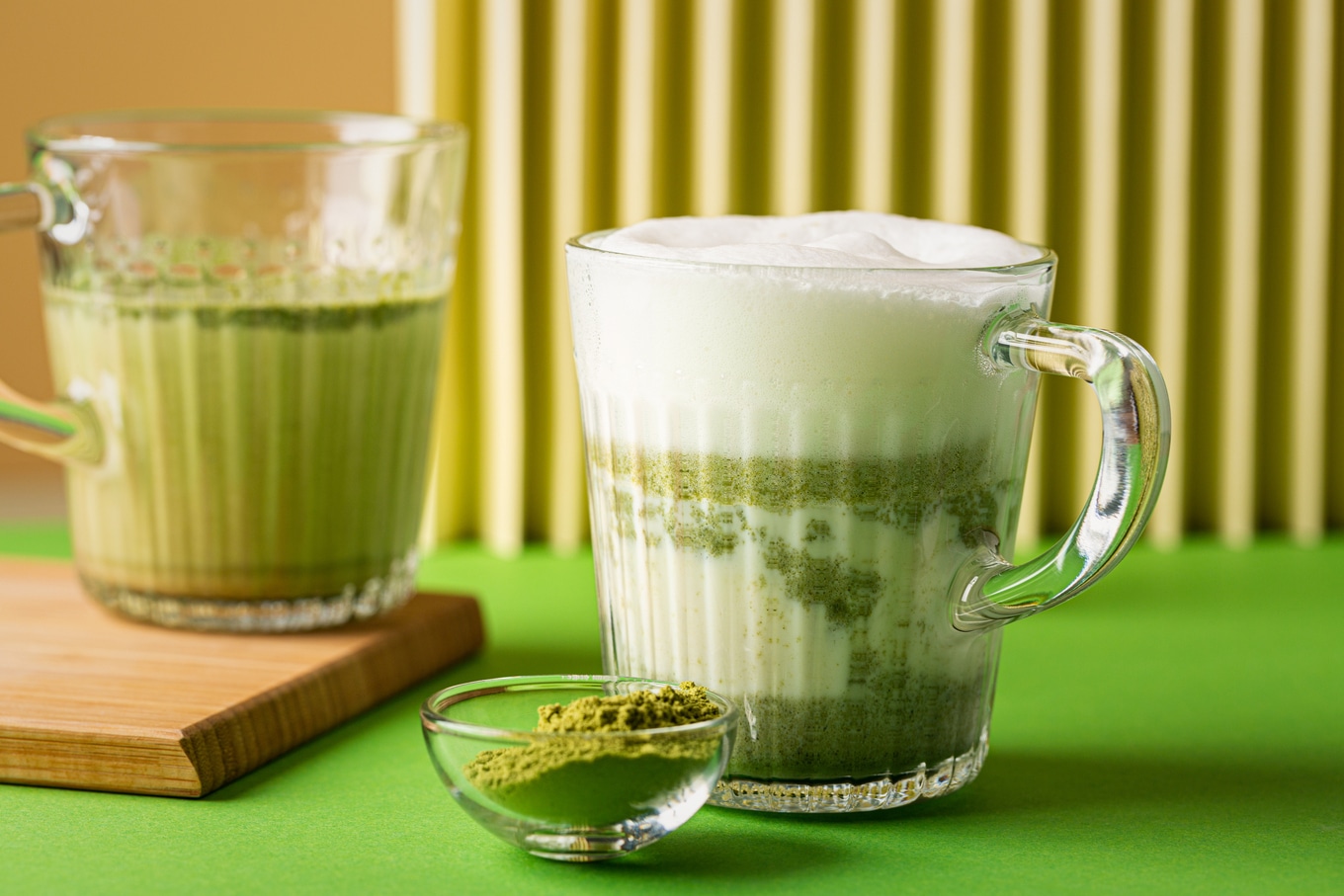 Expect to enjoy plenty of matcha green tea in Korea. | Getty
How to Plan a Vegetarian Trip to South Korea
Most tourists start their visit to South Korea in Seoul, which offers visitors a perfect blend of futuristic innovation and culture alongside stunning temples, scenery and food. But don't overlook the rest of this beautiful country. For modern history, head to the North Korean Demilitarized Zone; for volcanic beach resorts, Jeju Island is a must; and the port city of Busan has everything from coastlines to nature reserves to natural hot springs.
To get the most out of your trip, consider booking travel through a vegan travel agency. World Vegan Travel is planning luxury trips to Japan and South Korea in 2024 and 2025, and Vegan Tours New York will head to the country in October 2024. But if you prefer to figure things out on your own, you can also head to the Korea Tourism Organization website for advice and tips on activities, transportation, food, accommodation and more.
Top 5 Vegetarian Restaurants in Seoul, According to Travel Experts
Here are some of the top vegan restaurants to try, according to our South Korea travel experts, proving that Seoul is a vegan hotspot. Because if you're traveling from this bustling city, the most important thing to do when you get there is to have a full stomach.and don't forget to say jarmek sumnida before you tuck it in.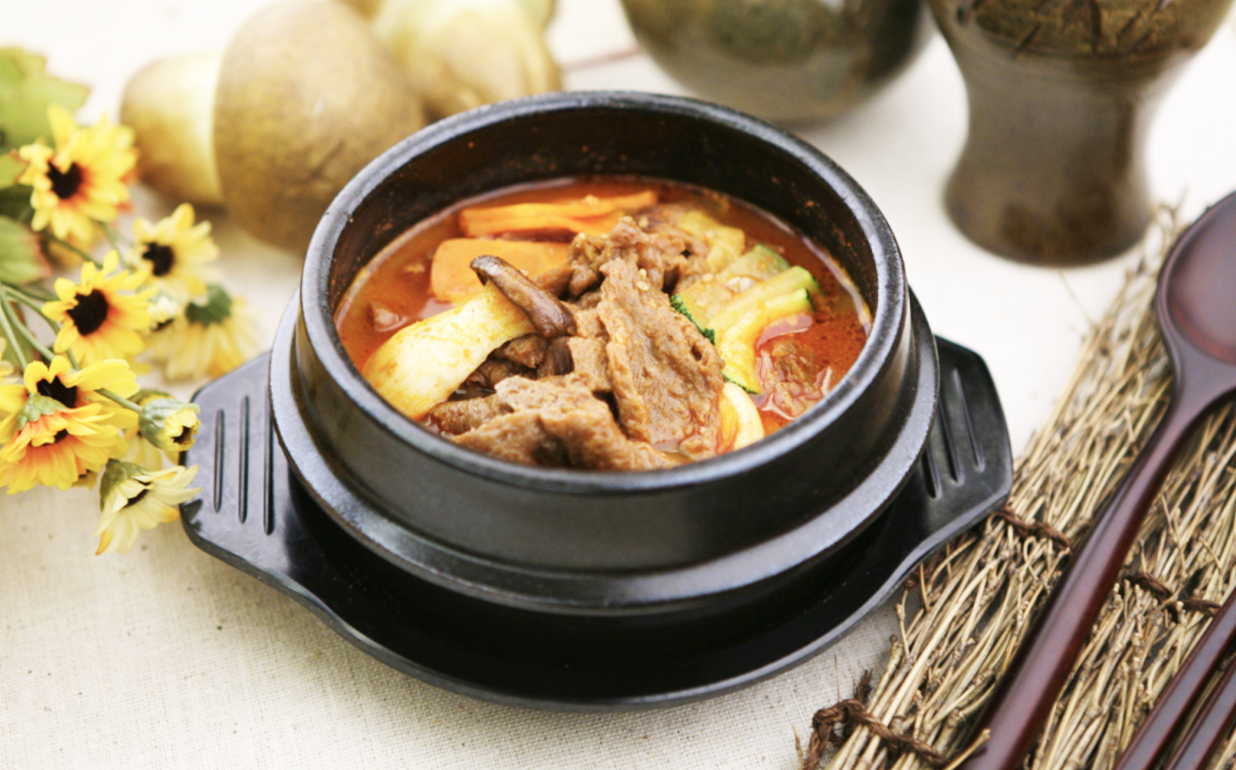 Oh Se-Gye-Hyang serves "heart-warming" stews in winter. | Wu Shi Guixiang
1 Wu Shiguixiang
"I really like the atmosphere and the food at Oh Se-gye-hyang—they serve delicious cold noodle dishes in the hot summer months, and heartwarming stews in the winter," Earhart says. "In the shopping area, you feel like you've stepped into a traditional Korean house. You need to take off your shoes (in general, be prepared to do so a lot!) and sit on the floor to enjoy your meal. Western-style tables and chairs are also a choose."
learn more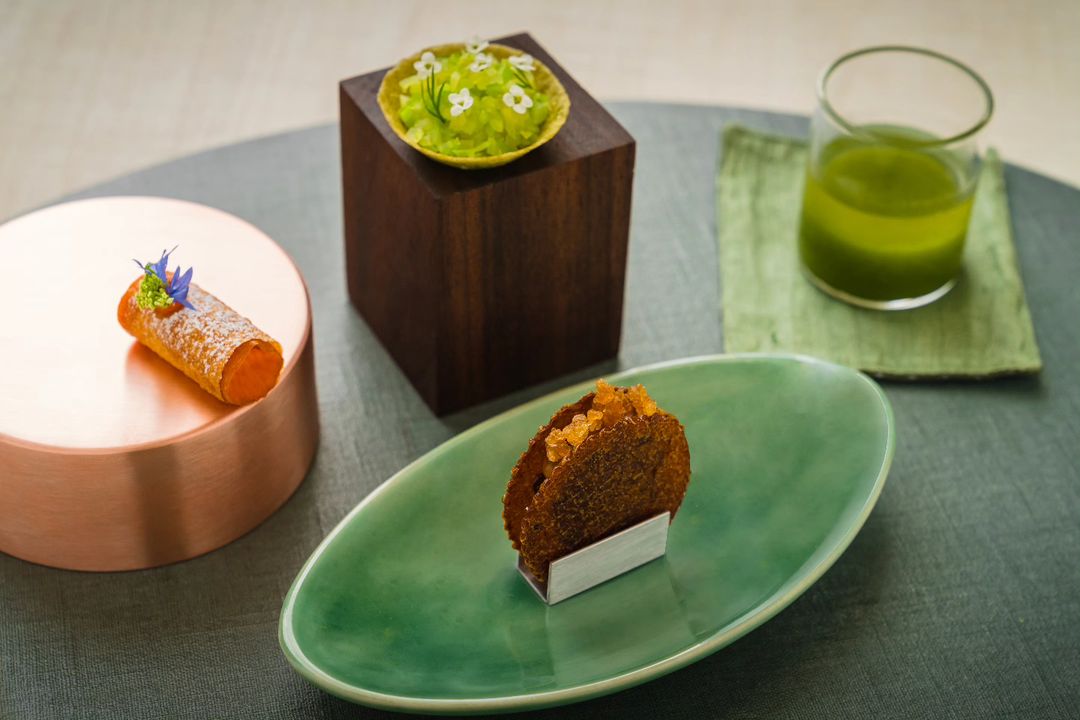 Head to the Forest Kitchen for delicious, art-inspired cuisine. | Forest Kitchen
2 forest kitchen
"This place knows how to stand out with great service, a cool vibe and a multi-course menu," says Breed Reed of World Vegan Travel. "It was a feast for the senses, each dish was artistically presented and the richness of flavors wowed us. Forest Kitchen has a way of fusing Korean ingredients with exotic ingredients like fresh truffles and white asparagus, and the results are amazing Marvel."
learn more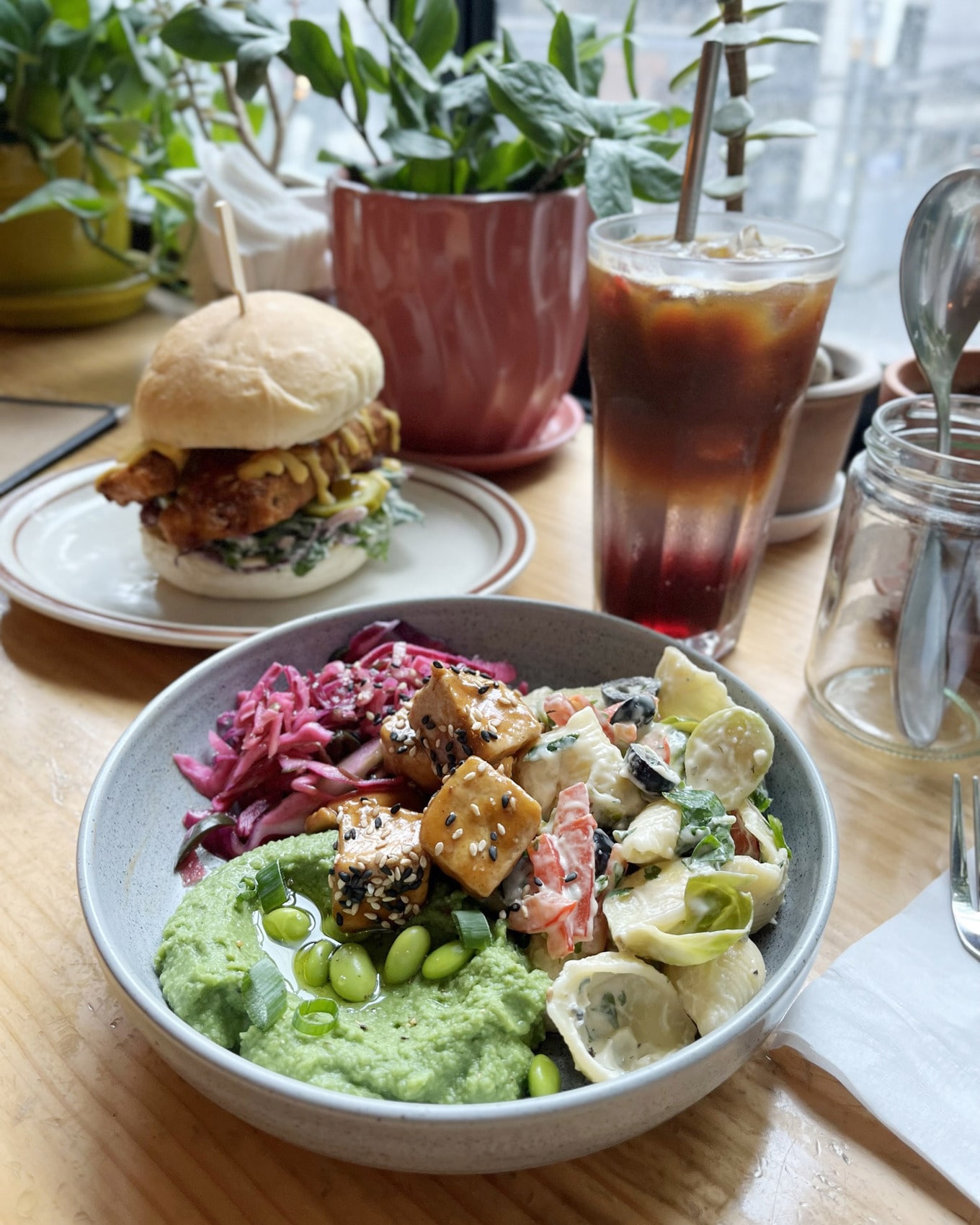 Plant Cafe specializes in Western food and has two branches in Seoul. | Plant Cafe
3 plant cafe
"If you start craving Western food, I go to Plant Cafe, which has two locations in Seoul," Earhart said. "They make amazing burgers and some of the best vegan desserts like banana panna cotta and black sesame cake."
learn more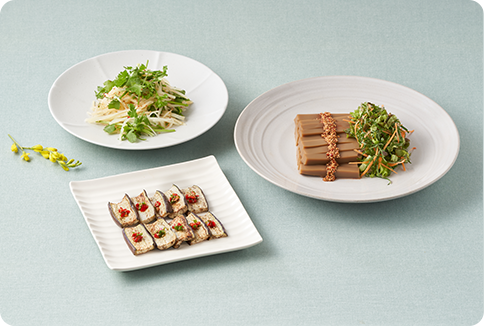 Fa Niu Ram serves traditional temple delicacies. | Balu Ram
4 balu ram
"While alliums such as onion and garlic are not used in temple food, it is very tasty and pure, often reflecting the current season," adds Earhart. "In Seoul, I recommend the Michelin-starred Fa Niu Ram, but it's even more special if you have the chance to try temple food in an actual temple."
learn more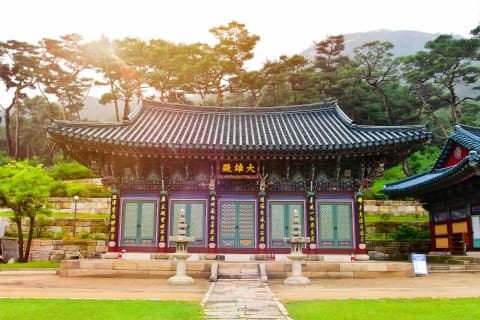 For authentic temple food, head to Jinkwansa Temple in Seoul. | Getty
5 Zhenkuan Temple
Jinkwansa is technically a temple, not a restaurant, but the experience was an outstanding one for Zeigfinger. "We sampled crispy vegetables, marinated tofu, mushroom fritters, fermented turnips, chestnut stew, and cubes of sweet sticky rice sprinkled with fruit and nuts. But I loved the custom of the way it was served," she recalls. "Everything is grown in the temple, and it's all organic. But I think the most memorable thing is the temple and its surroundings."
learn more
Thanks to the Korea Tourism Organization for partnering with VegNews to cover this story.
For more vegan travel, read: