Thailand
FlyArystan to launch Almaty-Delhi and Astana routes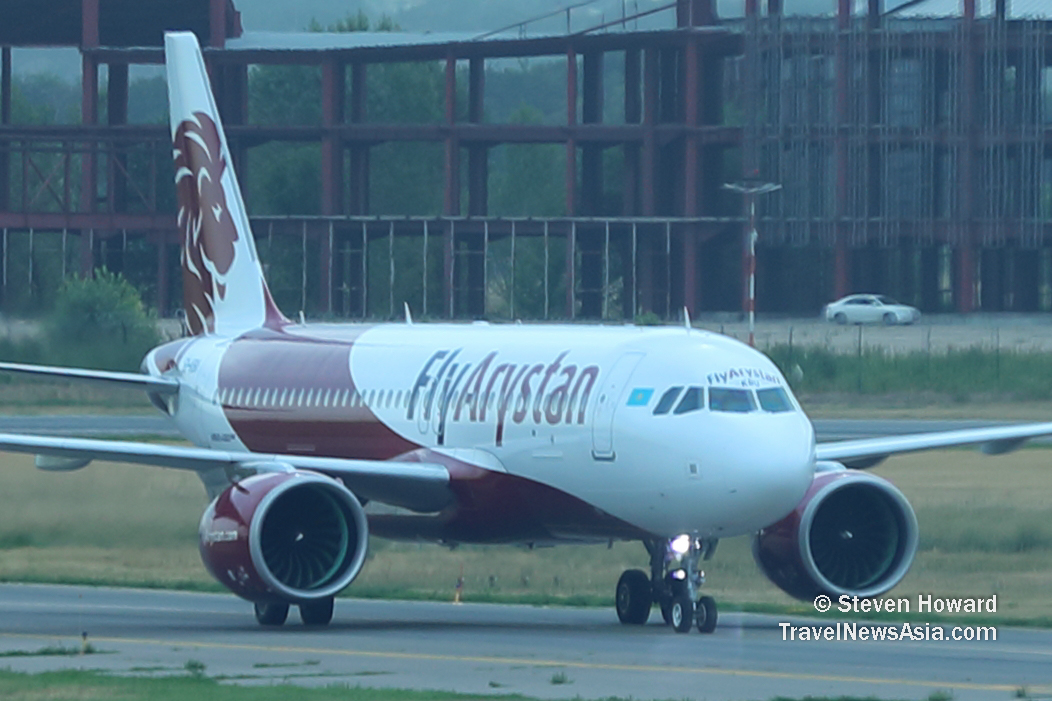 dark/light mode
(04/09/23)
FlyArystan, the low-cost carrier subsidiary of Air Astana, has unveiled plans to expand its international network with new flights to India and Central Asia.
FlyArystan currently operates a fleet of 16 Airbus A320s and plans to take delivery of two more A320neo aircraft by the end of 2023.
The airline's new flight from Almaty to New Delhi, scheduled to start in late September, will be its second flight to India after a flight between Shymkent and New Delhi in May 2023.
FlyArystan will launch additional flights between Astana and Tajikistan's capital Dushanbe in October.
FlyArystan Airbus A320 at Almaty International Airport (Alabama).Photo by Steven Howard of TravelNewsAsia.com
Besides India, FlyArystan is currently flying from Kazakhstan to destinations in Azerbaijan, China, Georgia, Kyrgyzstan, Qatar, Turkey, UAE and Uzbekistan.
The airline is also evaluating the launch of flights to Abu Dhabi (UAE), Oman and Saudi Arabia in the next phase of its network expansion.
Peter Foster, President and CEO of Air Astana Group, said: "The launch of FlyArystan in May 2019 has proven to be a huge success for Air Astana Group in tapping into the fast-growing low-cost markets of Kazakhstan and Central Asia. "With demand from an entirely new segment of passengers in these markets growing dramatically, international network expansion enters an exciting new phase, with service launches in the dynamic Indian and Central Asian markets, as well as cities in other markets in the Middle East. Horizon."
FlyArystan started operations in May 2019 and operates an integrated network based in Almaty, Astana, Atyrau, Aktau and Shymkent.
FlyArystan is one of 12 low-cost airlines worldwide to receive a Skytrax 4-star rating in 2022 and was named Best Low-Cost Airline in Central Asia and the CIS at the prestigious Skytrax World Airline Awards earlier this year. cost airlines.
see also:
Electric Airport Taxi at Almaty Airport (ALA), Kazakhstan – Exclusive Video Interview with Auez Tulegenov, Co-Founder of Novotel Living Kazakhstan and Ibis Almaty Jetisu Hotel – Interview with General Manager Arseniy Tagaev, and
Almaty Marathon 2023 – Video interview with CEO Saltanat Kazybayeva.