Thailand
"F4 Thai/BOYS OVER FLOWERS" (Thailand version of "Boys Over Flowers") will host a 4-person fan event Asian tour in Pia Arena, Japan in March 2023! | Thailand News Cross Bomber (X-bomber Thailand)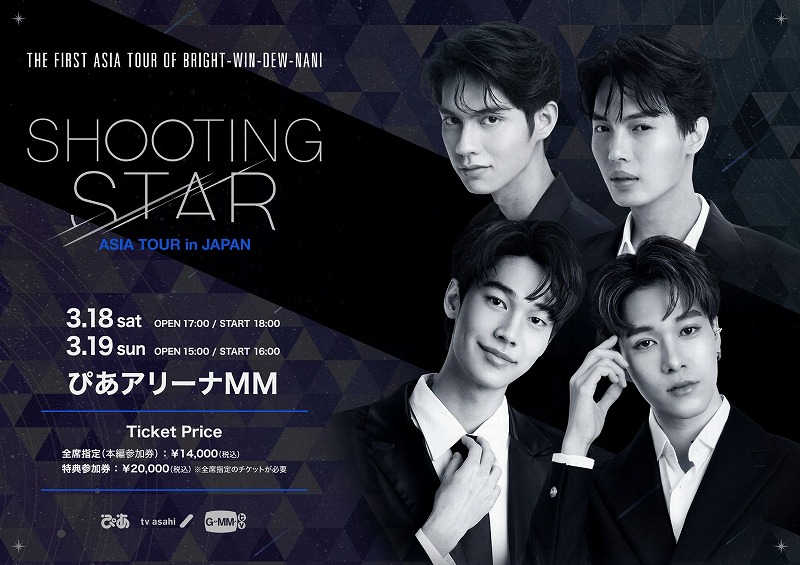 The Asia tour "Shooting Star Asia Tour" is a fan event for Bright, Win, Dew, Nani who are very popular not only in Japan but throughout Asia. The popular performance that was originally announced to be held in Indonesia, Malaysia, the Philippines, Taiwan, Vietnam and other places in Asia will finally be held in Japan! ! Four popular Thai actors who are popular all over the world come to Japan! !
▼Shooting Star Asia Tour Japan Tour Summary
Schedule: March 18, 2023 (Saturday) 17:00 opening 18:00 performance
March 19, 2023 (Sun) 15:00 opening 16:00 performance
Venue: Pia Arena MM (3-2-2 Minatomirai, Nishi-ku, Yokohama, Kanagawa Prefecture 220-0012)
(appearance)
Bright (Vachirawit Chivaaree)
Win-Win (Metawin Opas-iamkajorn)
Lu (Jirawat Sutivanichsak)
Nani (Hirunkit Changkham)
(ticket)
・All seats designated (main ticket): 14,000 yen (tax included)
(Benefits for all visitors): event photo card (4 pieces)
・Special participation ticket: 20,000 yen (tax included)
*A ticket with all seats reserved is required to participate.
(One full seat ticket (main ticket) is required for each special ticket.)
(Special content)
① Enter through the VIP entrance gate
② Group photo (4:10)
③ VIP pass (neck strap)
④Official event posters (200 random signatures for each event)
Sponsor/Planner/Producer: Pia Corporation, TV Asahi, GMMTV Co., Ltd.
* Depending on the spread of the new coronavirus infection, it may be canceled or changed.
▼Ticket Information
Official fastest pre-sale (acceptance by lottery) *Only for all designated seats (participation tickets for the main article)
・Reception period (Japan time): January 31 (Tuesday) 12:00 to February 6 (Monday) 23:59
・Reception URL: https://w.pia.jp/t/shooting-star/
※Reception of special participation tickets (reception by lottery) is scheduled to take place in mid-to-late February. Further details will be announced at a later date.

▼ Follow-up and details
Detailed information will be announced on the official Japanese performance website, official Twitter, event page, etc.
・Japanese performance event page https://w.pia.jp/t/shooting-star/
・Official Twitter of the show: (@shootingstarJPN)https://twitter.com/shootingstarJPN
・Ticket Pia (@news_pia)https://twitter.com/news_pia
・TV Asahi Thailand content (@tvasahi_thai)https://twitter.com/tvasahi_thai
・TV Asahi Thailand content (@tvasahi_thai) https://www.instagram.com/tvasahi_thai/
・Hashtag #ShootingStarinJapan
▼Introduction
Bright (Vachirawit Chivaaree)
Born on December 27, 1997. Height 183 cm.
Representative works: "2gether" "Still 2gether" "F4 Thailand/BOYS OVER FLOWERS"
Twitter: @bbrightvc
Instagram: bbrightvc
Win-Win (Metawin Opas-iamkajorn)
Born on February 21, 1999. Height 185 cm.
Representative works: "2gether" "Still 2gether" "F4 Thailand/BOYS OVER FLOWERS
Twitter: @winmetawin
Instagram: winmetawin
Lu (Jirawat Sutivanichsak)
Born on October 30, 2000. Height 190 cm.
Representative work: "F4 Thailand/BOYS OVER FLOWERS"
Twitter: @dew_jsu
Instagram: dew_jsu
Nani (Hirunkit Changkham)
Born on October 30, 1997. Height 180 cm.
Representative work: "F4 Thailand/BOYS OVER FLOWERS"
Twitter: @Hirunkit_
Instagram: hirunkit