Thailand
Entry requirements – Thailand travel advice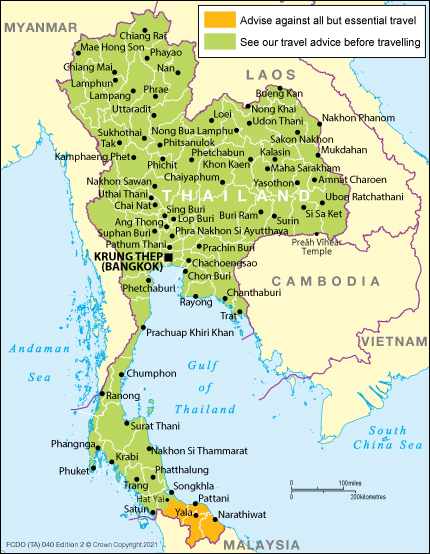 This page contains information about travelling to Thailand.
This page reflects the UK Government's understanding of the current rules for those travelling on a full "British Citizen" passport, which apply to the most common types of travel.
Thai authorities set and enforce entry rules. If you are not sure how Thailand's entry requirements apply to you, please contact their UK embassy, ​​high commission or consulate.
All passengers
From July 1, you no longer need to apply for a permit to enter Thailand.
You still need to show proof of the vaccine or proof of a negative COVID-19 test result.
Airline staff will check the vaccine certificate or pro-ATK/RT-PCR results (within 72 hours) at check-in and again when you arrive in Thailand.
The $10,000 COVID-19 treatment coverage requirement will no longer be mandatory, but highly recommended.
If you are fully vaccinated
You must show proof of your vaccination status.
Proof of vaccination status
All persons 18 years of age or older must have proof of vaccination.
Thailand will accept UK COVID-19 vaccination records and UK COVID-19 recovery certificates. Your last dose of vaccine must be given at least 14 days before travel. The NHS appointment card you get from a vaccination centre is not intended to be used as proof of vaccination and should not be used to certify your vaccination status.
If you are not fully vaccinated
If you are not fully vaccinated, you must provide proof of a negative RT-PCR test or professional lateral flow test within 72 hours of travel. If you do not test negative upon arrival, you must follow the public health instructions and guidelines deemed appropriate by the health control officer upon arrival. All expenses incurred will be borne by the traveler.
If you have been infected with COVID-19 in the past year
Thailand entry requirements are the same for all travelers, regardless of whether you have tested positive for COVID-19 in the past year.
Residents of Thailand
If you hold a Thai resident visa and normally reside in Thailand, but you are unable to return within the stipulated year, the Thai authorities will allow you to extend the mandatory return period. You must return to Thailand as soon as possible.
children and adolescents
Children 17 years and younger can enter Thailand on the same schedule as their parents or legal guardians without showing proof of vaccination.
For more information on entry requirements for children, please visit the Ministry of Foreign Affairs website.
If your child tests positive for COVID-19, you may be separated from them. If this happens and you need help, you can contact the embassy on +66 (0)2 305 8333.
If you are transiting through Thailand
Transit is when you pass through a country on your way to your final destination.
Please check with your airline before departure.
exempt
There are no exemptions from entry requirements in Thailand.
Check your passport and travel documents before travelling
passport expiry date
Your passport must be valid for at least 6 months from the date you entered Thailand. If your passport is damaged or missing pages, you may be denied entry to Thailand.
If you are dual national, you must leave Thailand using the same passport you used to enter Thailand. Otherwise, you may have difficulty getting through immigration.
visa
You need a valid visa to stay in Thailand. If you do not have a valid visa, you will have to pay an overstay penalty. You should contact your local immigration office or visit the Thailand immigration website.
The law requires you to have a valid passport in Thailand. If your passport expires, your visa will be invalid. If you need to renew or apply for a new UK passport, see Overseas UK passport application.
If you cannot renew or change your visa and cannot travel to the UK (for example because the borders are closed), please contact the British Embassy in Bangkok.
If you have any questions about visa or entry requirements, please consult the Royal Thai Embassy, ​​the Department of Immigration of Thailand and the Ministry of Foreign Affairs of Thailand.
Thai authorities may take further measures against COVID-19. You can monitor the latest updates from the Thai Ministry of Public Health website.
Under normal circumstances, UK passport holders arriving by air or land can enter Thailand visa-free for 30 days ("Visa-Free"). If you need to stay longer, you can extend your stay once, up to a maximum of 30 days. You must apply for an extension before the visa waiver period ends.
You can use the 30-day visa-free entry to Thailand through the land border 2 times in a year. If you need to enter more by land, you will need to obtain the appropriate visa before travelling. For more information, please contact the nearest Thai embassy or consulate.
If you plan to stay longer than 30 days or you will be working in Thailand.You must obtain the appropriate visa before travelling
The only legal way to obtain a new visa, entry permit or extension of stay is from a Thai embassy or consulate, an immigration officer when you entered Thailand, or immigration offices across the country. Visas issued by visa shops, travel agencies or any other means are likely to be illegal and lead to criminal prosecution.
If you stay longer than the visa period ("overstay"), you will be fined THB 500 per day, up to a maximum of THB 20,000. You also risk being detained, fined, deported at your own expense and banned from re-entering Thailand. Penalties for overstaying are very strict and conditions in detention centres can be harsh. Deportation by Thai authorities can be a lengthy process, and you will also be barred from re-entering Thailand for up to 10 years.
Immigration rules can be complicated and subject to change if you are living or staying in Thailand on a long-term visa. It is your responsibility to ensure that you meet the visa requirements. Stay informed and contact your local immigration office for more information.
If you have any questions about visa or entry requirements, please consult the Royal Thai Embassy or the Thai Immigration Department.
Continuing travel and proof of funds
Immigration officials in Thailand may ask you to provide proof of onward travel (such as a return or onward ticket). You should make all reservations before traveling to Thailand. Some airlines are denying passengers boarding without evidence of continued travel.
Immigration officials may also ask for proof of sufficient funds and deny entry to those who cannot prove this. This is not defined in the law and can be interpreted in a number of ways.
employment
To work in Thailand, you need a work permit or a business visa. Failure to follow this rule may result in arrest and deportation.
Yellow Fever Certificate Requirements
Check if you need a yellow fever certificate by visiting the National Travel Health Network and Centre's TravelHealthPro website.
UK emergency travel document
The UK Emergency Travel Document (ETD) can be used for entry, airside transit and exit from Thailand. If you plan to use a UK ETD to enter Thailand, you should contact the nearest Thai embassy or consulate prior to travel to inquire about the need for a visa. If you are applying for a 2-way ETD from Thailand, you must provide proof that you hold a nonimmigrant visa.