Myanmar
Entry requirements – Myanmar travel advice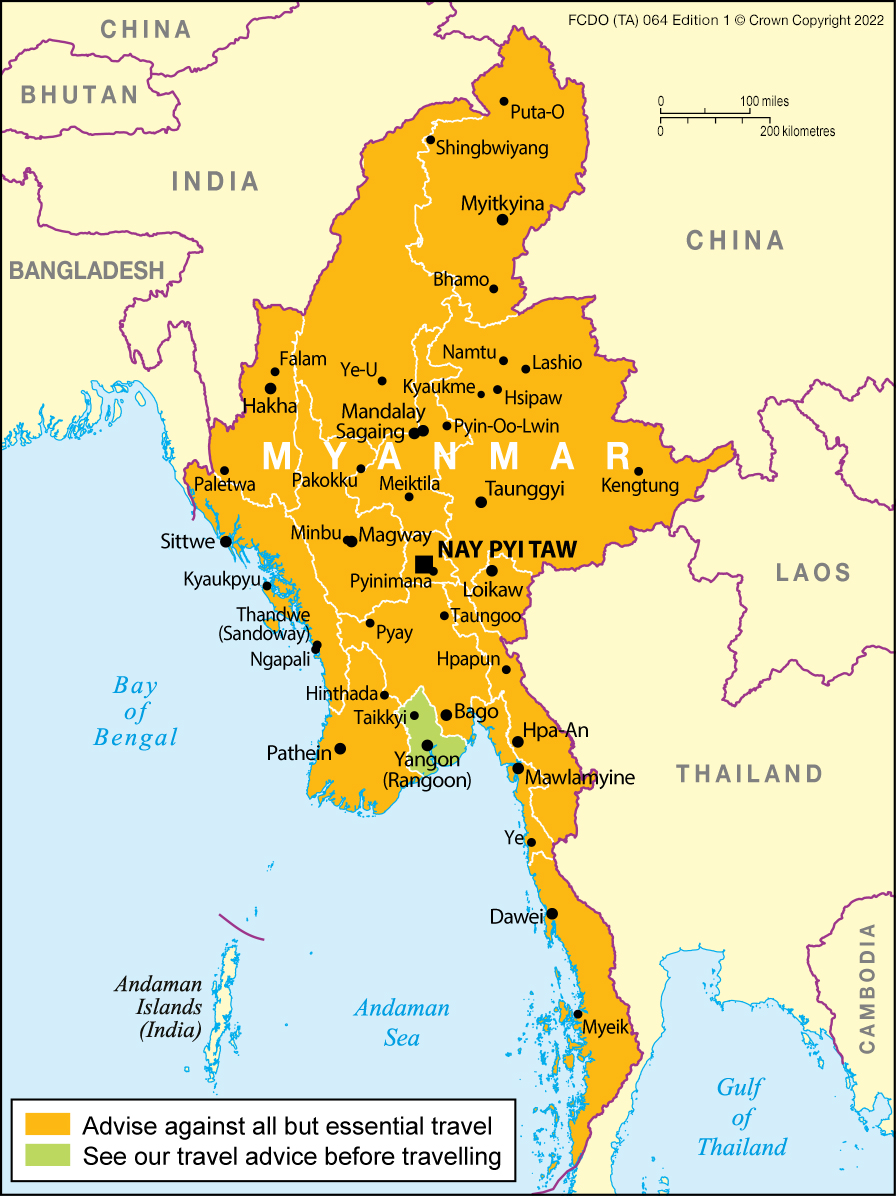 This page reflects the UK Government's understanding of the current rules for people travelling from the UK on a full "British Citizen" passport, which apply to the most common types of travel.
The Myanmar authorities set and enforce entry rules.
All passengers
COVID-19 rules and requirements may change at short notice. Before you leave, you should seek confirmation from the relevant Myanmar embassy or consulate.
Insurance
Before arriving in Myanmar, you will need to purchase a travel accident insurance policy that includes COVID 19 coverage from a Myanmar insurance company. This applies even if the traveler has worldwide insurance. Duties depend on age and length of stay (see Myanmar Insurance website for full details). Diplomats, UN officials and their families are not required to purchase Myanmar insurance, but can present proof of health insurance from their country of origin.
data collection
Upon arrival, passengers may be asked to fill out a paper form with your name, contact details and address.
If you are fully vaccinated
Arrival by commercial flight
Those arriving in Myanmar must be fully vaccinated and must show proof that they have received a second dose of the vaccine at least 14 days before arrival. Alternatively, arrivals can show evidence that they have recovered from COVID-19.
Arrivals must also provide evidence of a negative COVID-19 PCR test result. The test should be issued no more than 72 hours before the departure date at the airport of departure. You should not use the NHS testing service to test to facilitate your travel to another country. You should arrange to take a private exam. Testing requirements before entering Myanmar are subject to change. Before you leave, you should seek confirmation from the relevant Myanmar embassy or consulate.
Arrivals will need to purchase a travel accident insurance policy from Myanma Insurance that covers COVID 19 (see above).
Upon arrival, a COVID-19 rapid test application form and a health declaration form are required to be completed upon arrival, which should be provided by the airline or airport authority.
Upon arrival in Myanmar, arrivals will undergo a COVID-19 rapid antigen diagnostic test. If the test comes back negative, you are free to leave. Those showing symptoms or testing positive will be quarantined and sent to a hospital or hotel designated by the Ministry of Health at their own expense.
test positive
If you test positive for COVID-19, you will be immediately isolated and taken to a medical facility. Foreign nationals are required to pay for medical expenses and other costs associated with isolation and treatment at designated health facilities.
If hospitalized with coronavirus, patients must use government facilities, even with private insurance. Patients in government hospitals are generally expected to make their own arrangements to bring food and other necessities. Single travelers are not allowed to come out of quarantine to buy food or make phone calls.
Proof of vaccination status
Proof of vaccinations must show that you received the second dose of the vaccine at least 14 days before arrival.
Proof of receipt of the following vaccinations:
CoronaVac (Sinovac Biotech Ltd)
AstraZeneca or Covishield (AstraZeneca & University of Oxford/SK BioScience (Korea)/Siam BioScience/Serum Institute of India (SII))
Pfizer – BioNTech COVID-19 Vaccine or Comirnaty (Pfizer and BioNTech)
Janssen Pharmaceuticals Companies of Johnson and Johnson
Modem (ModemaTX, Inc.)
Sinopharm or COVILO or BIBP-CorV (Beijing Institute of Biological Products Co.Ltd)
Sputnik V (Gam-COVID-Vac) (National Research Centre for Epidemiology and Microbiology, Gamalia)
Covaxin from Bharat Biotech
If you are not fully vaccinated
If you are not fully vaccinated more than 14 days before departure, and if you arrive on a rescue flight, you will undergo a 5-day hotel quarantine upon arrival in Myanmar. You will be tested for COVID-19 twice by RT-PCR.
children and adolescents
If a child under 12 is travelling with a fully vaccinated parent or guardian, proof of recovery from COVID-19 is not required.
Children under the age of 6 are not required to present laboratory evidence of no COVID-19 infection (RT-PCR) issued within 72 hours prior to arrival in Myanmar if they are travelling with a fully vaccinated parent or guardian.
Check your passport and travel documents before travelling
Before travelling, we advise all visitors to check with the nearest Myanmar embassy or consulate to confirm whether your current visa allows you to enter, or the criteria for obtaining or renewing a visa.
visa
British nationals must apply for a visa to enter Myanmar. If you have any questions about visa or entry requirements, please consult the nearest Myanmar embassy.
Tourist VISA
You need a visa to enter or travel through Myanmar as a visitor. Tourist visas can be applied online.
business visa
Business e-Visa applications are now re-opened. Applicants need to be sponsored by a registered Myanmar company or a registered chamber of commerce association.
Proof of invitation must be submitted with the visa application in the form of a letter written in person to the applicant, accompanied by a copy of the certificate of incorporation. The letter must state the purpose and time frame of the visit. The registration status of a company can be found online at Myanmar Company Online (MyCo). NGOs and International NGOs are not eligible to sponsor visas.
passport expiry date
Your passport should be valid for at least 6 months from the date of entry into Myanmar.
yellow fever
Check if you need a yellow fever certificate by visiting the National Travel Health Network and Centre's TravelHealthPro website.
UK emergency travel document
The UK Emergency Travel Document (ETD) is not valid for entry into Myanmar. They are accepted for exit from Myanmar, but a valid visa must be added to the ETD once the documents are issued. A passport photo is required for entry and exit. If you plan to transit through another country and your airline, make sure you check with the relevant embassy. Visas may take several days to be issued, and some countries may not allow them on the ETD.
Back to the UK
Check what you must do to return to the UK.