HongKong
[Editor OKINI]Eat the latest food in Hong Kong!Bread and sweets measurement report where locals line up | ELLE Gourmet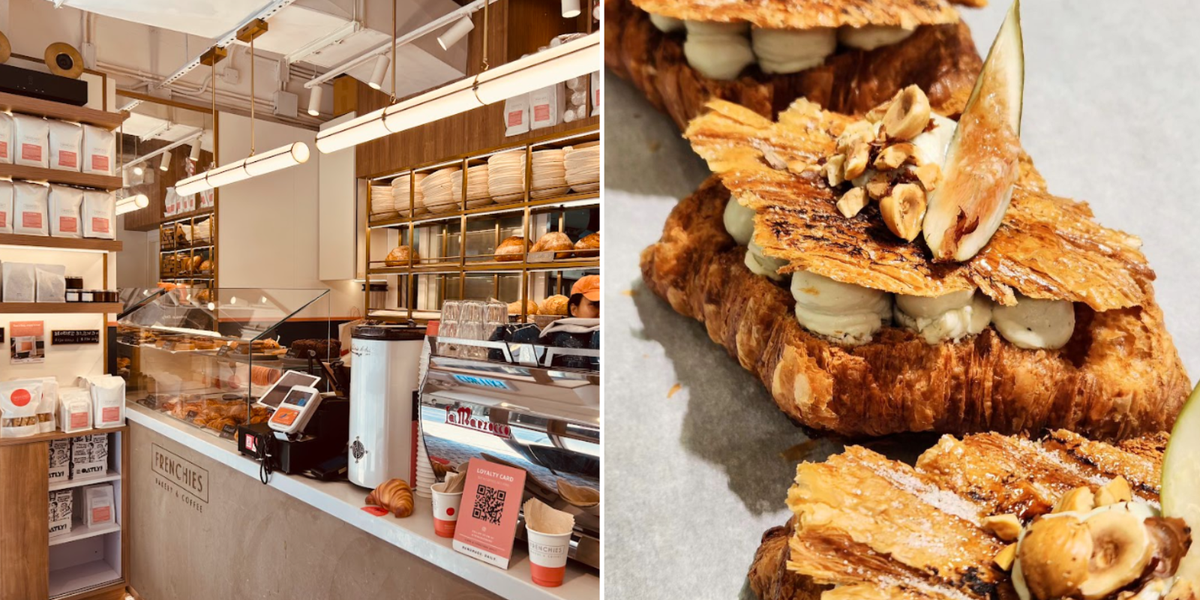 Where should you go for a restaurant in the gourmet mecca of Hong Kong? Any standard Hong Kong food I should eat is good, but recently, in addition to dim sum and dim sum, there is also bread and coffee. Introduce the latest gourmet food in Hong Kong, let you enjoy unlimited travel.
*1 Hong Kong dollar = 18.3 yen
*Information in this article is current as of June 26, 2023. Please check each SNS for the latest business hours.
5 reasons to stay at The Upper House, Hong Kong's premier luxury hotel
Jake n' me Bakery@North Point
As soon as you arrive, check out the "pudding bread" (15 Hong Kong dollars) that is currently sold in Hong Kong. It is a round baguette filled with pudding liquid that has hardened. According to local gourmets, the craze started at a bakery in Kowloon called "Kadoorie Bakery". I bought it at Jake n' me Bakery in North Point.
"Purinpan" is a hot seller. The pudding in Taptap has a strong eggy feel. The vanilla smell is also nice. If you're thinking, "Is this brioche?", you're half right. The cream feels a bit firmer and has a claim. It's also great for bread doughs with a chewy texture. Even if you go back to the hotel and eat a cold one, it is still delicious.
By the way, there is also a "potato" version. Good handwriting!
First wheat handmade baking
G/F, Tung Po Building, 483-497 King's Road, North Point, Hong Kong
Business Hours/8:00~20:00
Instagram / @jakenmebakery
Google Map
In Japanese bakeries, evolved croissants such as "croissant roll" and "pan swiss" are popular, but I heard that croissant bakeries are also popular in Hong Kong.
"FRENCHIES" is a shop opened by independent artisans from a popular bakery in Happy Valley in autumn 2021. In addition to sourdough breads that use natural yeast, there are some unusual croissants such as the "Dragon's Back" (HK$38), which is loaded with almond poodles and sprinkled with orange zest, and the "Coconut Pineapple" ( Photo: HK$38). The taste of summer, I can meet you. Fabric is wet.
Premium coffee beans sourced from Honduras, Ethiopia and El Salvador are roasted in-house. Original blend coffee comes in a cute white and pink package, and is recommended as a souvenir in Japan.
There are few seats, but there are counter seats and benches. Enjoy exquisite croissants and coffee with trendy locals.
French
39 Hollywood Road, Central, Hong Kong
Business Hours/7:00~19:00
Instagram / @frenchiesbake
Google Map
Another thing I see a lot in cafes and patisseries in Hong Kong is a large biscuit, literally the size of a baby's face. Crispy on the outside, moist and chewy on the inside, they come in a variety of flavours.
I bought a "Chewie Chocolate Chip" (HK$30) from "Vision Bakery" which opened in February 2023. This is a new store in the main store in Taiwan.
The cookies are topped with kosher salt and plenty of milk chocolate. Continuing to eat is dangerous!
This is also a croissant full of evolution. On the left is a "honey baked croissant" topped with blue cheese cream, candied figs, fresh figs and toasted hazelnuts. On the right is "Reuben Croissant," a Russian dressing topped with Swiss cheese, sauerkraut, pastrami, and enchiladas.
This combination is irresistible. A croissant that makes you want to drink wine.
visual bakery
LG Floor, Tsui Man Building, 7 Staunton Street, Central, Hong Kong
Business hours: 7:30-21:00 Saturday, Sunday and holidays 9:00-
Instagram / @visionbakery
Google Map
After Western food such as bread and biscuits, it is time to introduce Asian food while eating and walking. "Mui Wo Mao Wang" is a bread snack with a chewy texture similar to Pondequejo.
The takeaway shop located on the bustling street is full of customers. The lineup includes products with slightly sweet dough, which come in meatball (Lawson), chocolate and cheese flavours. When I asked the staff in the store, they said the most popular is "rou floss". Prices are also affordable, starting at HK$25 for a pack of 6. In addition to Wanchai, there are also branches in North Point.
Mui Wo Mochi King
G/F, 110 Wanchai Road, Wanchai, Hong Kong
Business hours/10:30-19:30
Google Map
Ching Ching Desserts@Wan Chai
When I heard that a popular dessert shop that unfortunately closed in Tin Hau had reopened in Wan Chai, I was looking forward to visiting Zhengzheng Dessert. When I visited it, it was… not a statutory holiday, but a break (tears). There are also overseas.
I borrowed a picture of a candy I wanted to eat from a Hong Kong foodie.
There are many kinds such as "Konzu Sasetsu Mon Milk Ice" with red bean coconut milk shaved ice (left: HK$46) and "Mitsukasai Beiro" with coconut milk cantaloupe and mini cassava (right: HK$37). Desserts that go well with them and the menu comes with pictures so it's easy to choose. Please mark if you have a sweet tooth. I will definitely go next time!
Crystal Dessert
Shop A1, G/F, The Peak, 8 Wanchai Road, Wanchai, Hong Kong
Telephone. +852-2578-6162
Business Hours/12:00~23:00 Saturday and Sunday 13:00~
Google Map
This is one of the places I absolutely want to go when I go to Hong Kong. This is COA, which won the first place in the "Asia's 50 Best Bars" in 2021 and 2022 for two consecutive years, and the seventh place in the "World's 50 Best Bars" in 2022.
The concept is a Mexican bar where you can enjoy spirits using rare agave and creative cocktails using local ingredients. Although it was past 22:00, there were still many locals queuing up on the stairs in front of the store.
Wait 30 minutes to enter. There are many young people inside, and the atmosphere is very lively.
When I saw the menu on the seat, I passed out in pain. I want to drink them all! How does "Bloody "BEEF" Maria -Spicy" taste with beef stock? ! I hesitated and ordered the "BITTER MELON COLLINS" (pictured), which uses green curry herbs.
Take a sip and you're sure to find green curry! Mix with lime-scented tequila, Cascawin Blanco and tonic water for a refreshing cocktail. You can drink a lot, have new experiences, and refresh your mind.
In May this year, the second store "The Savory Project" also opened in Central. There are caviar and mushroom cocktails, as well as Thai vegetable salads and teriyaki cocktails. Delicious cocktails, take note.
COAs
Shop A, LG Building, Wah Shin Building, 6-10 Sin Hing Street, Central, Hong Kong, Central
Telephone. +852-2813-5787
Business Hours/18:00~24:00
Regular holiday/Monday
https://coa.com.hk/
Google Map
This is the latest branch of the popular cafe "Halfway Coffee", where you can drink hand-brewed specialty coffee. It is a beautiful store standing quietly in a quiet residential area, in the middle of the Nakayama escalator, which is the symbol of the Nakakando ramp.
As with other Halfway Coffees, the hot drink is served in a very photogenic vintage tea set. The cold drink on the right is the "Longan Honey Latte" (HK$55) using longan honey. The rhinoceros petals are scattered on it, which is really beautiful. The perfect drink to quench your thirst while walking around town.
Mid Mountain Coffee (Mid Mountain)

8 Serra Terrace, Reynolds, Mid-Levels, Hong Kong
Business hours/8:00~17:00
Regular holiday/Monday
Instagram / @halfwaycoffee
Google Map
You can also look for new tea restaurants recommended by locals. The casual equivalent of a Japanese family restaurant, packed with locals from morning before work.
The picture shows the "signature scrambled egg toast" (35 Hong Kong dollars), thick slices of toast without skin and scrambled eggs with perfect texture. One bite and the butter spills out of the toast.
"Satay Beef Noodles" (HK$39). The trashy appearance made me hesitate (laughs).
Thin slices of meat and plenty of delivery bag noodles. The tangy peanut sauce and broth go well with the noodles. Completely done. There are also English menus and pictures to reassure tourists. There are also value packages.
Four Seasons Meals (Cafe Seasons Des Voeux Road)
G/F, 88 Des Voeux Road Central, Central
Telephone. +852-2650-2088
Business Hours/ 7:30-20:00 Saturday-Sunday-16:00
Instagram / @cafe_seasonshk
Google Map
So far I've been trying my best to recommend Hong Kong food other than Yu Dao, but I'd also like to check out The Chuka and Dim Sum. Let's also introduce the shops that Hong Kong Foodie took us to this time.
This is the head office of MOTT 32, a well-known Chinese restaurant with branches in Bangkok, Dubai, Singapore and Vancouver. Located in the basement of the bank, it has a mysterious and luxurious atmosphere.
You will be shocked by the decadent world view of Hong Kong movies, such as chandeliers hanging from the ceiling, rooms with mirrors, and rooms with paint brushes on the walls. Interiors are by Hong Kong and London-based Joyce Wang.
The head chef is Lee Man Singh, who was trained at the Mandarin Oriental. Delightful Cantonese and Szechuan cuisine with modern twists, ideal for anniversaries and celebrations.
The signature dish is 42-Day Applewood Roasted Peking Duck ($980). The skin is thinly sliced ​​and sprinkled with cane sugar to bring out the umami of the duck. Pancakes are usually a supporting role, and they are steamed and eaten immediately, and they have a sense of presence suitable for special ducks. Peking duck is so popular that reservations are required, so don't forget to try it if you want to try it!
Left Lobster Fried Rice ($490 HK) Right Kobe Beef with Homemade Black Bean Sauce ($1080 HK).
Other à la carte courses are also available. It's definitely fun to order and eat, so it's best for a few people to share.
Mott 32
Basement, Standard Chartered Bank Building, 4-4A Des Voeux Road, Central, Hong Kong Island
Telephone. +852-2885-8688
Business hours/12:00-15:00, 18:00-24:00
Instagram / @mott32hk
Google Map
Another Hong Kong foodie took me to the main store of "Le Cha Xuan" in Hong Kong Tropical Park. I think this is a restaurant that Hong Kong fans are familiar with, but when I first came, I was just attracted by the style of vegan dim sum. The taste and texture are not inferior to ordinary dim sum. Or a completely different taste. You can choose from over 50 types of tea.
Left "Black Truffle Shaomai" (48HK ドル) Right "Longhua Temple Vegetable Roll" (48HK ドル)
Making yourself a cup of Chinese tea and continuing to eat delicious food is also a good way to soothe a slightly tired stomach. One of the recommended places to end your trip to Hong Kong.
La Chaxuan Hong Kong Park Branch
G/F, Lo Kah Kee Gallery, Hong Kong Park, 10 Cotton Tree Drive, Admiralty, Hong Kong
Telephone. +852-2801-7177
Business hours/10:00-20:00 Saturday-21:00
https://www.lockcha.com/locati…
Google Map
Check out the recommended hotels for your Hong Kong food tour!