Maldives
Di Lechner and Paul Lechner, co-directors of Addicted to the Maldives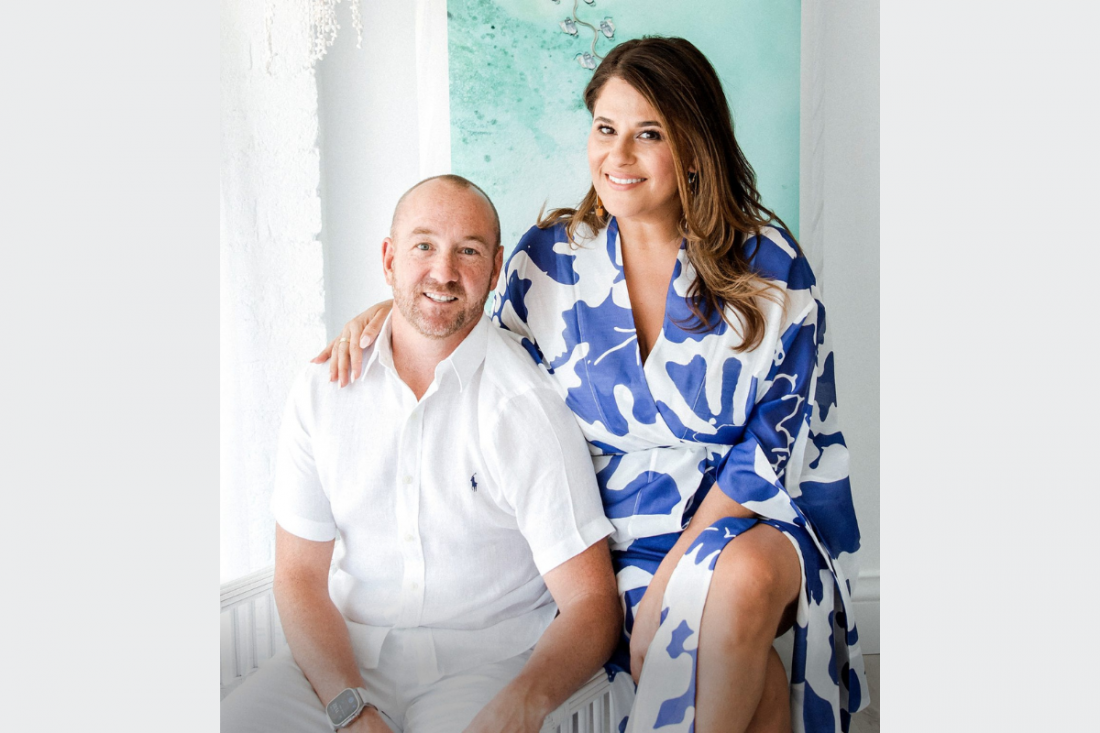 From soft sunsets, gently drifting palm trees, to the incessant rhythm of the tides, the tropics have a natural romanticism that cannot be surpassed. If love at first sight could happen anywhere, it would be here. For newlyweds Di and Paul Lechner, Cupid's arrow shot deep into the edge of the Indian Ocean.
"We went to the Maldives for our honeymoon 15 years ago and fell in love with the destination," she said. "It became a place we go to a few times a year. I always thought it was a love affair."
But when their second child was born, the Lechners' work-life balance was shattered. Paul holds a senior IT position at Apple, which means he spends little time at home. Dee herself is busy with human resources and executive recruiting, a situation she says is not conducive to the family environment. "I decided to take a step back from work," she said. "I want to do something that I'm really passionate about."
A colleague asked her what she was going to do next. "It was kind of a joke. They asked me, 'So, what do you like? "I love the Maldives."
tropical resort
The island nation of the Maldives has a special appeal among tropical resorts. The journey, which usually requires at least two flights and a speedboat trip, gives the country a strong sense of remoteness; reaching your resort is an achievement.
Then there is the matter of choosing from the approximately 180 resorts currently operating in the Maldives atolls. Some are better for couples; some are better for couples. Others are suitable for children. Some people prioritize risk-taking; others prioritize risk-taking. Others are left permanently cold.
People will say we categorize ourselves. But this is something I know very well. — Di Lechner
Finding, let alone creating, an authoritative directory of Maldives resorts can seem like a "too hard" job for many, which further enhances the uniqueness of the Maldives. Not so for the Lechners.
"Whenever we try to book a holiday for ourselves, we see a clear lack of knowledge, especially in the Australian market," Dee said.
"Since we travel there a lot, I often find that I'm educating travel advisors. They haven't been to the Maldives, or if they have, they've only seen one property."
Maldives Travel Expert
Initially, a career in travel didn't hold much appeal for the couple: "Never really seemed to be able to pay the bills". But once Dee started analyzing the market, she quickly concluded that becoming a Maldives travel guru was indeed possible. "The world of recruiting that I'm used to is actually not that different," she said. "It's only now that I'm matching people with the right vacation experience."
Paul finds that his IT skills are a good fit for the business. "Dee would have a brilliant idea and I would be involved in making it happen," he said. "I'm very much the enforcer, the staff on how we steer this ship."
People will say we categorize ourselves. But this is something I know very well. — Di Lechner
Launched in 2015, Addiction Maldives is fueled by the twin powerful engines of passion and addiction. "People will say we categorize ourselves," Dee said. "But it's something I know all too well. There are worse addictive behaviors, right?"
The Lechners' expensive habits became a factor in business. "As our dependencies increased, so did our budget," Paul said. "We're seeing this in our client base; people will go once and spend A$10,000 ($6,700), but after seeing the value in it, have a bigger holiday budget next year."
The couple knew it was important to be partners with resorts they knew rather than wholesalers. This intimacy benefits the client from the start. "We are able to handpick on-site teams to work with our clients," Paul said. "We got the best of it."
Enhanced product
In a busy market like the Maldives, there are many things to keep an eye on. Every year as many as 20 new resorts open on the atoll, and existing resorts are constantly reorganizing and enhancing their offerings.
"You don't want to bring in a resort that is in direct competition with your partner," Paul said. "So we do say no, and whenever we do, we articulate why."
To help them keep their knowledge base up to date, the Lechners organize an annual event attended by representatives of their top luxury resort partners and sales agent community. "We're really committed to showcasing the destination," Dee said.
But doing so means adopting a completely different tourism vocabulary than Australia's. "Luxury has different meanings," she said. "The five-star rating in the Maldives is much higher than anywhere else in the world, and we really only offer five-star ratings and above." As a result, Addicted to Maldives' carefully curated portfolio consists of around 30 resorts.
The company has also developed close relationships with its customers. "Choosing the wrong resort can be costly. We realize that vacations are a luxury, so we are very responsive and take the time to understand our clients' needs," says Di.
An obsession with the Maldives' service and reputation has helped the company earn a place in the elite, invitation-only Virtuoso network of the world's top luxury tour operators. "We've been with Virtuoso for four years," she said. "You need to deliver consistently, and response time is key. We don't leave inquiries hanging in the air."
This is simply because the Lehnas have put so much effort into both the Maldives and the traveler, trying what can be a daunting journey for many, both in terms of distance and expense. "We genuinely care, and we hire people who care as much," Dee said.
It's not just about resorts, either. Maldives vacation experiences often overlook the fact that the country is home to more than half a million people. While many of them depend on tourism for employment and income, many do not, and day-to-day life in the country is often overlooked by tourists.
give back
Not so in the case of Indulge in the Maldives. The Lechners founded Addicted to Change, a philanthropic arm of the business dedicated to giving back to the Maldivian community. "We visited a good friend who lived on a local island," Dee explained. "He took our family on a tour around the island and we ended up at the local school's soccer field."
The modest playing field inspires a sense that people can and should do more. "We thought, 'Imagine if we could turn this dirt into grass'."
The idea has since snowballed to improve the lives of the locals who share the beautiful archipelago with holidaymakers. "It's something we're all very proud of," Dee said. "It's very important to us personally to be able to use our business to do something good."
This might be the only destination that looks better than it looks on a postcard. —Paul Lechner
Despite their professional immersion in the Maldives, the destination hasn't lost its magical appeal for the couple, Dee said. "Apart from work, we pay out-of-pocket vacations to the Maldives at least twice a year," she said. "Each time, I'm thrilled and excited about what awaits me. The fact that we were able to create this experience and help other people be a part of it is pretty special."
Paul adds that it's all part of their addiction: "As a business, our aim is to make our clients addicted to the Maldives so that they can enjoy their vacation in a very special destination every time," he concludes. "It's probably the only destination on earth that's better than it looks on a postcard."