HongKong
Ctrip Group and Mizuho Bank reached a strategic alliance to deepen the innovative integration of Chinese and Japanese tourism industries: J-CAST Trends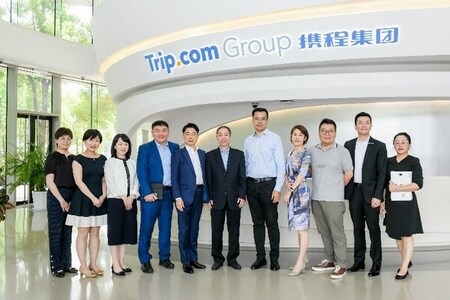 Press release release date: July 21, 2023 13:35 Source: Kyodo PR Line
Shanghai, July 21, 2023 /PRNewswire/ — Mizuho Bank Co., Ltd., Mizuho Bank (China) Co., Ltd. and Ctrip Group held the signing ceremony of the three-company strategic business cooperation agreement in Shanghai Lingku SOHO. With the recovery and development of the tourism industry in Japan and China, Trip and Mizuho will develop a comprehensive and long-term strategic alliance in tourism, culture, economy and other fields in accordance with the cooperation principle of integrating advantages and growing together.
(Photo: https://kyodonewsprwire.jp/img/202307217340-O1-Abp1fyC6)
Group photo of participants from 3 companies
At the venue, Mr. Li Xiaoping, Senior Vice President of Ctrip Group, and Mr. Maruki Kentaro, Vice President of Mizuho Bank (China) Co., Ltd. delivered speeches successively. Subsequently, Li Xiaoping, senior vice president of Ctrip Group, Maruki Kentaro, vice president of Mizuho Bank (China) Co., Ltd., and Cui Jingyue, deputy general manager of the China Promotion Department of Mizuho Bank Co., Ltd., signed a strategic cooperation agreement between the three companies at the venue.
(Photo: https://kyodonewsprwire.jp/img/202307217340-O2-48ego1XF)
Three company agreement signing ceremony venue
Mizuho Bank was one of the first foreign banks to enter the Chinese market. It set up a representative office in Beijing in 1981. Since then, it has continued to explore the Chinese market for more than 40 years and has made unremitting efforts to become a "bank rooted in the Chinese market". At the same time, Ctrip Group, as a world-renowned travel service brand, provides customers with comprehensive, diversified and personalized high-quality travel services by virtue of its rich industry experience, professional capabilities and strong global resource network. The purpose of this strategic alliance between Ctrip Group and Mizuho Group is to give full play to the professional capabilities of both parties in the field of tourism services and finance, complement each other's strengths, achieve the goal of win-win as business partners, realize high-quality interaction and resource sharing between the tourism industry and the financial industry, and create greater value for customers.
Through this strategic alliance, we will jointly lead the exchange and development of cultural tourism between Japan and China, and play a more solid role as a bridge for tourism and business between Japan and China. In addition, the two parties will jointly plan and implement various online and offline joint marketing promotion activities in the field of cultural tourism, which will open up new prospects for the cultural tourism industry in various parts of Japan, provide Chinese tourists with better and more diversified travel experiences, and will definitely promote the growth of the number of tourists and local cultural tourism consumption. The two companies will jointly build an industry discussion platform based on their respective high-quality customer base and tourism resources, and plan to support the formulation and promotion of strategies for attracting foreign tourists such as accommodation facilities, tourist attractions, and shopping centers.
Ctrip Group is the world's leading provider of cultural tourism development services. In the future, by deepening the cooperation with Mizuho, ​​we will be able to support the promotion strategy research of various cultural tourism destinations in Japan and the production and release of tourism information. At the same time, we will provide more comprehensive and precise support for destination promotion (including Japan-China tourism market trend analysis, sightseeing route recommendation, destination attraction dissemination, etc.) through cooperation in marketing activity information sharing and destination marketing joint development. This will help Chinese tourists gain a deeper understanding of tourism resources and cultural attractions across Japan, and establish a cultural tourism marketing chain, which is expected to promote regional economic revitalization through cultural tourism consumption.
In the future, Ctrip Group and Mizuho will strive to strengthen the integration of resources, promote the implementation of cooperation projects, further deepen the innovation and integration of the Japanese and Chinese tourism industries, inject new impetus into the revitalization of the Japanese regional economy, create new opportunities for the interaction between the Chinese market and other Japanese regions, promote cultural exchanges and cultural tourism consumption, and achieve common development.
About Ctrip Group
Trip.com Group (NASDAQ: TCOM) is a global travel service provider with brands Trip.com, Ctrip, Skyscanner and Qunar, providing a wide range of travel products and one-stop services. Through Trip.com Group's state-of-the-art transactional platforms, including mobile applications, websites and 24/7 customer support, we connect with customers and local travel business partners around the world, providing easy and affordable booking. Founded in 1999, following its listing on NASDAQ in 2003, it will be listed on the Hong Kong Stock Exchange HKEX (9961.HK) in 2021. We are one of the world's most renowned travel services groups, and our mission is to make every trip the best it can be. https://group.trip.com
follow us: TwitterFacebook, LinkedIn, YouTube
Source: Ctrip Group
(Japanese version: provided by customer)